Comics
Published June 29, 2023
Maria Hill's Comics History, Explained
From S.H.I.E.L.D. agent to Director of S.H.I.E.L.D. Revisit Maria Hill's comic book origins through her key storylines!
Born in Chicago, Illinois, "on a day the mercury was frozen at 44 below," Maria Hill had it tough growing up. Her mother passed away from complications of childbirth, and her father, blaming the death on Maria, became detached and estranged. But years of being called "useless" didn't stop Maria from enlisting in the Marine Corps and eventually joining the largest intelligence agency in the Marvel Universe: The Strategic Homeland Intervention, Enforcement and Logistics Division… AKA S.H.I.E.L.D..
Since her first appearance in NEW AVENGERS (2004) #4 as acting director, Maria has dealt with a world full of twists, turns, and (super)powerful people. But do you really know Maria's backstory? If the answer is "no," we've got you covered on this agent's rise to the top.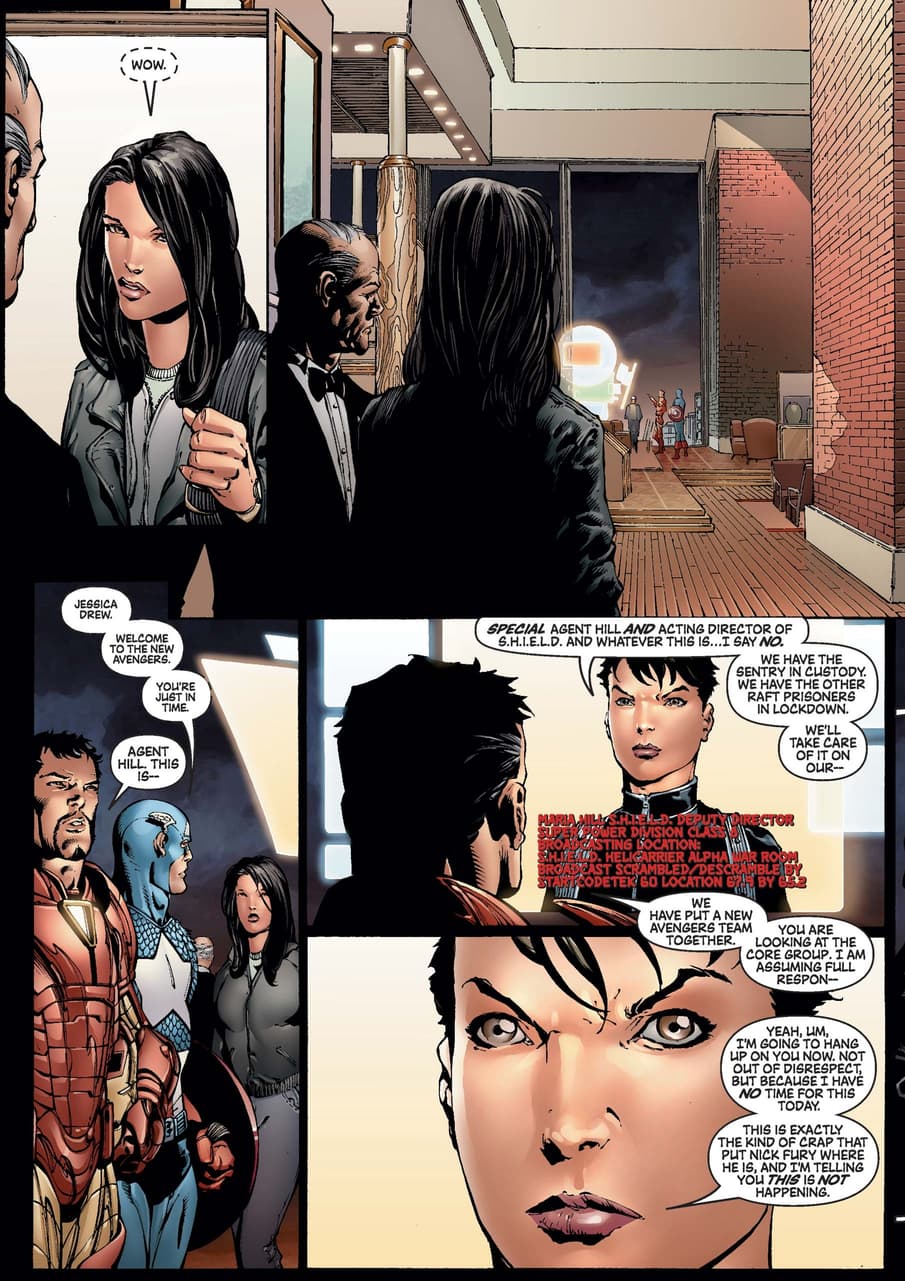 WHEN DID MARIA JOIN S.H.I.E.L.D.?
After serving in the Marines and being promoted to commander, Maria became an agent of S.H.I.E.L.D. As told in flashback via JESSICA JONES (2016) #11, in one of her earlier missions she was tasked with saving Agents Bradley and Reynolds, who had gone undercover into Hydra for months. But this rescue went wrong very quickly.
Because Maria disregarded Reynolds' command during the escape, her conduct was questioned by a tribunal, but in the end, Maria was cleared of any criminal wrongdoing. This moment would prompt the tribunal to contact Nick Fury Sr., who was a colonel at the time. And here's where the real craziness kicks in.
In JESSICA JONES #12 it was revealed that Fury assigned Maria a kill order against Bradley. Why? Because Bradley (and Reynolds) were Hydra triple agents! She succeeded in her mission but experienced immense guilt and a conflict of beliefs, as "killing fellow agents" was not the reason she joined S.H.I.E.L.D. Completing the kill order led to Maria being promoted to S.H.I.E.L.D. High Command and to the rank of colonel. Fury Sr., now Director, handed her a pill that would make her "completely lose the last few days," but before taking it, she put a hit on herself that would go into effect the minute she became a civilian again. And Jessica Jones was the one to crack the mystery.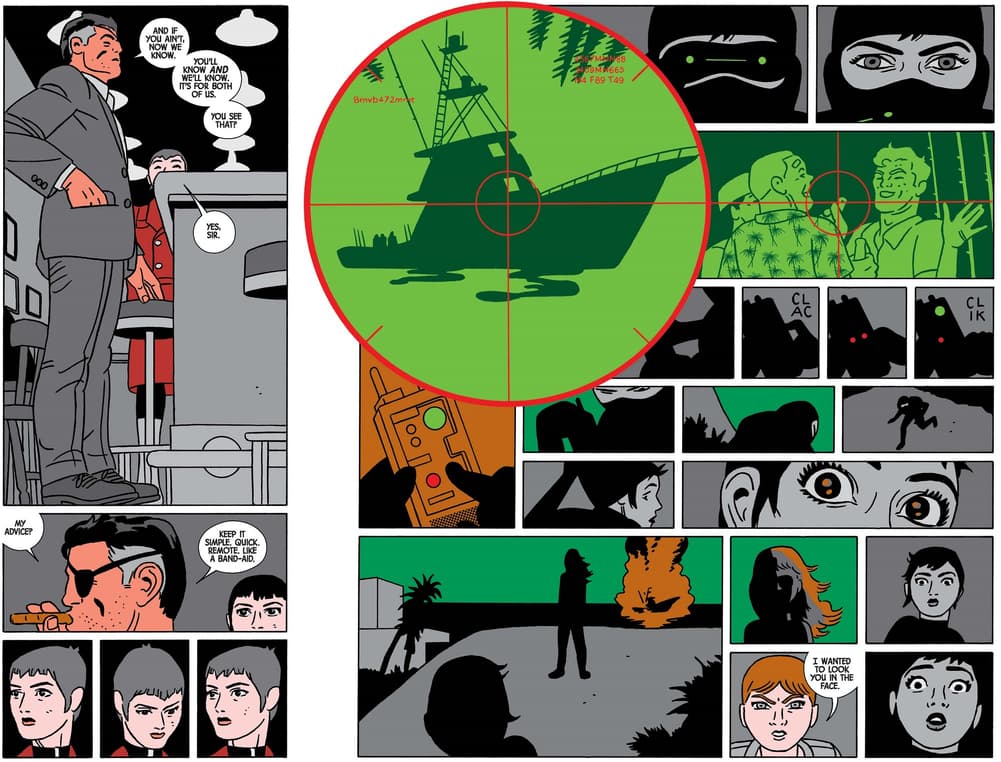 HOW DID SHE BECOME DIRECTOR OF S.H.I.E.L.D.?
Well, Fury Sr. got into some "activities" that weren't approved by the United States government, (overthrowing Latveria's government with super heroes who were mind-wiped afterwards as seen in 2004's SECRET WAR), and was forced into hiding. As the next in command, Maria was appointed as S.H.I.E.L.D.'s new director. Unlike Fury, Hill was not as open to collaborate with super heroes, and boy, did she stomp on some toes during her tenure. She almost "accidentally" annihilated the New Avengers in NEW AVENGERS (2004) #6, seized Spider-Man and the Vision in issue #19 to get any information that she could about HOUSE OF M, and in the following issue, was commanded by the President to "sacrifice" the Avengers by nuking the island of Genosha. Thankfully, she ignored this order, earning the respect of Tony Stark.
But not long after her appointment, Maria admitted to Stark in NEW AVENGERS #25 that she no longer wanted to be the Director of S.H.I.E.L.D., explaining there were "seventy-five that are more qualified and deserving" than her. In her opinion, there was only one person other than Fury Sr. who could run S.H.I.E.L.D.—Tony Stark himself! At the end of CIVIL WAR (2006) #7, Stark was appointed the new director while Maria was designated as deputy commander.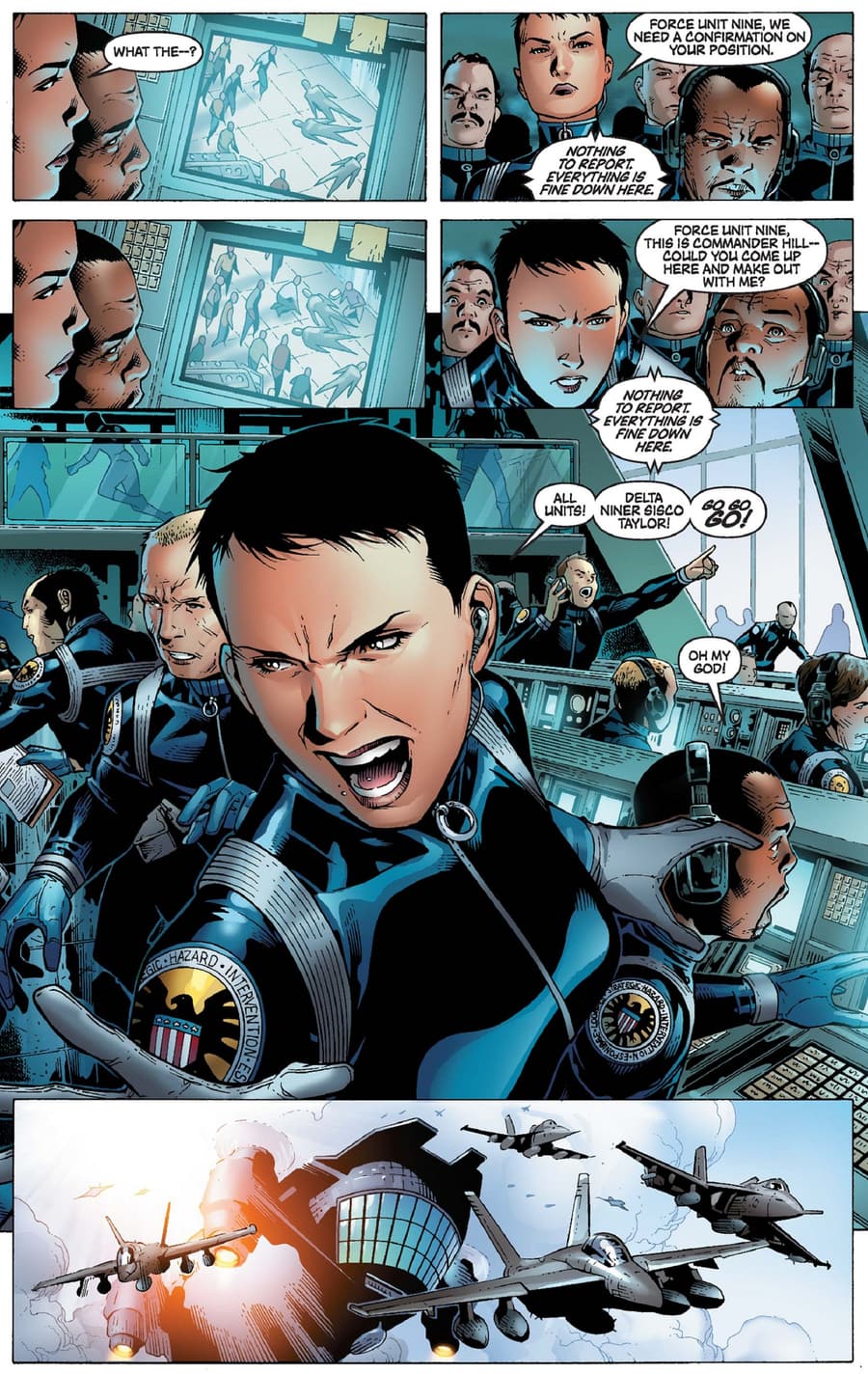 MARIA'S PIVOTAL STORIES
She has quite a few! Maria—more specifically Maria's "Life Model Decoy" robo-clone—reunited with Fury Sr. during the Skrull invasion in MIGHTY AVENGERS (2007) #18. After that, she was put in charge of a new roster of the Avengers in AVENGERS (2010) #1, overseeing the team for a time. When Captain America: Steve Rogers reactivated S.H.I.E.L.D., she became its commander in SECRET AVENGERS (2010) #1. Her time as commander would be short, however, because Quake, S.H.I.E.L.D.'s new director at the time, ordered an "unsanctioned and illegal operation" that led to her indefinite suspension. And as a result, Maria was chosen as director—again.
In CAPTAIN AMERICA: SAM WILSON (2015) #2, Maria established the ultra-secret Kobik Initiative which gave S.H.I.E.L.D. the power to change reality as they deemed fit using Cosmic Cube fragments. But this idea didn't go over well once leaked by the hacktivist called The Whisperer. The fragments were initially thought to be destroyed, but in reality (pun intended) they fused together and transformed into a small humanoid-appearing girl named Kobik. The Kobik program continued in secret—albeit on a smaller scale—as Pleasant Hill, a prison that reformed super villains within an altered reality that looked like a sleepy Connecticut town. If this solution seems too complicated to pull off long term, then you're correct. Due to not ending the controversial program at their warning, a tribunal of the World Security Council charged Maria Hill as "guilty" and ordered her to be removed from duty in CAPTAIN AMERICA: STEVE ROGERS (2016) #10.
But Maria had other plans. She escaped S.H.I.E.L.D. and flew to space instead, with plans to create the Planetary Defense Shield. However, unbeknownst to Maria, her escape triggered the hit she placed on herself years prior.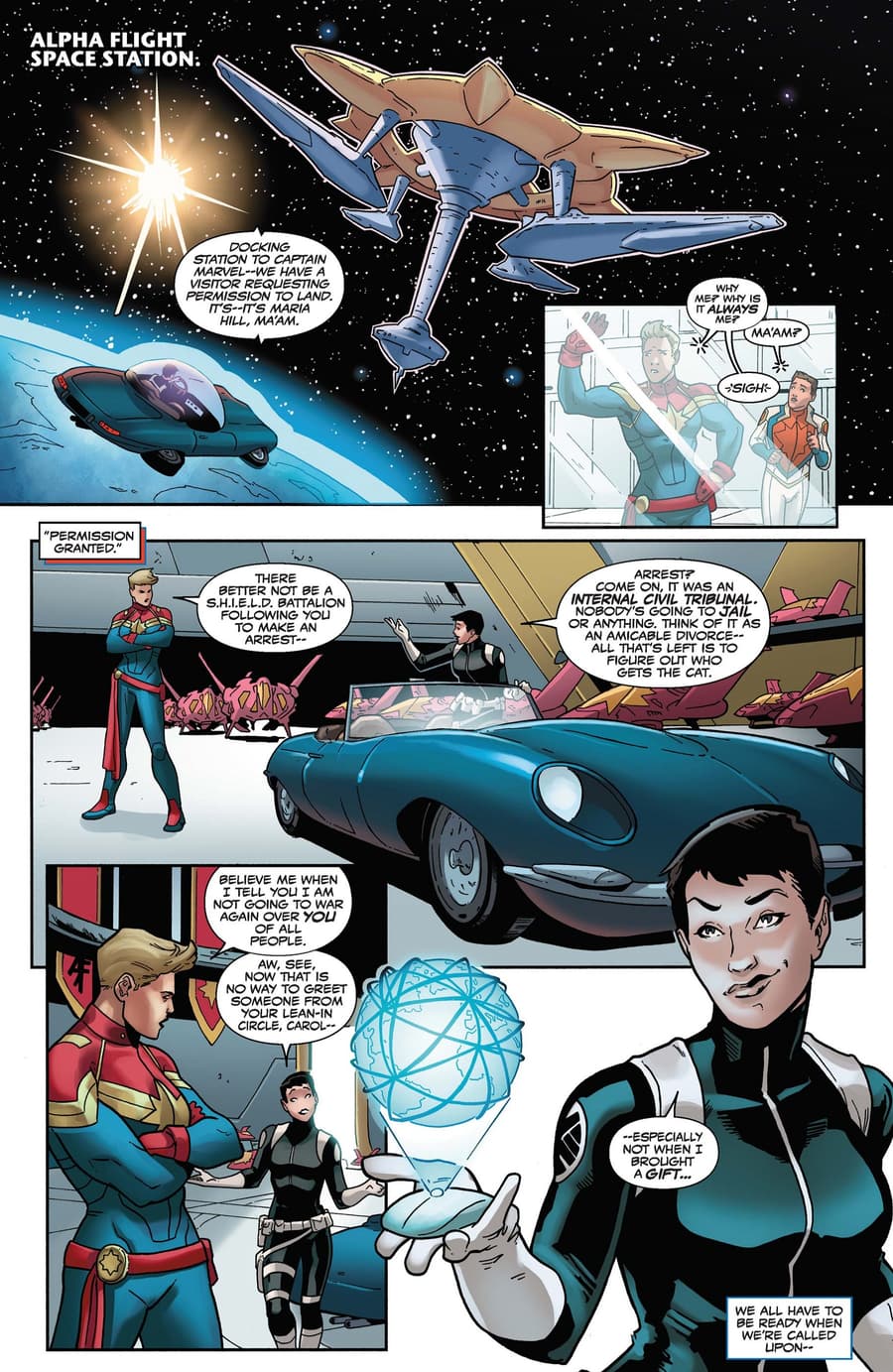 KEY RELATIONSHIPS
When people think of Maria Hill, three names come up: Nick Fury Sr., S.H.I.E.L.D., and the Avengers. Maria was Fury Sr.'s second-in-command when she was in S.H.I.E.L.D., but over time, their relationship became strained. (She had a less fraught relationship with his son, Nick Fury Jr..) S.H.I.E.L.D. brought out the best—and the worst—in Maria, and her service left a major impact on her life. The Avengers, ironically, didn't start off as her favorite people, but Maria came to understand why they were needed in the world.
WHO ARE MARIA'S ALLIES?
Dum Dum Dugan, who worked with Fury Sr. as part of the Howling Commandos, was Maria's second-in-command when she was in S.H.I.E.L.D.. Black Widow: Natasha Romanoff also held a mutual respect and trust for the former director, which spoke volumes given Nat's significant trust issues. As previously mentioned, she earned Tony Stark's respect when facing The Collective, but they also worked at S.H.I.E.L.D. together and were both pro-registration during the Superhuman Civil War. Speaking of; it didn't seem that she would befriend Steve Rogers due to their opposing ideologies, but Rogers would grow to trust her, to the point of choosing Maria to lead the Avengers during his first run as the Director of S.H.I.E.L.D..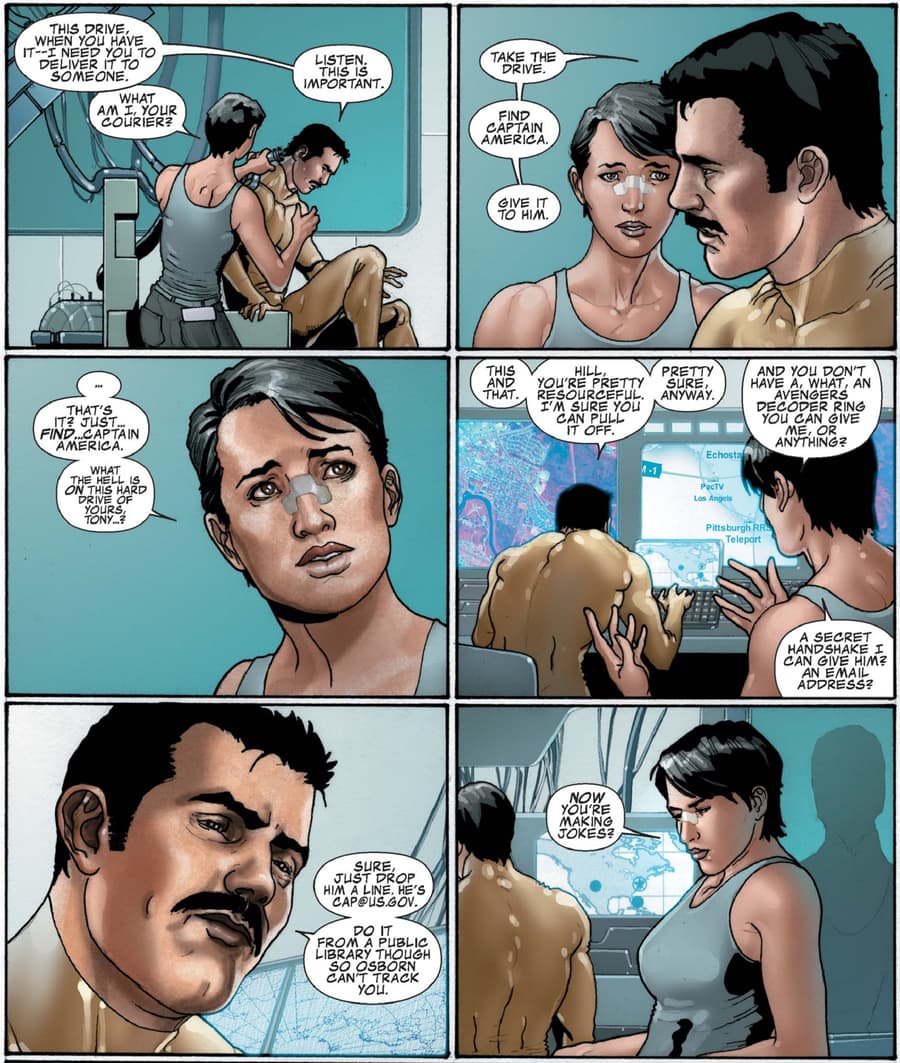 WHO ARE HER ENEMIES?
Hydra, duh. And unfortunately for Maria, there are more.
During SECRET INVASION (2008), a Skrull disguised as Edwin Jarvis affected all of S.H.I.E.L.D.'s systems, which included the Helicarrier Maria was on. While she believed she had captured Jarvis, it was soon revealed that certain S.H.I.E.L.D. agents were Skrulls too! She tricked them all with a Life Model Decoy and managed to self-destruct the Helicarrier before flying the scene. During the events of DARK REIGN, Norman Osborn (also known as Spidey villain Green Goblin) replaced Tony Stark as Director of S.H.I.E.L.D., creating a domino effect that led to Maria's firing and the end of S.H.I.E.L.D. itself. Osborn then established his own "peacekeeping" organization called H.A.M.M.E.R.. While on a mission for Stark, the Controller briefly placed Maria under his mind control in INVINCIBLE IRON MAN (2008) #12. She eventually escaped his thrall, but this traumatic event led to her entering a state of paranoia. And finally: Baron Zemo. Remember Pleasant Hill? Well, some of the villains reverted to their original selves, and he was one of them. Zemo started a revolt in AVENGERS STANDOFF: ASSAULT ON PLEASANT HILL ALPHA (2016) #1, and one of the rebels—Nitro—attacked town hall (secretly a main S.H.I.E.L.D. outpost), injuring Maria and the others present.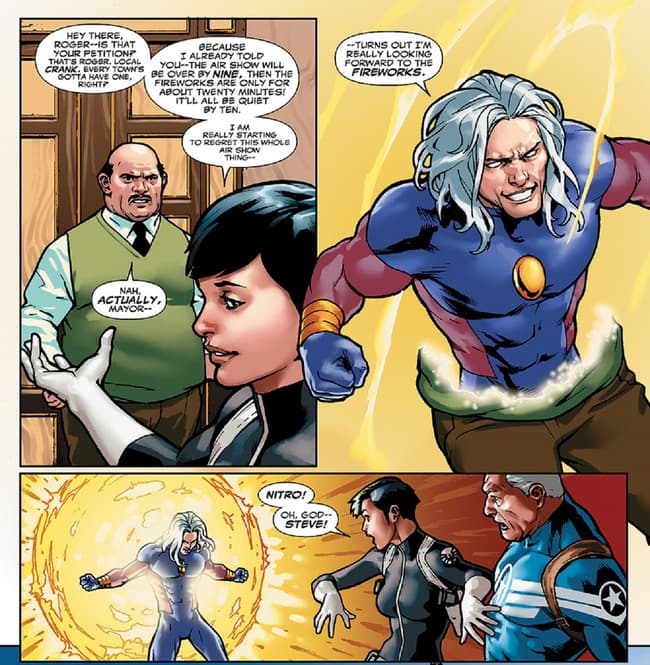 You're probably wondering: "What happened to Maria after departing from S.H.I.E.L.D.?" Well, she currently works as a CIA agent and keeps in touch with Nick Fury Jr., who is now a freelancer. When she received a visit from her colleague about a possible Skrull sighting, it placed Maria in immediate retaliation mode. Can she prevent a second Secret Invasion? You'll have to find out in five-part limited series SECRET INVASION (2022)!
Want to find out more? Explore over 30,000+ comics on Marvel Unlimited today!
Grab these comics and more at your local comic book shop! Or redeem then read your digital copy on the Marvel Unlimited app by using the code found in your print comic. Find and support your local comic book shop at ComicShopLocator.com.
To read your Marvel comics digitally, download the Marvel Unlimited app for iOS and Android devices. Gain an expansive catalog of 30,000+ comics spanning Marvel Comics history, plus access your entire digital library including comics redeemed from print. 
The Hype Box
Can't-miss news and updates from across the Marvel Universe!