Comics
Published November 5, 2018
Marvel Battle Royale 2018 Begins
Cast your vote as Squirrel Girl faces Deadpool in the first match-up of the tournament!
16 characters. 16 Marvel Comics editors. 1 winner.
It's the Marvel Battle Royale 2018!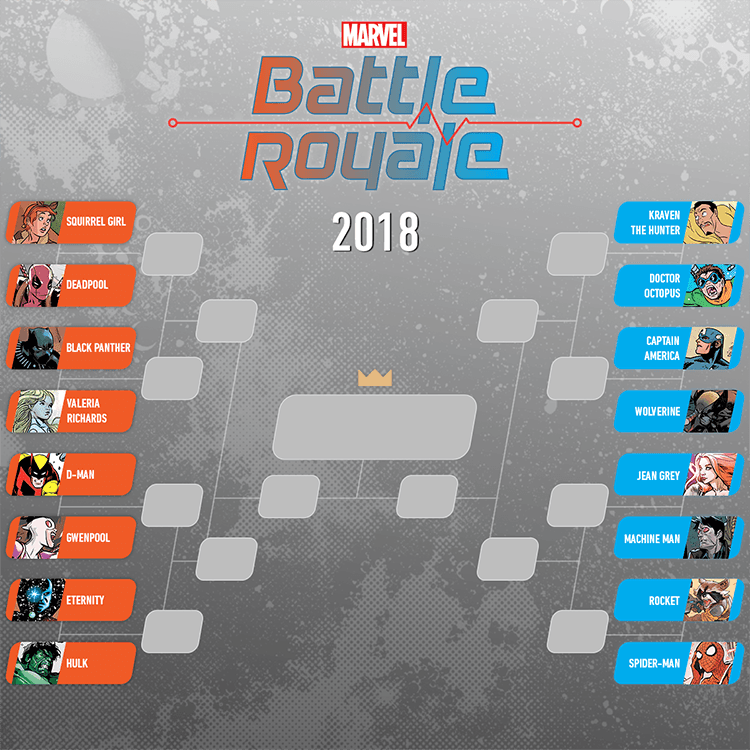 Get in the voting mood today as you decide which character will emerge as the champion...but it's not just a simple matter of which hero hits the hardest or which villain vows the most vicious victory! 
We asked each member of the Marvel Comics editorial staff to select their own champions to enter the Battle Royale. And in reverse order of seniority at the House of Ideas, they chose! Assistant Editor Lauren Amaro started working at Marvel HQ six months ago, so she chose first, and Senior Vice President/Executive Editor Tom Brevoort has been a member of the editorial staff for decades, so he chose last!
The Marvel Battle Royale 2018 begins there, with Lauren's lionheart going up against Tom's titanic trooper...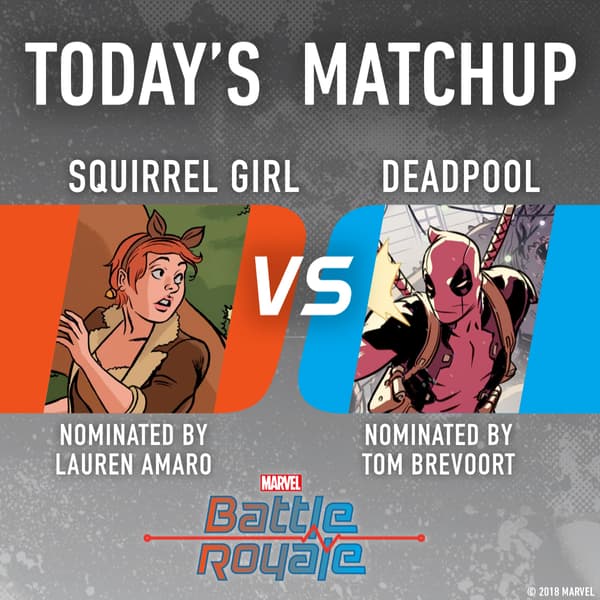 Not only did the editors nominate their own gladiators, they've also laid out exactly why you should be on their side! Here's what Lauren Amaro (Assistant Editor on VENOM, DAREDEVIL, SPIDER-GWEN: GHOST SPIDER, and more) has to say about her chosen hero...
"Thanos, Galactus, and Doctor Doom. What do all these heavy hitters have in common? They've all been BESTED by the UNBEATABLE Squirrel Girl. Compared to them, what is Deadpool to Doreen other than an uppity mouth and a pair of katanas? Besides, Deadpool is probably still reeling from the LAST beatdown he received courtesy of the fluffy-tailed crusader. Face it, Deadpool may be able to break through the fourth wall, but even he can't break through Squirrel Girl's impenetrable offence."
And this is why Marvel Comics Executive Editor Tom Brevoort (Editor of CAPTAIN AMERICA, AVENGERS, FANTASTIC FOUR, and more) thinks you should vote for...
"Deadpool defeat the unbeatable Squirrel Girl? Impossible, right? Can't be done! Says so right in the name, yes? But here's the thing. Deadpool has one ability that Squirrel Girl simply cannot counter, and that is his enormous popularity. So let's break the hell out of that fourth wall and carry our boy to victory! Seriously, do you really want a spunky, cutesy tree-hugger with a fluffy tail to win? Or would you rather put the trophy into the hands of a homicidal sociopathic narcissist with bad body odor and a lousy attitude? I think we both know the answer."
Cast your vote below right now!
The Hype Box
Can't-miss news and updates from across the Marvel Universe!