Comics
Published June 17, 2021
Celebrate Pride with These Mighty Marvel Moments
Some of our favorite comic stories starring LGBTQ+ heroes!
Have you tried Marvel Unlimited yet? It's your all-access pass to over 28,000 Marvel comics, all available at your fingertips. Sign up now to enjoy your favorite stories just three months after they're in stores.
Marvel celebrates Pride! Read the comic stories behind these LGBTQ+ heroes on Marvel Unlimited now, all influential Mighty Marvel moments. Plus, read up on even more LGBTQ+ characters here, with more of our favorite moments straight from the comics!
1. NORTHSTAR AND KYLE'S WEDDING MAKES HISTORY (ASTONISHING X-MEN #51)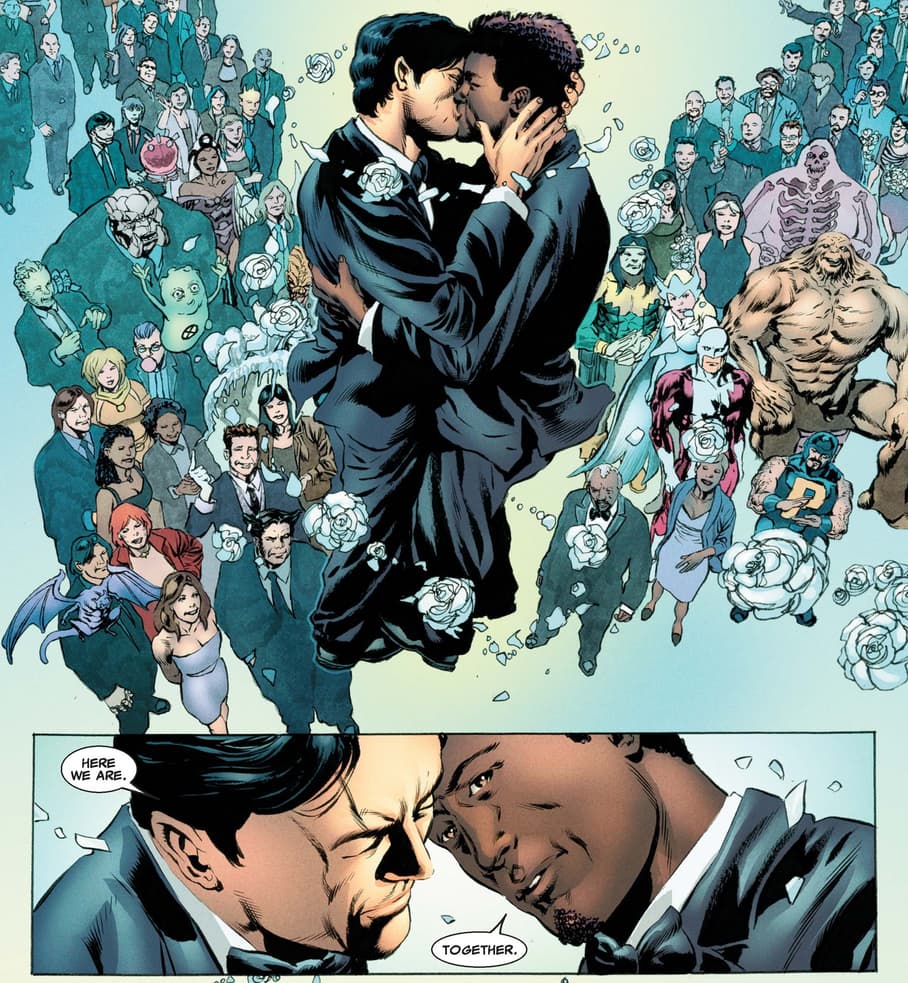 Northstar, AKA Jean-Paul Beaubier, is a high-flying speedster and a founding member of Alpha Flight—he's also the first Marvel character to come out on panel! Two decades after that revolutionary admission, Northstar married the love of his life, Kyle Jinadu. While Kyle is a non-super-powered human, he has supported Beaubier on the frontlines of his (sometimes) dangerous career. Read their history-making wedding in New York City's Central Park!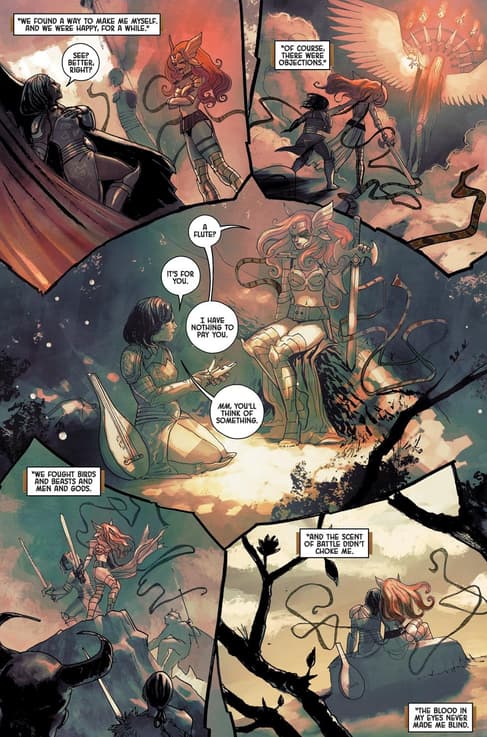 Angela, the finest warrior of Heven, does her vanquishing alongside partner Sera, a fallen angel too. Together they shake down the doors of demons and demi-gods alike! Prior to becoming Angela's Royal Consort, Sera underwent a transformation to become the person she was meant to be. 
3. AYO AND ANEKA: THE MIDNIGHT ANGELS (BLACK PANTHER #1)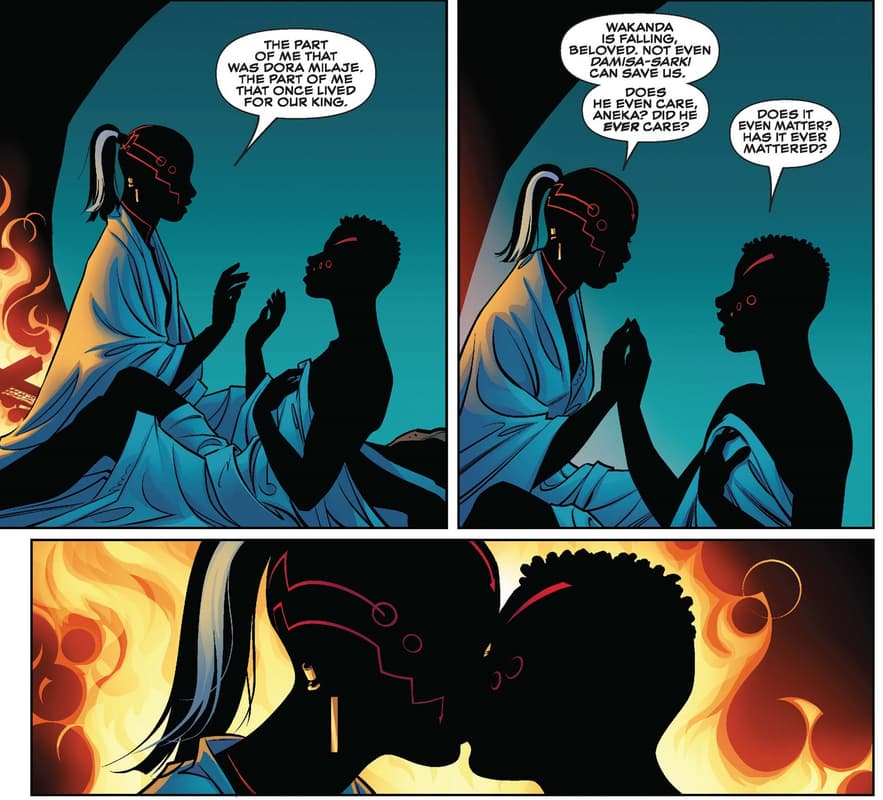 Former Dora Milaje, or soldiers to Wakanda's Royal Family, Ayo and Aneka rejected their post to forge their own path as elite warriors. Together, they inspired democracy by creating a military force to address the violent rebellions that nearly buckled Black Panther's throne. See the Midnight Angels take flight.
And, revisit their origin, first meeting, and romance in 2016's BLACK PANTHER: WORLD OF WAKANDA!
4. RICTOR AND SHATTERSTAR KEEP COMING BACK TO EACH OTHER (SHATTERSTAR #2)

Rictor, AKA Julio Richter, is an earthquake-inducing mutant who can control seismic activities through the Earth's core. Shatterstar, AKA Gaveedra-Seven, is a genetically modified arena gladiator from Mojoworld with a healing factor, extrasensory perception, and the uncanny talent to open portals between dimensions.
After a longstanding friendship stretching back to X-FORCE (1991), Rictor and Shatterstar took their relationship to the next level while members of Multiple Man's mutant detective agency. And while that love may have dissolved, it seemed like things were heating up again in Shatterstar's 2018 solo run!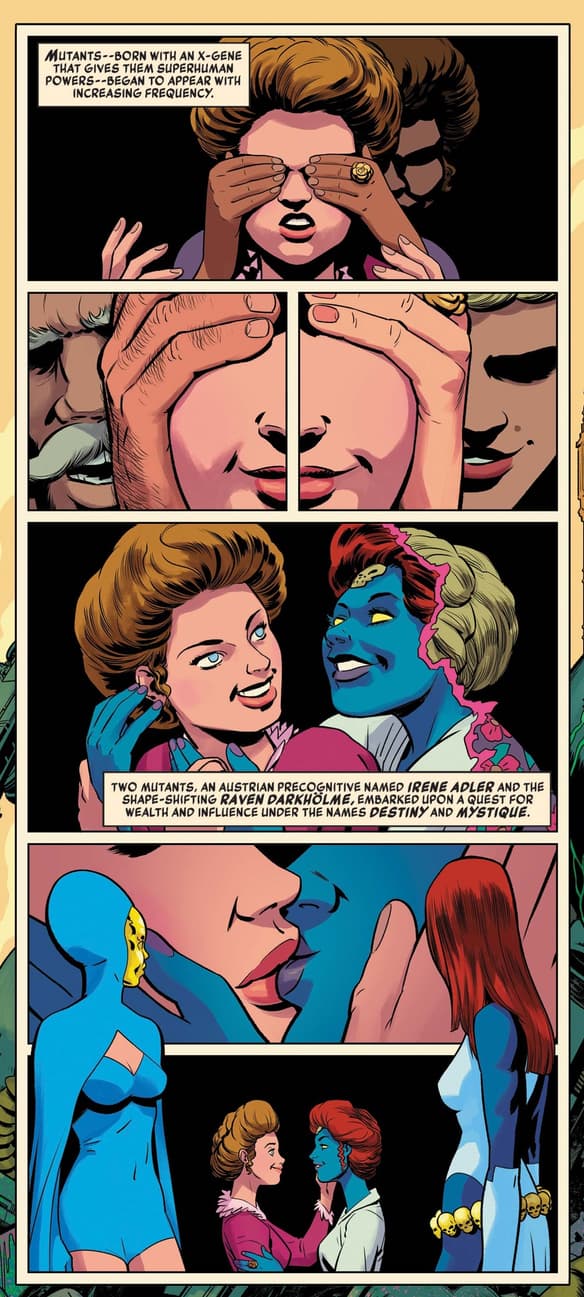 In their first on-panel interaction in UNCANNY X-MEN (1963) #141, Mystique referred to Irene Adler, AKA the mutant precog Destiny, as a "friend." As their relationship progressed over the years, it became clearer that Destiny and Mystique were in love, and that in addition to sharing an adopted daughter in Rogue, they also had a near-century of history.
It was in X-TREME X-MEN (2001) #1 that we first heard Destiny called out as Mystique's "true love," a progression that wasn't physically seen on panel until HISTORY OF THE MARVEL UNIVERSE (2019) #2. And, in X-MEN (2019) #6, Destiny and Mystique's love was given its full weight when the pair were established as wives.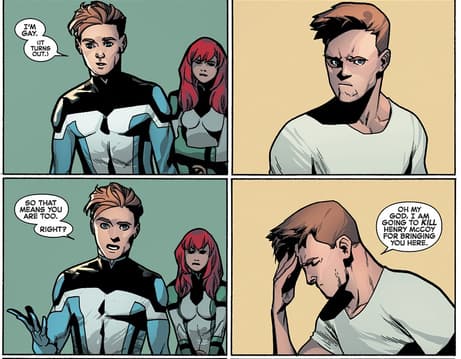 Although one of Professor Xavier's Original Five students from way back in UNCANNY X-MEN (1963) #1, it took Bobby Drake, AKA Iceman, decades to embrace his truest self.
In UNCANNY X-MEN (2013) #600, a teenaged version of the character confronted a long-buried secret of his identity: that he was gay. With the encouragement and support of Jean Grey, teen Bobby opened up to his adult self in a time-bending exchange.
7. NICO AND KAROLINA'S TIMING FINALLY LINES UP (RUNAWAYS #12)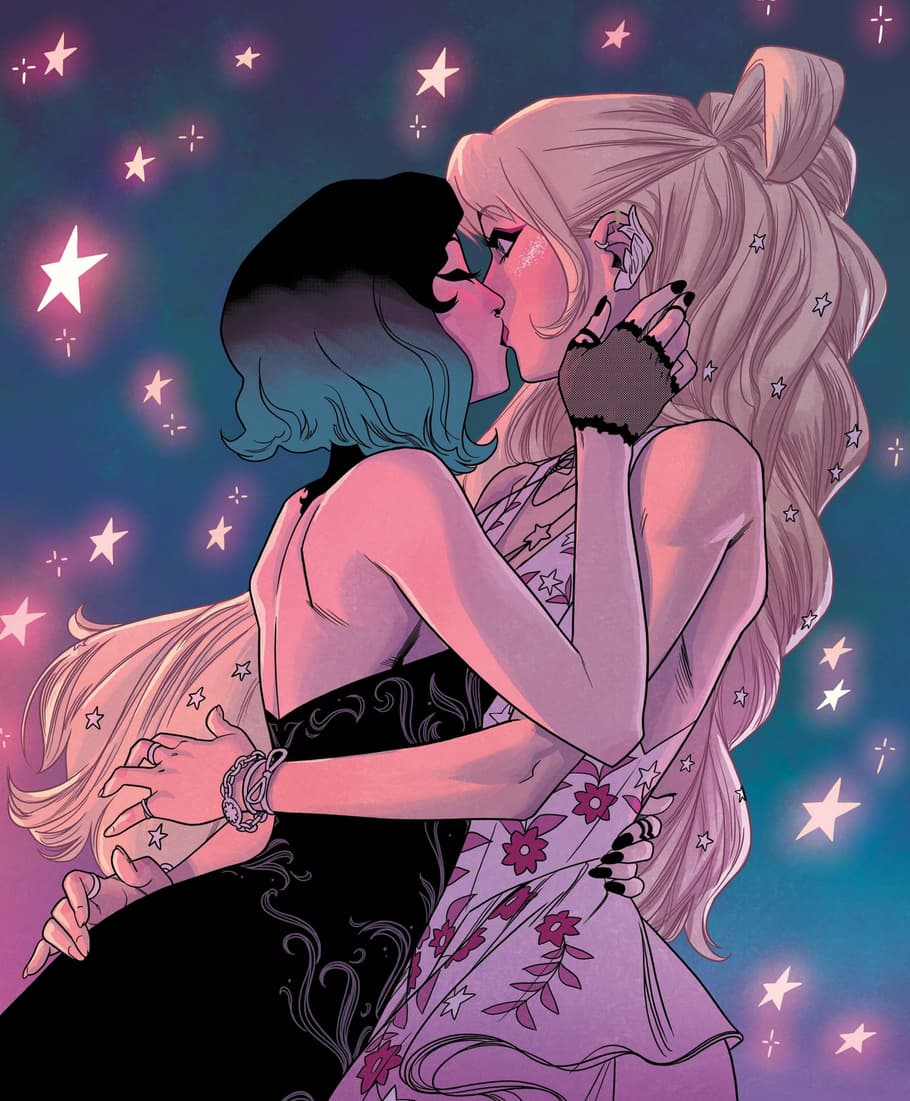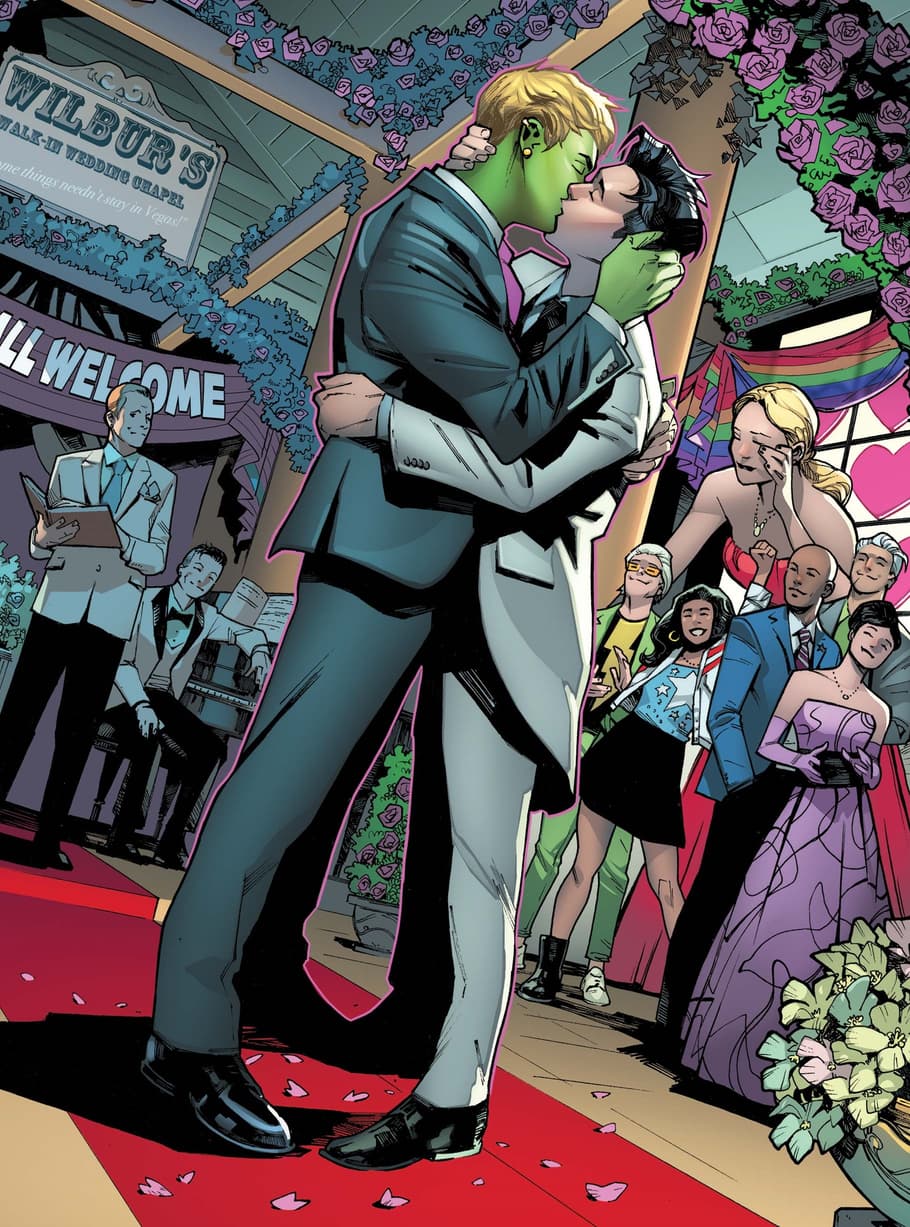 Hulkling becomes the King of Space... and the husband to Wiccan!
From their first flirtations as teammates and Young Avengers, to their first "I love yous," Teddy Altman, AKA Hulkling, and Billy Kaplan, AKA Wiccan, have come a long way. Read their magical moment of matrimony in EMPYRE #4, a celebration following the international chaos of a Kree/Skrull Alliance and the Cotati's near takeover of Earth in EMPYRE.
Keep your Pride Month going with even more history-making moments from Marvel's LGBTQ+ characters!
Follow Marvel Unlimited on Twitter and Facebook to stay tuned in to weekly announcements, articles, and more, all at @MarvelUnlimited. Follow us today to join the conversation with thousands of fellow fans, and let us know what you're reading!
The Hype Box
Can't-miss news and updates from across the Marvel Universe!