Comics
Published September 16, 2020
Marvel Games Comic Connection: Essential Ms. Marvel Reads
Bill Rosemann, VP and Head of Creative for Marvel Games, shares his Kamala Khan must-reads on Marvel Unlimited! See Ms. Marvel in action in 'Marvel's Avengers' today.
Have you tried Marvel Unlimited yet? It's your all-access pass to over 27,000 Marvel comics, all available at your fingertips. Sign up now!
Bill Rosemann is VP and Head of Creative, Marvel Games. Follow him on Twitter at @BillRosemann! Follow Marvel Games at @MarvelGames!
Hello, True Believers, and welcome back to the latest installment of Marvel Games Comic Connection, where we search through the House of Ideas' cavernous Comic Book Vault to spotlight the incredible issues that inspired the creation of the latest and greatest characters and events hitting our mobile, console and VR games.
Today, we're shining the spotlight on a hero like none other: the Inhuman Ms. Marvel, breakout star of Marvel's Avengers! Kamala Khan of Jersey City "embiggened" onto the comics scene in 2014's MS. MARVEL, and has since gone on to find acclaim and fame as a founding member of Marvel Rising. In Marvel's Avengers, she is now one of Earth's Mightiest Heroes alongside heavy hitters like Captain America, Black Widow, Thor, Hulk, and Iron Man. Teenage Kamala may still be reconciling with her Inhuman ability to transform her size and shape, but there's precious little time for her to figure it all out when A.I.M. strikes!
Read our Marvel Unlimited picks below!
Inspired by the childhood stories that editor Sana Amanat shared with him, fellow editor Stephen Wacker challenged Sana to work with creators to develop a hero that would "explore the Muslim-American diaspora from an authentic perspective." The assembled team of writer G. Willow Wilson, character designer Jamie McKelvie, and artist Adrian Alphona, wowed the comic world with a modern-day hero that taps into the best classic elements of Peter Parker: Spider-Man in Kamala Khan, an "average" underdog young adult who unexpectedly gains amazing powers and then must navigate the colliding worlds of superhuman adventure, family life, and coming-of-age dramas. The charming combination of wide-eyed optimism and fierce loyalty that Sandra Saad brings to her portrayal of Kamala in Marvel's Avengers are deeply rooted in these trailblazing first five issues of Ms. Marvel's first comic book series.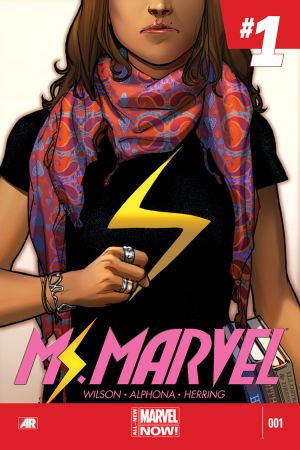 Writer Mark Waid and artists Adam Kubert and Mahmud Asrar graduate Kamala to the "big leagues" as she joins fellow teen sensation Miles Morales in the ranks of Earth's Mightiest Heroes. Inspiring her heroic journey in Marvel's Avengers, here's where we see Kamala not only standing alongside the heroes she idolizes, but realizing that she is truly one of them. Is there anything more inspiring and delightful than seeing Kamala raise her fist and yell "Avengers Assemble"?
Currently ongoing in Marvel Unlimited!
Writer Saladin Ahmed and artist Minkyu Jung catapult Kamala into fresh new adventures that still embrace Kamala's core challenges of balancing her superhuman "work" life and her emotionally rich "home" life. If you want to see where Ms. Marvel is heading next, jump onboard here!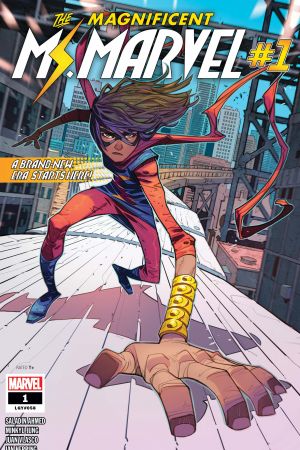 Magnificent Ms. Marvel (2019) #1
published

added to marvel unlimited

inker

letterer

colorist

editor

writer

colorist (cover)

inker (cover)

penciler (cover)

penciler
What is Marvel Unlimited?
There you have it! For even more essential Ms. Marvel reads, check out our Reading Guide below, or head over to Marvel Unlimited for all her starring turns and team-ups.
Marvel's Avengers is now available for the PlayStation 4, Xbox One, Stadia, and PC! Marvel's Avengers will be available on PlayStation 5 and Xbox Series X when the consoles launch in Holiday 2020.
For the most up-to-date information about Marvel's Avengers, keep an eye on PlayAvengers.com. And be sure to follow "Play Avengers" on Facebook, Twitter, and Instagram!
Follow Marvel Unlimited on Twitter and Facebook to stay tuned in to weekly announcements, articles, and more, all at @MarvelUnlimited. Follow us today to join the conversation with thousands of fellow fans, and let us know what you're reading!
The Hype Box
Can't-miss news and updates from across the Marvel Universe!