Comics
Published January 22, 2018
Marvel's Young Guns 2018
Celebrating the industry's top artists to watch!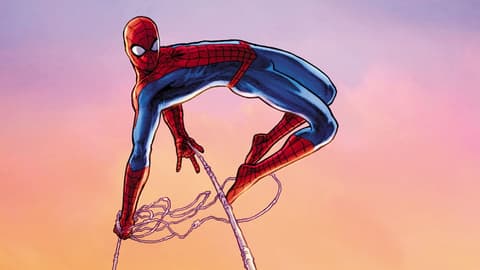 Marvel is proud to announce the next generation of gifted artists for this year's Young Guns program!
Originally launched in 2004, each year's Young Guns selections represent the best and brightest early-career artists in the comic book industry. Previous Young Guns have left their mark through some of Marvel's greatest heroes, with alumni like Jim Cheung, Steve McNiven, Leinil Yu, Daniel Acuña, David Marquez, Sara Pichelli, and many more drawing some of Marvel's biggest events and launching groundbreaking new series.
"I still clearly remember the launch of Marvel's original Young Guns campaign over a decade ago, crafted as an innovative way to recognize and promote the upcoming artists we believed in—and knew would one day be superstars!" says C.B. Cebulski, Editor-in-Chief of Marvel. "From its inception, Young Guns has always been about living up to Marvel's long legacy of identifying and hiring unique and groundbreaking talent to give our fans the best looking comics on the stands. And here we go again! Introducing the class of 2018, six artists poised for greatness, whose art will grace the pages of some of the coolest comics of the year!"
2018's Young Guns inductees are:
Starting on January 31, in addition to their regular series, each of the Young Guns will create a special limited exclusive variant cover for six new books, including AVENGERS #678, X-MEN: RED #1, MARVEL TWO-IN-ONE #3, DOCTOR STRANGE: DAMNATION #1, BLACK PANTHER #170, and AMAZING SPIDER-MAN #797! Check your local retailer for variant availability!
More exciting new projects and series from Young Guns 2018 will be announced in the coming months. Read up on the next generation of all-stars below!
Spanish artist Pepe Larraz penciled The Mighty Thor, previously having illustrated stories in anthologies such as Web of Spider-Man, Marvel Adventures Super Heroes and X-Men: To Serve and Protect. A rising star, Larraz pitted '90s rivals against each other in Deadpool vs. X-Force and worked on Wolverine & the X-Men before venturing into a galaxy far, far away with Kanan—then back to the Marvel Universe again with Uncanny Avengers.
Spanish artist Javier Garrón studied architecture before his work on webcomics and blogs got the attention of the American comics industry. Garrón made his Marvel debut with Cyclops in 2014, which led to work on the "Black Vortex" event crossover between New X-Men and Guardians of the Galaxy. Future work included Legendary Star-Lord, the IvX event, and the spot of lead artist on Secret Warriors.
Marco Checchetto early contributions to the revival of Marvel Comics Presents revealed him as one of the industry's top new talents. Checchetto has made his mark on both the Marvel Universe—with runs on Amazing Spider-Man, Daredevil and Punisher—and a galaxy far, far away, with Star Wars: The Screaming Citadel, Star Wars: Captain Phasma, and the post-Return of the Jedi thriller Star Wars: Journey to Star Wars: The Force Awakens – Shattered Empire.
Artist and writer Aaron Kuder cut his teeth in the comics industry working on the New York Times best-selling book The Armory Wars and Key of Z, both with Claudio Sanchez from Evil Ink Comics. After work at DC on books such as Action Comics, Kuder returned to Marvel for an exclusive agreement in 2016 with work on top-tier titles such as the X-Men-shattering Death of X and All-New Guardians of the Galaxy.
If you've read any Marvel series since 2009, chances are it featured a cover from artist Michael Del Mundo at some point. Del Mundo's artwork has fronted such well-known series as Amazing Spider-Man, Vision, and Invincible Iron Man. After delivering gallery-standard illustrations page after page in Elektra, he brought his unique talents to Secret Wars tie-in Weirdworld and its subsequent All-New, All-Different Marvel relaunch, and Marvel's flagship title Avengers.
Russell Dauterman is best known as the artist of Marvel's Thor comics.  Written by Jason Aaron and starring Jane Foster as Thor, the lengthy run has become a best-selling, Eisner-nominated series.  Previous work includes such titles as Cyclops, Nightwing, and Supurbia.  Russell has also designed characters and created covers for various Marvel, BOOM! Studios, DC, Valiant, and Image titles.  Outside of comics, Russell has illustrated children's books and worked as a costume illustrator in the film industry, most notably on Marvel Studios' Captain America: The First Avenger.  Russell is currently continuing his character-defining run drawing The Mighty Thor.
Congratulations to the 2018 Young Guns!
The Hype Box
Can't-miss news and updates from across the Marvel Universe!