Comics
Published April 21, 2023
Comics Primer: Your Guide to 'House of M'
Before reading the classic comics event, dive into the stories that set the stage for the Scarlet Witch's rewriting of reality.
New to reading comics or looking for a place to chat Marvel with friends? Join @FemalePeterParker's Marvel Unlimited Comic Book Club on TikTok Live this Sunday, April 23 at 1:30PM ET! This week's pick is HOUSE OF M, so read the series now to get ready and click here to register for the event.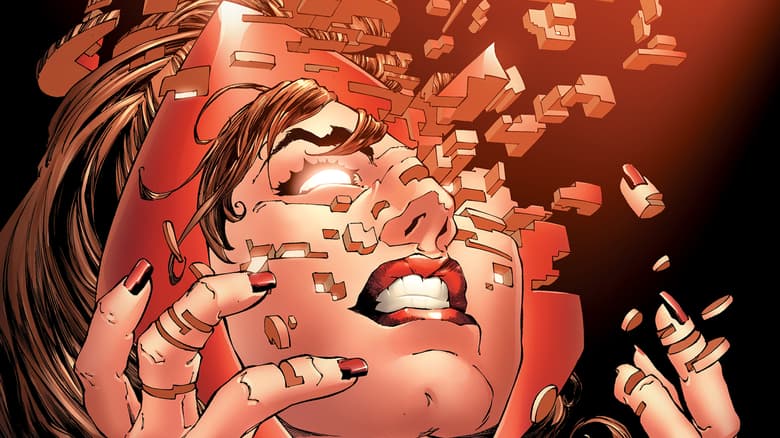 One of the most important comic book events of the 2000s, HOUSE OF M (2005) saw Wanda Maximoff, AKA the Scarlet Witch, rewriting reality itself with massive repercussions for the Marvel Universe that are still being felt to this day. While the series, which was written by Brian Michael Bendis and penciled by Olivier Coipel, is entirely readable on its own, there's some context that makes the experience even better. As such, here's what you need to know about the events leading up to HOUSE OF M.
[RELATED: 5 Times the Scarlet Witch Altered Reality]
SCARLET WITCH'S BACKSTORY IS KEY
Created by Stan Lee and Jack Kirby, Wanda Maximoff, AKA the Scarlet Witch, debuted in UNCANNY X-MEN (1963) #4 and is HOUSE OF M's main antagonist. A powerful user of chaos magic with the ability to alter reality itself, Wanda's first appearance saw her working with Magneto's Brotherhood of Mutants alongside her brother, Pietro Maximoff, AKA Quicksilver. While initially loyal to Magneto due to him having saved her from an angry mob, Wanda found herself at odds with the Master of Magnetism's more brutal plans, foreshadowing her eventual turn to heroism.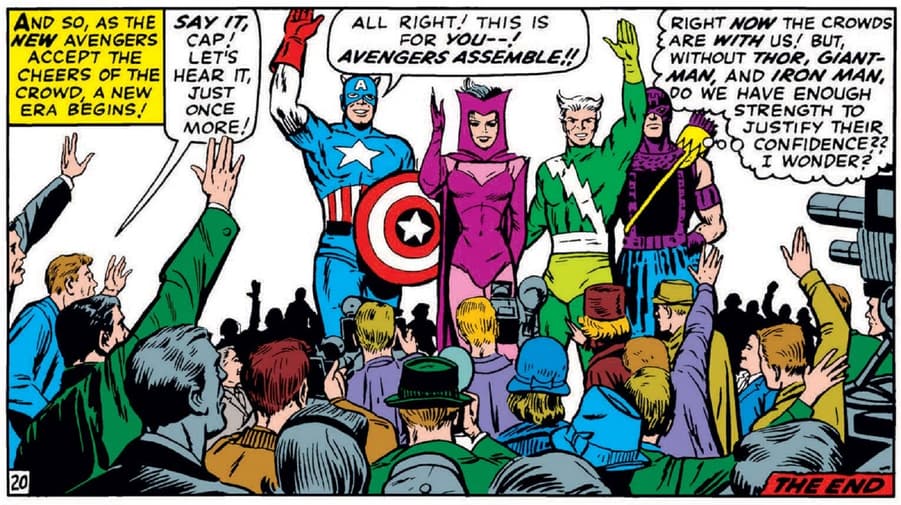 In AVENGERS (1963) #16, which was not long after their debut, Scarlet Witch and Quicksilver joined a new version of the titular team. Over the years, she remained an important recurring member of the Avengers, and it's there many of her most iconic stories occurred. One in particular is key to HOUSE OF M. While serving as a member of the Avengers, Scarlet Witch met Vision, a synthezoid created by Ultron. The two eventually struck up a romantic relationship.
Several years after their first meeting, VISION AND THE SCARLET WITCH (1985) #12 saw the titular couple having two sons through magical means: Tommy and Billy. However, not everything with them was as it seemed, which should come as little surprise considering one of their parents is a literal robot. In reality, Maximoff had used pieces of Mephisto's soul to create the children. That demon eventually re-absorbed them, effectively killing Tommy and Billy. In the aftermath, Agatha Harkness—Maximoff's mystical mentor—used a spell to help Maximoff forget her children. And here the Avengers' troubles began.
[RELATED: The Comics History of Billy and Tommy]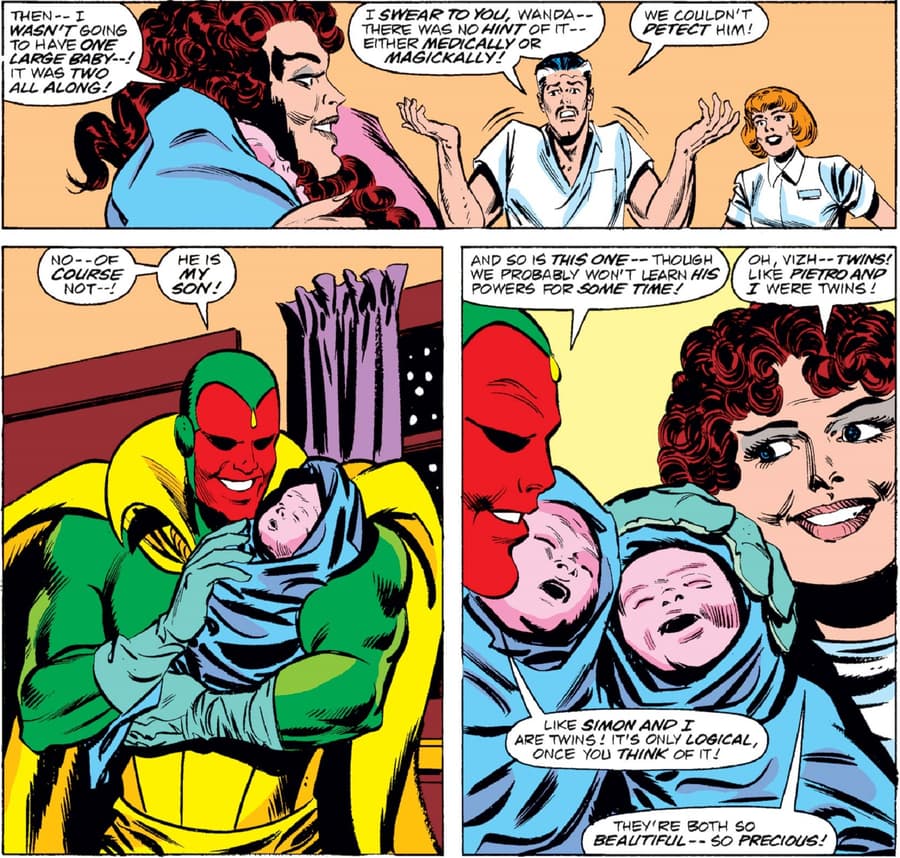 SCARLET WITCH DISASSEMBLES THE AVENGERS
For many years, Maximoff's children with Vision didn't come up much in the Marvel Universe, and the two had seemingly moved on with their lives. Vision and Wanda even drifted apart as a couple and their relationship ended. However, the past came back in a big way in 2004's "Avengers Disassembled" crossover story.
[RELATED: The Love Story of Scarlet Witch and Vision]
Prior to that event's start, Janet Van Dyne, AKA Wasp, accidentally mentioned Billy and Tommy to Maximoff. As the Scarlet Witch began piecing together what happened, she suffered a mental breakdown and set her formidable powers against the Avengers. She kicked off an attack on Earth's Mightiest Heroes by resurrecting Jack of Hearts and having him explode at the Avengers Mansion, doing massive damage to the building and killing Scott Lang, AKA Ant-Man, in the process. Not content to stop there, Scarlet Witch then caused Vision to crash the Quinjet into the mansion.
Following that initial salvo, Maximoff caused several other major events and deaths. In addition to causing Tony Stark to break his sobriety, Maximoff used her powers to cause a rage in She-Hulk that resulted in the death of Vision and Wasp being rendered comatose. Hawkeye was also later killed in a battle with what appeared to be the Kree, though were actually one of Maximoff's reality manipulations. Scarlet Witch also murdered Harkness for her role in erasing the memories of Billy and Tommy.
During that onslaught, the Avengers remained unaware of just who was attacking them. However, Doctor Strange, the Sorcerer Supreme, soon intervened, revealing the assault on Earth's Mightiest Heroes was magical in nature and pinpointed the Scarlet Witch as their attacker. With his help, the Avengers put Maximoff into a coma. Almost immediately after they incapacitated Scarlet Witch, Magneto arrived to take the woman he believed to be his daughter away, hoping to have Charles Xavier help her recover. Still, in the aftermath of "Avengers Disassembled," Earth's Mightiest Heroes did exactly as that title suggests and broke up.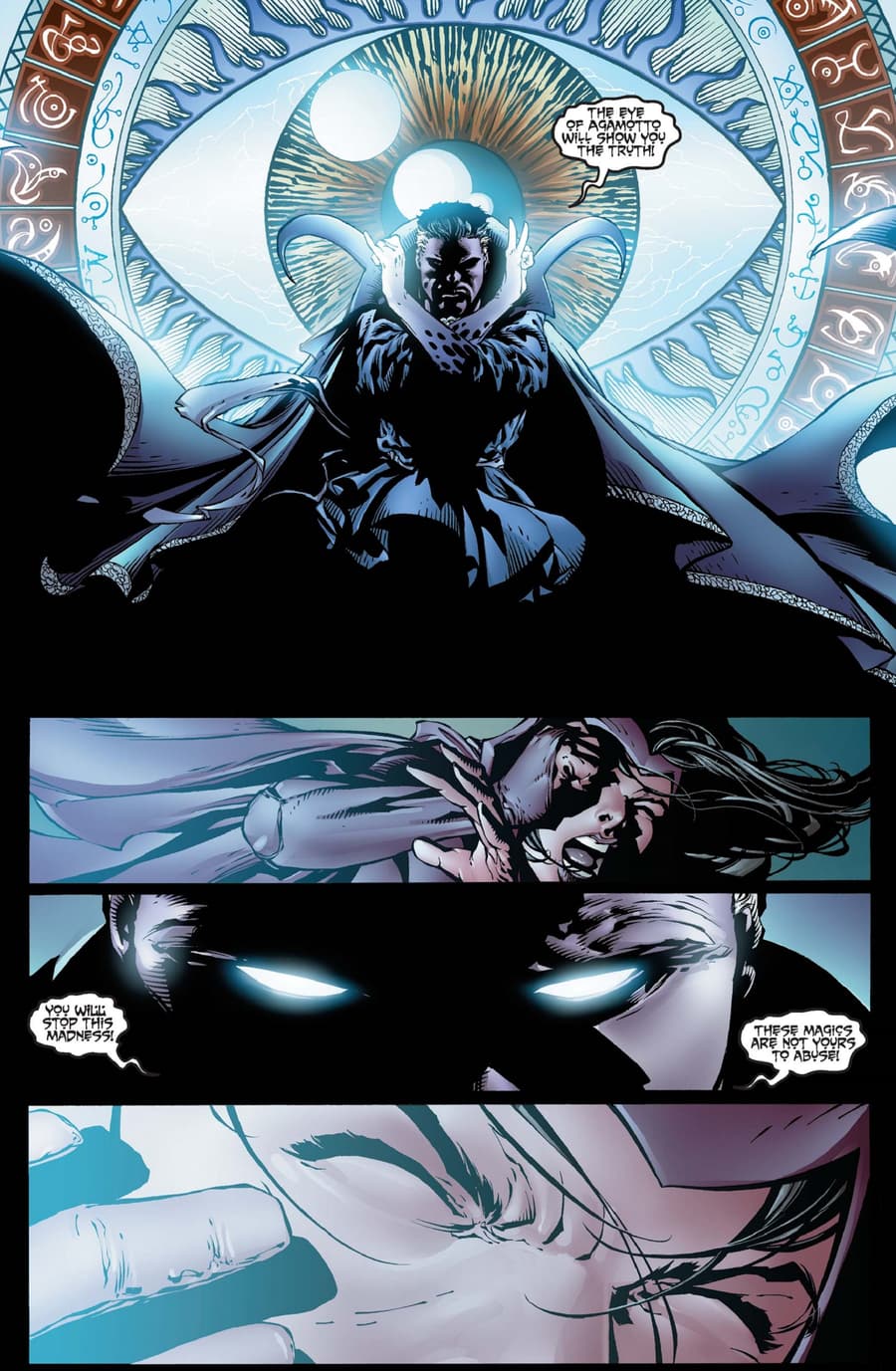 OTHER IMPORTANT PRELUDE READING
While "Avengers Disassembled" is undoubtedly the most important series for understanding the events of HOUSE OF M, there are a few other storylines that do inform the event. Although one iteration of the team did break up, NEW AVENGERS (2004) saw Captain America assembling a version of Earth's Mightiest Heroes again after a breakout on The Raft, Earth's prison for Super Villains. By the time HOUSE OF M rolled around, the key members of that team were Captain America, Iron Man, Spider-Man, Luke Cage, Sentry, and Spider-Woman, all of whom played roles of varying size in the event.
In terms of the X-Men and Marvel's mutants, one of the most important stories building up to HOUSE OF M is the "E for Extinction" arc, which occurred in the pages of NEW X-MEN (2001) #114-116. In that story, Cassandra Nova—the depraved twin of Charles Xavier—used the Sentinels to wipe out Genosha, a mutant nation controlled by Magneto, resulting in the deaths of approximately 16 million mutants. That genocide greatly changed mutantkind, and their dwindling numbers put them on the defensive more than ever before.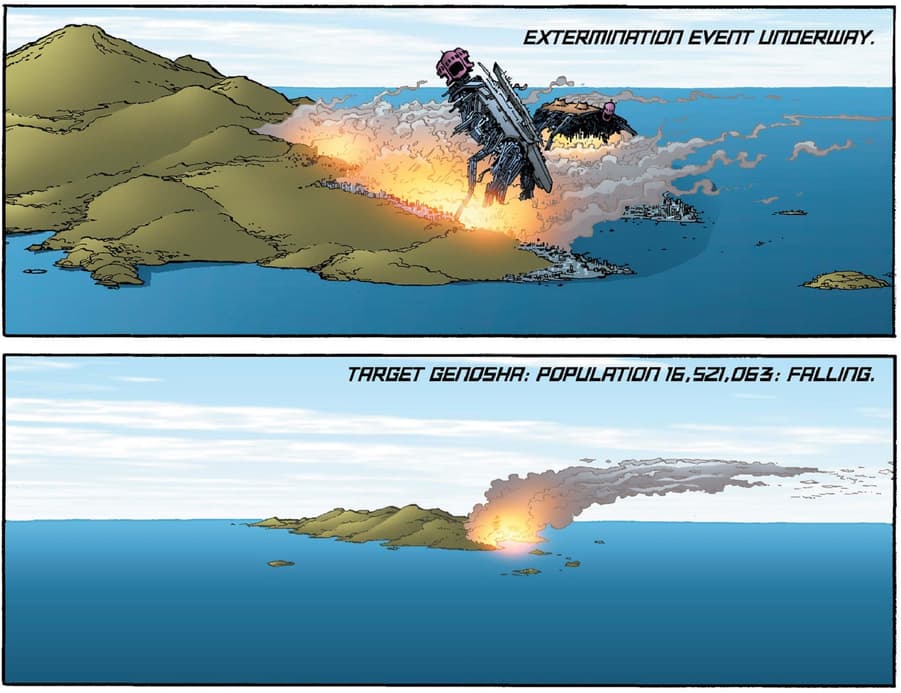 Genosha itself played a key role in HOUSE OF M and was the place to which Magneto took Scarlet Witch after "Avengers Disassembled." On Genosha, Xavier attempted to help Maximoff, though struggled in the task due to her formidable powers. In EXCALIBUR (2004) #14, Xavier went to Doctor Strange for help and, after fighting his way through traumatic visions of his own past, determined that Maximoff and Magneto were two people driven to make their ideals a reality, which gave them a capacity for both great good and evil. Still, Xavier believed redemption was possible for both Maximoff and Magneto. That question about their redeemability informs the very question at the heart of HOUSE OF M and the reaction to it sets the event in motion.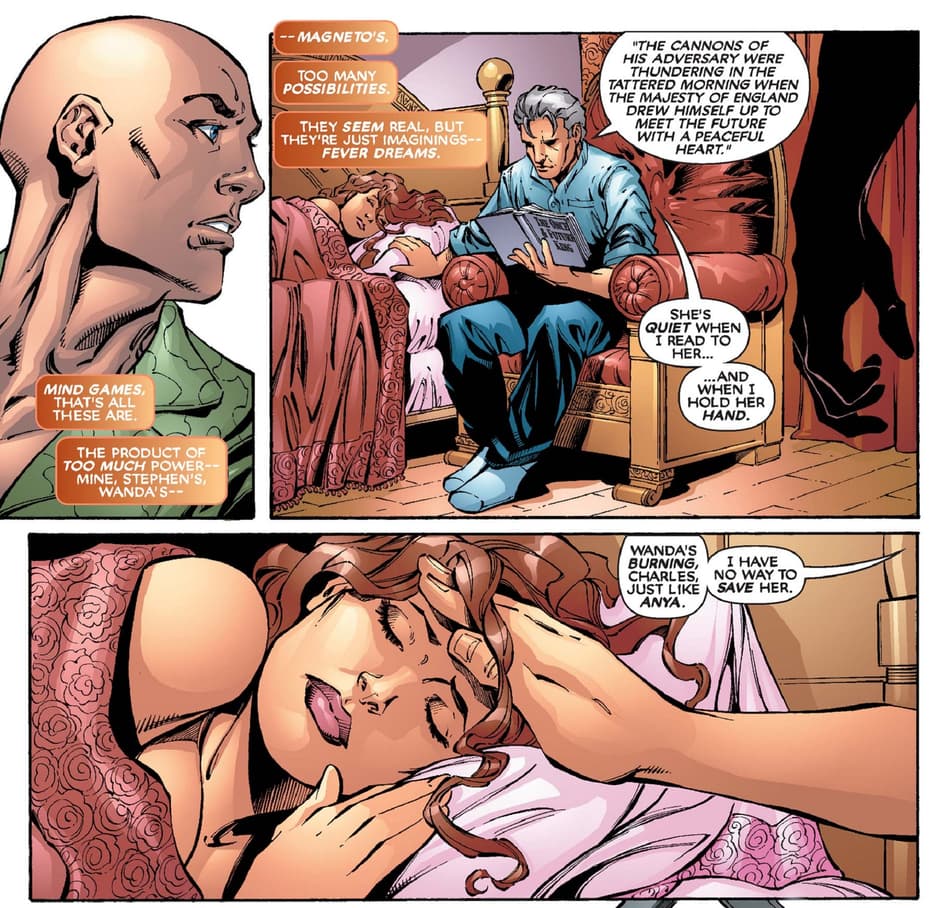 Have you tried Marvel Unlimited yet? It's your all-access pass to over 30,000 Marvel comics at your fingertips! Use code FPP2023 to get your first month free, and tune into @FemalePeterParker's Marvel Unlimited Comic Book Club on TikTok Live this Sunday, April 23!
The Hype Box
Can't-miss news and updates from across the Marvel Universe!