Comics
Published May 31, 2022
'Marvel's Voices': Greg Pak and Asian American Storytellers are Expanding the Marvel Universe
Writer Greg Pak is thrilled to celebrate milestones for Asian representation—while looking towards a future beyond "firsts"!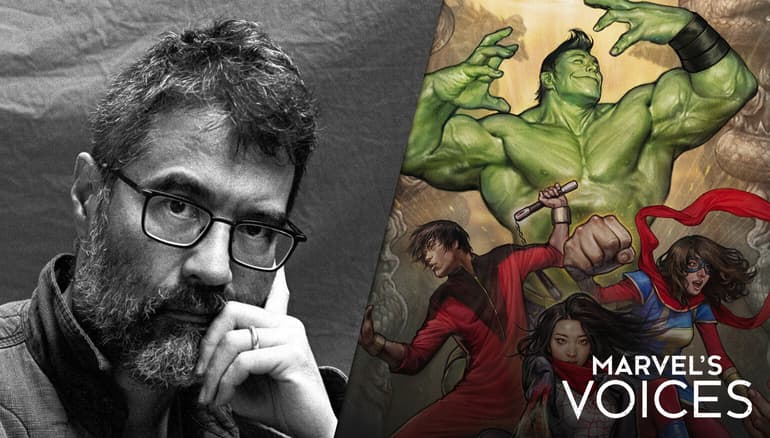 I grew up in the '70s and '80s as a half-Korean kid in Dallas, Texas, which means I grew up gloriously immersed in Ray Bradbury, Star Wars, Westerns, comic books and classic film noir double features at the local repertory cinema. But that also means I grew up at a time when it was vanishingly rare to see non-stereotypical Asian or Asian American characters in American pop culture. Yet, there I was, a kid who didn't quite look like anyone else in my suburban neighborhood.
In retrospect, that experience clearly contributed to my lifelong commitment to storytelling. I loved the sheer escape that genre stories provided. At the same time, consciously or not, I knew that to carve a safe path through the world, I needed to understand the stories of others and learn how to tell my own. I remember the thrill of finding Toshiro Mifune movies and Usagi Yojimbo comics for the first time. The threads came together as I started to grasp that genre storytelling could make people fall in love with characters from completely different backgrounds from theirs.
So I became a writer and filmmaker who eventually started writing comics for Marvel in 2004. At the time, I was trying to raise money for what I hoped would be my second feature film, an American Western with a Chinese hero and a Mexican heroine. But I'd hit a wall. No one I met with money in the film industry seemed to be able to wrap their heads around those leads.
But when I pitched an Asian American point-of-view character for the new WARLOCK book for Marvel, my editors didn't blink. They just dug the story and gave the thumbs-up. The next year, artist Takeshi Miyazawa and I co-created Amadeus Cho, who subsequently co-starred in the INCREDIBLE HERCULES book I co-wrote with Fred Van Lente, popped up in video games and animation, and headlined the TOTALLY AWESOME HULK series. After nearly 17 years, it turns out I've written or co-written over 100 Marvel comics starring or co-starring Asian or Asian American characters, including classic heroes like Jimmy Woo and brand new characters like Wave and the other stars of the new Agents of Atlas series.
So yes, I'm bragging a bit. I'm hugely proud to have been able to add to the pantheon of characters and follow in the footsteps of incredible, inspirational comics creators like Larry Hama, Jim Lee, Janice Chiang, Stan Sakai and so many more.
But the most exciting thing about this stretch of time is that so many more brilliant Asian American comics creators, both independent and mainstream, have told countless more stories. At Marvel alone, hundreds of books have been published featuring new and old Asian and Asian American characters like Kamala Khan, Cindy Moon, Jimmy Woo, Shang-Chi, Sword Master and Wave. And I hope that's just the start.
We spend a lot of time in our culture celebrating firsts. And it's been a thrill to personally be part of a few.
But it's time for seconds and thirds and twelfths and twentieths.
I want surfeit and excess. I want so much representation from so many different storytellers that no one character, no single creator has to feel the impossible pressure to represent an entire community in all its diversity. I want so much representation that we can stretch a thousand miles beyond "role model" to revel in heroes and villains and everything in between in every genre conceivable. I want so much representation that countless new creators are building careers and a legacy of work to thrill us for generations.
Right now, we're closer to that dream that we've ever been in my lifetime. Books like MARVEL'S VOICES: IDENTITY may feel like the most natural and obvious thing in the world—and it should! Marvel has always been about the world outside your window, and these stories—like all the other glorious books that the company's published that explore characters of all different backgrounds—are simply fulfilling that promise.
But sometimes, the most obvious things in the world are still miracles, born from the hard work and passion of countless people. Thank you so much to everyone who's been writing, drawing, coloring, lettering and editing these stories. Thank you so much to everyone who's been fighting for and greenlighting them. And thank you especially to every reader of every background who's supported these characters and stories.
Here's to all of us…and to more and more and more.
The Hype Box
Can't-miss news and updates from across the Marvel Universe!