Comics
Published June 28, 2022
'Marvel's Voices': Jasmine Estrada Found Solace in Viv Vision's Journey
Marvel's Audio Producer Jasmine Estrada talks about how Marvel comics helped her fully embrace her identity as a queer trans woman.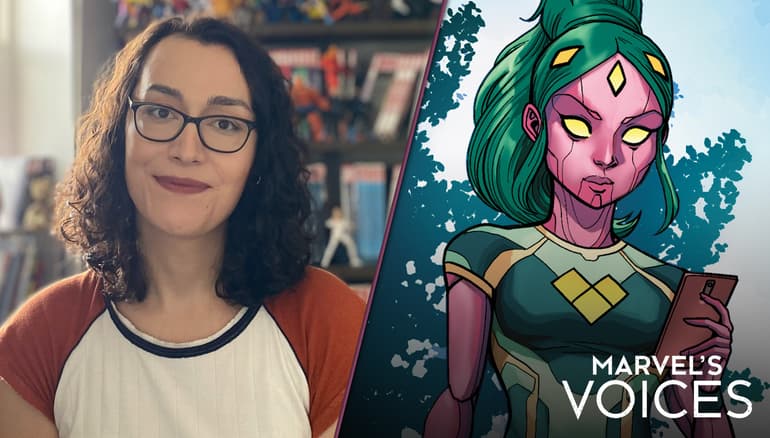 I grew up in a world still trying to wrap its brain around the concept of gender fluidity and what it meant to be transgender. At the time, almost every depiction of a transgender person served as a punchline. 
Comics were a way for me to escape reality and experience someone else's joys and struggles for a change. And for someone who struggled with identity issues, I found myself reading A LOT. Without understanding why, I gravitated to the women of Marvel—She-Hulk, Black Widow, Scarlet Witch…I could see myself in these heroes, despite the world telling me I couldn't. 
By the time I hit college, there were even more heroes I could relate to. Women like America Chavez, Anya Corazon, and Kamala Khan. But, it would be years before I found a character I could identify with so much, it helped me come to terms with the weight of the gender dysphoria that I'd carried for over 20 years. 
In 2016, I packed up my entire life and moved halfway across the country to New York City. Despite being away from everything I knew as home, I had it all: the dream job, in the dream city, with a partner I was sure I would marry. But something still felt…off. 
Around the same time, Tom King and Gabriel Hernandez Walta had an on-going comic series called VISION (2015). In it, the titular synthezoid-Avenger moves to the suburbs and creates a family to better humanize himself including a set of twins, his son Vin and daughter Vivian.
I glommed onto Viv and her story almost immediately. She was a synthezoid, programmed to be a sixteen-year-old girl. She even had specific instructions on what to wear and how to behave. But, in her mind, she and her brother Vin were just normal teenagers. Viv was quickly confronted with the reality of her differences when she started high school. She was met with stares, questions, and whispers from her peers. It wasn't lost on me that the other students, teachers and parents didn't perceive her as a girl, but rather an android trying to "pass" as one. 
By this time, I'd realized what was "off" and began embracing my identity as a queer trans woman. Viv's experience with her classmates was my biggest fear fully realized in a comic. More specifically, the one thing that had held me back from fully embracing my identity was the  fear of not being accepted by loved ones because I wouldn't "pass" as a woman. I became extremely critical of my appearance, hyper-fixating on characteristics like the size of my hands, my jawline, my broad shoulders—I even began pulling out the hair on my legs from stress and anxiety. 
But as Viv's story continued, I was able to find solace in her journey.  In particular, a scene between Viv and her chemistry partner. In it, Viv's partner, C.K., catches up to her in the hallway and asks to walk her to class. Along the way, he discloses that his father doesn't want them to be chem partners any more and has asked the school principal to break them up. But then C.K. turns to Viv and assures her that he doesn't think the same way. He says, "people say things, but, like, no one understands things." And to Viv's surprise, he even calls her "cool." In his own awkward, teenage way, C.K. was right. In that moment, it was clear that he saw Viv for who she was and not the way others had defined her. It gave me hope for the same.
By the time I transitioned, I too had lost some of the people I'd held close. But that was okay, because I'd fully stepped into my authentic self. The dysphoric weight that I'd carried for over 20 years had lifted. And it was thrilling. 
Through it all, I held on to Viv. I watched as she joined the Champions, surrounding herself with peers who not only accepted her but loved her as she was. After my transition, I did the same. I moved back home and surrounded myself with the family and friends who'd stuck by my side no matter what. They've supported me through so much over the past few years, and seeing that same support for Viv in the pages of Champions is a constant reminder of how important she is to me. 
In a recent issue of Champions—now in the epic hands of Danny Lore and Luciano Vecchio—Viv is walking her dog Sparky, phone in hand, wearing her hair up in a high pony, sporting a cute athleisure fit. And I saw myself in her once again. Though this time it felt different. Viv has a clear sense of confidence in who she is now.  You can almost see that massive weight has lifted from her shoulders as she walks her dog, not paying the slightest bit of attention to the jogger who stares at her. After examining the panel over and over again, I realized why I recognized the change in her. I see it every time I see my reflection.
That's the wonderful thing about Marvel, it not only reflects the world outside our window, it is the world outside our window. And as the world wraps its head around the entirety of the gender spectrum, it's beyond validating to see that Marvel's stories do too. So much has just changed since I first picked up a comic book, and stay tuned— because there is so much more on the way!
Pick up your copy of MARVEL'S VOICES: PRIDE (2022) now, as well as the newest issue of MARVEL'S VOICES: PRIDE (2022) #1, now on sale!
Jasmine Estrada is an audio producer for Marvel. She's worked on podcasts such as Marvel/Method, The History of Marvel Comics: Black Panther, and Marvel's Pull List (which she ocassionally co-hosts too)! When she isn't working on podcasts she's usually reading from her library of comics or shopping for more to add to her shelves. 
You can read more essays on Celebration of Legacy from Marvel's Voices, available exclusively on Marvel.com!
The Hype Box
Can't-miss news and updates from across the Marvel Universe!