Comics
Published June 9, 2023
Meet Pavitr Prabhakar, AKA Spider-Man: India
Who is Spider-Man India? Find out everything you need to know about the Spider-Man of Earth-50101 here.
Thanks to the Multiverse, a virtually infinite number of Spider-Heroes exist. Each Spider-Hero from across the Multiverse has their own unique story, even though all of them ended up as powerful heroes burdened with responsibility. In several such universes, Earth's version of Spider-Man comes not from New York City, but India. Here's what you need to know about Spider-Man India's origin.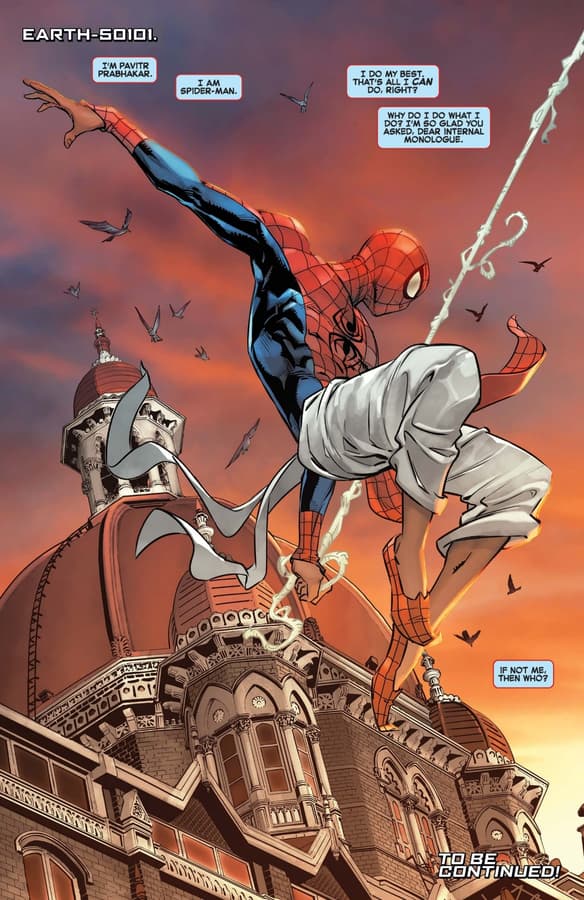 Spider-Man India's Origin
Created by Jeevan Kang, Suresh Seetharaman, and Sharad Devarajan, Pavitr Prabhakar debuted in SPIDER-MAN: INDIA (2004) #1. Like Parker, Prabhakar grew up under the care of his Aunt Maya and Uncle Bhim. Despite living in poverty, Prabhakar's intelligence earned him a scholarship that—with additional support from his family—allowed him to attend an illustrious school in Mumbai.
Although he met Meera Jain—his version of Mary Jane Watson—at the school, Prabhakar's time at the institution was rocky, and his peers bullied him due to his lack of wealth. One day, while fleeing those bullies, Prabhakar encountered a mysterious yogi that gave him his powers. These powers are pretty much identical to those of Earth-616's Spider-Man and include enhanced strength and the ability to sense danger.
Still, a Spider-Man isn't a real Spider-Man without at least some tragedy. This time around, Prabhakar refused to help a woman being mugged. This led his Uncle Bhim to intervene and—like so many of Spider-Man's parental figures before him—he died as a result. In the end, Prabhakar learned that with his great power comes great responsibility.
Following Uncle Bhim's death, Prabhakar took on a crime boss named Nalin Oberoi, an analog to Earth-616's Norman Osborn, when the villain used an amulet to transform himself into a demon with the intention of facilitating an invasion of Earth. The new Spider-Man was also, around this time, forced to take on alternate versions of Doctor Octopus and a Venom-like symbiote.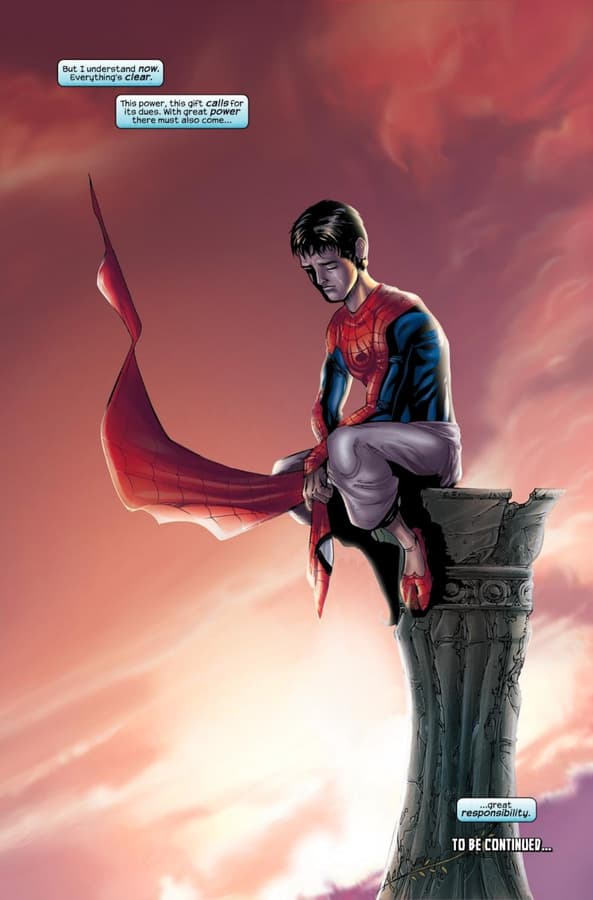 Spider-Man India Enters the Spider-Verse

When SPIDER-VERSE (2014) brought together Spider-Men from across the Multiverse to battle interdimensional vampires known as the Inheritors, Prabhakar joined the fight. In SUPERIOR SPIDER-MAN (2013) #32, Earth-616's Otto Octavius—who at the time was in Parker's body—went to Prabhakar's world and helped him escape an attack from Morlun, one of the Inheritors, there. Prabhakar went on to play a key role in defeating the Inheritors as part of the Spider-Army, though he also struggled with the knowledge that so many people across the Multiverse had stories like his and the idea he may be just a reflection of Parker.
After the Spider-Army defeated the Inheritors, Prabhakar joined the Web-Warriors, a team dedicated to protecting the worlds of those who'd lost their wall-crawling protectors. As a member of that group, Prabhakar served as a tech expert and played an invaluable role in defeating a group of Electros from across the Multiverse.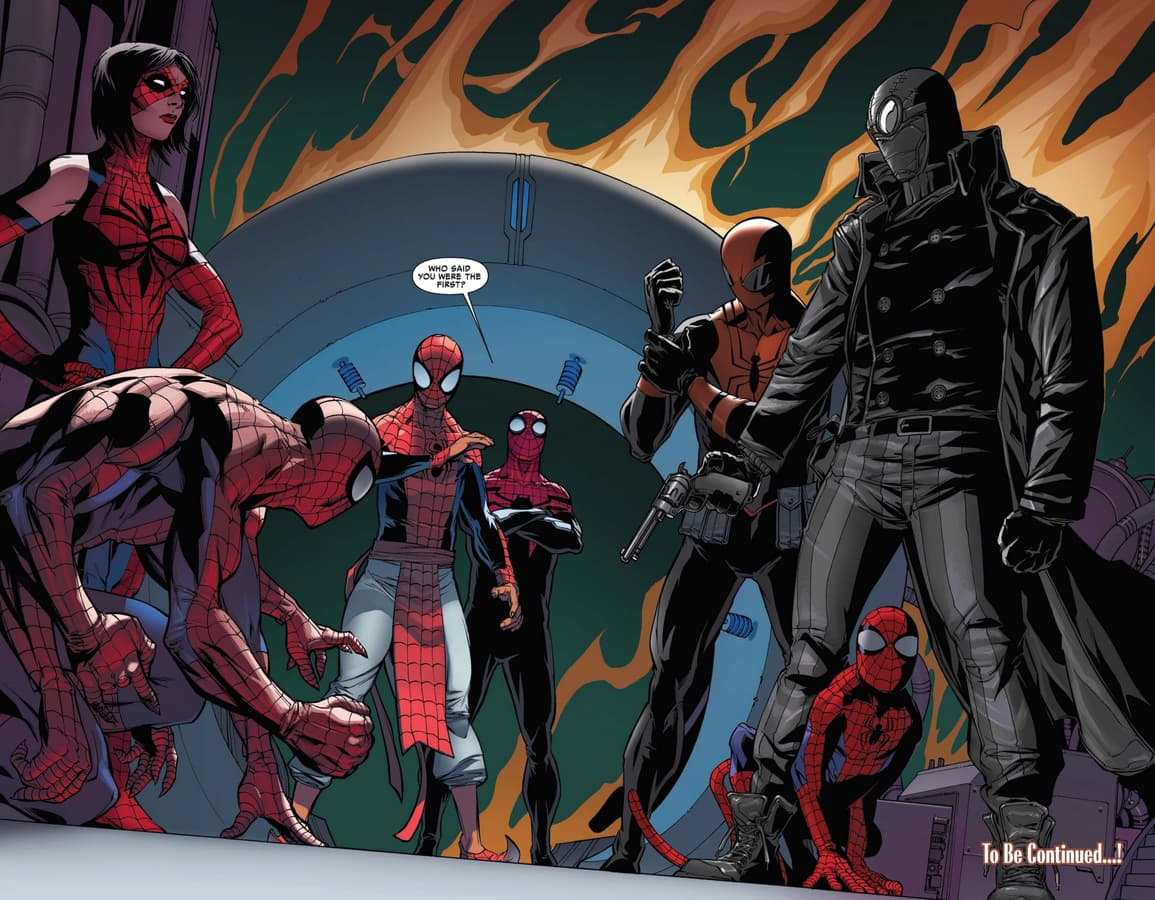 Later, Prabhakar returned for SPIDER-GEDDON (2018), playing a relatively minor role as part of Miles Morales' Spider-Army. In the end, Prabhakar helped transfer the minds of the Inheritors to the bodies of newborn babies, giving them a chance to be better than they had been in their previous lives. He also returned for the "End of Spider-Verse" arc in SPIDER-MAN (2022), where he helped defeat Shathra, an evil wasp goddess dedicated to killing those with spider-based powers.
With the latest threat to the Spider-Verse finished, Prabhakar is once again returning for his own series. Written by Nikesh Shukla and illustrated by Abhishek Malsuni and Scott Hanna, SPIDER-MAN: INDIA (2023) #1 features not only a team-up with Earth-616's Miles Morales and Peter Parker, but also more information about Prabhakar's home world. So, if you want to keep up on all things Pavitr Prabhakar, check out the issue on June 14!
Grab these comics and more at your local comic book shop! Or redeem then read your digital copy on the Marvel Unlimited app by using the code found in your print comic. Find and support your local comic book shop at ComicShopLocator.com.

To read your Marvel comics digitally, download the Marvel Unlimited app for iOS and Android devices. Gain an expansive catalog of 30,000+ comics spanning Marvel Comics history, plus access your entire digital library including comics redeemed from print. 
The Hype Box
Can't-miss news and updates from across the Marvel Universe!