Comics
Published May 17, 2019
More August Releases: 'Fantastic Four: Yancy Street,' 'Age of Conan: Valeria,' and More Acts of Evil
See the covers for the new books and the Acts of Evil creative teams!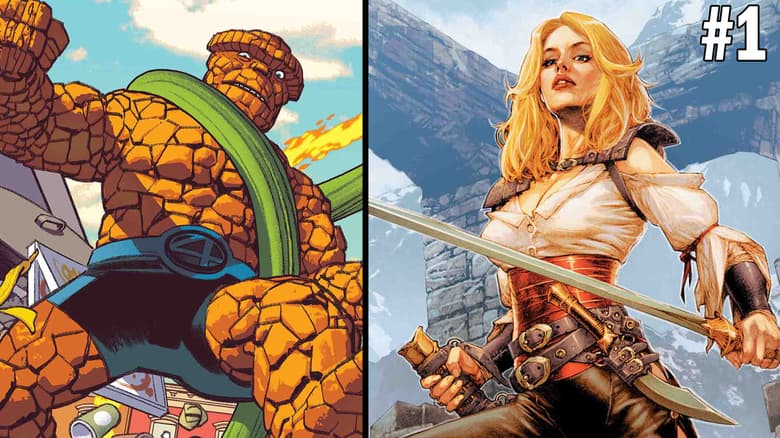 Make sure your shelves clear for even more Marvel mags this summer! The wave of August announcements is still going with FANTASTIC FOUR: YANCY STREET #1, AGE OF CONAN: VALERIA #1, and more news about ACTS OF EVIL, a series of issues featuring match-ups between Marvel heroes and their biggest foes!
First up is FANTASTIC FOUR: YANCY STREET #1, written by Gerry Duggan with art and a cover by Greg Smallwood. This new take on the Fantastic Four will explore what happened when Marvel's First Family took up residence on Yancy Street, much to the chagrin of their new neighbors. But an investigation into some neighborhood vandalism forces the Thing to confront part of his painful past. It only gets more complicated when the Terrible Trio show up!
Here's what Duggan had to say about telling this part of the Fantastic Four's story:
"Last fall, Greg Smallwood and I got to take a big swing at Doctor Strange in 'The Best Defense' and now we're re-teaming to scratch our Fantastic Four itches. We're exploring some of the ripples created by their move to Yancy Street, and some classic Jack & Stan villains are invited, too. It's an oversized love letter to Marvel's First Family, just in time for Marvel's 80th birthday."
Here is Smallwood's cover of FANTASTIC FOUR: YANCY STREET #1: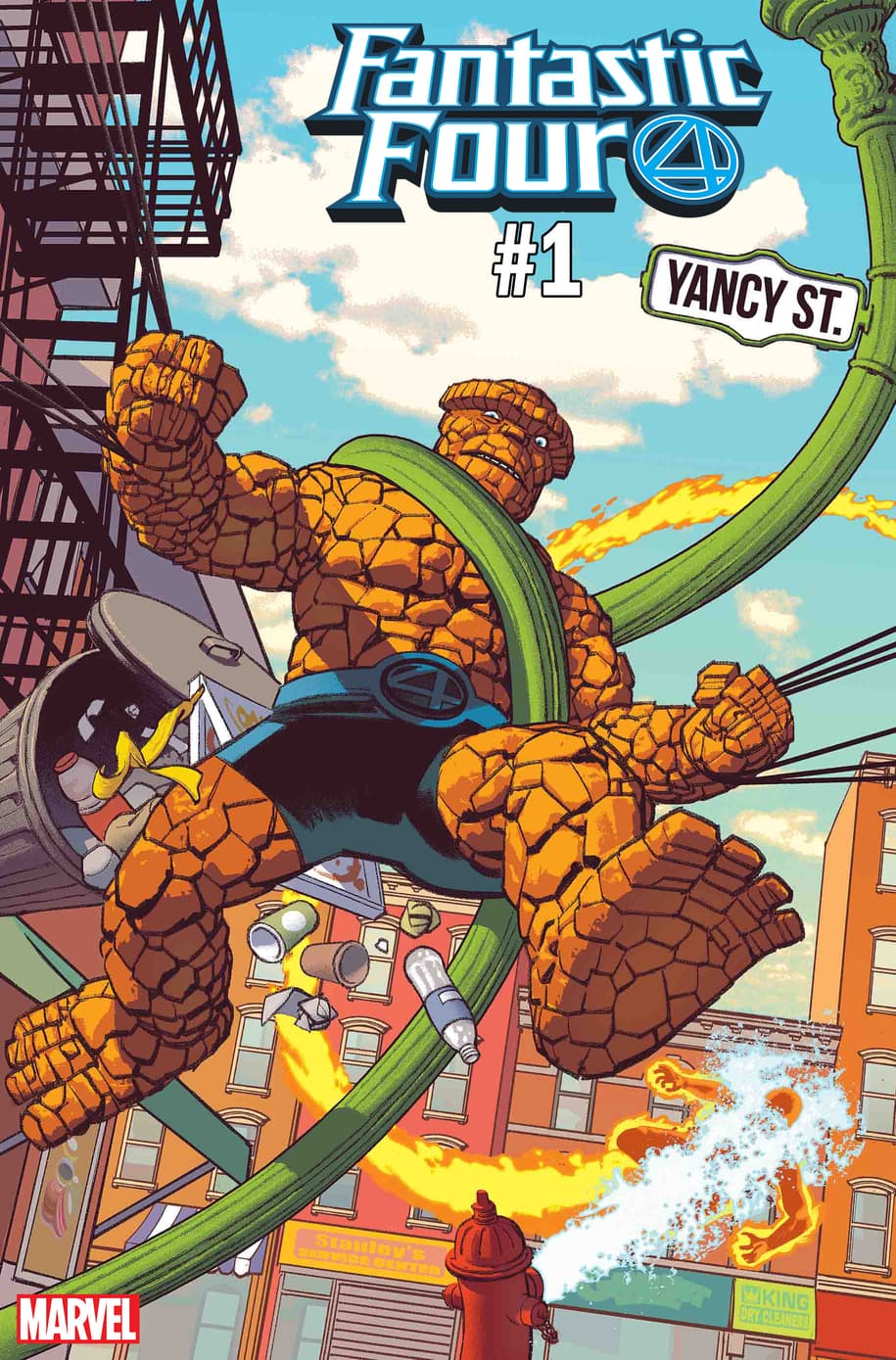 FANTASTIC FOUR: YANCY STREET #1, written by Gerry Duggan with art and a cover by Greg Smallwood, goes on sale Wednesday, August 21!
Next up is AGE OF CONAN: VALERIA #1,a limited series written by Meredith Finch (SAVAGE SWORD OF CONAN) with art by Aneke and a cover by Jay Anacleto. In this CONAN story, another classic Robert E. Howard character takes the spotlight -- Valeria is a revenge-seeking young woman forging her own path in the Hyborian Age in a time before the classic "Red Nails" story. Finch had this to say about taking on such a classic literary world in an all-new story:
"Robert E. Howard and the Conan universe have always been ahead of their time in terms of creating strong, empowered female characters, and Valeria is certainly no exception. It was my privilege to craft the origin story of such a formidable woman, even by today's standards.  When combined with the fantastical storytelling of Aneke, this is sure to be a book Conan fans new and old won't be able to put down." 
Here is the cover by Anacleto: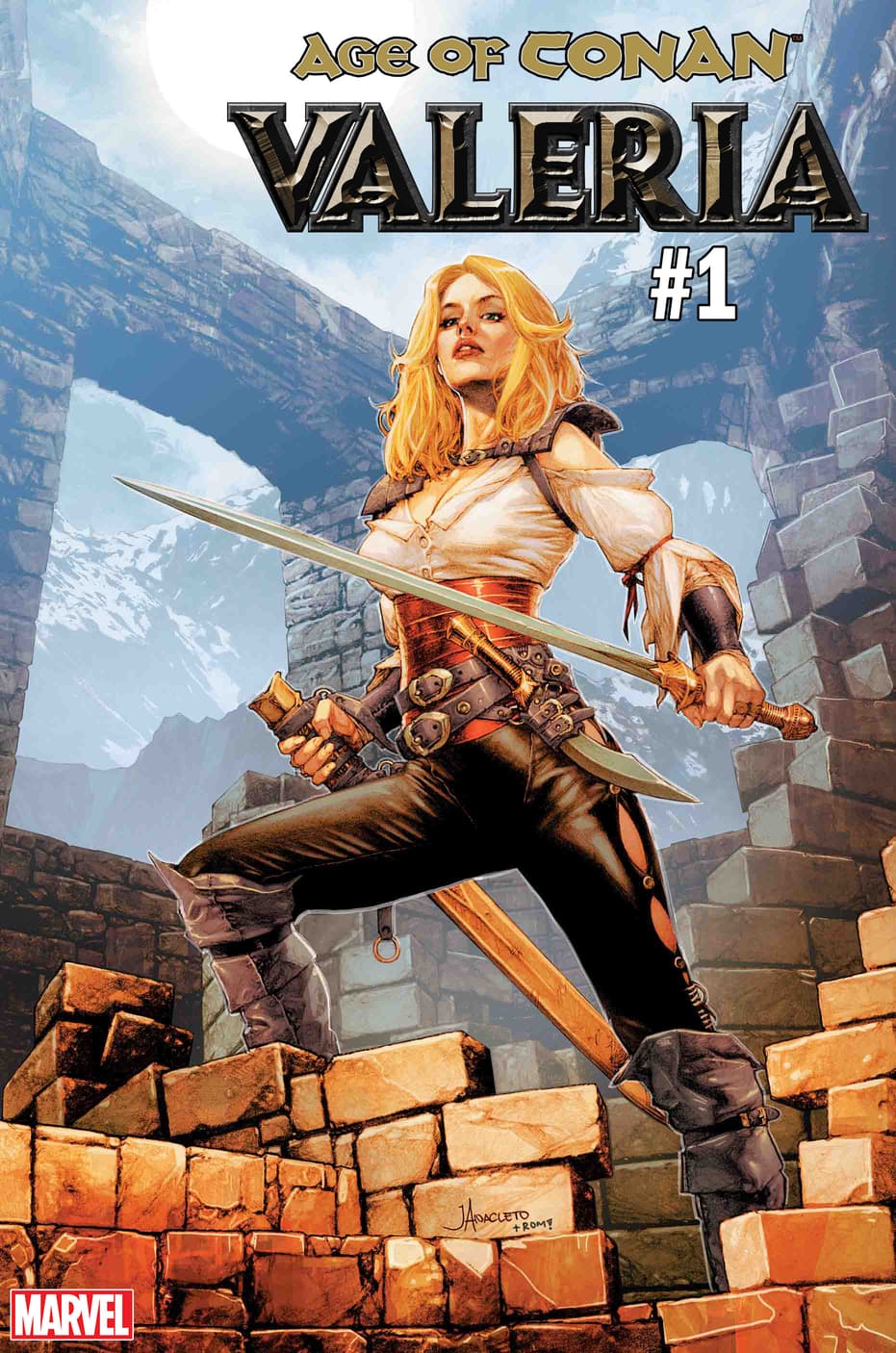 AGE OF CONAN: VALERIA #1, written by Meredith Finch with art by Aneke and a cover by Jay Anacleto, goes on sale this August!
Finally, Marvel.com told you last month about ACTS OF EVIL and the two issues coming in July that would pit your favorite Marvel heroes against their biggest enemies. Now, the next batch, coming in August, have been named along with the covers and creative teams!
DEADPOOL ANNUAL #1: DEADPOOL VS. NIGHTMARE will be written by Dana Schwartz with art by Reilly Brown and a cover by Aaron Kuder: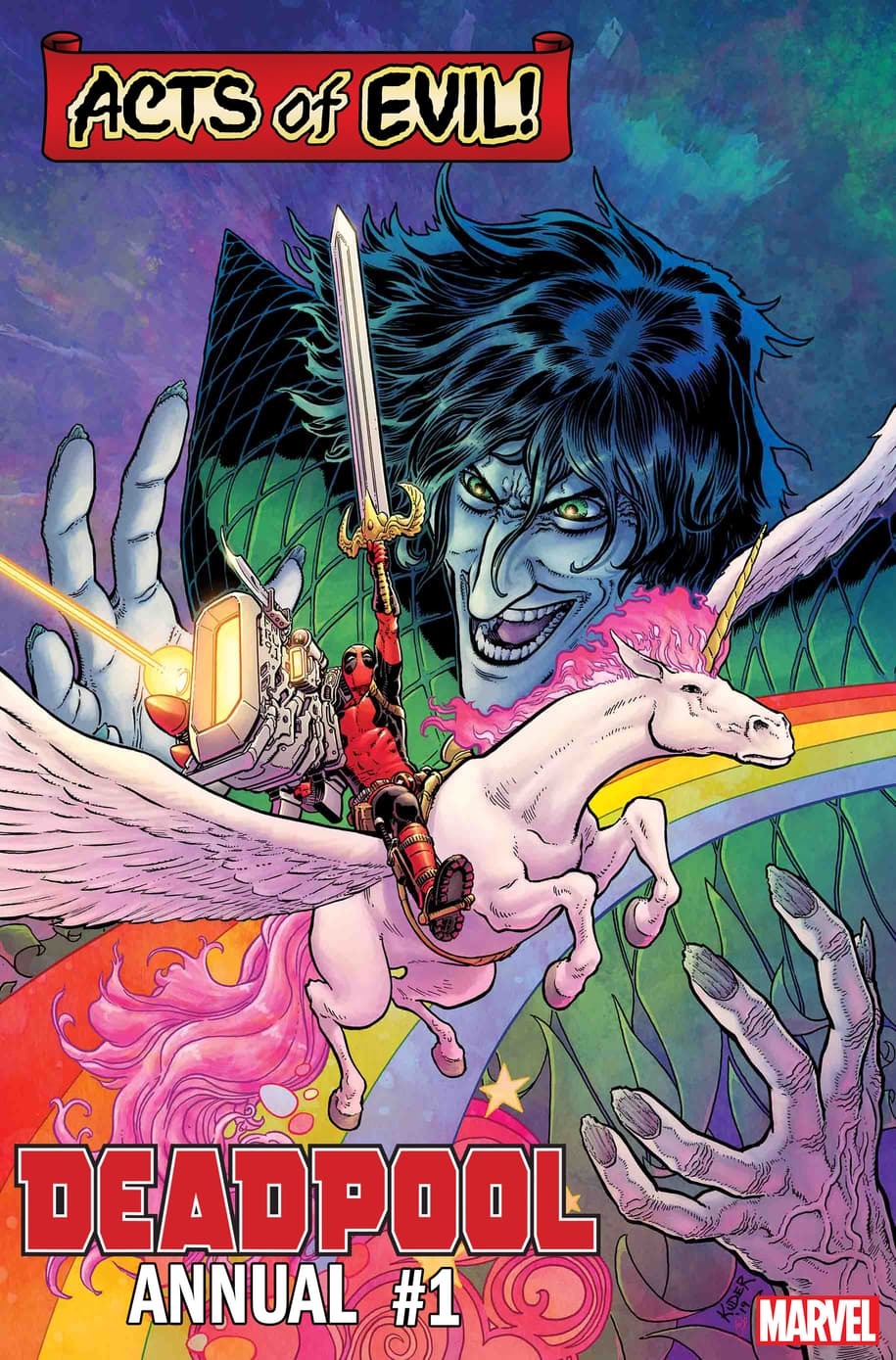 Next is SHE-HULK ANNUAL #1: SHE-HULK VS. BULLSEYE, written by Alexandra Petri with art by Andy MacDonald and a cover by Mirka Andolfo: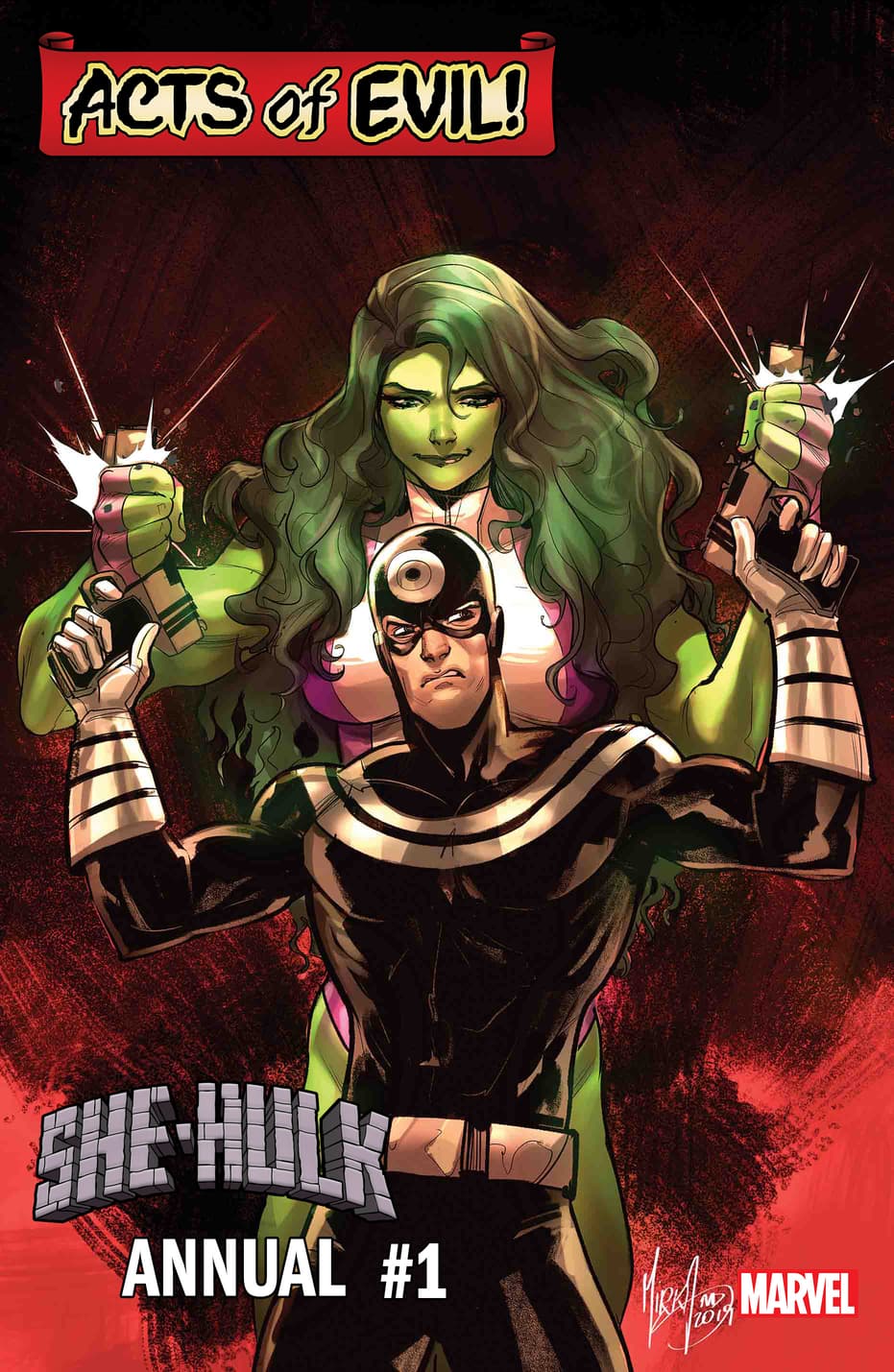 Also announced are the creative teams for the September releases:
GHOST SPIDER ANNUAL #1: GHOST-SPIDER VS. ARCADE, written by Vita Ayala with art by Pere Perez
MOON KNIGHT ANNUAL #1: MOON KNIGHT VS. KANG, written by Cullen Bunn with art by Ibrahim Moustafa
WOLVERINE ANNUAL #1: WOLVERINE VS. MORGAN LE FAY, written by Jody Houser (artist TBD)
And to make sure you can keep track of every issue, here's a checklist with every issue of ACTS OF EVIL!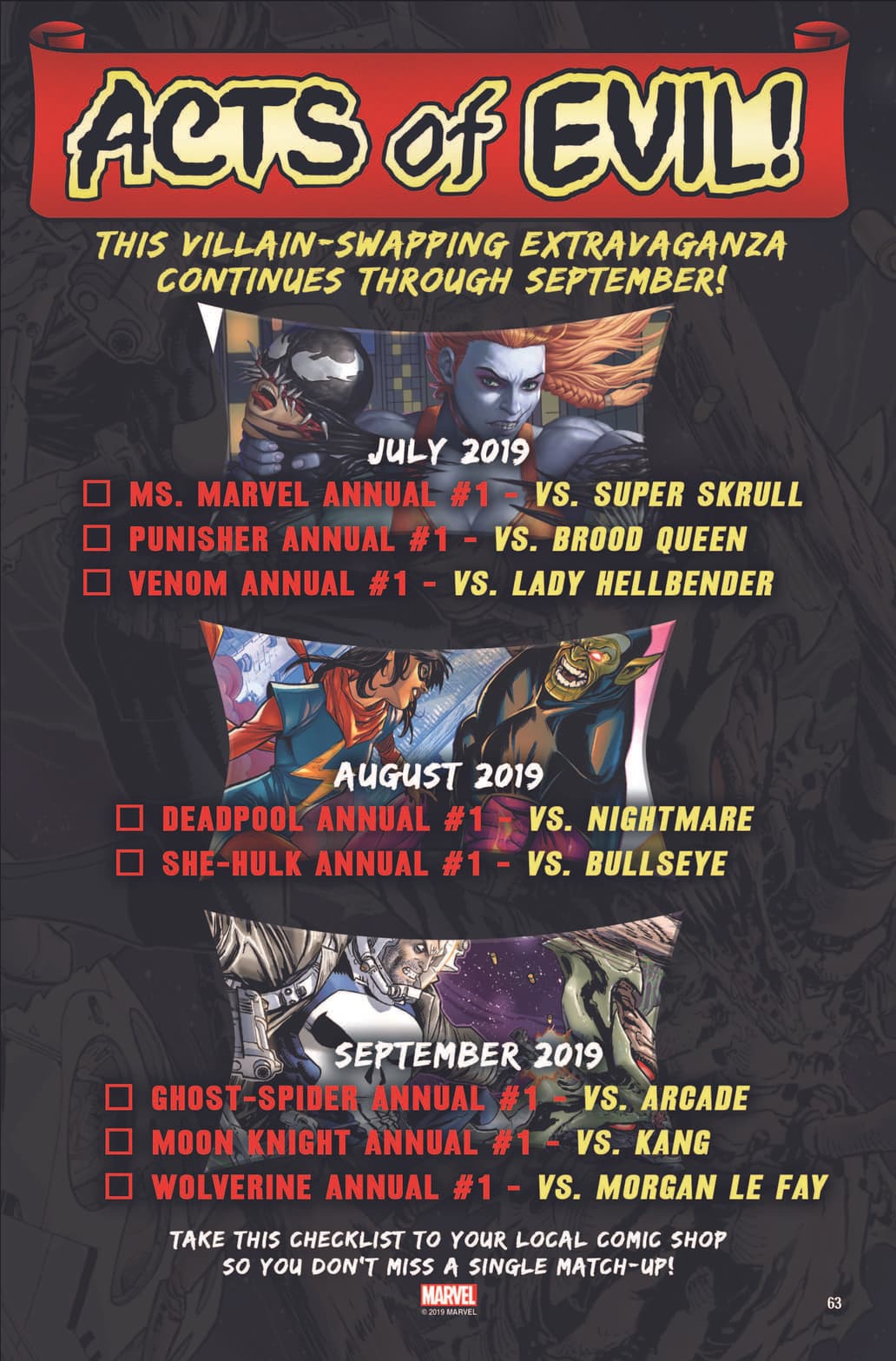 The Hype Box
Can't-miss news and updates from across the Marvel Universe!