Comics
Published January 5, 2023
New Mutant Karma Takes the Spotlight in Romance Anthology Series 'Love Unlimited'
We spoke to creator Trung Le Nguyen about Karma's latest love and her (complicated) family history.
Have you tried Marvel Unlimited yet? It's your all-access pass to over 30,000 Marvel comics at your fingertips. Start your 7-day free trial, or sign up with plans as low as $9.99 a month.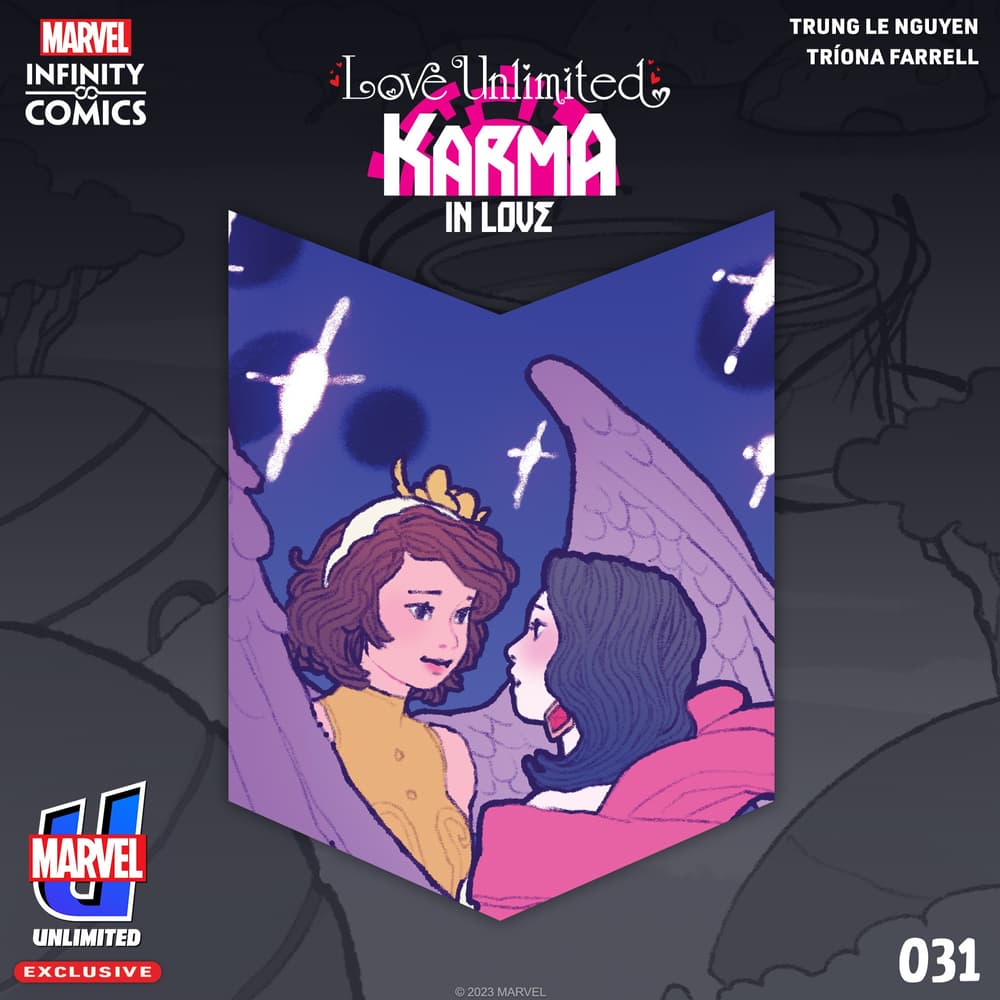 New on the Marvel Unlimited app: Life on Krakoa has been good to Karma! She's been able to expel her twin brother's trapped psyche from her mind, undertake heroic missions as a New Mutant, and has even found the time to begin dating fellow mutant Galura—but when her relationship hits the rocks, everything seems to start falling apart...
Kicking off today in LOVE UNLIMITED INFINITY COMIC #31, "Karma in Love" is the latest six-part story arc in Marvel Unlimited's romance anthology series by Harvey-award winning writer/artist Trung Le Nguyen and colorist Tríona Farrell. With new issues available every Thursday on the app, LOVE UNLIMITED offers romance and heartbreak, tension and drama, all while diving into the relationships of Marvel's most swoon-worthy characters.
We spoke to Trung Le Nguyen (The Magic Fish) about "Karma in Love"; what readers can expect from this latest story, and what lies ahead for Xuân in her "fresh start" on Krakoa.
First off, you clarify that we've been pronouncing Xuân's (formerly "Xi'an") name wrong! Can you speak a bit about her name change?
TRUNG LE NGUYEN: For sure! I've had quite a journey around Karma's civilian name. As a reader who spoke Vietnamese as a child, it was really difficult for me to connect with Karma because I knew her name was gibberish. For example, the "sh" sound in "Xi'an" doesn't exist in the Vietnamese language. Vietnamese written language uses a Latin alphabet. You don't have to phonetically approximate the sounds because we already use letters you know. For a long time, I was very put off by it. Then, as I delved through the character's history, I learned that she was created in 1980. The effective end of the Vietnam War was only five years earlier, in 1975. Before then, most English-speakers had never even heard of Vietnam. I'm sure, for English speakers, doing the research of simply naming her was difficult at the time, and once deadlines are thrown into the mix it becomes prohibitively difficult! It became clear to me that she was made from a place of consideration; that her creators were trying to bring a character into the fold who weathered a specific humanitarian crisis. Karma, like my parents, is a Vietnamese boat person. She's a refugee. Karma is part of the Vietnamese diaspora, a việt kiều on Krakoa. In clarifying her name—or renaming her—I wanted to nod to her comic book origins by keeping her name as close to its original as possible while making it legible to readers familiar with Vietnamese. I changed very few letters, but I think it helps give her a fresh start. That's why I named her "Xuân" [pronounced "Swun"]. It means "Spring."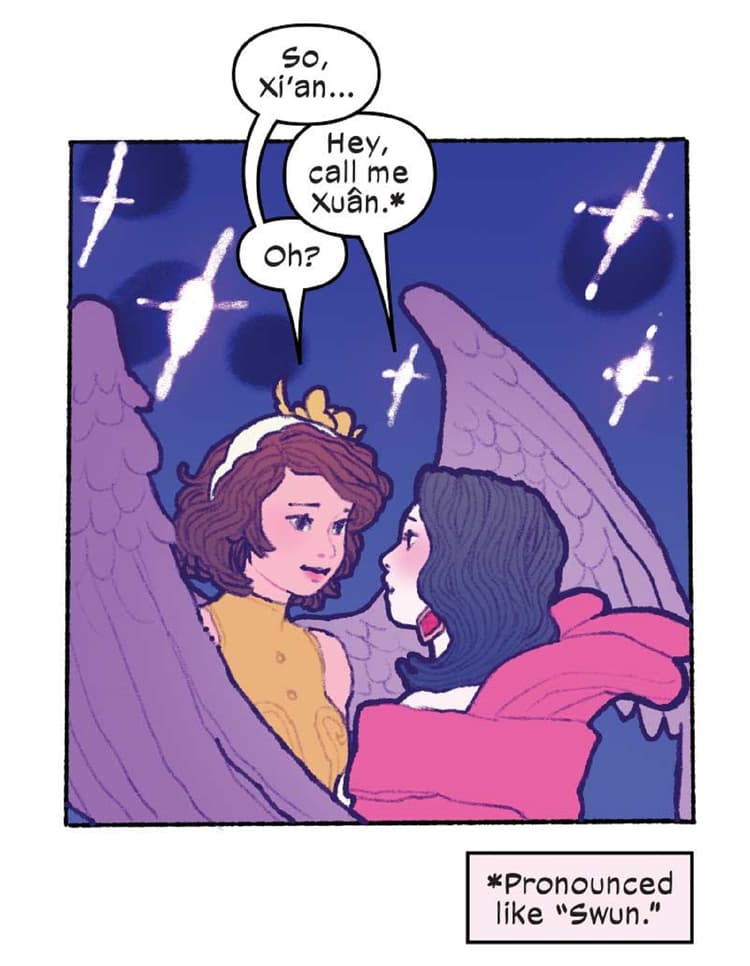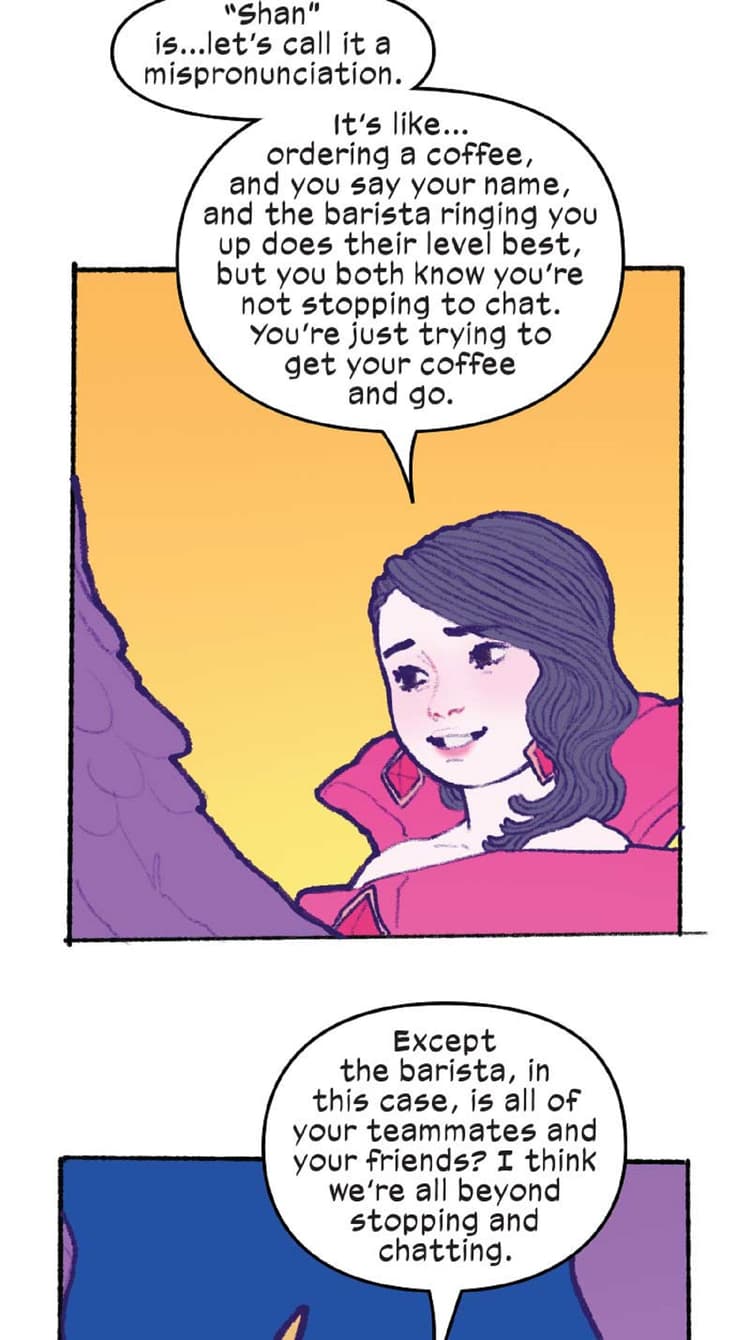 What was the first comic story that introduced you to Karma or the New Mutants?
TRUNG LE NGUYEN: I'm honestly pretty fresh when it comes to the New Mutants mythos, and I relied really heavily on the more recent NEW MUTANTS [run] by Vita Ayala. The way they wrote Karma's yearning to reclaim herself and to extend that freedom to her brother on Krakoa really moved me, and I wanted to build on that. As I was doing this, I caught myself up on Karma's history, and she's been through quite a lot! Let's give the poor girl a break!
At the beginning of your arc, Xuân is at a crossroads in her relationship: Can she and Galura possibly work this out?
TRUNG LE NGUYEN: I sure hope so! They're young and full of feelings, and Karma's got a ton of trauma to work through. I imagine they have to learn to communicate a little better--I hope they work it out!
Your art is absolutely dreamy, especially the Green Lagoon set! What did you enjoy the most about bringing your style to Krakoa?
TRUNG LE NGUYEN: I truly wasn't sure how to visually articulate much of the Lagoon and had to dive back into the comics to assure myself I was thinking of it correctly. Once I realized I could draw Fred Dukes [AKA Blob] as the bartender, I put on my mom's favorite beachy 80s yacht rock (in this case it was Bertie Higgins) and realized the vibe I wanted for the Green Lagoon was somewhere in the ballpark of [movie] Barb and Star Go to Vista Del Mar. For the other locales, I leaned on fond, hazy childhood memories of playing X-Men video games, mostly fighting and arcade games. You can't draw wide environmental vistas on a vertical scroll comic, so I think it was helpful for me to recall the aesthetic of a medium with a lot of graphical limitations at the time.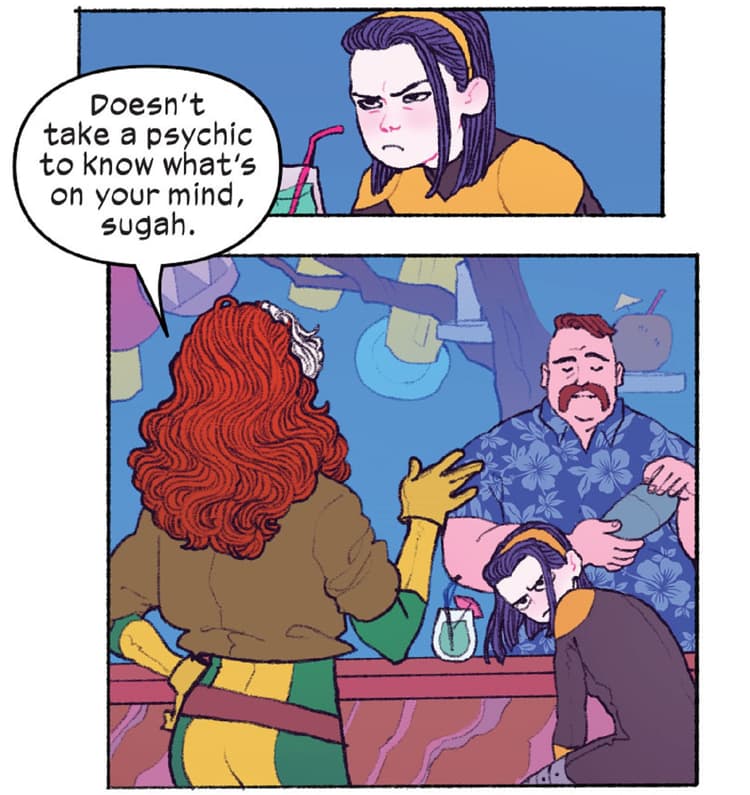 This is also a story about family since we get deeper into the backstory of Trân, Karma's brother. What has life been like on Krakoa for him post-Crucible?
TRUNG LE NGUYEN: I'm sure the folks on Krakoa have been keeping him busy. Trân's a smart guy with a ton of issues who is getting used to being in his own body for the first time in a very long time. He's done some incredibly selfish things, and I think he's been able to witness what his sister was able to do with her powers. I'm sure spending all that time in Xuân's head has shifted his understanding of what he's capable of doing, and being that they're both Vietnamese Catholic, he's probably working through a metric ton of guilt. He's working on relearning his powers, reconnecting with his family, reckoning with his past, and dealing with a brand-new global status quo on Krakoa. It's a lot!
Read the first chapter to "Karma in Love" in LOVE UNLIMITED INFINITY COMIC #31, and continue the story each Thursday only on the Marvel Unlimited app!
Download the Marvel Unlimited app for iOS or Android devices now for more vertical comics starring favorite Marvel characters. You'll also gain instant access to 30,000+ digital issues spanning 80 years of Marvel Comics.
The Hype Box
Can't-miss news and updates from across the Marvel Universe!