Comics
Published April 18, 2018
Nick Spencer Swings on to Amazing Spider-Man
Nick Spender talks to Marvel about taking on the famous web-slinger!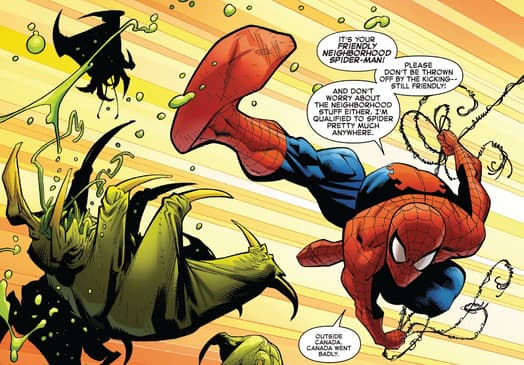 By John Rhett Thomas
Nick Spencer has written his way to the top of the heap of Marvel's elite, and he gets to prove it like never before with AMAZING SPIDER-MAN, one of the most prized gigs in comics. Now, we dig a little deeper into what Spencer calls "the book of my dreams."
Marvel: Congratulations on landing ASM. It's quite an assignment, following up Dan Slott and coming at a time when the character is getting renewed life in the Marvel Cinematic Universe. Are you feeling ready?
Nick Spencer: It's the best gig in comics and the job I've dreamed of since I was a kid, so it's all still a little surreal. The first time I met with [Marvel Editor in Chief] C.B. Cebulski, probably a decade ago now, I told him that this was all I really wanted to do. So to actually be here, working on this, it's equal parts terrifying and exciting. Which means no, I don't feel ready. But something would be wrong if I did. You channel that fear and those nerves and that sense of challenge into telling the best stories you possibly can. That's part of the fun.
Marvel: What kind of book will your AMAZING SPIDER-MAN be? For every new writer, there's always the struggle to balance the competing interests — and screen time — of Spider-Man and Peter Parker. What's going to be your take on that?
Nick Spencer: The story really always begins and ends with Peter. He's the heart and soul of the thing, and what makes Spider-Man special. You're always trying to balance those personal struggles with the high-flying adventure, and in the best stories the two are playing off of and feeding off each other, dovetailing in weird and wonderful ways. Being Spider-Man should always come at a cost to Peter — that's the great responsibility that comes with the great power.
One thing that struck me looking at the history of Spider-Man comics is how many different kinds of stories you can tell with the character. He can bounce between genres and tones so easily, I want to take full advantage of that. So some months there will be laughs, some months there will be tears. In some stories the universe itself is in danger, in other stories Peter's missing laundry is in danger. We want to just tell good, foundational Spidey stories. We keep saying "Back to Basics" for a reason. We want to give people the Spidey they've known and loved for decades, and remind them why he's the best character in comics.
Marvel: Which supporting characters from Spidey's storied past will get prominence as you launch the series?
Nick Spencer: I have to be careful here, as I don't want to tip my hand too much on what's to come, but I will say a big part of the thrill of this job is getting to write the best supporting cast in comics. I'm excited about writing Aunt May, and giving her a story where she's really controlling her own destiny and showing us how Peter was raised by a hero in her own right. The whole Daily Bugle crew will get some key stories. I'm working closely with Chip Zdarsky on some really cool Jonah stuff; he's telling what I think is a definitive JJJ story over in PETER PARKER: THE SPECTACULAR SPIDER-MAN, so I wanted to make sure anything we do on that front complements his stellar work there. Randy Robertson is a character we haven't seen a lot of for a while, but he'll have a prominent role. And expect to see a lot of Felicia Hardy, as she's one of my all-time favorite characters. Little-known trivia: What eventually became SUPERIOR FOES OF SPIDER-MAN was originally a Black Cat pitch.
Marvel: Ryan Ottley comes over to draw AMAZING SPIDER-MAN from a career-defining run (so far) on "Invincible". This will be his first major foray into the Marvel Universe, and it's on your debut Spider-Man book. How's that work for you?
Nick Spencer: Yeah, pretty great, to put it mildly. Ryan is one of the best artists working in comics today. What he and Robert Kirkman did on "Invincible" is just remarkable. And now to see him on AMAZING SPIDER-MAN, it's just such a perfect fit. I really think he could end up being one of those quintessential Spidey artists, right up there with the greats. His sense of action and motion, his layouts, his comic timing, his acting — there's just so much fun and so much energy on the page. It really forces you to up your game.
Marvel: What are some of your favorite Spider-Man creators and/or storylines from the past? Which of those — if any — do you see having the biggest influence on your run?
Nick Spencer: Any conversation there has to start with Lee/Ditko/Romita, obviously. That run is, in my opinion, the high-water point of mainstream American super-hero comics and can never be surpassed. It takes your breath away reading it through.
Beyond that perfect foundation, I'm especially fond of two writers: Roger Stern and J.M. DeMatteis. I'm a different kind of writer than those guys, but they both have a huge influence on me and how I view the character.
But really, there are so many fantastic runs I could mention. When I got the book, I sat down and tried to comprehensively read through basically  everything — every issue of AMAZING, SPECTACULAR, TEAM-UP, WEB, SPIDER-MAN, SENSATIONAL, FRIENDLY NEIGHBORHOOD, and all the titles in between. You name it, I read it. And it really shows what a proud tradition there is. Everyone tries to bring their A-game when they're writing Spider-Man. And I'm directly following one of the most acclaimed and successful runs of all time in Dan Slott's. So no pressure! It really does inspire you to do your best work. I'm just honored to be a part of this.
The first issue of Nick Spencer and Ryan Ottley's AMAZING SPIDER-MAN swings into stores July 11, but don't miss their first Spidey story in Free Comic Book Day 2018 (AMAZING SPIDER-MAN/GUARDIANS OF THE GALAXY) #1 on May 5! No excuses, Spider-Fan: It's free!
The Hype Box
Can't-miss news and updates from across the Marvel Universe!