Comics
Published November 22, 2016
Occupy Avengers: Joining the Movement
David Walker scouts some prime candidates for Hawkeye's new team!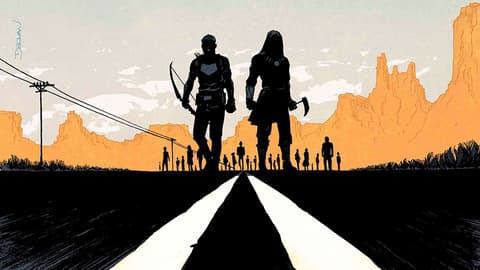 While Red Wolf and Hawkeye have proven quite the duo already, a country as large as the United States needs a bigger squad to ferret out all its dark corners. With that in mind, writer David Walker has always intended to slowly expand the OCCUPY AVENGERS ranks, beginning with issue #2 on December 7.
While we begged, pleaded, and bargained, he refused to tell us exactly who might be joining the roster. Walker did, however, agree to let us try to guess.
MVP
When Michael Van Patrick first showed up at the Initiative training camp, he seemed a shoo-in. A terrible accident later and he became a dead dirty little secret. However, genetic material that good cannot be ignored so Patrick ended up cloned multiple times. This one would be the last still standing.
"Clint is easy-going, but he has issues with clones, and anyone who is fanatical about what they eat, so that might be a problem," Walker points out. "Plus, MVP is better looking than Clint, which would be tough on his ego."
Mockingbird
An excellent hand-to-hand combatant and tactician, Mockingbird has had more than enough solo success to demonstrate she would be an asset on any team. Add in the fact that she can be a team player and has worked extensively with Hawkeye and she seems like a great fit.
"Quite possibly the perfect person to team up with Hawkeye to fight crime," admits the writer. "The big question is this: could she put up with her ex-husband?"
El Aguila
While M Day did rob him of his mutant gifts, El Aguila remains a talented swordsman and open hand combatant. Additionally, he has charisma to spare, a big help when you wander town to town without knowing quite what awaits you.
"Nothing short of a full and equal partnership in Heroes for Hire with Luke Cage and Iron Fist will make this man happy," asserts Walker. "Plus, Clint would be totally jealous, because this guy is suave and swashbuckling. Clint can barely swash and buckle at the same time."
Free Spirit
Despite a rather dark origin involving subliminal mind manipulation and misinformed consent to medical experimentation, Cathy Webster remains an optimistic hero who truly believes in doing the right thing. She may well recognize Clint's mission as a place where she can help others who will not otherwise be seen or heard.
"With a name like that, who wouldn't want her on their team?" Walker enthuses. "Of course, she might be a little too peppy for a team of misfits with as much existential baggage as Clint and the rest of the [team]."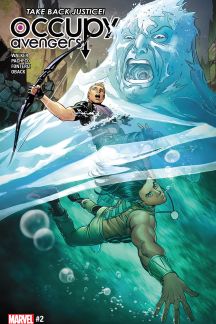 Shang-Chi
They call him the Master of Kung Fu? What other reason do you need?
Ok, here's one more: he loves to stick up for the disenfranchised and the ignored and that fits perfectly with Clint's mission statement.
"Let's be honest, Shang Chi is too cool to be on anyone's team," the writer acknowledges. "In a perfect world, everyone would be on his team."
Night Thrasher
The founder and leader of the New Warriors, Night Thrasher had been off the map due to death for a minute. Back now thanks to cosmic machinations, Dwayne Taylor might be looking to get back down to Earth and back to kicking in bad guy teeth.
"Hawkeye isn't afraid of much—other than committed relationships—but I suspect Night Thrasher might be a bit intense for him," muses Walker. "Hawkeye wouldn't have to do much, just point at the bad guys and say, 'Don't break too many bones.'"
U.S. Agent
Who better to take with you on a trip across America than a guy who's dedicated his life to wearing patriotic costumes and going by patriotic names? And, he's got all that prior team experience!
"Hawkeye and this guy would get along for about five minutes, and four of those minutes they would be faking it," the writer jokes.
Colleen Wing
A martial arts master with an undeniable talent for uncovering the truth, Wing offers these Avengers intelligence and physical skill, neither of which they can survive for long without in the field.
"She always seems to be pushed out of the spotlight by Misty Knight, which is a shame, because she can issue a beat-down with the best of them," laments Walker. "She would provide a strong moral compass to the team, which would probably drive Clint insane."
Travel the roads of America with OCCUPY AVENGERS #2 by David Walker and Carlos Pacheco, coming December 7!
The Hype Box
Can't-miss news and updates from across the Marvel Universe!