Comics
Published May 8, 2017
Old Man Logan: New Blood
Artist Mike Deodato pops his claws in an exclusive sketchbook!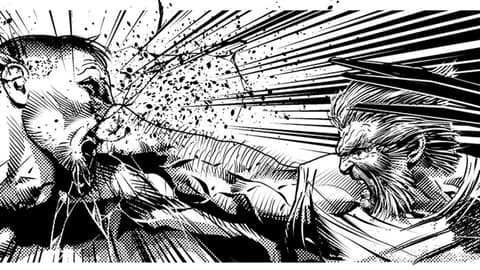 With OLD MAN LOGAN #25, a new creative team will take over the exploits of the time-displaced Wolverine from a horrible future. Writer Ed Brisson and artist Mike Deodato take over with the June 14 issue and launch the title hero right into trouble!
Deodato's no stranger to the world of sharp-clawed mutants, having drawn covers for OLD MAN LOGAN and also Wolvie's son Daken in the pages of DARK AVENGERS, but he's a longtime fan who's excited to chronicle the elder Wolverine's exploits. We talked with the artist about shifting from occasional cover craftsman to interior artist, working with Brisson, and channeling Logan's years of experience and torment into a more grizzled version of the ol' Canucklehead.
Marvel.com: You've done a few covers for OLD MAN LOGAN already; does that help get you ready for tackling the ongoing series or is it different muscles?
Mike Deodato: It does, but I think what helps the most is the love I feel for the character. He was the only character [on] Marvel's roster I ever campaigned to draw. I remember bothering [Marvel Editor-in-Chief] Axel Alonso back in 2008 [until] he gave me a one-shot called WOLVERINE: ROAR, which [would have] led me to be the main artist on WOLVERINE: ORIGINS…until [writer Brian Michael] Bendis comes up with a book he created [especially] for me that I couldn't refuse: DARK AVENGERS! I was happy and at the same time sad for leaving the book but then Axel promised I'd return to Wolvie someday. Nine years later, promise fulfilled. I am back!
Marvel.com: Wolverine's one of the most well recognized characters around; how does the Old Man Logan version differentiate himself from his past self, aside from the obvious physical differences?
Mike Deodato: He is a way more experienced warrior and therefore, way more dangerous. He might have a bit slower reflexes, speed, and healing factor, but as with most of the great fighters, he developed a conscience about fighting that makes his timing almost flawless. On the other hand, he's got much more anger inside because he has not only the scars from his past, but also from his future. His already tormented soul is now a purgatory nightmare.
Marvel.com: Old Man Logan has more of a look than a costume; will you be playing with that at all in the series?
Mike Deodato: You know Logan; his clothes will be shredded to rags most of the time. I'll be lucky if I can draw them in one piece once in a while. Seriously, Logan is one of the few characters that looks interesting with or without a costume on.
Marvel.com: You and Ed are kicking off a new arc on this series. What new directions are you planning on going?
Mike Deodato: I see him back to his roots, a lonely hunter clawing his way out through his enemies. For me it is a good ol' [Clint] Eastwood movie.
Marvel.com: Do you enjoy bouncing between the present and Old Man Logan's future/past in the Wasteland?
Mike Deodato: Yes, I do! I love post-apocalyptic stories, and it is great to play with the environment [Old Man Logan co-creator Mark] Millar envisioned.
Marvel.com: How has it been working with Ed on the series so far?
Mike Deodato: He is the greatest! He knows how to work suspense so well it gives me the creeps just by reading the script. I truly hope we stay together for the long run.
Brisson and Deodato kick off their OLD MAN LOGAN tenure with a snikt on June 14 with issue #25!
The Hype Box
Can't-miss news and updates from across the Marvel Universe!