Comics
Published June 23, 2022
Pride Month Spotlight: Karma
A Super Hero's journey from refugee to student to mentor.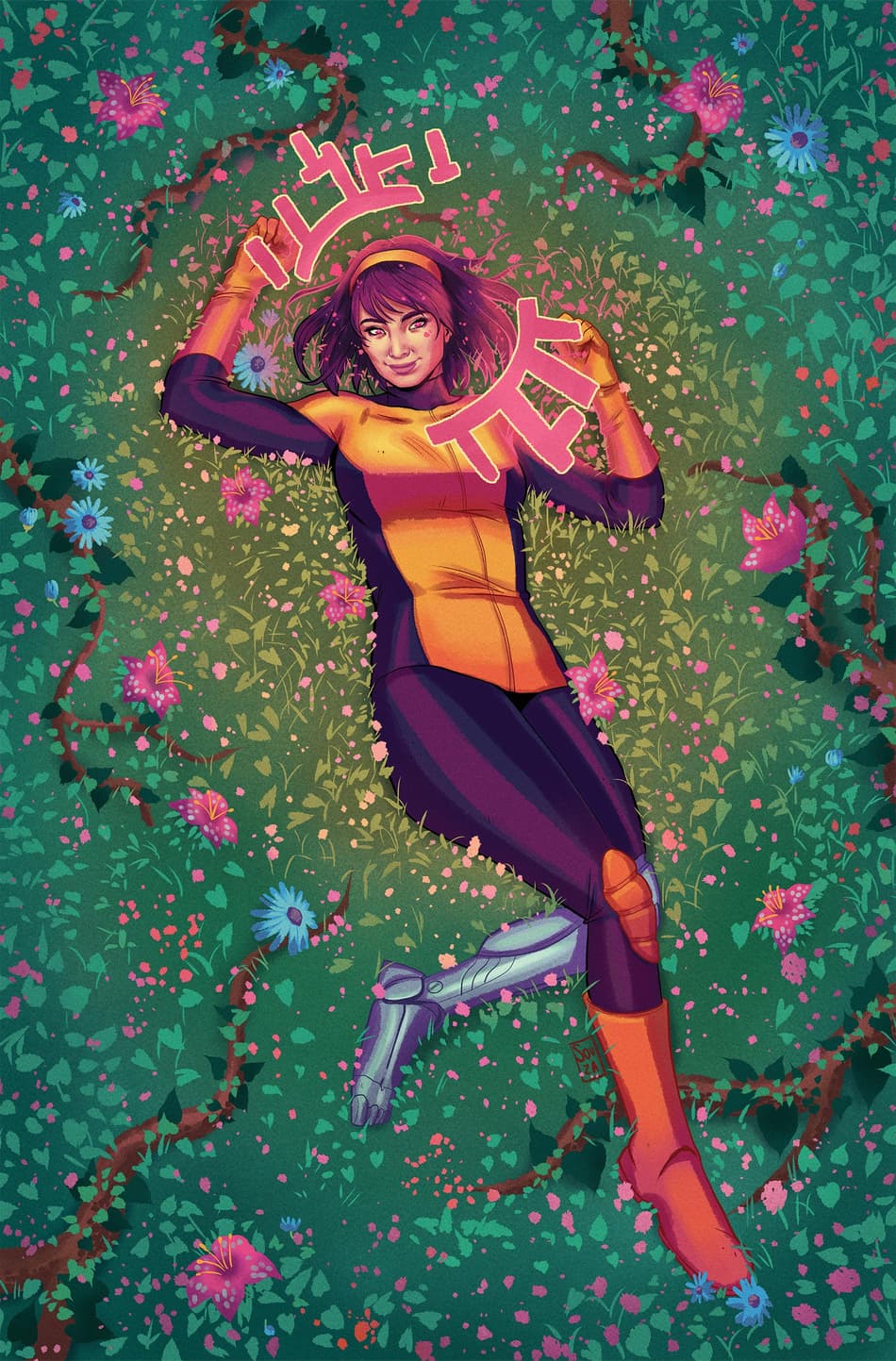 Xi'an Coy Manh, AKA Karma, is no stranger to adversity. She first appeared in MARVEL TEAM-UP (1972) #100 as a Vietnamese immigrant trying to save her siblings from her duplicitous uncle. Shortly thereafter, she took on the name Karma and joined Professor Charles Xavier as a founding member of the New Mutants. Throughout all of her missions both with and without the New Mutants, she has shown that compassion is one of her biggest strengths. One of the few queer Asian heroes and a frequent member of the X-Men lineup, Karma always comes back around and is not afraid to dish out justice. Want to learn more about Karma? Here are the highlights of her hero journey which can all be read on digital comics super-service Marvel Unlimited!
REFUGEE: BECOMING KARMA
Born in the midst of the Vietnam War, Xi'an's life began with hardship and tragedy. Her powers of telepathic possession manifested early on as a means to protect herself and her family. While Xi'an hid this talent, her twin brother, Tran, relished the power of controlling others with his identical abilities. Teaming up with their uncle, Tran escaped to the United States, honing his abilities for the gain of his uncle's criminal empire. Xi'an, her parents, and her two younger siblings, Leong and Nga, would later escape Vietnam as well. Only the children made it to the States. After Xi'an refused to work for her uncle, Leong and Nga were kidnapped as leverage.
Upon seeing a poster of Spider-Man in the Daily Bugle, Xi'an mistook him for a criminal and decided to possess him as a means of rescuing her family. This landed her in the crosshairs of the Fantastic Four. However, they agreed to work together after hearing her story. Although the Fantastic Four was no match for Tran, Xi'an proved her strength by overwhelming Tran and absorbing his life force into her own—the yin to her yang. Her siblings safe and the threat eliminated, Xi'an took on the moniker, Karma.
STUDENT: DEVELOPING CONTROL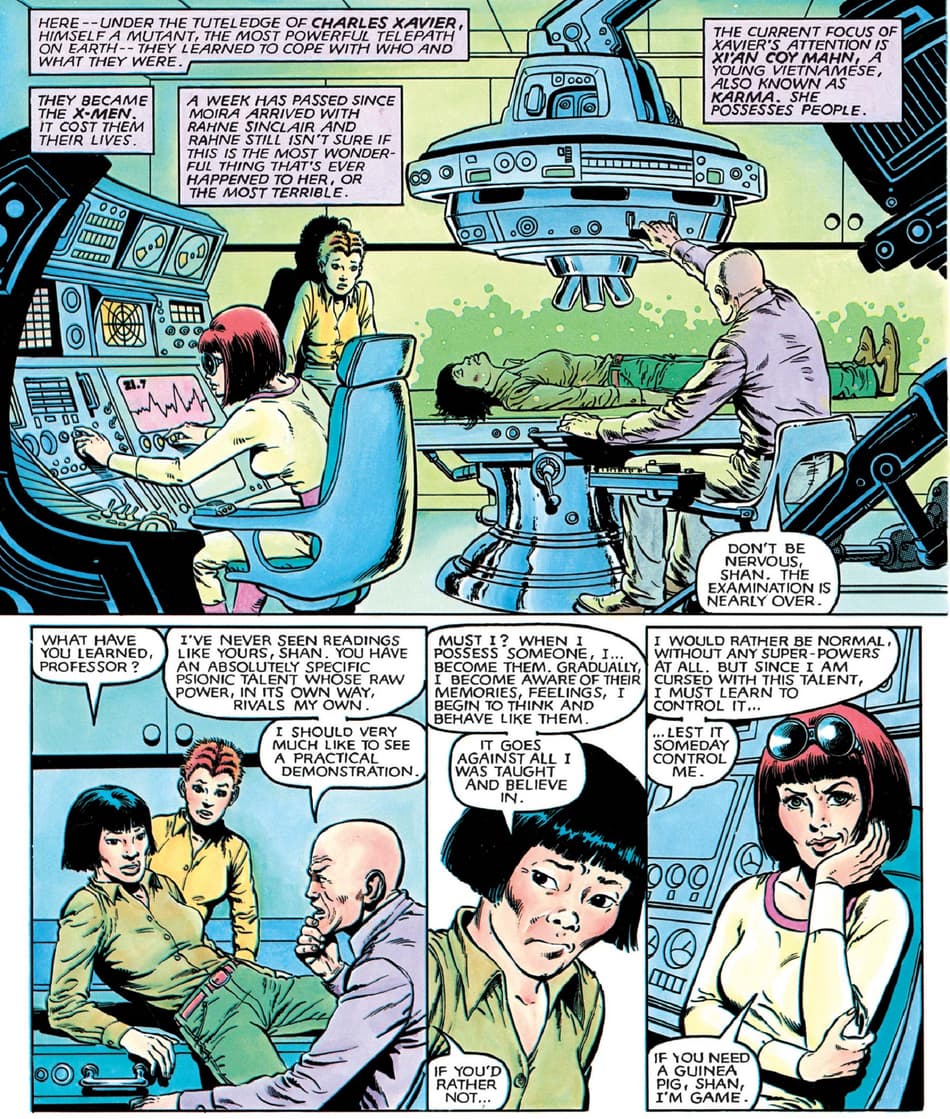 Despite losing his original team of X-Men, seeing the need for a safe place to live and learn for current mutants prompted Charles Xavier to re-establish his School for Gifted Youngsters. This first team of New Mutants featured Dani Moonstar, Wolfsbane, Sunspot, Cannonball, and, of course, Karma. Being the oldest and having had the most experience using her powers, Karma quickly took on a leadership role. Xavier even stated that Karma's powers rivaled his own (MARVEL GRAPHIC NOVEL #4). Alongside her teammates, Karma would help defeat the Brood Queen, Viper, and even the Shadow King in NEW MUTANTS (1983). Although, she later left the team to save her younger siblings from the exploitative Hellfire Club.
MENTOR: PROVIDING COMPASSION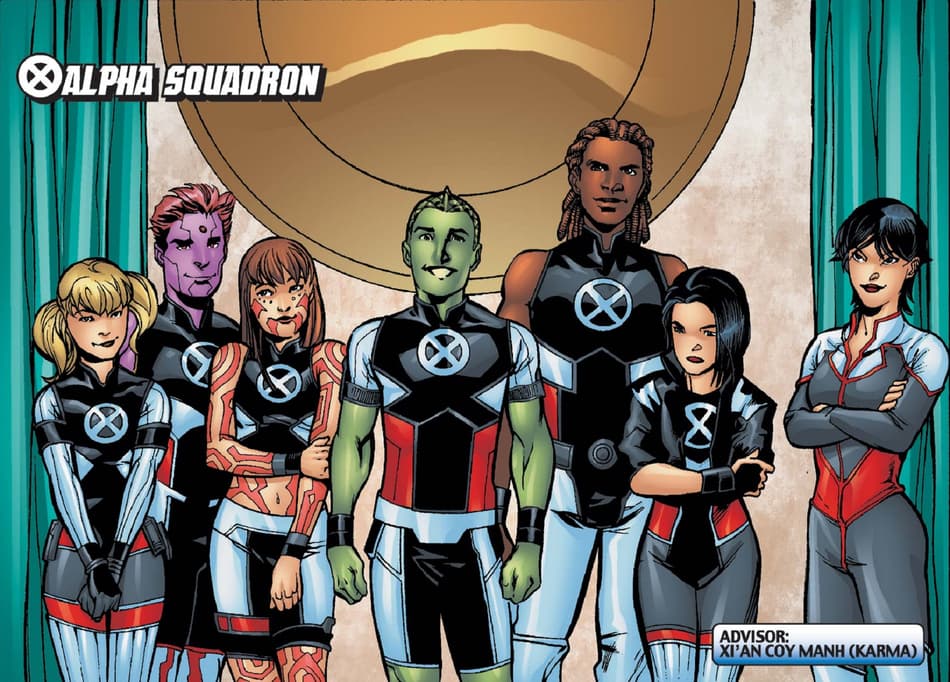 After raising her siblings and earning a college degree, Karma returned to Xavier's Institute at her old friend and teammate Dani's request in NEW MUTANTS (2003) #4. There, she took on the position of librarian and served as a mentor to a number of new young mutants. This included teaching the lower school and advising younger teams such as the Alpha Squadron in NEW X-MEN (2004).
HERO: FINDING BALANCE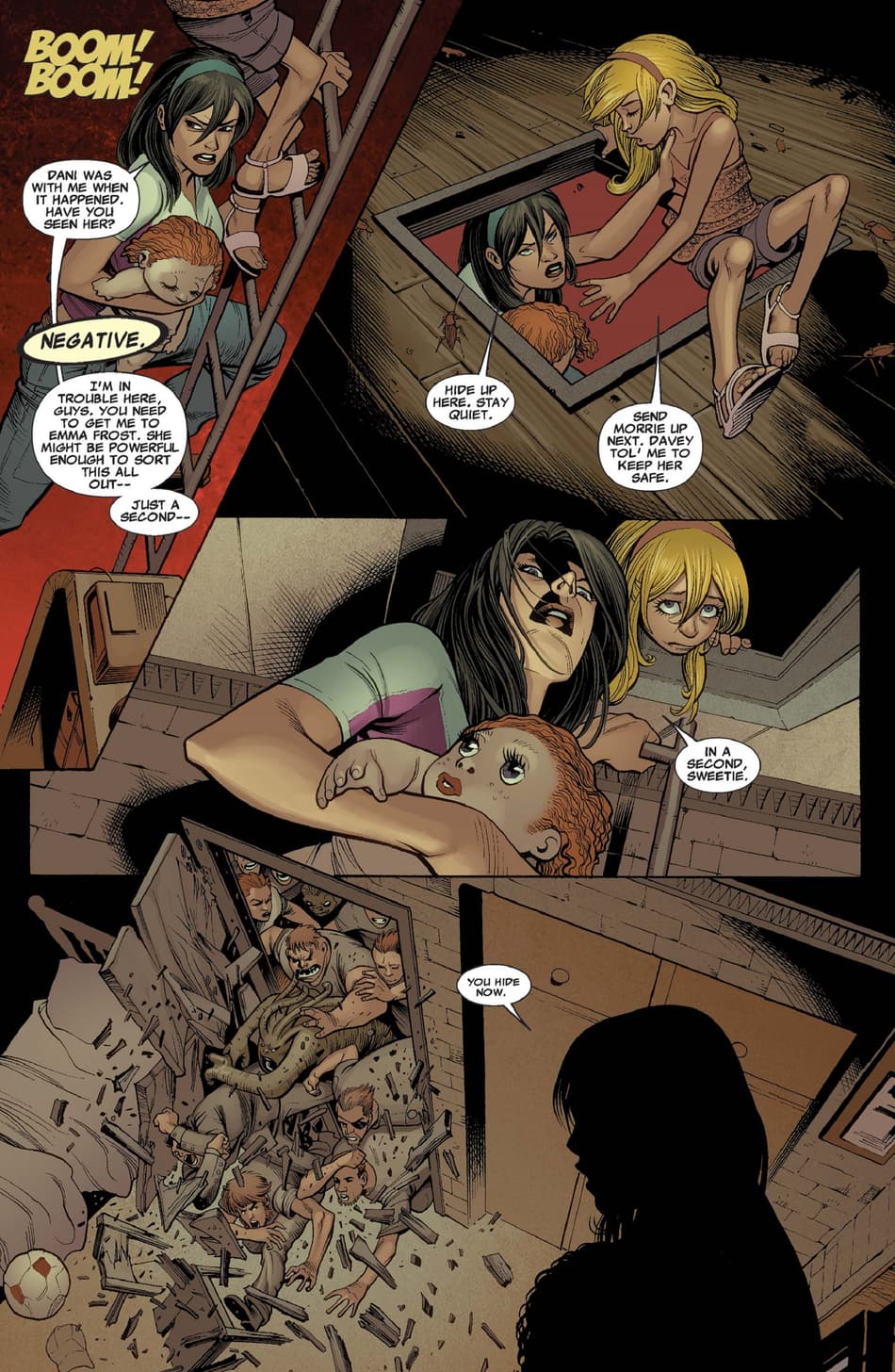 Karma has displayed numerous acts of heroism throughout her comics history. However, they aren't all grand gestures of power. She often serves through her everlasting compassion and balance, as suits her codename. Some of Karma's more recent heroism includes her role in the "Second Coming" arc which resulted in the loss of her leg to Cameron Hodge. She also played a major role in helping the young girl, Marci, who had been absorbed into Legion's mind, find peace after restoring David Haller's control. This connection with Legion would later allow Karma to use him in destroying the Elder Gods. Karma would then adopt Face, one of the "Inferno Babies" who had been manipulated into doing the bidding of the Elder Gods for Project Purgatory in NEW MUTANTS (2009).
COMING FULL CIRCLE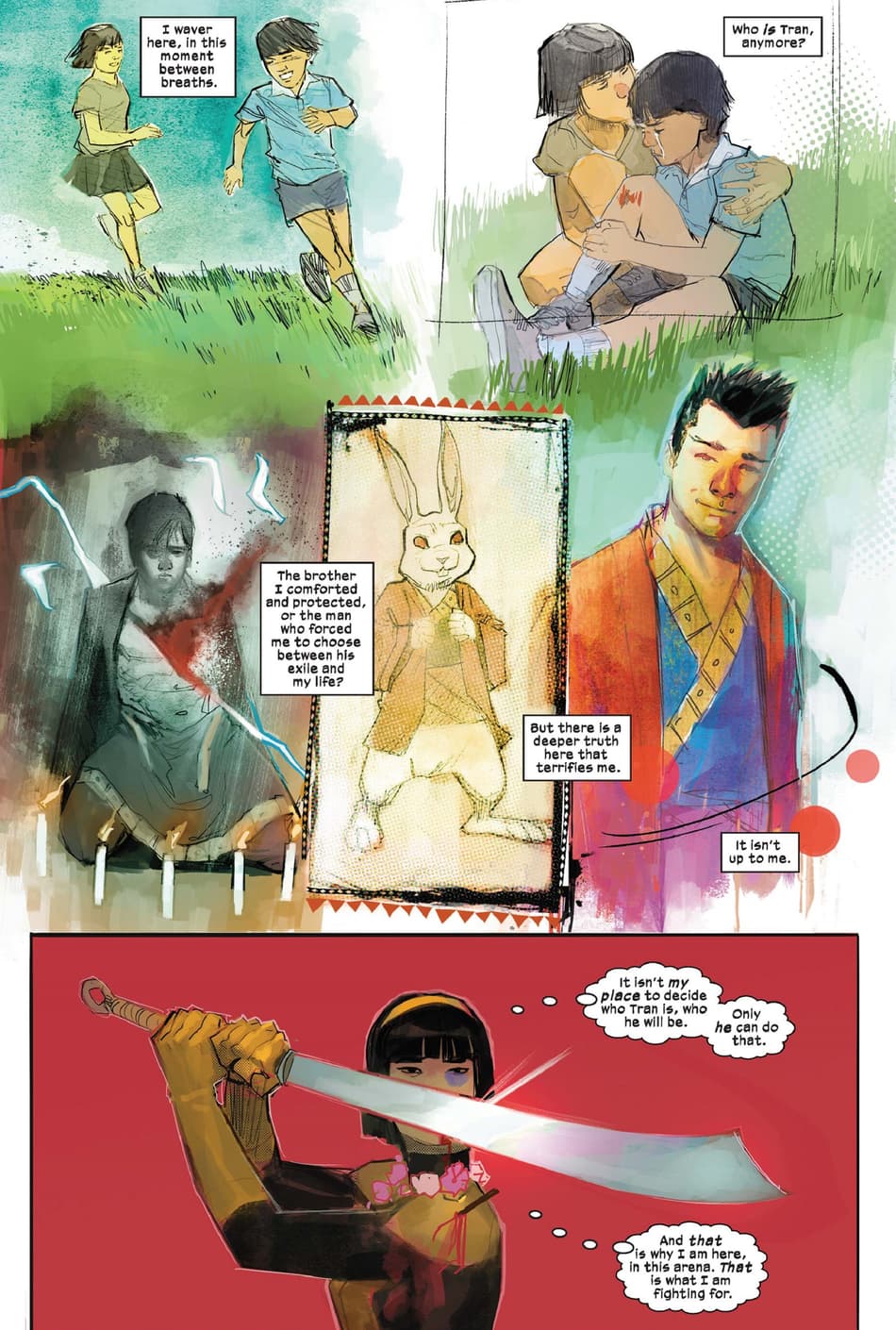 Having forged her own path as a hero throughout the past 40 years, Karma relinquished her tightly held control in NEW MUTANTS (2019). Discovering that her twin brother, Tran, still lives on inside her, Karma agreed to enter the Crucible, part of the Krakoan Resurrection Protocols. This would allow her and Tran to be brought back separately. Despite all that Tran had done in the past, Karma decided to give him another chance at life in issue #18.
Often playing the role of best friend and mother figure, there is no denying that Karma is a hero of the highest caliber. From finding potential love in MARVEL'S VOICES: PRIDE (2021) to the current NEW MUTANTS run, Karma's story is still ongoing, and you can catch it all on Marvel Unlimited.
Follow Marvel Unlimited on Twitter and Facebook to stay tuned in to weekly announcements, articles, and more, all at @MarvelUnlimited. Follow us today to join the conversation with thousands of fellow fans, and let us know what you're reading!
The Hype Box
Can't-miss news and updates from across the Marvel Universe!