Comics
Published October 7, 2019
Revisiting the 'Spider-Verse'
Pair the new 'Spider-Verse' #1 with a look back at the 2014 original that took the world by storm!
Last week, SPIDER-VERSE #1 began a new Miles Morales story as he and his fellow Spider-heroes went on a quest to save the mighty Marvel Multiverse!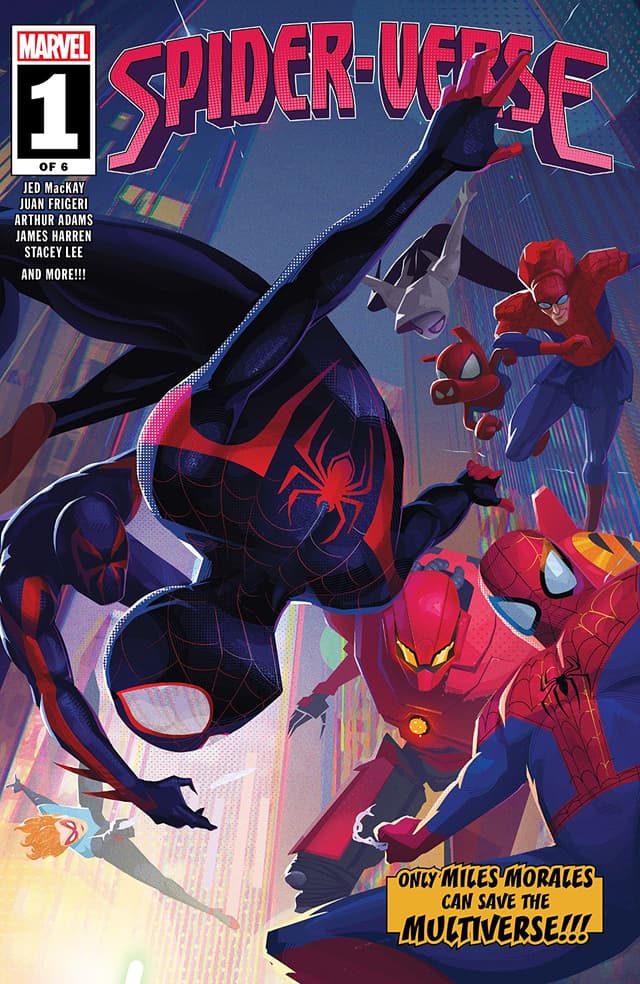 This year also marks the fifth anniversary of the SPIDER-VERSE that started it all. In 2014, AMAZING SPIDER-MAN writer Dan Slott was the point man on the Spidey event of a lifetime. SPIDER-VERSE reunited Peter Parker and Miles Morales for the first time since SPIDER-MEN, introduced Spider-Gwen, re-vamped Spider-Girl into Spider-Woman, and gave readers a near infinite number of new Spider-heroes to get to know.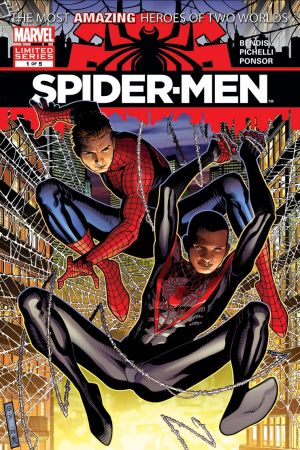 Amusingly, the crossover to end all Spider-Man crossovers wasn't always going to be this big. Slott intended to run it in his SUPERIOR SPIDER-MAN (2013) series before he was urged to save the story for Peter Parker, rather than Doctor Octopus in Peter Parker's body. However, the event still spun out of a SUPERIOR SPIDER-MAN storyline that left a significant time gap in Doc Ock's memories. SUPERIOR SPIDER-MAN (2013) #32 kicked off the EDGE OF SPIDER-VERSE prologue by bringing Otto Octavius to 2099. Soon after, Otto realized that Morlun and the Inheritors were hunting down and killing Spider-Men across the Multiverse.
Morlun was a remnant from J. Michael Straczynski's AMAZING SPIDER-MAN run and a seemingly unkillable threat who kept returning to plague Peter Parker. SPIDER-VERSE established Morlun and his family, the Inheritors, as the apex predators of Spider-Men everywhere. They consumed Spider-heroes to survive, and they cheated death via clone bodies for themselves.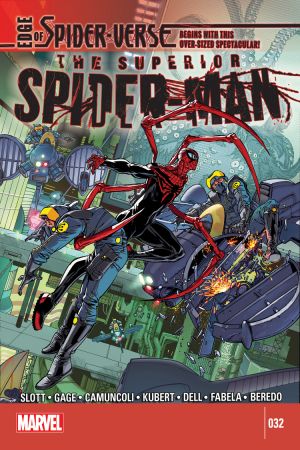 The EDGE OF SPIDER-VERSE limited series notably marked the debut of both Spider-Gwen and Peni Parker with her robot SP//dr. But when SPIDER-VERSE itself arrived, the heroes were divided into two different factions. Superior Spider-Man had the support of his allies who were willing to kill. Meanwhile, Peter Parker, the one true Spider-Man, held his ground alongside his counterparts who were adamantly against breaking their heroic code.
Slott's work alongside artist Olivier Coipel made SPIDER-VERSE an instant classic. It gave meaningful character arcs to both Peter and Otto, as well as Miles, Gwen, and a few more surprising Spider-heroes. Even Peter Porker, the Spectacular Spider-Ham, played a large role in the story. Prior to SPIDER-VERSE, Spider-Ham had been lost in obscurity. Now, he's one of the most popular heroes in the Spider-Verse!
Additionally, SPIDER-VERSE fully fleshed out some of the mystical side of Spider-Man's mythology. Peter's clone brother, Kaine, had claimed the Other before this story began. But SPIDER-VERSE also defined Silk as the Bride, and young Benji Parker (from Spider-Girl's world) as the Scion. Together, those three were the most important Spiders in existence. If the Inheritors had captured all three, then every Spider-powered hero could have been theirs for the taking. And there would never be another Spider-Man after that.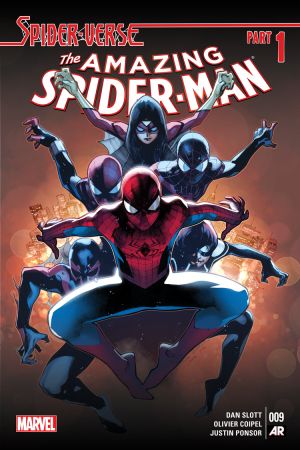 At least one of the Inheritors proved worthy of redemption. In the final battle, Karn turned against his murderous family and fought alongside the spiders. Otto also rallied against his destiny, and planted the seeds of his eventual return after his supposed demise.
SPIDER-VERSE was so well-received that it eventually got a sequel event called SPIDER-GEDDON (2018). But the biggest legacy to come out of SPIDER-VERSE is the way it allowed the heroes to remain connected from across the Multiverse. It made the Spider-heroes into more than just friendly neighborhood Wall-Crawlers. Together, they were web warriors and protectors of life itself.
Now, their journey continues in SPIDER-VERSE #1!
Read the 2014 SPIDER-VERSE on Marvel Unlimited now! Then pick up the first ish of the new limited series at your local comic shop today!
The Hype Box
Can't-miss news and updates from across the Marvel Universe!