Comics
Published December 8, 2017
Rise of the Black Panther: Rise and Shine
Writer Evan Narcisse uncovers T'Challa's first days as king!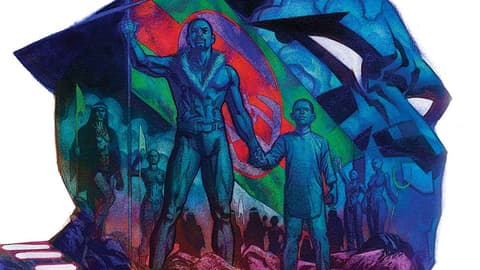 We've all come to know and love T'Challa as the King of Wakanda, but few Black Panther stories have shown us how he came to the throne—and how he evolved into a leader—in the first place.
On January 8, RISE OF THE BLACK PANTHER #1 kicks off a limited series that dives into the early days of T'Challa's life and reign. Writers Evan Narcisse and Ta-Nehisi Coates join artist Paul Renaud to explore how the death of King T'Chaka changed both his son and the nation of Wakanda forever.
We spoke with Narcisse about his process, his collaborators, and writing an icon like Black Panther.
Marvel.com: You're jumping from comic book journalism to writing comics themselves. How does it feel to make that transition?
Evan Narcisse: This is my first creative writing—my first published creative writing, I should say—and my first time writing comic scripts. Doing this job, I had researched what comic scripts looked like before. One of the things that was so daunting and encouraging ended up being that there's no set format—everybody does it a little differently. Some people have really rich, florid descriptions in terms of art direction and what the characters think and feel. Some people have very lean pages. Mine probably tended more towards the former than the latter. It's a lot harder than it looks from the outside looking in. It's a hybrid beast that looks like a movie script but also has to do some actual storytelling in the document. You have to guide the artist but not restrict them. It's a lot more surprising and eye opening than I thought.
Marvel.com: BLACK PANTHER writer Ta-Nehisi Coates has been working with you on this book. What's that relationship like?
Evan Narcisse: He's mostly consulting; the vast majority of the plot and the script come from me. I'll run stuff by him and we'll make sure we're in sync in terms of whether T'Challa would do something this way or that. But, yeah, most of it comes from me. I'm a huge T'Challa fan and I have been for years, so I feel like I have a good internal sense of where I want him to be and how I want him to come across in this work.
Marvel.com: How does it feel to work with artist Paul Renaud on your first Marvel book?
Evan Narcisse: We met for the first time in New York City. I've seen his work around on CAPTAIN AMERICA: SAM WILSON stuff and loved it. I saw what he did on GENERATIONS: THE AMERICAS and thought it looked really great and felt super excited to find out he was going to be the guy on this book.
Marvel.com: Describe your process of creating RISE OF THE BLACK PANTHER alongside Ta-Nehisi and Paul.
Evan Narcisse: The process of honing your skills happens in installments. What I'm thinking of now is, like, wanting to do things a little bit differently in an issue means you have to work ahead to iterate to see if you actually accomplished the ambitions you set for yourself or if it'll going to put you behind schedule. It can be a really intense learning process.
I have the advantage of talking to Ta-Nehisi every day. We're friends so we talk about comic book stuff anyway. He told me, "In a year's time, when you're still doing this, you'll look back on these scripts and see how much better they could have been." It's been really fun just figuring out the tools and what tools work best for me and what tools I feel like I want to try out.
Also, it can be weird. I've realized that your fandom comes out not just textually but mechanically. So, the kind of comic book writing I've enjoyed since childhood has been coming out of me organically. Which isn't to say my stuff will read like Denny O'Neil or my favorite writers, but there are certain rhythms I feel like I'm doing my own spin on.
Marvel.com: Which writers have influenced your work? Do you count any prior BLACK PANTHER scribes among them?
Evan Narcisse:  You can't talk about BLACK PANTHER in 2017 without talking about Christopher Priest. He gave T'Challa a really intense refocusing and reimagining that is impossible to ignore. It's masterful. As a comic book critic, I've written about Priest's work many times over the years and, even though he's been resurgent in 2017, he's still underappreciated. I tweeted out earlier that I reread the "Storm und Drang" storyline from BLACK PANTHER #26–#29, where T'Challa brings the world to the brink of war. Magneto, Dr. Doom, Deviant Lemuria, and Namor, all heads of state, powerful heads of state, jostle around each other with all these different agendas. I think it's one of the best examples of geopolitical storytelling and the idea of statecraft in super hero comics. So, Priest for sure.
Someone who seems unsung, not in general, but in terms of shepherding a certain vision of T'Challa, is Jonathan Hickman. He wrote T'Challa in his FANTASTIC FOUR run, setting up the King of the Dead aspect of the character. That fed into NEW AVENGERS—one of the best Avengers comics ever, but a low-key T'Challa book. That version of the Illuminati met in Wakanda. Again, his wants and needs clashed with the duty he had to do as a super hero in his rivalry with Namor.
One other thing that's important to me about Black Panther and his creative legacy is his importance as a character that black creators could touch and leave an imprint on. I feel like every time a black writer or artist or editor has worked on a Black Panther book, the sensibilities of the characters got strengthened. You can go back to Billy Graham as the artist on that amazing Don McGregor run in JUNGLE ACTION. He was a superlative artist for his time; his draftsmanship and the tools in his storytelling are all super ambitious and genius level compared to some of the other work from the 1970s. From him, to Priest, to Reginald Hudlin and now to Ta-Nehisi…it's important. Black Panther has always been symbolically important and I think black creators feel opportunity, responsibility, and a sense of kindred energy when working on the character. I certainly do.
Marvel.com: Do writers from outside the world of comics influence you? What other writers—or even just books or films—inform your comic writing?
Evan Narcisse: Probably my favorite movie of all time is Terry Gilliam's "Brazil," this really dark, satirical fable about living in a dystopian society. Unfortunately, it feels pretty relevant, in terms of the control of information and the constant battle for political narrative supremacy, to where we find ourselves nowadays.
There's a novel from 1981 called "The Chaneysville Incident" by an author named David Bradley. A good friend in college gave it to me to read and it blew my mind. It's this story about a black historian who goes back to his hometown in the rural South to dig into his old family history. He finds out about the way that his forbearers grew up under Jim Crow and the kind of stuff they had to endure and rebel against and the personal cost of all of that on his family. It's a very dark book, beautifully written. It has stayed in my mind while writing RISE OF THE BLACK PANTHER because the story I'm writing is, in part, a generational one. It's about T'Challa grappling with his own history.
Chimamanda Ngozi Adichie wrote a book called "Half of a Yellow Sun." She's an amazing Nigerian writer. One of the things I have to think about when writing BLACK PANTHER is the idea of diaspora. It may seem a little counterintuitive, because Wakanda has kept to itself and not a lot of Wakandans live outside of Wakanda, but I want to explore what it's like when that does happen. What does it mean to come from an isolationist country? It can be exceptional and aspirational, but it's xenophobic to a certain extent, by virtue of necessity. They're on a continent where every other country got colonized and invaded. So there ends up being a certain warrior sociopolitical mindset that they've had to adopt and iterate on in order to maintain their status. But also, how long can you maintain yourself as an "island"?
That's one of the things T'Challa has to grapple with. It's not a spoiler to say that T'Challa's big decision in the series will be to open up the country and declare their existence to the Western world and simultaneously deal with all the repercussions that happen internally and externally as a result.
Marvel.com: How did you land on telling the story of this liminal time in T'Challa's life? It seems to have certain parallels with the upcoming "Black Panther" film.
Evan Narcisse: My conversations with Wil Moss, my editor, early on, were about an "early years" T'Challa story and the place I landed ended up being his first year as king. The first conversations we had were about T'Chaka and I came on the idea that T'Chaka's assassination, his death, had to be a major political event in Wakanda's history. It'd be like JFK's assassination—the kind of thing that changes an entire country's mindset. It's the kind of event where you mark off time between everything that came before it and what comes after it. In the first issue, we explore some of what came before it, with T'Chaka in his prime—something we haven't seen much. We've seen flashbacks and we've seen him a little older and we've seen him as a ghost. The "after" stuff will obviously be T'Challa's reign. It's an established part of the character that his father being this amazing king wears heavy on him. At the same time, he deals with threats his father never dealt with. So, that informs his decision to open up Wakanda.
And I'm super excited for the "Black Panther" movie. I can't wait—I know this sounds corny—but I can't wait for fans everywhere to explore this character and learn about him, because I think T'Challa is one of the best super heroes ever created. I think he's thematically rich and an exciting character to watch evolve throughout his history. And I'm so honored to be a part of that evolution.
RISE OF THE BLACK PANTHER #1, by Evan Narcisse, Ta-Nehisi Coates, and artist Paul Renaud, kicks off on January 3!
The Hype Box
Can't-miss news and updates from across the Marvel Universe!