Comics
Published October 11, 2017
Rise of the Black Panther: Uneasy Lies the Head
Discover the first year of T'Challa's reign in the brand new series!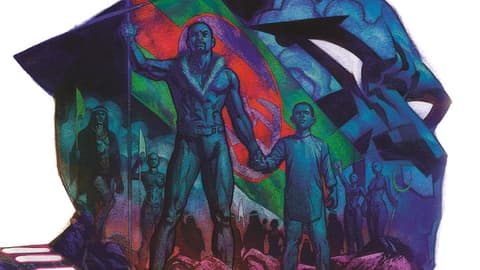 Black Panther came onto the scene in 1966 when he invited the Fantastic Four to his home—the hidden nation of Wakanda—to evaluate the threat that the super humans might've posed. Since then, T'Challa has had a long and storied history in the Marvel Universe, but his earliest days as both The Black Panther and King of Wakanda have never been closely explored.
But this January, that untold story will finally be revealed when writers Evan Narcisse and Ta-Nehisi Coates join artist Paul Renaud for RISE OF THE BLACK PANTHER. This limited series will uncover how T'Challa came to grips with ruling Wakanda—and how he brought the nation onto the global stage.
We grabbed a few minutes with Narcisse and Renaud to learn as much as we could about the early years of Black Panther.
Marvel.com: How did this whole project come about?
Paul Renaud: [Editor] Wil Moss offered me this project when I came fresh off of GENERATIONS: CAPTAIN AMERICA. I think the structures of these two stories feel similar in that they explore different periods of time while giving a new perspective on it. That seemed like the main motivation for asking me to do the job. And I couldn't have been happier to say yes.
Evan Narcisse: This came about when I got a text from Ta-Nehisi. I was at a film screening, and I checked my phone—a big no-no—and he asked me if I wanted to write comics; if I really wanted to do this. Over the years, as a comics journalist and critic, people have often expressed admiration for my writing and asked if I wanted to get into the industry proper. I always said no. I like being a critic, I like being a journalist, I like being somebody who offers commentary. But [Ta-Nehisi] said he wasn't the one asking—Wil Moss, his editor, wanted to know if I had any interest. So I told him I'd think about it.
An idea came to me pretty much immediately, but they said they wanted to explore the early years—a T'Challa-becoming-king story. It felt like an opportunity I couldn't walk away from. I saw a chance for me to write a pivotal story for my favorite super hero—and I couldn't turn that down.
Marvel.com: Describe the early conversations you had with the editor on this book, Wil Moss.
Evan Narcisse: Wil just said "early days of Black Panther" and after that, all the pieces sort of fell in place for me. They wanted something specifically about the lineage of kings that T'Challa would be inheriting; something based on T'Chaka. I started thinking about it, and I landed on T'Chaka's death being a pivotal moment in Wakandan history. This country has never been conquered, never been colonized, and they suddenly lose a king who dies at the hands of outsiders. You can't be the same, your national identity would be affected.
So, then I started to think about how it would affect T'Challa's psychology. His father died because they didn't know the outside world enough, so he feels they have to go and meet the outside world. That's kind of the psychological underpinning of the run—deciding that Wakanda needs to be a part of the world, that they can no longer be apart from the world. The corollary to that is Wakandans are full of themselves, right? T'Challa believes that if they're really the best, they need to show the world that they're the best. They need to be part of the world, part of the ecosystem of global powers, and let them all know Wakanda has a spirit and technology that can rival any nation on Earth.
Marvel.com:  So this will be an element of T'Challa's history that we've never really seen. There have been flashbacks over the years, but we've gotten these details.
Evan Narcisse: Yeah, it's a story we've never seen before. We first see Wakanda in the comics as a secret nation that sends this special vehicle for the Fantastic Four to get there. Later, on an adventure with Cap, [the Wakandans] do the same thing. And then, a few years later, Wakanda becomes a part of the global community. The Wakandan Design Group stock gets traded on the stock exchange. So how do you go from secret and hidden to participating in the global economy and diplomatic community? That felt like a story that needed to be told.
But going global is not a popular move at all. He mentions it to some of the royal council and they're like, "What the hell are you doing?" I do want to stress the fact that it won't be an origin story—by the time we see T'Challa, he's already king. We'll flash back to Challenge Day trials and I have plans to show some of the Heart-Shaped Herb ceremony, but this won't be him learning to be the Black Panther. This will be a story about a king who has to reckon with his history and decide how to move the country forward.
Marvel.com: What headspace do we find T'Challa in at the start of this story?
Evan Narcisse: He knows what path he has to take; he knows from the outset. The first few issues will be T'Challa deciding that Wakanda must move forward out into the world. He's not ambivalent about that. The learning curve for him will be reckoning with the powers he encounters—both the global powers and the individual characters. He's not the master strategist of [writer] Christopher Priest's run yet. He's making his first steps out into the world, so he's a little more improvisatory.
Marvel.com: Evan, you've been a comic book journalist for years now—how does your time in that field inform your work on this side of things?
Evan Narcisse: I've been a comics critic for 10 or 15 years at this point, so I've been doing it a long time. It's weird, because thinking about writing comics from the outside always felt like a matter of guessing at intent and execution. Now I'm actually doing it, and I realize that the visual command and necessity for brevity and the creative flow can be a lot trickier than it seemed from the outside looking in.
But also, I feel like I'm trying to write the comics I'd like to read as a critic. I'm trying to have thematic underpinnings, have it be character driven, leave the characters in a different place than where I found them, and add to the layered history of Marvel continuity. Super hero comics nowadays acknowledge—in both textual and meta-textual ways—the history and the mythos of their characters, like Ta-Nehisi does in the main BLACK PANTHER book, or Ryan North does sort of elliptically in THE UNBEATABLE SQUIRREL GIRL. That's what I want to do—be self-aware about the craft while working at the craft.
Marvel.com: Speaking of Ta-Nehisi's BLACK PANTHER, will readers spot any direct or indirect references between the books?
Evan Narcisse: Indirect, yeah. I know where he's heading, and I know certain characters that show up in RISE OF THE BLACK PANTHER have either already showed up or will show up in the main BLACK PANTHER title. We want to build some synchronicity there.
Marvel.com: Paul, you did some covers for a BLACK PANTHER series back in 2009 when Shuri took up the mantle. T'Challa has appeared briefly in some ensemble books you've worked on, but this presents the first time you're focused on him. What's it been like to work with the character in earnest now?
Paul Renaud: Yes, it's the first serious work I'm doing with Black Panther. Doing those covers back then felt more like an appetizer, even though I had a ton of fun drawing Shuri. Not only does RISE OF THE BLACK PANTHER allow me to draw T'Challa, but also the previous Panthers—building the Black Panther's fame into the Marvel universe through generations.
It's a great chance to explore Wakanda, and all the cast of family and foes, in depth. Getting to draw the rise of T'Challa as Black Panther has been a dream come true for the Marvel fan that I am. I don't want to say too much, but I'll get to draw some historical moments too, with some very famous guest stars. Let's not forget Wakanda acts as a central element in other heroes' stories as well…
Marvel.com: Wakanda's advanced technology has always been a fascinating aspect of the Marvel Universe. How does it feel to work with the earlier days of this technology?
Evan Narcisse: In the present day of Marvel continuity, everybody knows about Wakandan tech—there's a little bit less of a "wow" when you see it, because you already know it's supposed to be something amazing. But in the time I'm writing, the world has just started to learn that Wakanda exists, and that they don't just exist, but that they have all this amazing stuff. So, it's a bigger shock, I think, at everything they can do. I have certain technologically advanced Marvel characters encountering Wakandan tech for the first time and being gobsmacked, so that's really fun.
Paul Renaud: My goal here has been to keep a level of continuity with how Wakanda gets shown over the years in the previous Panther sagas, and link that to the most recent visuals by Brian Stelfreeze. There's still a lot of room to improvise and explore different aspects of the country.
That being said, I'm always trying to give it a Jack Kirby feel. Kirby's DNA appears all over the Wakandan tech in a big, big way.
Marvel.com: What most excites you about the first few issues of RISE OF THE BLACK PANTHER?
Paul Renaud: All the parts that dive into Marvel history. It's a lot of fun to explore the past while building more foundations for this beloved character.
Evan Narcisse: The first issue reintroduces a character that we've heard about only in name. The first issue also shows us two pivotal moments in Wakandan history that have never been shown. It also provides the answer to the question of why T'Challa became a scientist. And it gives more insight into his father.
What's interesting about writing comics in the middle of a long-established mythos is that we've mostly seen T'Chaka's death or final days. We've never really seen him in his prime. I'm very happy to be able to show T'Chaka in his prime and show his as a man and as a father. There have been hints of that throughout the ages—[writer] Don McGregor showed him a little bit, Priest showed him a little bit, and [writer] Reginald Hudlin showed him a little bit—but I feel like I've found a new angle.
What did T'Challa inherit from T'Chaka? That's kind of a through line of the series—showing what T'Challa inherits from his forebears and how he brings that into the future.
RISE OF THE BLACK PANTHER, by Evan Narcisse, Ta-Nehisi Coates, and Paul Renaud, emerges in January!
The Hype Box
Can't-miss news and updates from across the Marvel Universe!