Comics
Published December 13, 2017
Rogue & Gambit: Tainted Love
Kelly Thompson studies one of Marvel's greatest relationships!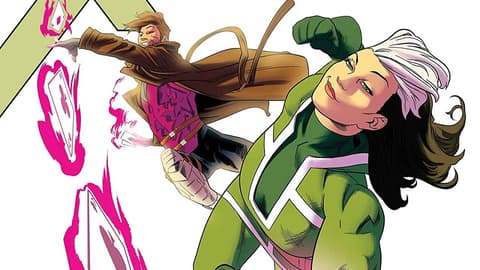 Few comic book couples have captured readers' hearts like Rogue and Gambit.
The two mutants might seem perfect for each other, though over the years, a range of obstacles have pulled them apart. On January 3, however, writer Kelly Thompson and artist Pere Perez will unite the duo once again in ROGUE & GAMBIT #1! The five issue limited series sends Anna Marie and Remy LeBeau on a top secret mission, forcing them to dig deep into their shared past like never before.
We spoke with Thompson about pitching the series, examining the relationship, and filling in a few moments we've never seen!
Marvel.com: What do you remember being your first exposure to Rogue and Gambit as a couple? Do you recall what you thought of them at the time?
Kelly Thompson: Like a lot of fans of a certain age, my first exposure to Rogue and Gambit—and the X-Men—was "X-Men: The Animated Series." I was immediately smitten with them as both individuals and as a sexy, but tragic couple. I think it's fair to say they proved to be my biggest motivator in searching out comics, and I quickly fell in love with those too.
Marvel.com: Did you look back at their relationship in preparation for this book? Did any moments surprise you?
Kelly Thompson: I did a massive read and reread as I prepared the pitch. And I've continued rereading as I write. Part of the concept of our limited series does delve into Rogue and Gambit's past, but in a really accessible continuity-light way. It was fun rediscovering things I loved—and some I'd forgotten from their past.
Definitely one of the most exciting things will be getting to show a few big "between the panels" flashback moments, including the first time Rogue and Gambit ever met—which if you can believe it, has never been seen before. As a super fan—and writer—it felt pretty incredible to be given that honor (and responsibility).
I had the idea to take on such a task, so if I don't deliver it will be a little bit like I dug my own grave. Woo!
Marvel.com: What do you think makes Rogue and Gambit one of the most interesting couples in comics?
Kelly Thompson: I think, initially, a lot of the appeal of Rogue and Gambit—for good or ill—was the "will they/won't they" tension of their relationship. And that's a razor's edge to dance on; it's almost impossible to maintain that kind of tension and, as a result, I think they've suffered some particularly rough roads. But no matter what they have endured, they have undeniable chemistry on the page together…it's palpable.
And of course they're also extremely hot. That never hurts!
Marvel.com: What can you tell us about their undercover mission? How might it help rekindle things or drive them apart?
Kelly Thompson: The very nature of their mission demands that they face a lot of their old issues head-on, which brings out both love and resentment in them. I can't really go into detail about the plot and how it functions, but if we're successful, I think it really clears the field for them as a couple and gives them a chance for a fresh start…but we'll have to see if they opt to take that chance.
Marvel.com: It sounds like issue #2 will feature an in-depth look at Gambit and Rogue's history. How did it feel to compile and compress all of that emotion?
Kelly Thompson: Our story really functions on two levels, to my mind—on one hand it's a pretty simple action-adventure story high on fun with some romance thrown in. And it's very accessible for new or lapsed readers, despite all that history, thanks to some of the functions of the plot. But there's also a separate, more esoteric layer for people interested in that kind of thing that I think has more to say about who they are (and have always been) as a couple and what that means for them. For their past and their future. In this way, I hope there's something here for everyone.
Kick off the limited series with ROGUE & GAMBIT #1, by Kelly Thompson and artist Pere Perez, on January 3!
The Hype Box
Can't-miss news and updates from across the Marvel Universe!