Comics
Published August 15, 2017
Runaways: On the Run
Rainbow Rowell and Kris Anka detail the original team's epic return!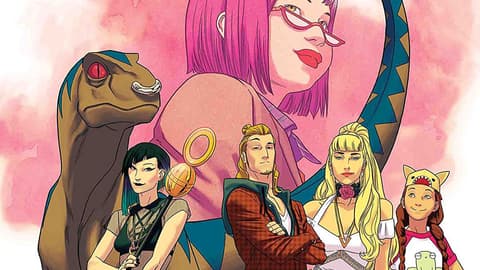 One of the breakout hits of the early 2000s, RUNAWAYS exploded onto the scene and set a new precedent for young super groups across the Marvel Universe. Its team of relatable, plucky, young protagonists has lived long in the memory ever since—and much to our delight, the Runaways are entering the fray once more.
On November 21, the group makes their on-screen debut with "Marvel's Runaways" on Hulu—and on September 13, the original cast returns in comic book form with RUNAWAYS #1, by writer Rainbow Rowell and artist Kris Anka!
We caught up with Rainbow and Kris to find out what's happened to Nico, Karolina, Molly, Chase, Old Lace, and Gert since we saw them last.
Marvel.com: We've seen Nico go through a lot lately (most notably with A-Force and Ulysses)—what kind of mindset will she be in at the start of issue #1?
Rainbow Rowell: We've seen more of Nico in the Marvel Universe than any of the other Runaways—and she's been through so much trauma. (I mean, she was a prisoner on Murderworld.) Then, just when she started to find some stability with A-Force, she lost them, too. When we meet Nico in RUNAWAYS #1, she's alone and wondering where she fits—and still (always) struggling to understand her relationship to her own power. That's a core theme for Nico: she wields great power, but she doesn't understand it. It just dropped in her lap. And it comes with all these painful limitations.
Marvel.com: When we last saw Karolina, the Runaways were going through a difficult time. What's she been up to recently?
Rainbow Rowell: I feel like Karolina is the stealth Runaway. We know the least about what her life has been like since the book ended. But we do know that she has a girlfriend—Julie Power. When we meet up with Karolina again, she's been doing a lot of emotional work to make peace with her past. (Having super villain parents, betraying them, causing interstellar disasters, etc.) She's doing her best to move forward, which means leaving the life she had with the Runaways behind.
Marvel.com: Molly's a mutant—where has that taken her over the last few years? Can you describe her headspace these days?
Rainbow Rowell: Molly is living off the super hero grid. She's living with a loving guardian, who's trying to let her have a normal tweenhood. I think Molly's reunion was one of the most fun to write—because she just really misses everybody.
Marvel.com: Chase often served as the friendly, upbeat member of the group. Will we see more of that from him? How has he been impacted by his recent experiences?
Kris Anka: Yes, definitely [he was the upbeat teammate]. We pick up with Chase looking to bring his family back together. I think he's been through a lot of trauma over the past few years and I think that's made him feel a bit rudderless and desperate to find something to drive him again. Rebuilding his Runaways helps with that a lot.
Marvel.com: Old Lace—the Runaways' favorite dinosaur! How has she gotten along without Gert? Does she still have a telepathic link with Chase?
Kris Anka: I feel like she's been doing alright. She's missed Gert a lot, of course, but knowing that Chase would also do anything for Gert has given Old Lace someone to bond with. But she's immensely glad to have her Arsenic back.
Marvel.com: Without giving too much away, can you tease anything about how Gert comes back to life? After being dead for so long, what kind of state will we find her in?
Kris Anka: Well, it hasn't been too long for her. She's going to be dealing a lot with how, to her, it has felt like a quick nap. It's quite a shock for her. As for a tease, you're not going to have to wait long to find out how!
Marvel.com: How's your experience been resurrecting such a popular series?
Rainbow Rowell: Oh, I hope people are looking forward to it. Fortunately we've managed not to focus too much on people's expectations…I had the arc written before the series was announced. And when I'm working with Kris, we're just really focused on the characters. (We were both huge fans of the original series by Brian K. Vaughan and Adrian Alphona, so we hit the ground running.) It's been such a gift for me to collaborate with someone who's as invested as I am in this story. I can talk to Kris in minute detail about these characters—and he's right there with me. It feels like we're making this book for the Runaways.
Kris Anka: It was hugely daunting. It actually took some convincing to get me on board with this, honestly [Laughs]. Having grown up on this book, it wasn't something I wanted to mess up. It's been a great book to work on though. It feels a lot like meeting up with old friends again.
"Marvel's Runaways" debuts on Hulu this November 21! And on September 13, Rainbow Rowell and Kris Anka present the original team in an all-new comics adventure with RUNAWAYS #1!
The Hype Box
Can't-miss news and updates from across the Marvel Universe!