Comics
Published September 17, 2019
Sara Pichelli Talks About Working with Henry and JJ Abrams on 'Spider-Man' #1
"I was shocked!" The virtuoso artist breaks down her process and reactions to the new limited series!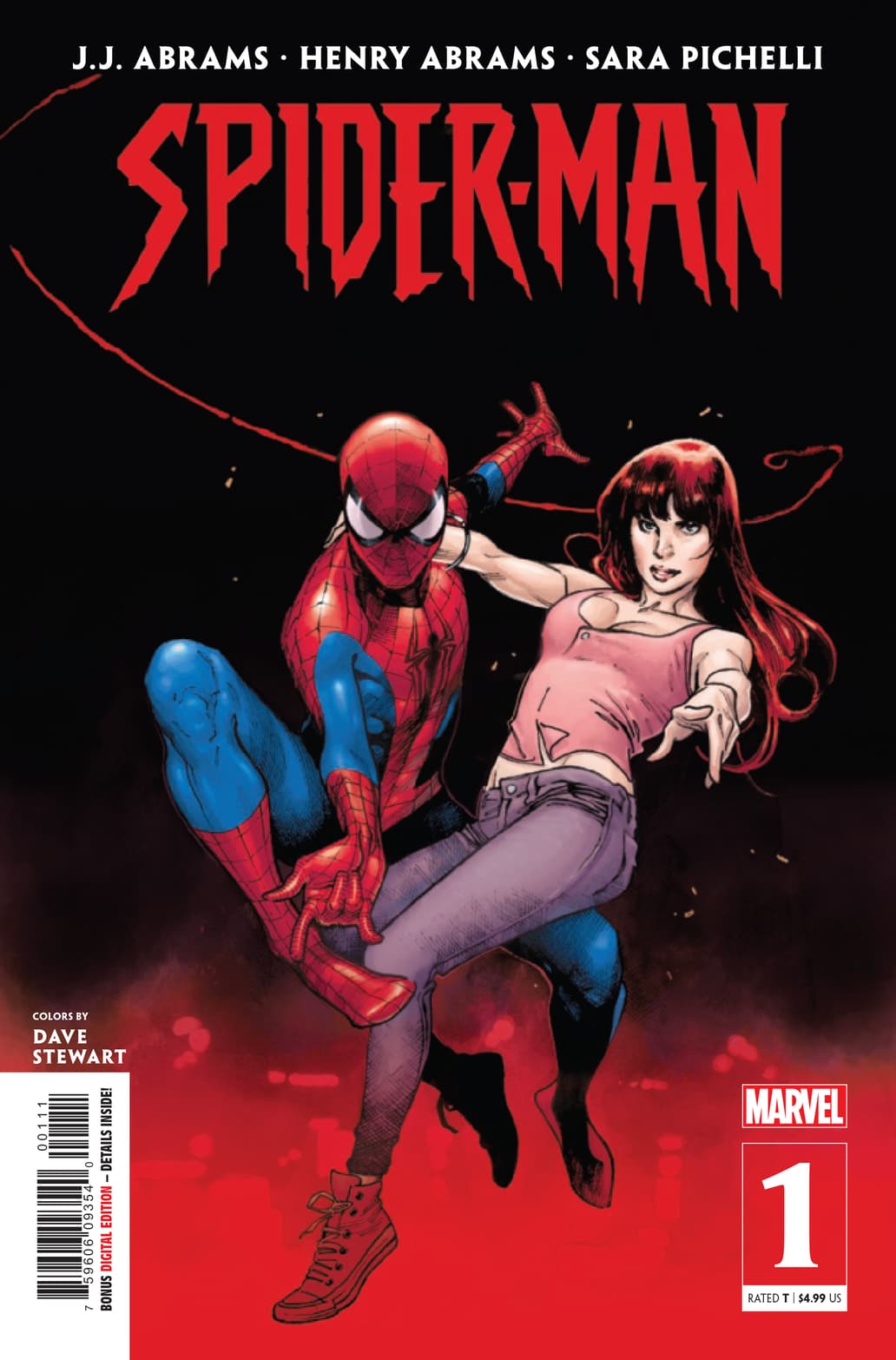 That's right, oh frantic ones—JJ Abrams, his son Henry Abrams, cover artist Olivier Coipel, and colorist Dave Stewart join forces with superstar series artist Sara Pichelli for a Web-Head story that's going to knock your red 'n' blue socks right off. Your pal Peter Parker, Mary Jane Watson, and a never-before-seen Super Villain called Cadaverous begin a cacophonous crash course across the mighty Marvel Universe!
To mark the first mag's release, we sent a merry missive over to the stupendous Sara Pichelli (modern Marvel master and co-creator of Miles Morales) for her thoughts on this new beginning...
How did you come aboard this project? And how was your experience working alongside JJ and Henry?
Everything started when I was already working on FANTASTIC FOUR (2018). CB [Cebulski, Marvel Comics editor in chief,] mentioned that Marvel had a secret project that they wanted me to be involved in. I remember he said that the writer specifically asked for me to be the artist. So I tried to guess—as you can imagine I didn't guess. When he said JJ Abrams I was shocked!
I knew it was going to be a blast! And I was right, working on Spider-Man with the Abramses is a unique experience, I can't wait for the readers to read the first issue.
This is a shockingly unique Spider-Man story. Did you approach this series differently than others in the past?
In my opinion, every story needs a different approach if it's a good story, even if we have the same characters.
This is a good story; it talks about people, family, love, loneliness and much more...then it just so happens that all of this takes place in the world of Spider-Man. Spider-Man is a vehicle to tell stories about people and their struggles...and that is amazing.
Cadaverous is such a fascinating villain with a really unique look. How did you find the final look?
We worked a lot on Cadaverous. I did many versions of his design, we built the final look all together, it was a ongoing brainstorming until we found the right appeal of the character, a look that could reflect his own story. I hope you like the result!
Whether it's this new Peter Parker or your legendary run with Miles Morales—what do you love most about drawing Spider-Man comics?
I've drawn many versions of Spider-Man so far—regular, Ultimate, etc. But here we are going to have a fresh new Spider-Man adventure... I mean, JJ and Henry Abrams did an amazing job in creating new characters and giving a different perspective to old ones. They had a difficult job, but the combination of the old and the new is perfectly balanced, and you immediately feel a connection with the characters.
When you draw a good story of Spider-Man, you deeply know that your using his mask and super powers not just to create special effects and visual entertainment...you are using all of that to show his humanity. The good and the bad.
Spidey is the most human Super Hero we have, that's why I love drawing him.
Look through a special preview of the first four pages of SPIDER-MAN #1 below! Then swing over to your local comic shop to pick it up tomorrow, September 17!
The Hype Box
Can't-miss news and updates from across the Marvel Universe!