Comics
Published September 30, 2020
'Shang-Chi' #1 Reveals Deep Family Roots
Suddenly, Shang-Chi has more family than he knows what to do with!
WARNING! THIS ARTICLE CONTAINS SPOILERS FOR SHANG-CHI #1, SO READ ON AT YOUR OWN RISK, TRUE BELIEVERS!
After a long absence, Shang-Chi has gained greater prominence in the Marvel Universe as a member of the Heroes for Hire, the Avengers, and even the new Agents of Atlas. But this week, Gene Luen Yang and artist Dike Ruan are sending him on a new solo adventure in SHANG-CHI #1. But before Shang-Chi's future can begin, the new series takes a deep dive into his family's past.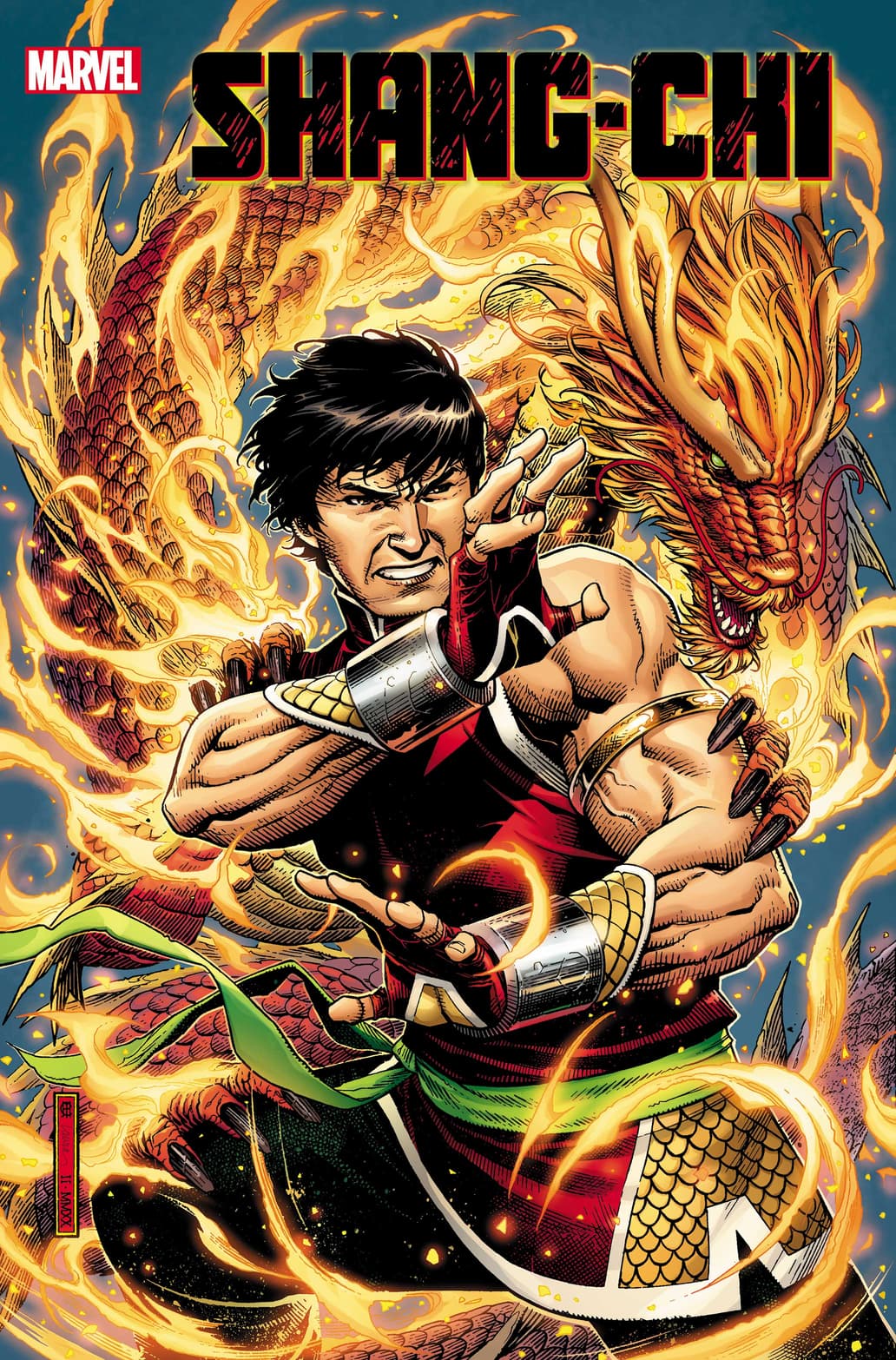 Shang-Chi's father, Zheng Zu, is a famous villain in popular culture, and he's cheated death several times to plague his son. However, the opening pages of SHANG-CHI #1 paint Zheng Zu in a more heroic light during a flashback set in China during the Early Qing Dynasty. Zheng Zu and his younger brother, Zheng Yi, were warrior sorcerers who founded the Five Weapons Society and their chosen fighters, the Deadly Warriors. Within this sequence, the Five Weapons Society was outlawed in China, and yet they still defended the land against an attack by the dragon known as Fin Fang Foom.
But perhaps we shouldn't take this tale at face value, since it's being shared by Brother Staff in the present for his followers in the modern Five Weapons Society. Brother Staff may simply be over-exaggerating the mythology of Zheng Zu as a way of making himself look good. Brother Staff also notes that his half-brother, Shang-Chi, ended their father's life. But before Brother Staff could continue, his sibling, Sister Hammer, challenged him for control of the Five Weapons Society.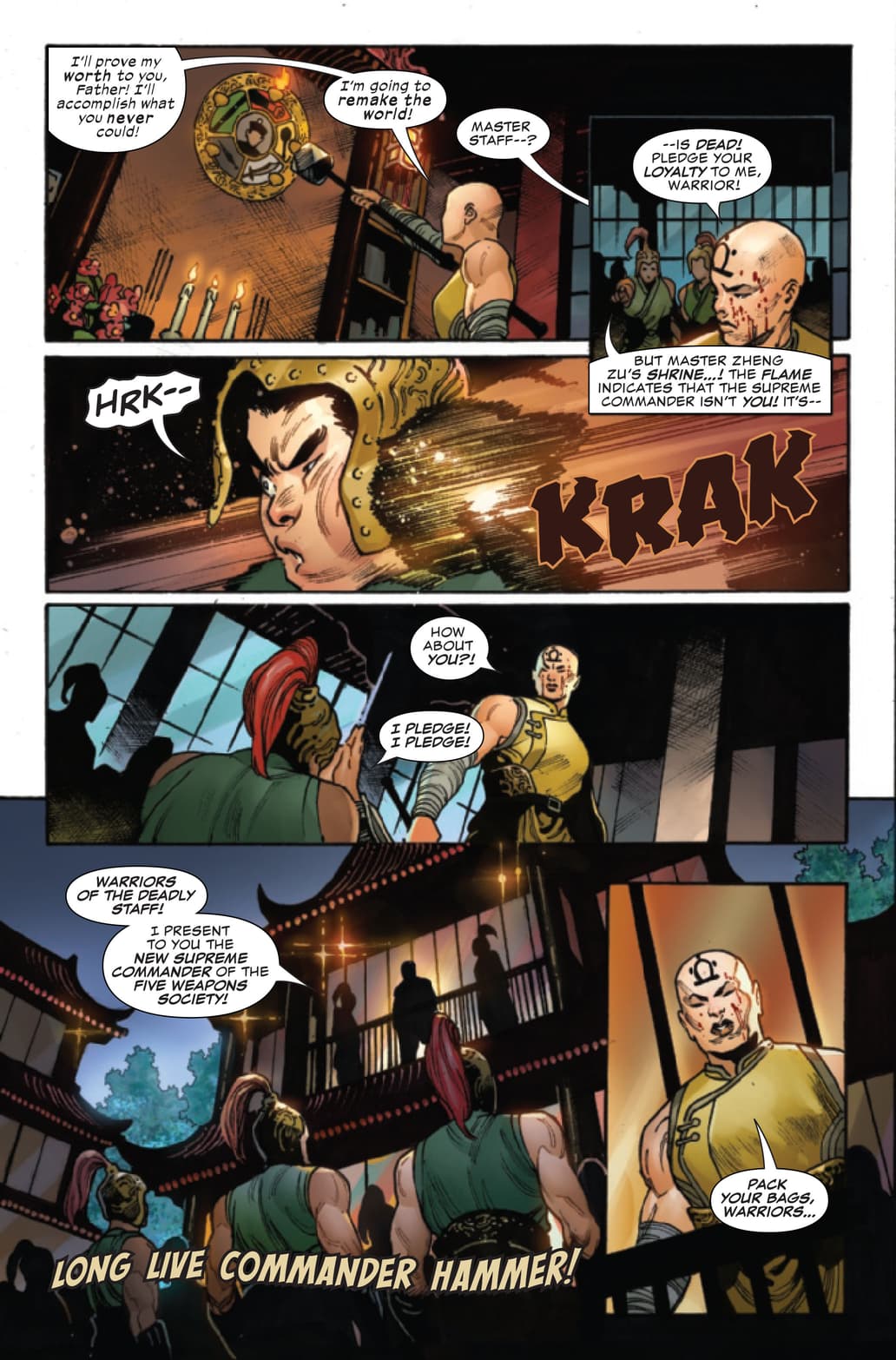 Sister Hammer quickly dispatched Brother Staff, but not before the shrine to Zheng Zu named Shang-Chi as the new leader of the Five Weapons Society. Regardless, Sister Hammer demanded that Brother Staff's followers swear loyalty to her before sending her new warriors to eliminate her surviving brother.
Meanwhile, Shang-Chi has built a new life for himself in San Francisco in a real attempt to give himself an ordinary life. He even got a job in Grandma Wang's Bakery, where he proves to be popular with both the customers and Grandma Wang herself. Shang-Chi is also quite taken with Delilah, Grandma Wang's granddaughter. The feeling is mutual, as Delilah slips Shang-Chi her phone number. Unfortunately for Shang-Chi, Grandma Wang discourages Delilah's romantic interest in Shang-Chi because of his family's reputation.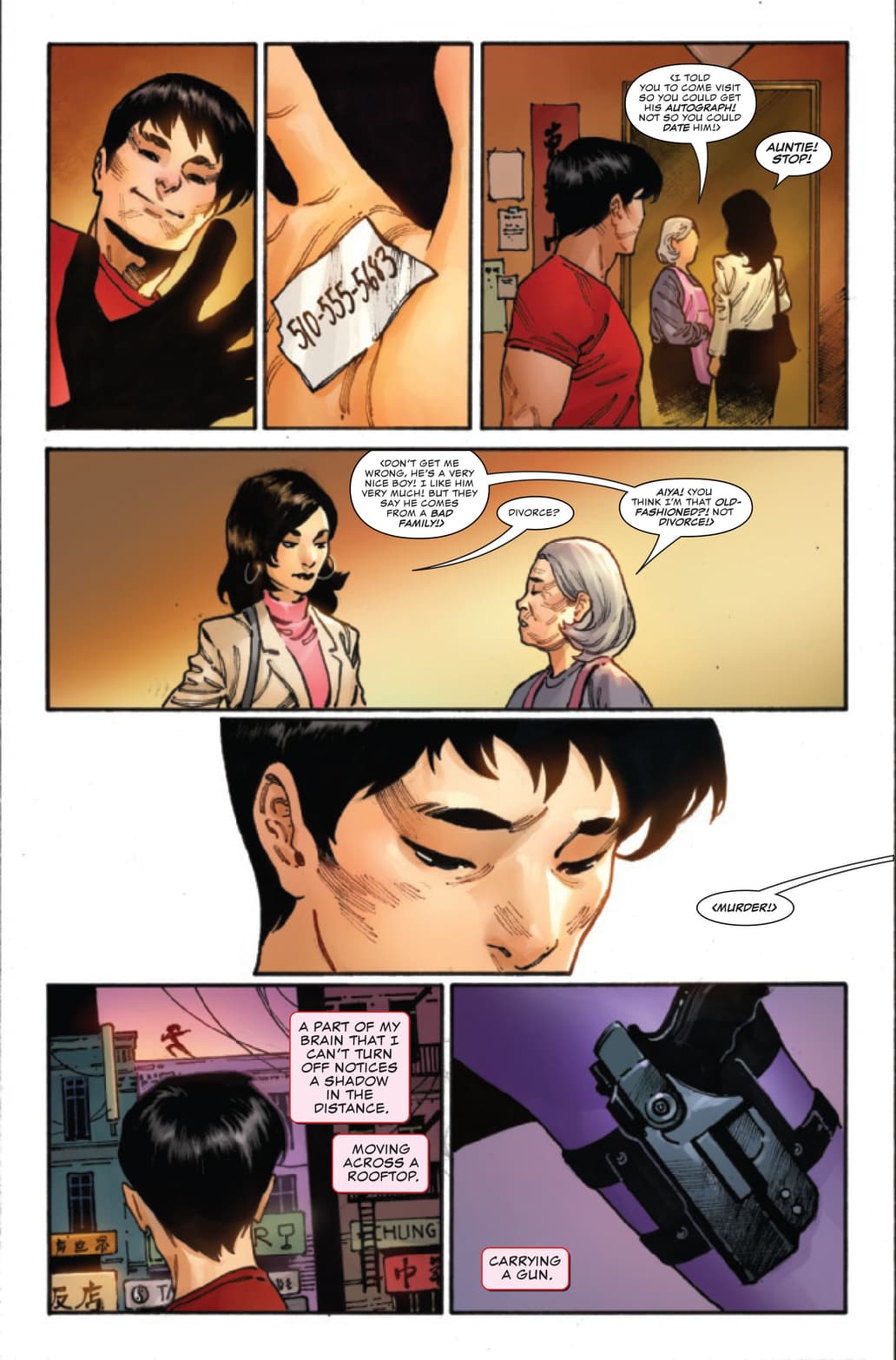 Shortly thereafter, Shang-Chi reunites with his old ally Leiko Wu, who hasn't been seen much since her death and resurrection in DEADLY HANDS OF KUNG FU (2014). Leiko warns Shang-Chi about the threat to his life. During their conversation, Shang-Chi's inner monologue reveals why his words in English used to be very stilted – he realized that westerners/Americans look at him, rather than past him, when he speaks that way. Now, he's making an effort to speak more normally when not using his native tongue.
Naturally, their conversation was interrupted by the attempt on Shang-Chi's life. But even that battle was halted by Brother Sabre and Sister Dagger, both of whom are also Shang-Chi's half-siblings. They ask their half-brother to return to the Five Weapons Society and unseat Sister Hammer before she kills them all. Unfortunately for them, it had the opposite effect on Shang-Chi. He realizes that Sister Hammer is literally his long-lost sister, since they share both their father and their mother's lineage. He also resolves to save her from their father's cult.
Half a world away, Sister Hammer isn't feeling quite so generous. She doubles down on her order to execute Shang-Chi, which sets up a deadly family reunion when SHANG-CHI #2 arrives next month!
SHANG-CHI #1, written by Gene Luen Yang with art by Dike Ruan, is on sale now at your local comic shop and digitally!
Be sure to ask your local comic book shop about their current business policies to observe social distancing or other services they may offer, including holding or creating pull lists, curbside pick-ups, special deliveries and other options to accommodate. Find and support your local comic book shop at http://comicshoplocator.com or by visiting http://marvel.com/lovecomicshops.
For digital comics, all purchases in the Marvel Comics app can be read on iPhone®, iPad® and select Android™ devices! Our smart-paneling feature provides an intuitive reader experience, ideal for all types of mobile device and tablet users!
The Hype Box
Can't-miss news and updates from across the Marvel Universe!