Comics
Published September 1, 2021
Read These Comic Stories Starring Shang-Chi
Save big on digital trades and issues featuring Marvel's greatest fighter!
Now on sale in the Marvel Comics app for iOS and Android!
Save up to 67% off on digital collections and issues starring Shang-Chi, Marvel's legendary fighter!
Using his incredible physical prowess, martial arts mastery, and instinct, Shang-Chi pursues criminals and fights injustice as an Avenger and Hero for Hire. All while defying a familial legacy that is steeped in darkness. Grab Shang-Chi's best comic starter series below, and save up to 67% off on these complete comic runs and digital collections that will get you ready for Marvel Studios' Shang-Chi and the Legend of the Ten Rings!
Enjoy your new digital comics and trades in the cutting-edge reader of the Marvel Comics App, available on iPhone®, iPad® and select Android™ devices. Once purchased, all of your stories are accessible through your personal library, and can be read anytime, anywhere.
Sale ends September 12, so act now!
The Marvel Universe's greatest fighter returns to a world of death and destruction he thought he left behind! An ancient and evil secret society has remained in hiding since the death of their leader, Zheng Zu. But now a successor has been chosen to shift the balance of power in the world: Zheng Zu's son, Shang-Chi! In a fractious family reunion, Shang-Chi gets to know the siblings he never knew he had, including the deadly Sister Hammer! But who among them can he trust—and who is trying to kill him? Shang-Chi will find out the hard way as his life ends up on the line—and the only one who can save him is… his father? But isn't he dead?!
Collects SHANG-CHI (2020) #1-5.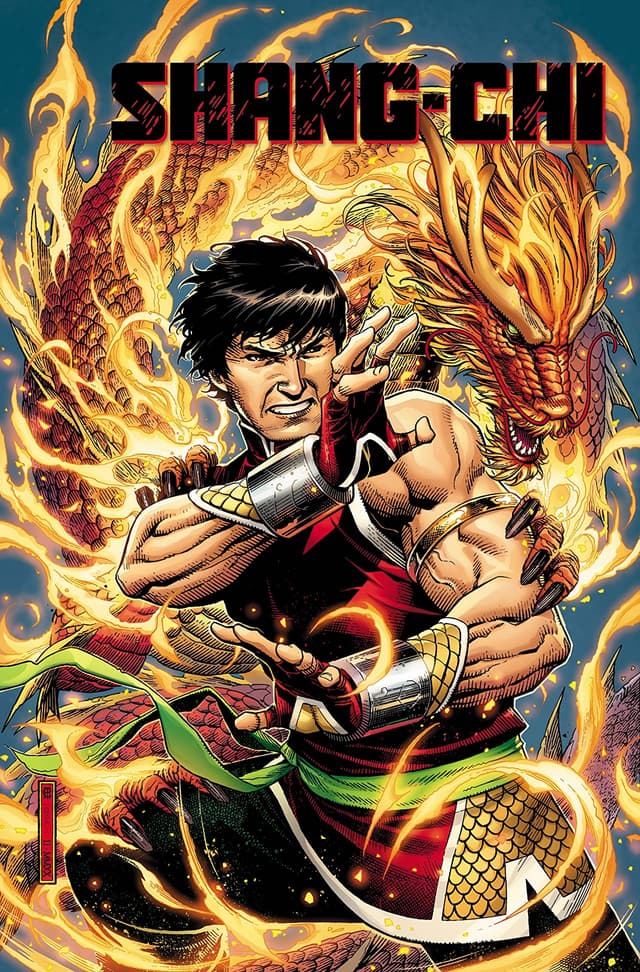 Asia's greatest heroes unite! By popular demand, the New Agents of Atlas return as Amadeus Cho, Silk, Shang-Chi, Wave, Jimmy Woo and all your favorites defend the cross-Asian portal city of Pan against the science/magic threat of one of Marvel's classic villains! It's timeless action as heroes from multiple lands clash with one another, battle horrific monsters side by side—and hopefully save the world along the way! But who is Isaac Ikeda, the Protector of Pan? And what does Mike Nguyen and the Big Nguyen company have planned for Pan? The newest Giant-Man, Raz Malhotra, joins the fun as the team goes big on action—and romance! But who's kissing whom? Plus: The original Agents of Atlas—Namora, M-11, Venus, Gorilla-Man, 3-D Man and Marvel Boy—reunite for a top-secret mission!
Collects AGENTS OF ATLAS (2019) #1-5.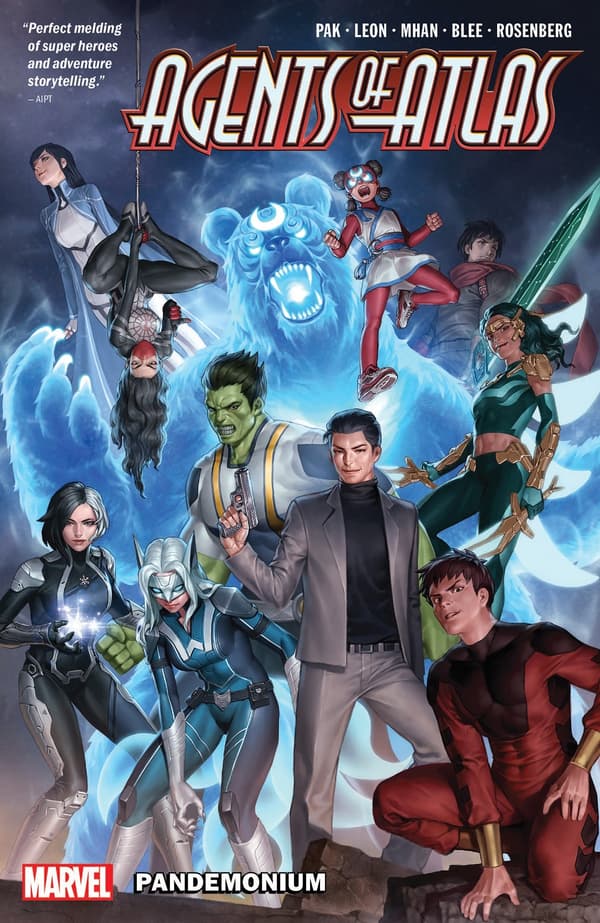 Earth's Mightiest Heroes have returned from the stars—but new threats have emerged on the world they left behind, and the Avengers will be tested like never before. In one cataclysmic day, the face of the Marvel Universe will change forever—and the fight for Earth's future will begin. Smasher, Sunspot and Cannonball find themselves trapped and prisoners of A.I.M.'s Scientist Supreme! Shang-Chi takes on the Gorgon in a fight to the death for control of the Hand! The City of the Dead will rise! Starbrand must confront the ghosts of his past! And three Avengers' lives depend on Manifold discovering his true destiny! Prepare for a globe-spanning epic of empires and armies, and the brave few who stand between them and us. The A.I.M. Empire has begun!
Collects AVENGERS WORLD (2014) #1-5 and material from ALL-NEW MARVEL NOW! POINT ONE #1.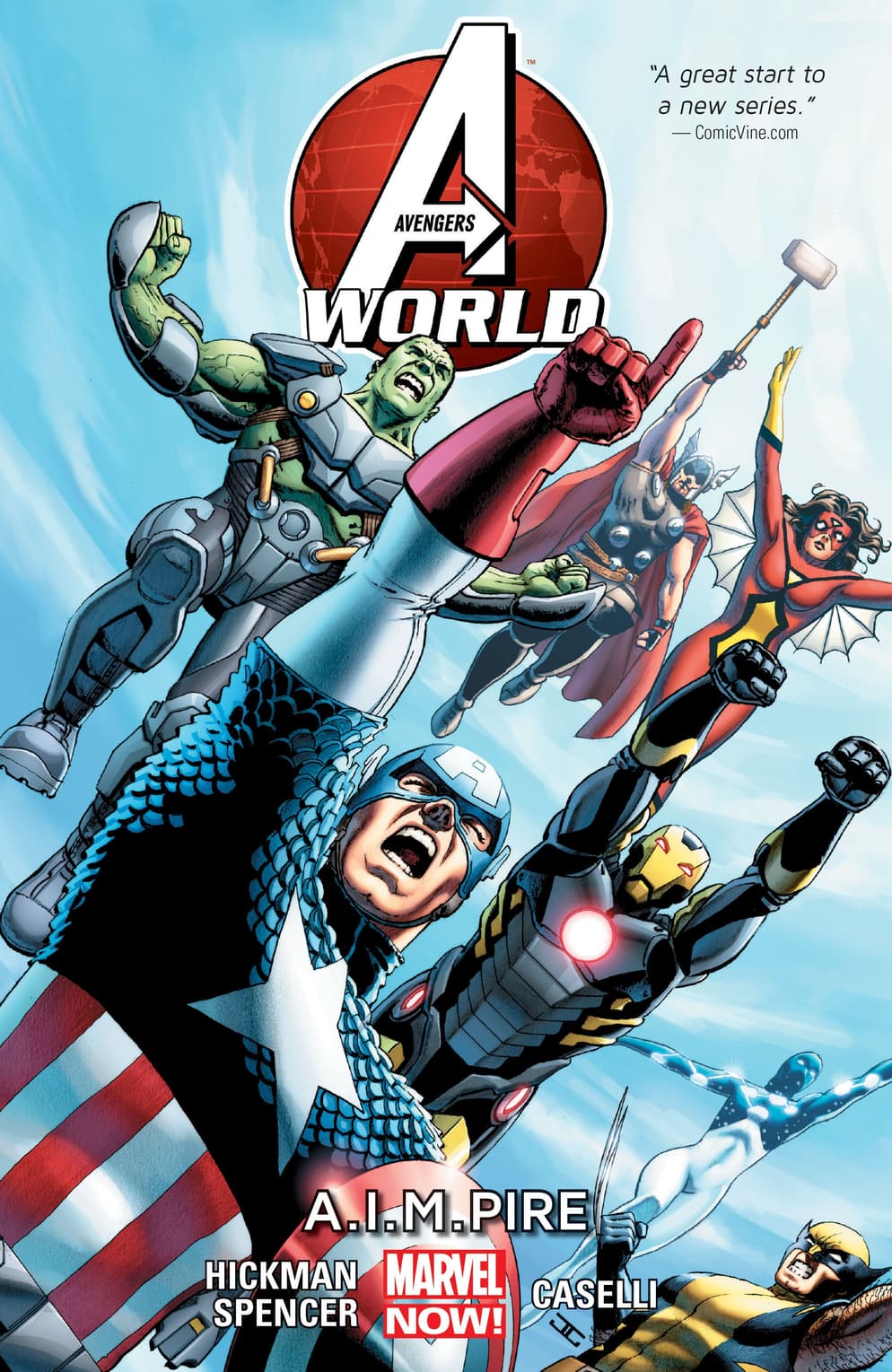 Protectors Assemble! When an intergalactic threat targets the Big Apple, Amadeus Cho joins an alliance of Asian and Asian-American adventurers to save its populace—including Ms. Marvel, Silk and Shang-Chi! But who brings them together, and what can they do in the face of a mass alien abduction? Start spreading the news, a bunch of people are leaving today—it's up to you, Protectors, to save New York, New York! Plus our socially awesome Hulk makes another new pal—basketball superstar Jeremy Lin! But when they double team a classic Marvel villain upgraded for an all-new era, will it be a slam dunk? Or will they suffer a blowout against the robot menace QUASI/MO/DO? This is how to win friends and influence people, Cho style!
Collects THE TOTALLY AWESOME HULK #13-18.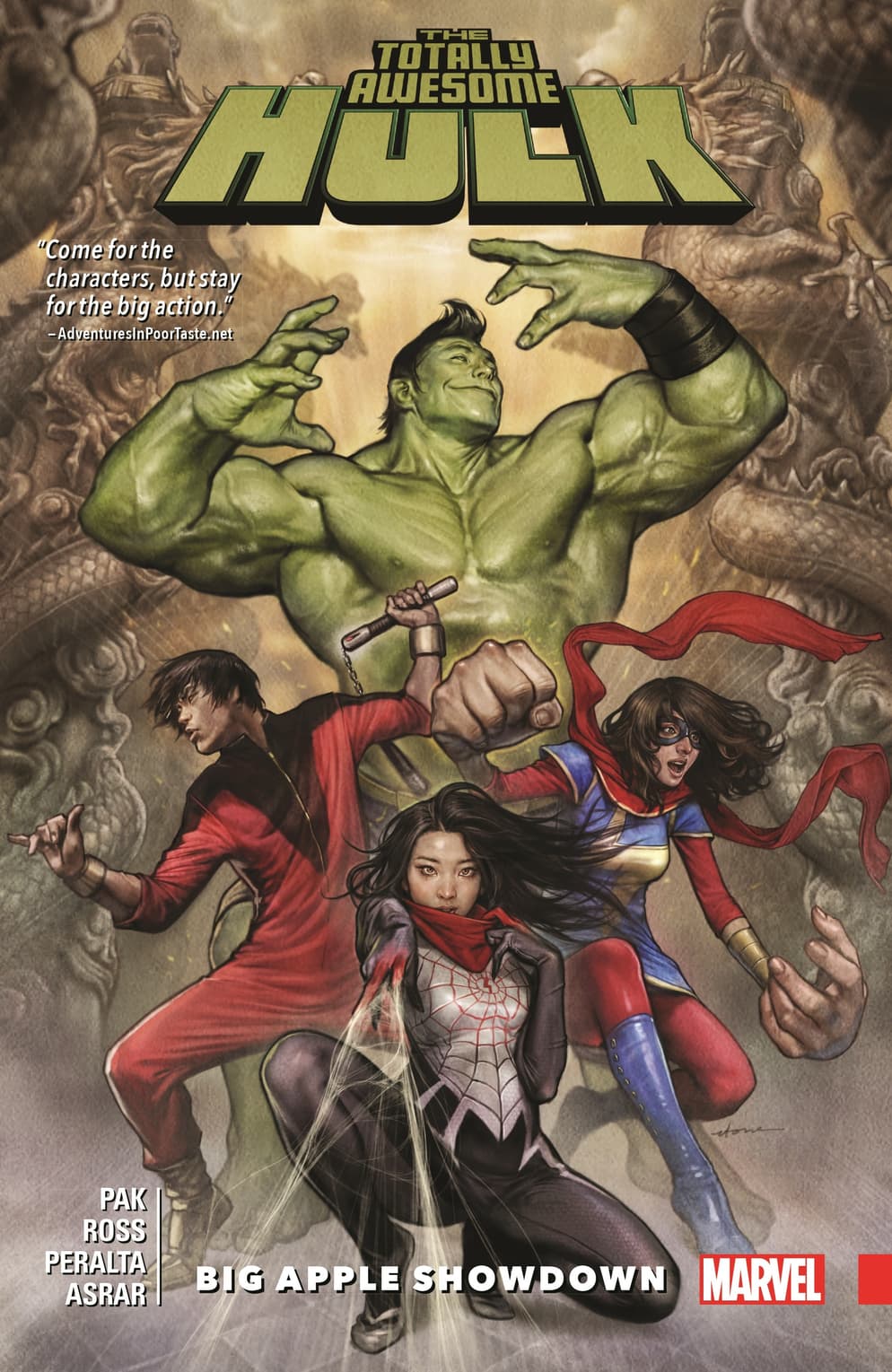 Grab the full list of sale titles here:
AERO & SWORD MASTER: ORIGINS AND ODYSSEYS
AERO VOL. 1: BEFORE THE STORM
AERO VOL. 2: THE MYSTERY OF MADAME HUANG
AGENTS OF ATLAS: PANDEMONIUM
AMAZING SPIDER-MAN: WORLDWIDE VOL. 1
AMAZING SPIDER-MAN: WORLDWIDE VOL. 2
AVENGERS BY JONATHAN HICKMAN VOL. 1
AVENGERS WORLD VOL. 1: A.I.M.PIRE
BLACK WIDOW: MARVEL TEAM-UP
CIVIL WAR: HEROES FOR HIRE
DEADLY HANDS OF KUNG FU: OUT OF THE PAST
DEADPOOL CLASSIC COMPANION VOL. 2
DEATH OF WOLVERINE PRELUDE: THREE MONTHS TO DIE
DOMINO VOL. 1
ELEKTRA BY PETER MILLIGAN, LARRY HAMA, & MIKE DEODATO JR.: THE COMPLETE COLLECTION
IRON FIST VOL. 2: SABRETOOTH - ROUND TWO
LUKE CAGE, IRON FIST, & THE HEROES FOR HIRE VOL. 2
MARVEL KNIGHTS BY DIXON & BARRETO: DEFENDERS OF THE STREETS
MARVEL LEGACY COMPANION
MARVEL TEAM-UP MASTERWORKS VOL. 3
MARVEL TWO-IN-ONE MASTERWORKS VOL. 3
MASTER OF KUNG FU EPIC COLLECTION: FIGHT WITHOUT PITY
MASTER OF KUNG FU EPIC COLLECTION: WEAPON OF THE SOUL
MASTER OF KUNG FU: BATTLEWORLD
SECRET AVENGERS VOL. 2: EYES OF THE DRAGON
SHANG-CHI BY GENE LUEN YANG VOL. 1: BROTHERS & SISTERS
SHANG-CHI: EARTH'S MIGHTIEST MARTIAL ARTIST
THE TOTALLY AWESOME HULK VOL. 3: BIG APPLE SHOWDOWN
WAR OF THE REALMS: NEW AGENTS OF ATLAS
WOLVERINE & BLACK CAT: CLAWS
WOLVERINE: FIRST CLASS - WOLVERINE-BY-NIGHT
WOLVERINE: THREE MONTHS TO DIE BOOK 2
Sale ends September 12, so head over to the Marvel Comics App and read these stories now! 
All purchases in the Marvel Comics App are added to your personal library, and can be read on iPhone®, iPad® and select Android™ devices! Our smart-paneling feature provides an intuitive reader experience, ideal for all types of mobile device and tablet users!
The Hype Box
Can't-miss news and updates from across the Marvel Universe!