Comics
Published October 14, 2017
She-Hulk #159: Divide and Conquer
Mariko Tamaki fills us in on what Legacy has in store for Jen Walters!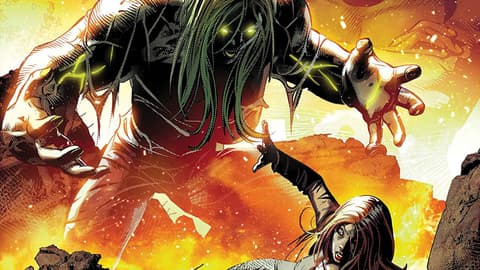 The Leader is back on the scene to wreak havoc (it's kind of his thing), but this time the big-headed ne'er-do-well strikes our hero when She-Hulk is at her weakest. Dealing with her new grey state has been challenging enough for Jen to face as it is, but what will happen when she is forced to face herself… literally?
SHE-HULK #159 by writer Mariko Tamaki with art by Jahnoy Lindsay presents their Legacy offering — JEN WALTERS MUST DIE: PART 1! Catch it on November 8th at a comic store near you.
We grill Mariko Tamaki on SHE-HULK Legacy and her strongest foe yet: herself.
Marvel.com: How has Jen Walters been holding up lately? Walk us through her state of mind, personally and professionally.
Mariko Tamaki: Professionally, Jen is good. Great, even! Work is busy because she's got a full case load. Personally? Yeah, she's burying everything under that workload. She's still in a place where she's not the Jen/Hulk she wants to be, but she's determined to power through because she thinks it will be possible to deal with all the things she's dealing with BY powering through… she is, of course, not entirely correct.
Marvel.com: Jen does so much to help save other people, but why is it so much harder for her to save herself (from herself)?
Mariko Tamaki: I think dealing with your own stuff is a whole other skill set. It's like knowing how to explain how to play baseball and knowing how to play baseball. It's a whole extra bit of uncomfortable work! And delving into that pain and discomfort is something Jen is afraid will undo her, so she's mostly avoiding it. Helping people feels good, so she's focusing on that.
Marvel.com: What has it been like working with a new series artist (the wonderful Jahnoy Lindsay)?
Mariko Tamaki: I have been incredibly lucky to work with so many amazing artists on this series. I love working with Jahnoy!
Marvel.com: Jen recently opted back to the title "She-Hulk." Is she a little torn on whether it's right to take on Bruce's title of "Hulk" in light of his tragic passing
Mariko Tamaki: I don't think Jen is concerned with being called Hulk or She-Hulk. Jen is very busy and also, most importantly, Jen knows who she is. She is Hulk and she is She-Hulk!
Marvel.com: What does the Marvel Legacy mean to you personally as a reader of and a writer for the brand?
Mariko Tamaki: To me it means going big, bringing something somewhat colossal to the story. The Leader is the perfect person to bring in now. He's so striking and evil.  I love writing him. With the Leader, we wanted to go big with the villain in this issue, to connect a novel foe with Jen's current mental state.
Marvel.com: How does Jen feel about her grey form? What does she like and dislike about that new development?
Mariko Tamaki: Being grey Hulk is still sort of out-of-body for Jen, literally. It's a powerful but still unfamiliar feeling. Also it's connected to trauma, to being in pain, and that's not an easy thing. It's not a form she completely trusts, at this point, and for good reason… as we shall see.
Charge over to a comic store near you on November 8th for SHE-HULK #159 by Mariko Tamaki and Jahnoy Lindsay, everywhere Marvel comics are sold!
The Hype Box
Can't-miss news and updates from across the Marvel Universe!