Comics
Published August 12, 2022
Get to Know She-Hulk with These Perfect Starter Stories
A few suggested comic runs for new readers!
Who is the Sensational She-Hulk? Find out in these ideal entry points for new readers and fans!
Lawyer Jennifer Walters was transformed into a gamma-powered Super Hero thanks to her cousin Bruce Banner. She backs up her sensational strength with a savage wit and confidence. It's hard not to notice She-Hulk, but there's so much more to Jennifer Walters than her immense strength, stature, and distinctive green skin. She is also a world-class New York City attorney, although she often takes on cases that appeal more to her sense of justice rather than her pocketbook. Pick up any of our suggested starting points as digital issues or collections on the Marvel Comics App to kick off your She-Hulk reading! Through August 29 you'll save up to 67% off on certain sale titles. Plus Marvel Insiders who shop this sale will earn 1,000 Insider points (limit once per sale) for any purchase.
Here's our top picks!
Collecting SHE-HULK (2014) #1-6:
Jennifer Walters is a stalwart member of the Avengers and the Fantastic Four, plus a killer attorney with a pile of degrees and professional respect. But between juggling cases and a mounting number of Super Villains she's racking up as personal enemies, life is getting more complicated than even she could anticipate. And, to add another complication, Kristoff Vernard, the son of Victor Von Doom, seeks extradition in a case of international intrigue! She-Hulk takes on her most terrifying role yet: defendant.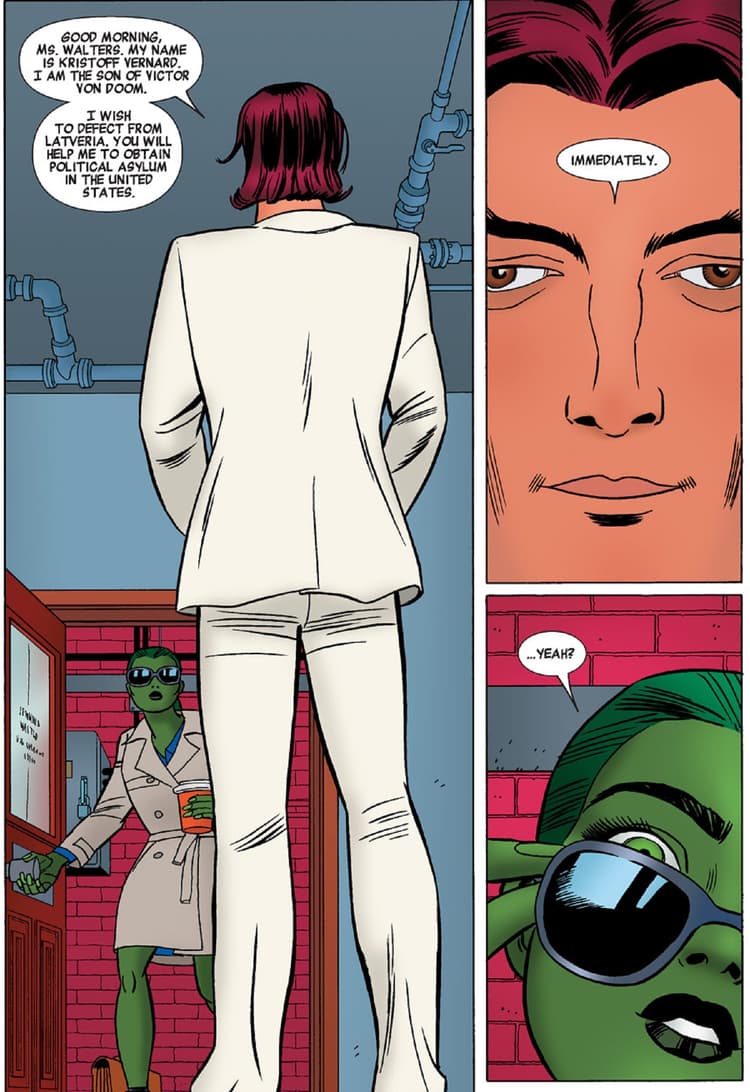 Collecting SHE-HULK (2004) #1-12, SHE-HULK (2005) #1-5.
Join She-Hulk and her growing caseload of the Marvel Universe's most bizarre legal problems! As a superhuman lawyer, She-Hulk and her law firm of Goodman, Lieber, Kurtzberg & Holliway receive some of the strangest cases on Earth...and now across the galaxy! She-Hulk heads into deep space to take on a difficult case, and upon her return matches muscles with Hercules… But it's going to take brains, not brawn, to get the Prince of Power out of some Herculean legal problems. Plus: No one hates She-Hulk more than Titania. Find out why, and what makes her one of the deadliest threats in Jen Walters' life.
[RELATED: Meet Titania, a Rival Fit for She-Hulk]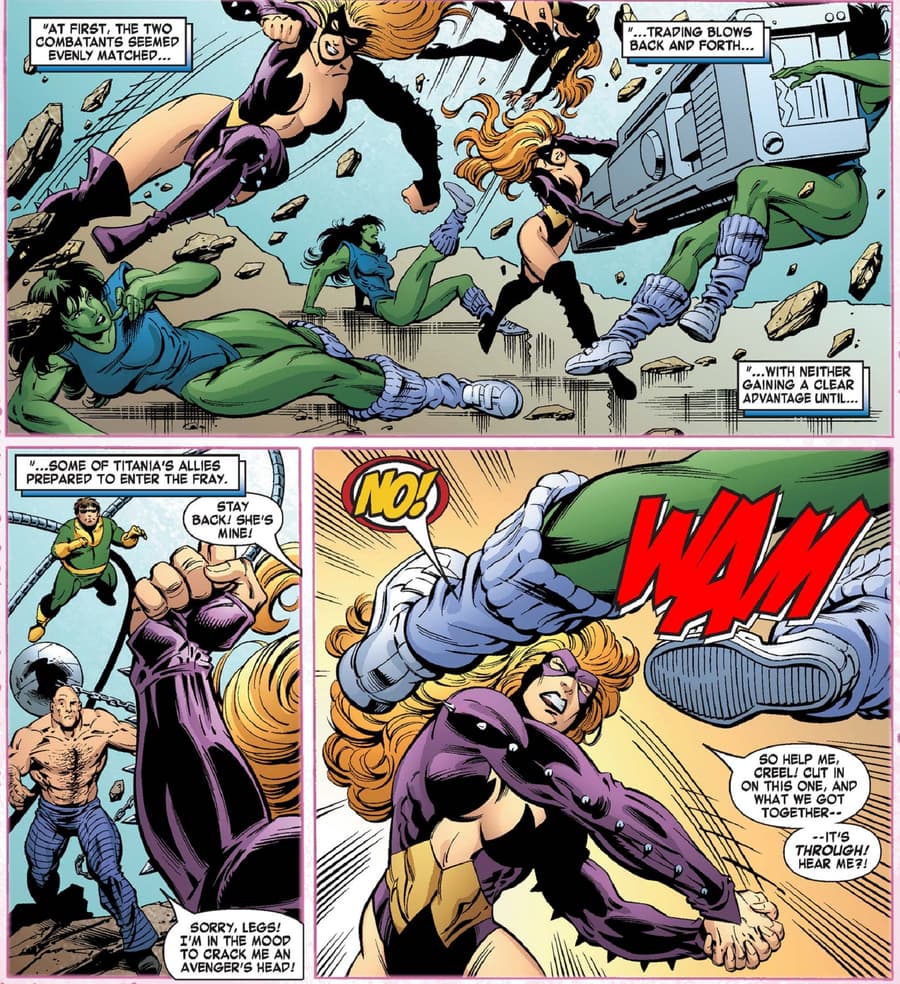 Collecting SAVAGE SHE-HULK (1980) #1-14.
Go back to the very start of Jennifer Walters' gamma-green beginnings! When a criminal defense attorney is shot by a mob hitman, her cousin saves her life with a blood transfusion—but that cousin happens to be Bruce Banner, and his gamma-irradiated blood turned her into the Savage She-Hulk! Suddenly Jen Walters is a mean, green lawyering machine, but she also has her own control over the Hulk identity. Read She-Hulk's adventures in and outside the halls of justice to other dimensions: From one of her earliest encounters with Iron Man, to mind-controlling cults, the Man-Thing, and even a conflict with her own father. How does Jennifer Walters survive the beast within?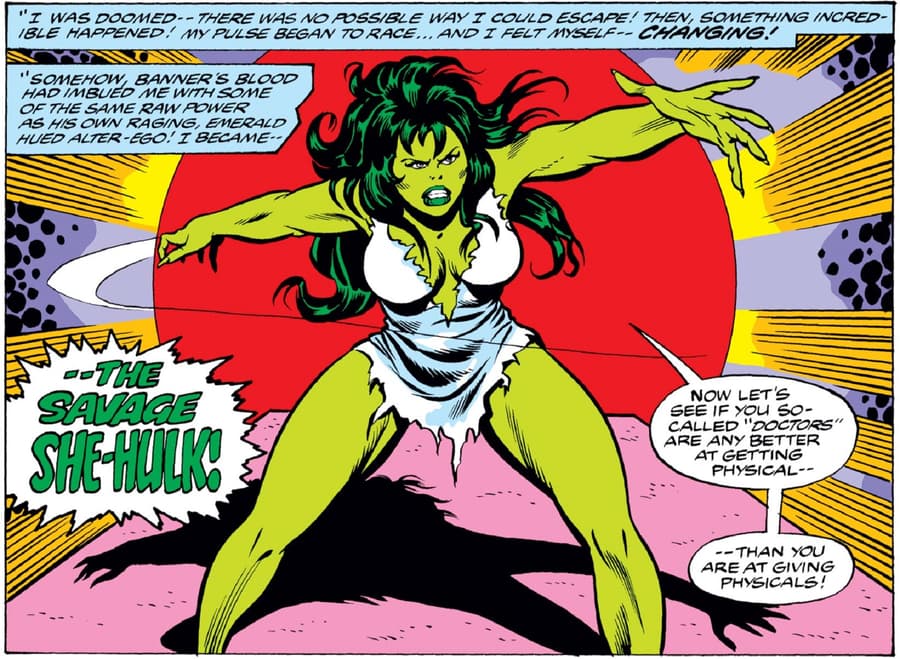 These comics and collections are available to read on the Marvel Comics app for iOS and Android, on sale through August 29. Grab the full list of sale titles below!
AVENGERS: THE SEARCH FOR SHE-HULK
HULK: FALL OF THE HULKS - THE SAVAGE SHE-HULKS
RED SHE-HULK VOL. 2: ROUTE 616
RED SHE-HULK: HELL HATH NO FURY
SAVAGE SHE-HULK
SAVAGE SHE-HULK MASTERWORKS VOL. 1
SAVAGE SHE-HULK MASTERWORKS VOL. 2
SENSATIONAL SHE-HULK BY JOHN BYRNE VOL. 1
SENSATIONAL SHE-HULK BY JOHN BYRNE: THE RETURN
SHE-HULK BY DAN SLOTT COMPLETE COLLECTION VOL. 1
SHE-HULK BY DAN SLOTT COMPLETE COLLECTION VOL. 2
SHE-HULK BY SOULE & PULIDO: THE COMPLETE COLLECTION
SHE-HULK VOL. 1: DECONSTRUCTED
SHE-HULK VOL. 1: LAW AND DISORDER
SHE-HULK VOL. 1: SINGLE GREEN FEMALE
SHE-HULK VOL. 2: DISORDERLY CONDUCT
SHE-HULK VOL. 2: LET THEM EAT CAKE
SHE-HULK VOL. 2: SUPERHUMAN LAW
SHE-HULK VOL. 3: JEN WALTERS MUST DIE
SHE-HULK VOL. 3: TIME TRIALS
SHE-HULK VOL. 4: LAWS OF ATTRACTION
SHE-HULK VOL. 5: PLANET WITHOUT A HULK
SHE-HULK VOL. 6: JADED
SHE-HULK VOL. 7: HERE TODAY? (NEW EDITION)
SHE-HULK VOL. 8: SECRET INVASION
SHE-HULK VOL. 9: LADY LIBERATORS
SHE-HULKS: HUNT FOR THE INTELLIGENCIA
SHE-HULK EPIC COLLECTION: BREAKING THE FOURTH WALL
All purchases in the Marvel Comics App are added to your personal library, and can be read on iPhone®, iPad® and select Android™ devices! Our smart-paneling feature provides an intuitive reader experience, ideal for all types of mobile device and tablet users! 
The Hype Box
Can't-miss news and updates from across the Marvel Universe!