Comics
Published February 2, 2023
Meet Al Harper, the New Hero of 'Silver Surfer: Ghost Light'
Who is Al Harper? Discover the new hero of 'Silver Surfer: Ghost Light,' who made an indelible impact on Norrin Radd in the span of a single issue back in 1969.
Thanks to nearly a century of storytelling, the Marvel Universe has been called home by many incredible characters over the years. Some of these—like Captain America and the Fantastic Four—have enjoyed the spotlight for decades, while others have experienced far more fleeting tenures. The beauty of a decades-old shared universe, though, is that even the most short-lived characters can make a comeback…which is exactly what readers of SILVER SURFER: GHOST LIGHT (2023) #1 by John Jennings and Valentine De Landro can expect from the return of Dr. Alan B. Harper. 
Wait, who? If you're asking that question, you're not the only one! Dr. Harper's one and only appearance in the Marvel Universe took place in SILVER SURFER (1968) #5, all the way back in 1969. In that issue, Stan Lee, John Buscema, and Sal Buscema presented a tale called "...And Who Shall Mourn Him?"
In that story, Norrin Radd—AKA the Silver Surfer—was trapped on Earth as punishment for helping the Fantastic Four save Earth from Galactus during FANTASTIC FOUR (1961) #48-50. As the fifth issue of his solo series begins, the title character steals a device called the Space Scrambler from the Fantastic Four in the hopes that it can help him escape his imprisonment. Upon using the device, Radd experienced a backlash so powerful that it knocked him unconscious, causing him to fall back to Earth. 
The Sentinel of the Spaceways was stunned to wake up in the cabin of physicist Alan B. Harper. The Earthman encouraged his guest to enjoy some bacon and coffee as a way to nourish not just his body, but also his soul. He then recalled the moment he witnessed the alien crash-land in the woods as he looked for unique rocks. 
Harper agreed to help his new friend figure out how to get past the barrier placed around the planet, which kept Galactus' former Herald trapped on Earth, but he needed money for equipment and materials. In the meantime, the Surfer put on clothes and interacted with a few humans, who treated him poorly just for looking different. He even went so far as to break into a bank and contemplated robbing the vault, but ultimately thought better of it. He wound up getting cash from an illegal gambling operation that led to an altercation with some hoodlums. 
Still, Silver Surfer returned to Harper's home with enough cash, so Harper traveled to the city and worked on a solution in his lab. There, he came up with a an invention that would allow Radd to fool the barrier so he could get through it.
When the Surfer tested the device, it drew the attention of the Stranger, who—unrelated to any of these events—was on his way to destroy the Earth with a Null-Life Bomb in retaliation for his poor treatment there in the past. Stranger told Surfer of his plans, and Norrin immediately warned Alan, knowing that people would not listen to him. Even so, Alan was laughed out of the precinct when he attempted to tell the police.
To begin their search for the Null-Life Bomb, Harper hopped on Radd's board and used a Geiger Scope to scan the globe. Fortunately, Harper was able to track the bomb to a small town while the Surfer battled the Stranger. The scientist's device drew the attention of the locals, who assaulted him, but Alan managed to escape and continue the search.  
Fortunately, Alan managed to find the weapon of planetary destruction and dismantle it—but accidentally triggered a defense mechanism that doused him in a murderous gas in the process. Still, Dr. Harper used his last gasps to fully disable the bomb before dying in excruciating pain. 
Alan's sacrifice proved to the Stranger that Earth was home to at least one selfless individual, so he ceased his attack. To remember the man whose selflessness saved an entire planet, Silver Surfer honored Alan with a cosmic cremation that he would burn as long as the Earth endured.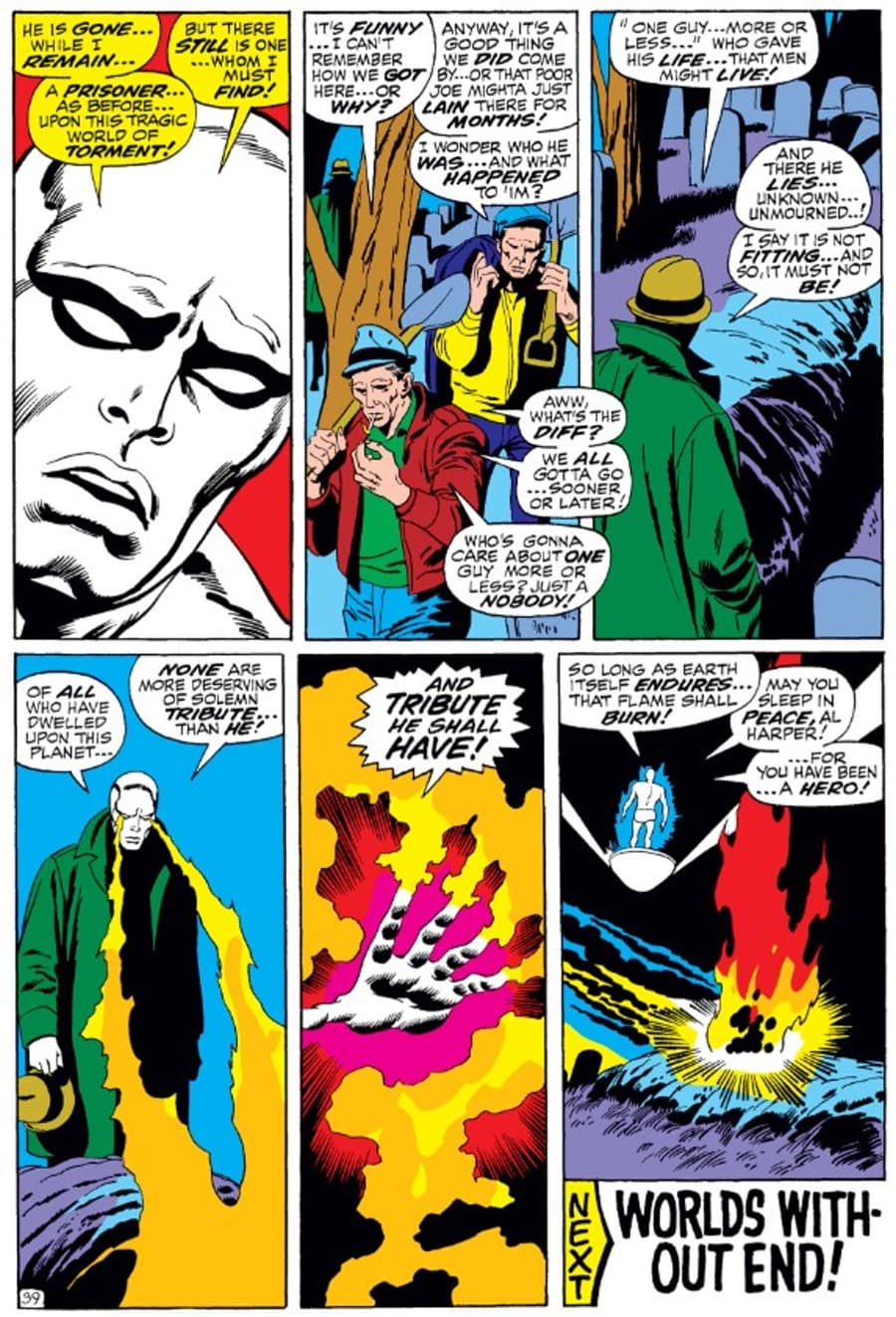 "Dr. Harper was introduced a few months before the appearance of the Falcon," Jennings explained in an interview with Gizmodo. "He was virtuous, handsome, and brilliant. He also willingly chose to sacrifice himself to save the world! The Surfer then marks his grave with a cosmic flame to symbolize his heroism for all eternity. Now, I was reading this right after my oldest sister had passed away suddenly and in the midst of the global George Floyd protests. It just occurred to me that Dr. Al B. Harper could live again! I just saw so much potential in him and, thankfully, Marvel agreed!"
"I will say that he's always represented a symbolic resonance for Norrin as a proof of the goodness of humanity," he added. "So, in this symbolic representation, he has remained. Even the title of the original story, 'And Who Shall Mourn for Him,' shows that Stan Lee was attempting to have a conversation about Civil Rights in what I would almost term as a 'Black Death Matters' story. It was my goal to answer that question: Who shall mourn for him? Our miniseries seeks to respond to that query posed so long ago by one of the most iconic comics creators in history."
SILVER SURFER: GHOST LIGHT picks up a decade after Harper's passing. After his sister and her family moves into his house, his niece Harper begins having visions of a being she called the Shining Man, who wants to show her something in the nearby woods. 
To see how that connects to Dr. Alan B. Harper and his onetime houseguest, check out SILVER SURFER: GHOST LIGHT #1, on sale now!
You can grab these comics and more digitally or at your favorite local comic book shop. Be sure to ask your local shop about their current business policies to observe social distancing or other services they may offer, including holding or creating pull lists, curbside pick-ups, special deliveries, and other options to accommodate. Find and support your local comic book shop at ComicShopLocator.com or by visiting Marvel.com/LoveComicShops.
For digital comics, all purchases in the Marvel Comics app can be read on iPhone®, iPad® and select Android™ devices! Our smart-paneling feature provides an intuitive reader experience, ideal for all types of mobile device and tablet users! Download the app on iOS and Android now!
The Hype Box
Can't-miss news and updates from across the Marvel Universe!