Comics
Published December 13, 2021
The Most Shocking Moments From 'Sinister War'
Read this epic Spider-Man event in full on Marvel Unlimited!
Have you tried Marvel Unlimited yet? It's your all-access pass to over 29,000 Marvel comics, available at your fingertips. Download our new, supercharged app on the App Store or Google Play today and enjoy a first year for $55!
WARNING! 

THIS ARTICLE CONTAINS SPOILERS FOR THE SINISTer WAR EVENT. READ ON AT YOUR OWN RISK, TRUE BELIEVERS!
From the very beginning of writer Nick Spencer's run on THE AMAZING SPIDER-MAN (2018), Peter Parker and Mary Jane Watson have been haunted by the demonic Kindred. He claims to be Harry Osborn, but there's far more to Kindred's story than just another old friend turned to evil. The answers finally came to light during the SINISTER WAR event, Spencer's penultimate storyline with artists Mark Bagley, Federico Vicentini, Zé Carlos, Marcelo Ferreira, Carlos Gómez, and more!
Now that the entire saga is on Marvel Unlimited for your reading enjoyment, we recap the most shocking moments from SINISTER WAR. And only a few of them involve the Shocker or Electro!
THE LIZARD SPLITS FROM CURT CONNERS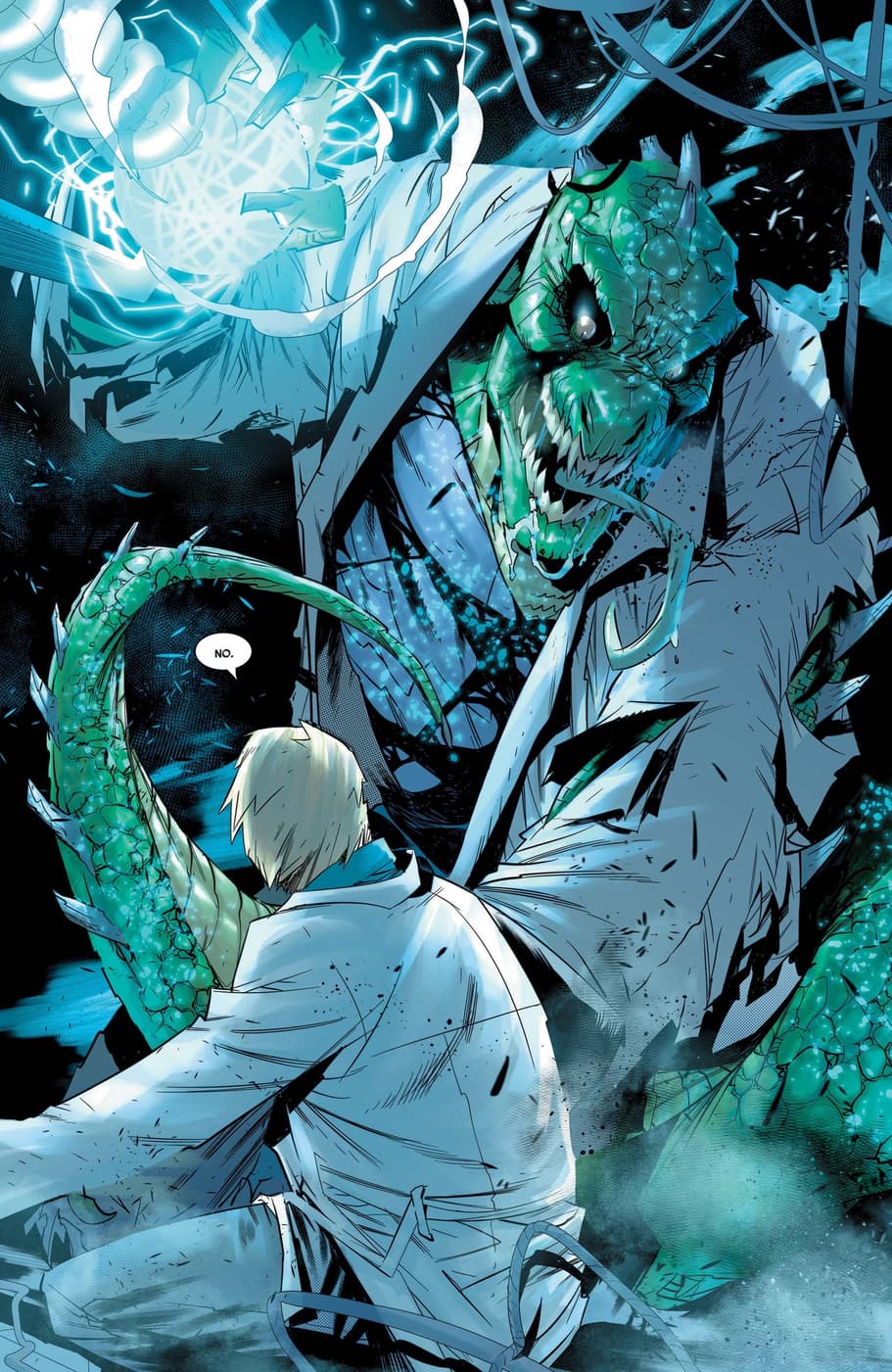 Curt Connors has been haunted by his alter ego, the Lizard, for years. More recently, Curt had come up with techniques of controlling his other self. But when Doctor Octopus's new Sinister Six came to recruit the Lizard, they used Curt's own technology to split them into two separate beings. Consequently, the Lizard no longer has a shred of humanity to hold it back. And Doctor Octopus has another weapon in his arsenal...
THE SINISTER SIX VS. THE SAVAGE SIX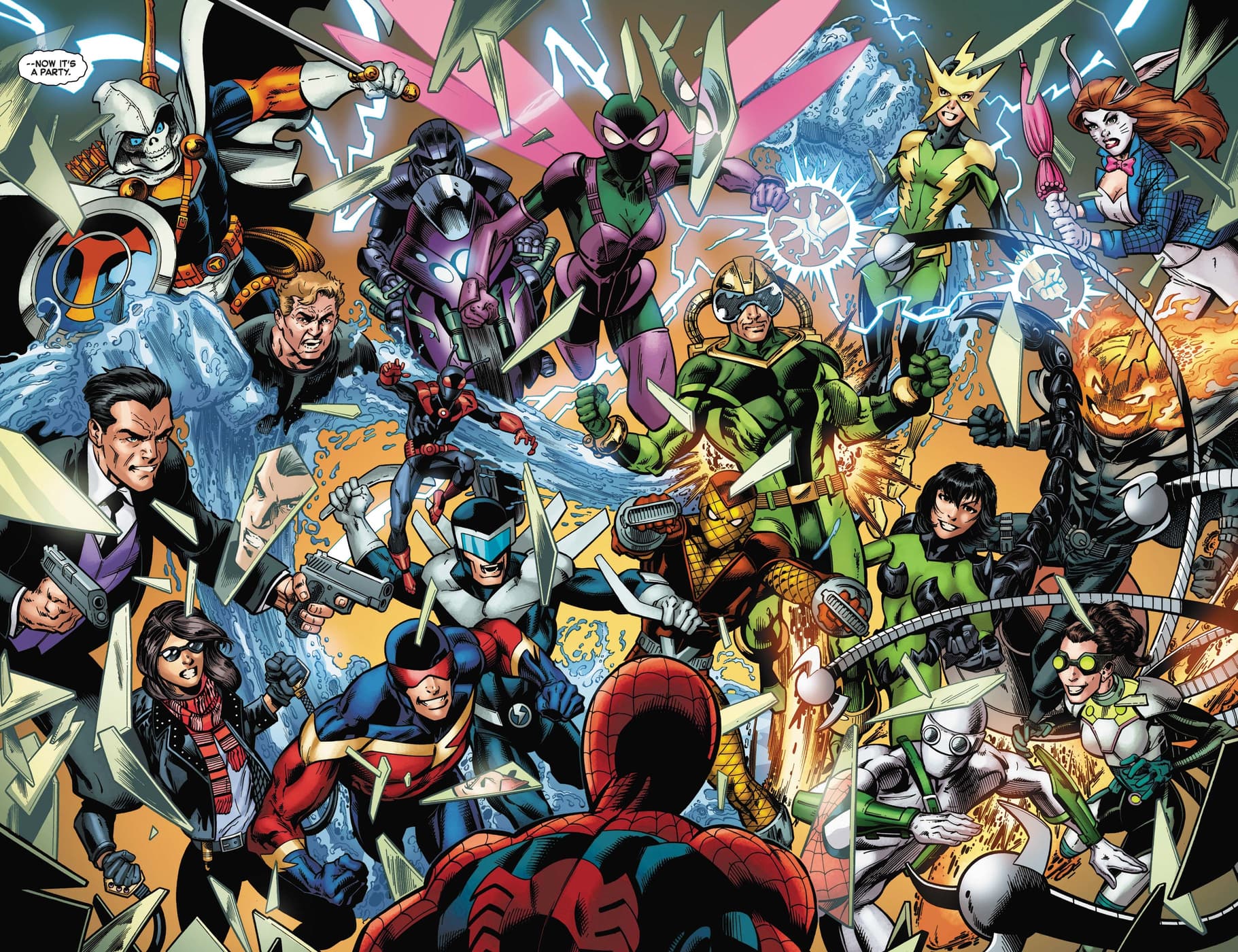 SINISTER WAR isn't just another clash between Spidey and his six greatest villains. It's a battle between the bad guys themselves for the right to finish off Spider-Man once and for all! And while Adrian Toomes' Vulture was one of the founding members of the Sinister Six, he has his own group now: the Savage Six. Rounding out that team are Rhino, Scorpion, Tarantula, King Cobra, and Stegron the Dinosaur Man.
Of course, Doctor Octopus' latest incarnation of the Sinister Six is no joke. Lizard, Mysterio, Electro, Kraven, and Sandman are among the toughest foes that Spidey has ever battled. The  key difference this time is that the Savage Six and the Sinister Six were at each other's throats.
MYSTERIO'S DEAL WITH THE DEVIL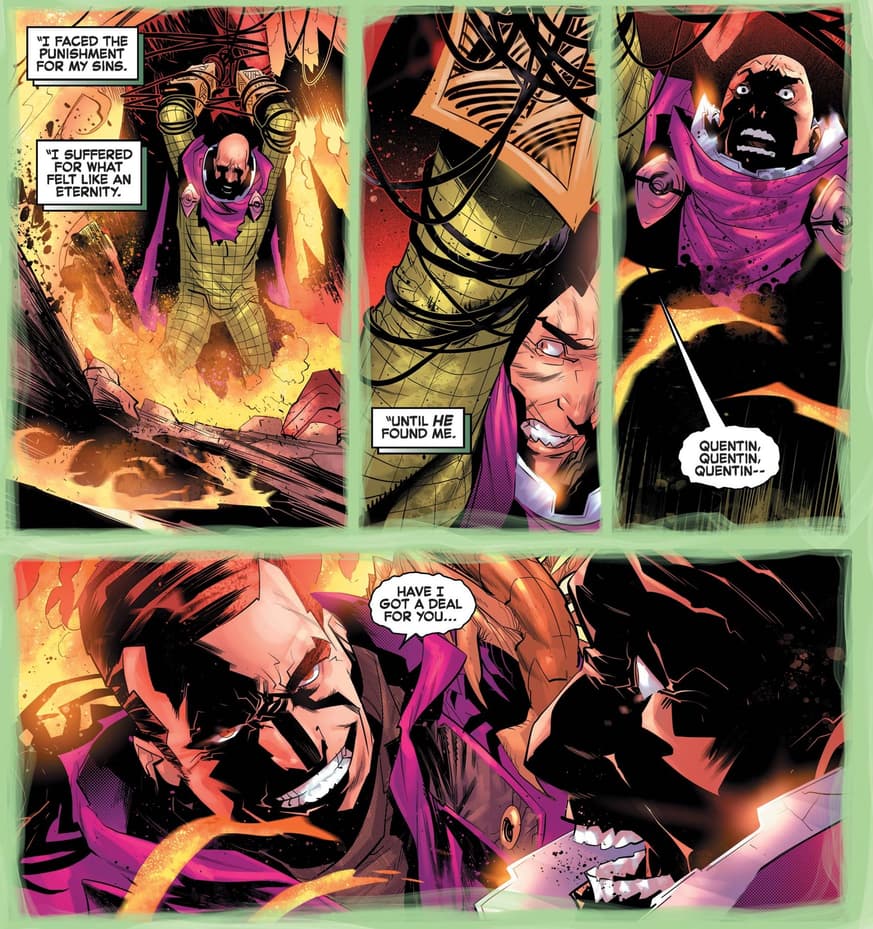 In the depths of Hell, the desperate will agree to anything in order for a respite from eternal torment. Quentin Beck was no different. Following his suicide in DAREDEVIL (1998) #7, Beck was tortured in Hell until he made a deal with Kindred. This issue also reconciled Beck's temporary supernatural powers upon his return to the living, as well as his sojourn into the Ultimate Universe in SPIDER-MEN (2012).
WATCH YOUR BACK!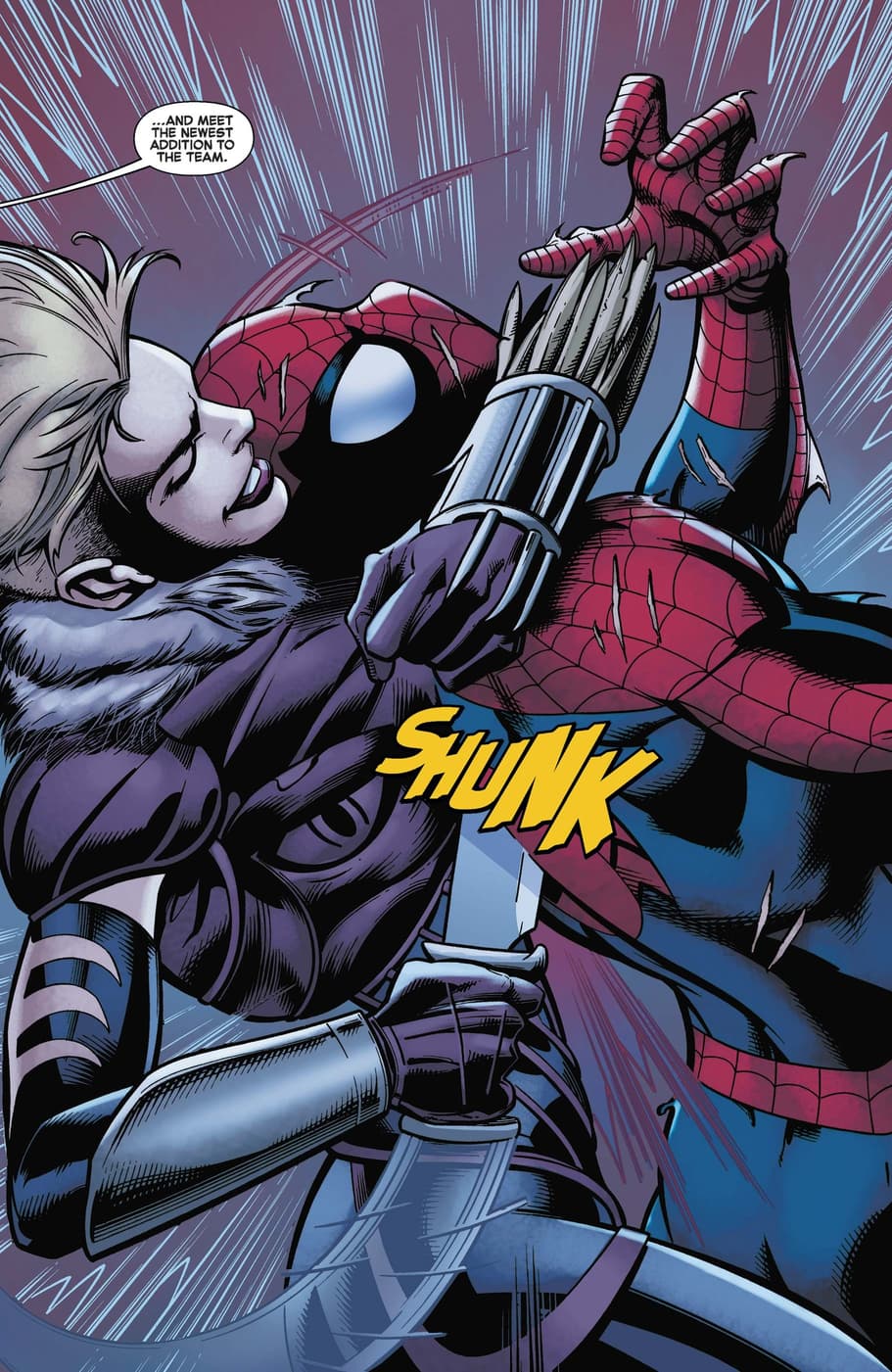 Three more teams of villains joined the hunt for Spider-Man, including the Foreigner's Wild Pack, the Superior Foes, and the all-female Sinister Syndicate. Against nearly 30 enemies, Spidey was bound to lose track of someone. In this case, it was a surprising seventh member of the Syndicate, Anastasia Kravinoff, the daughter of Kraven the Hunter. She stabbed Spider-Man in the back with a deadly blow, and left him fighting for his life.
CLASH OF THE VILLAINS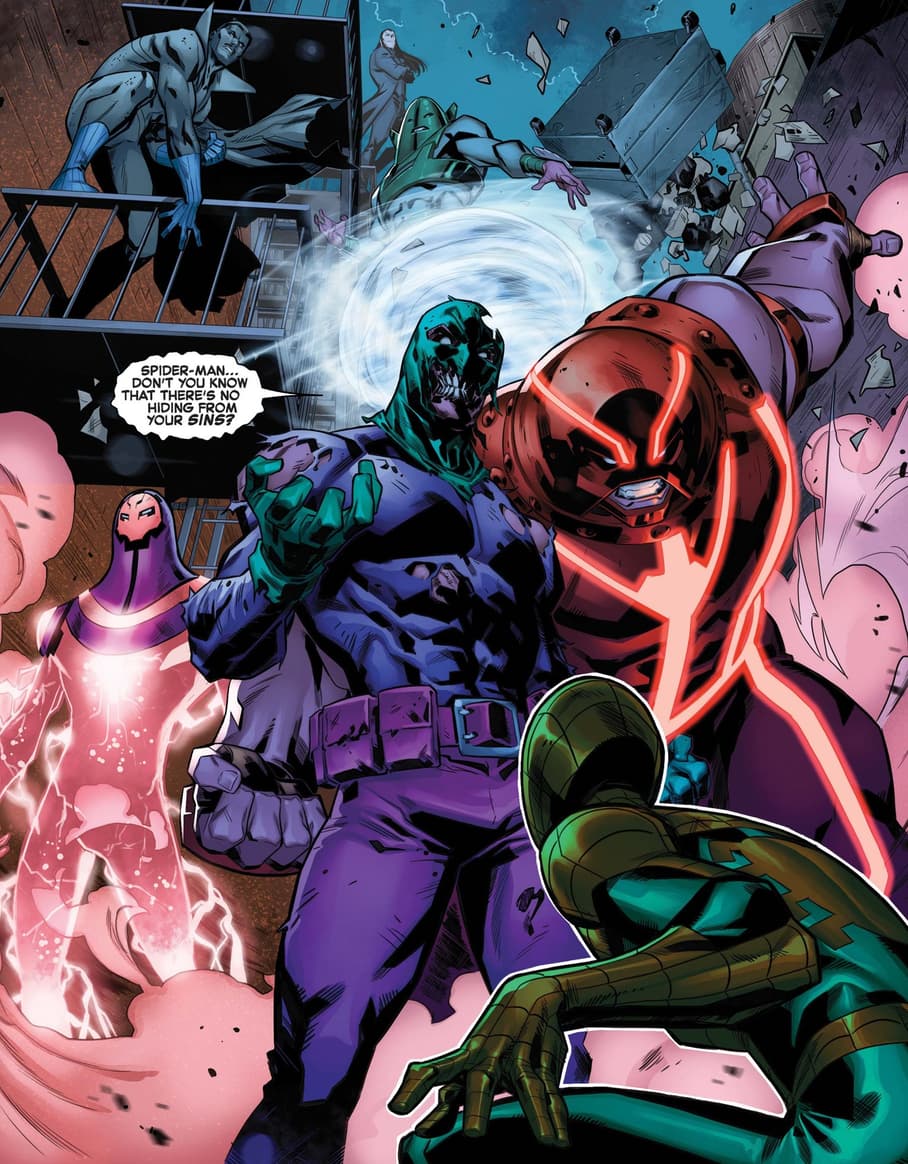 To make things even more difficult for Spider-Man, Kindred resurrected the Sin-Eater (again), and he formed his own team of villains: Grey Gargoyle, Living Laser, Morlun, Whirlwind, and Juggernaut. But with so many bad guys and girls out for Spidey's blood, it was inevitable that they would fight each other on a grand scale. This was the moment it truly became a Sinister War.
NORMAN SELLS HARRY'S SOUL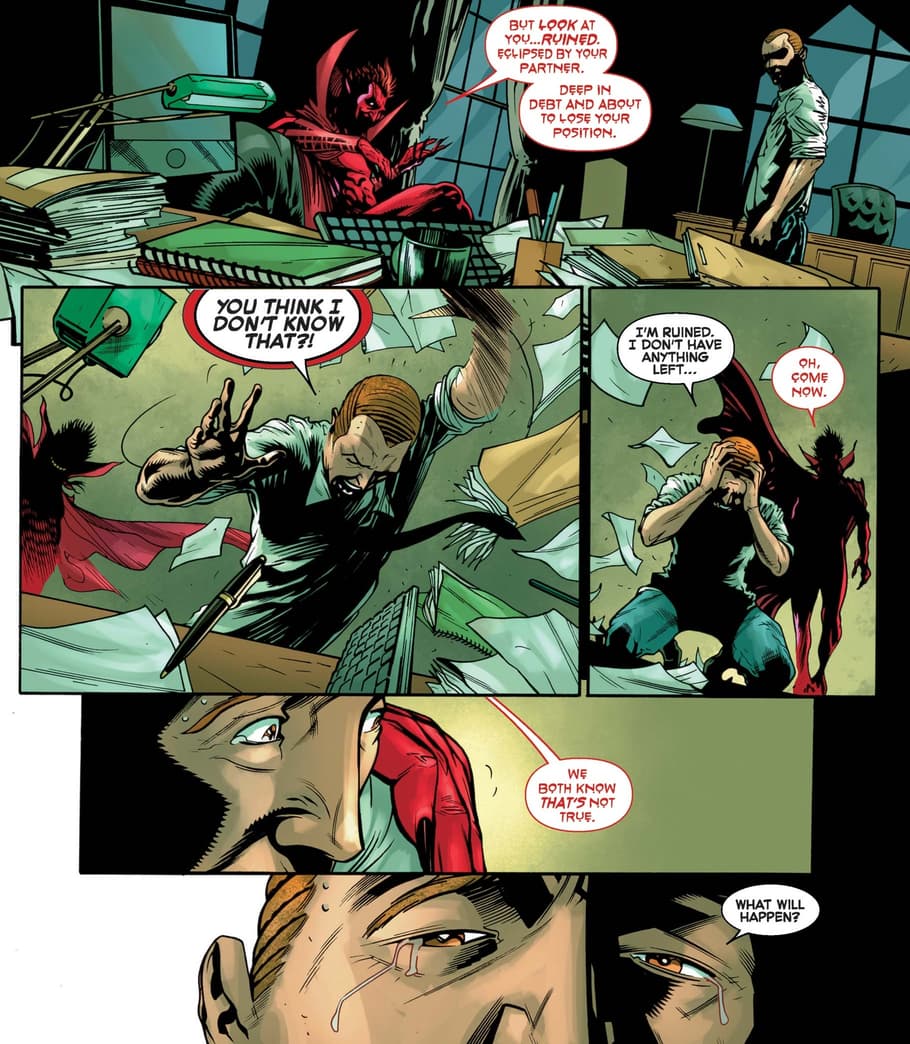 If you didn't hate Norman Osborn before this story, then here's a new reason to despise him. Within a flashback, readers learned that Norman's business was on the brink of failure when he was approached by Mephisto. To reverse his fortunes, Norman sold the soul of his only son, Harry. This went a long way towards explaining Harry's almost supernaturally bad luck throughout his life. It also established a reason why Harry was consigned to Hell before his transformation into Kindred.
BOOMERANG MAKES HIS CHOICE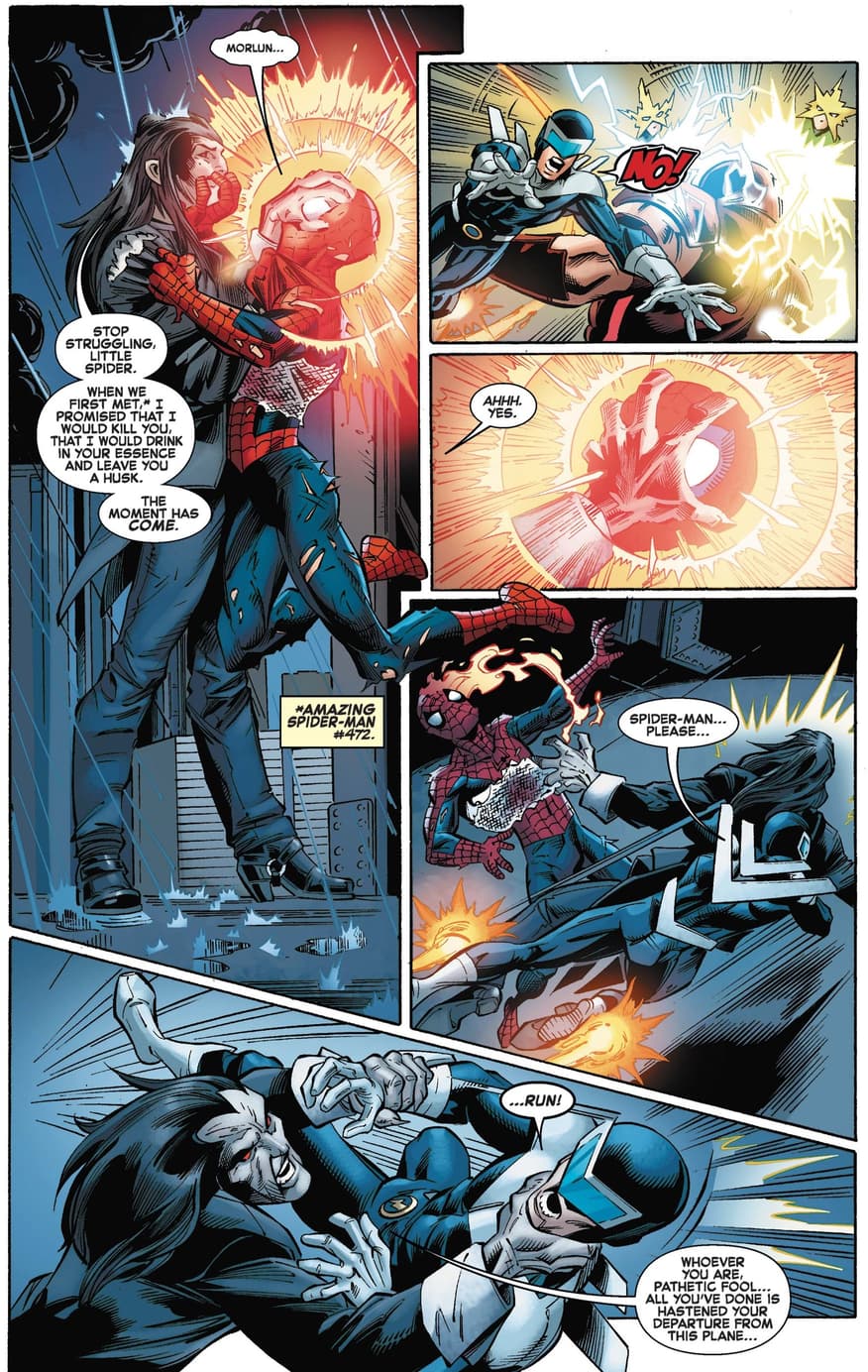 During the bulk of Spider-Man's 2018 run, Boomerang was Peter Parker's roommate and Spider-Man's newest friend. They even came to genuinely enjoy each other's company. That's why Boomerang's betrayal in "King's Ransom" hurt Spidey so much. In short, Boomerang reverted to type because he was always out to save his own life. But not this time. With Spider-Man on the verge of death, Boomerang chose to save his friend, no matter the cost.
THE TRUTH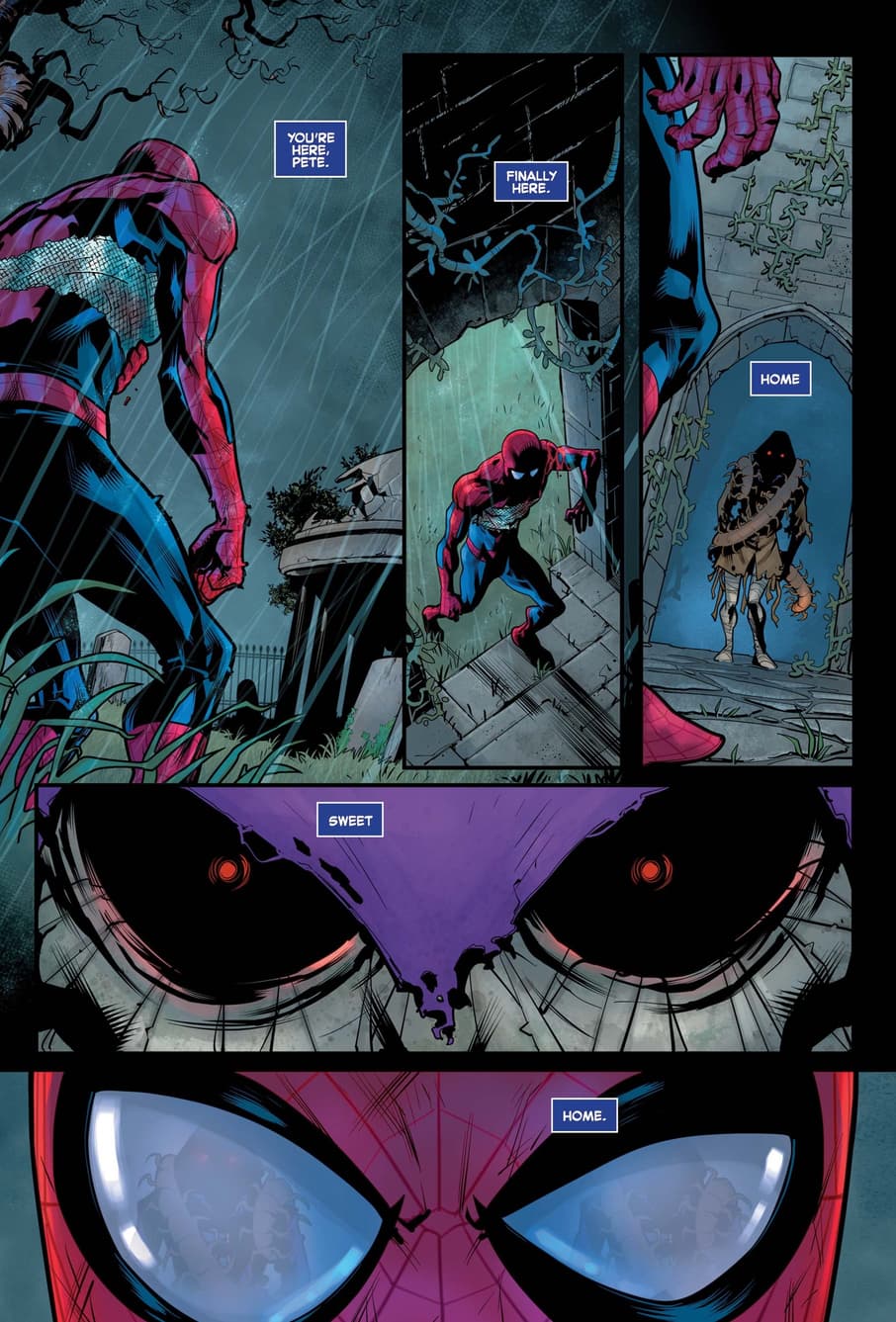 Everything you wanted to know about Kindred came out in this issue. How could there be two Harry Osborns? Why did Harry become Kindred? And what's the deal with Gabriel and Sarah Stacy? The answers changed everything ahead of Spider-Man's final battle with Kindred...
Want to read this showstopper event in full? Download the all-new Marvel Unlimited app for iOS or Android devices to read SINISTER WAR!
Follow Marvel Unlimited on Twitter and Facebook to stay tuned in to weekly announcements, articles, and more, all at @MarvelUnlimited. Follow us today to join the conversation with thousands of fellow fans, and let us know what you're reading!
The Hype Box
Can't-miss news and updates from across the Marvel Universe!