Comics
Published April 15, 2019
6 Times Shuri Teamed Up with Her Fellow Marvel Heroes
Take a look at Shuri's previous team-ups.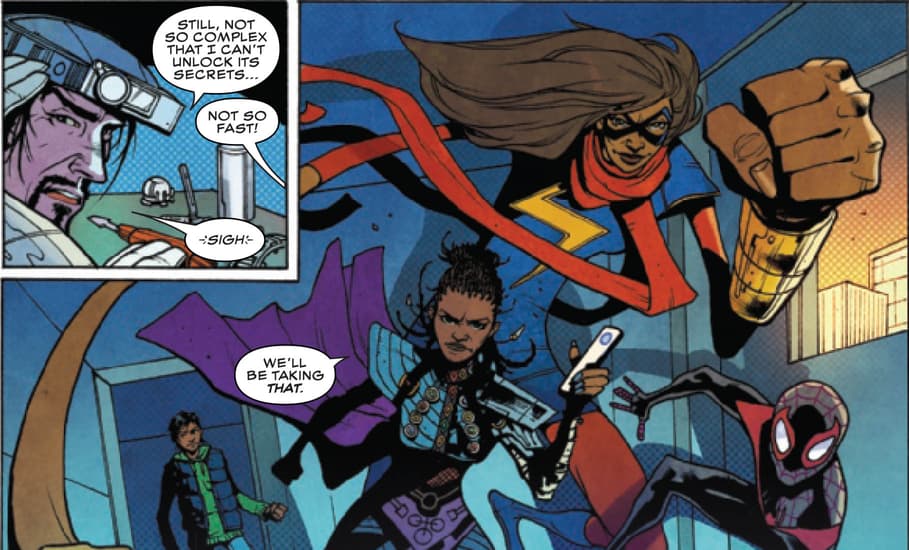 Technology innovator. Princess of Wakanda. Black Panther. No matter what her role, Shuri has always been extremely resourceful. But every now and then, she could use a little help. Here are a few times Shuri worked together with other Super Heroes in the Marvel Universe.
The X-Men, Fantastic Four, and War Machine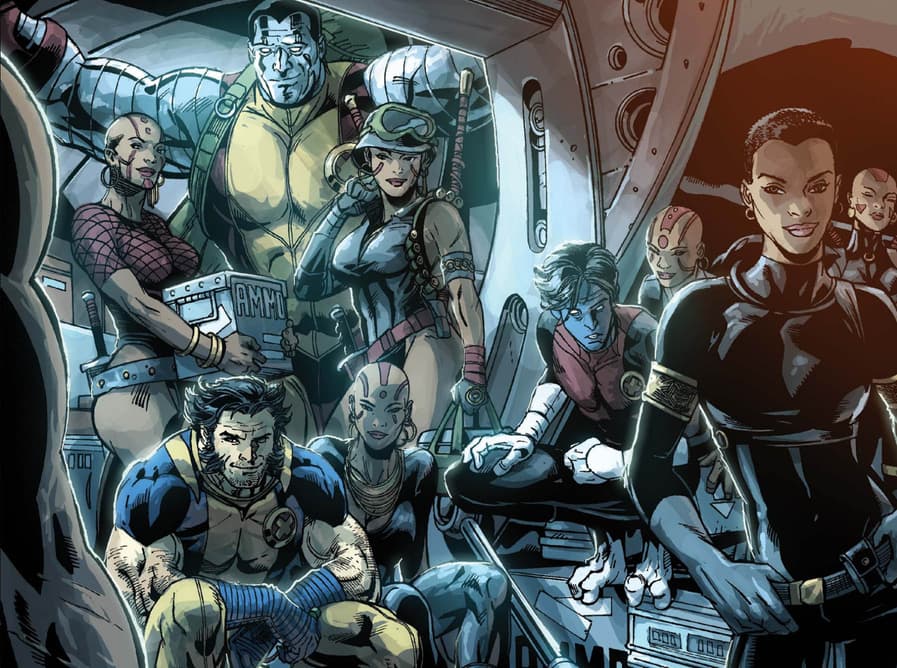 Wakanda was taken over during a coup by the Desturi, a group of disgruntled Wakandan citizens, with some help from Doctor Doom. To take Wakanda back, Shuri, then the reigning Black Panther, and her brother T'Challa needed all the help they could get. Wolverine, Nightcrawler, and Colossus aided Shuri and the Dora Milaje in DOOMWAR (2010) #1 to attack the Desturi and various Doombots and return Wakanda to order. In issue #3, Shuri asked the Fantastic Four for help in obtaining the vibranium that Doctor Doom stole from Wakanda. With the exception of Mr. Fantastic, the rest of the First Family were on the front lines with Shuri. Not to be left out of the fight, War Machine appeared in issue #5 and helped Shuri and the others fight against the updated Doombots, bringing a "cyclical repulsor" to even the odds.
Deadpool was also present during the tail-end of the war, but when he met Shuri in battle, he was more concerned about dating her.
Spider-Man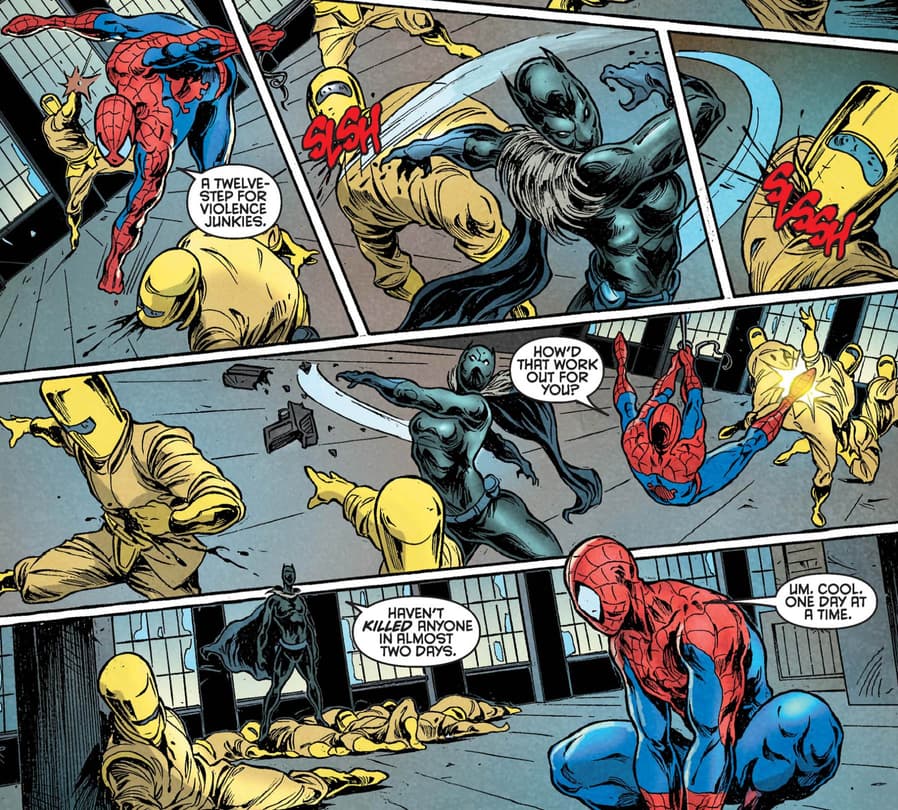 After the events of DOOMWAR, Shuri faced another mad villain, one she was too familiar with. Ulysses Klaue, better known as Klaw (and her father's murderer) was searching for Savage Land vibranium after Wakanda's supply was destroyed by T'Challa at the end of DOOMWAR. Tracking Klaw down took Shuri to New York City, home of the one and only Spider-Man! (The Avengers were out on a mission, so Shuri didn't have many other options.) She and Spider-Man (Peter Parker) fought A.I.M. scientists and eventually Klaw, only briefly splitting up so Spider-Man could hold off Klaw while Shuri went to destroy the Scream.
Black Widow

Klaw managed to get away from Spider-Man and Shuri by flying into space and taking refuge on an A.I.M. space station. Trying to hack into the station's system proved impossible for Flea, Shuri's "eyes" from space, so Spider-Man called Captain America, who knew the perfect spy for the job: Black Widow. Shuri and Black Widow traveled to the station to confront Klaw and save Joya, also known as M.U.S.I.C., who was transformed into the Scream by Klaw. Black Widow hacked the security, then she and Shuri fought Klaw and saved the world from destruction. Just another Tuesday.
Storm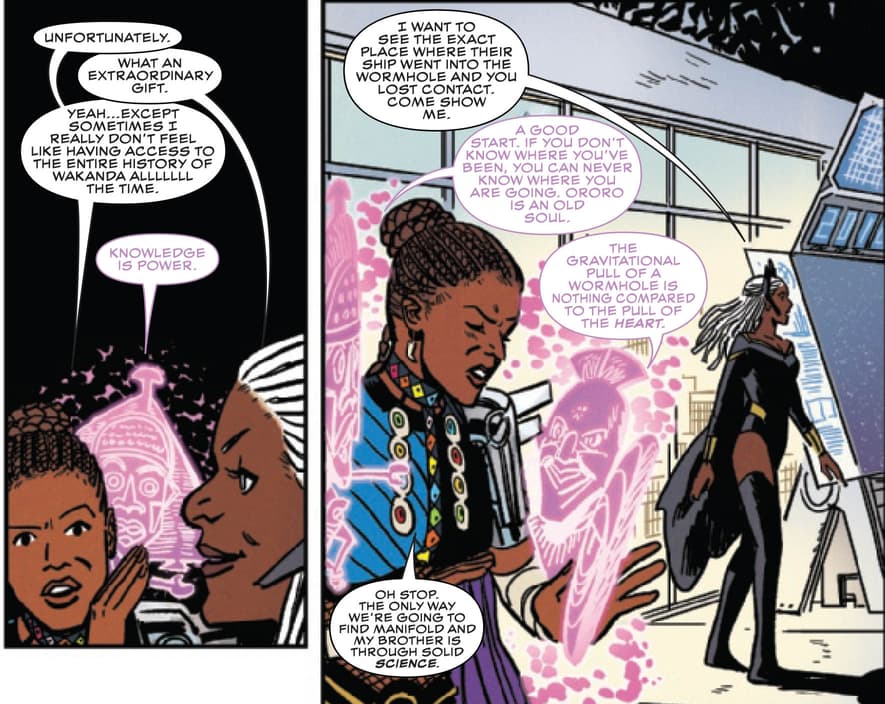 After regaining the title of Black Panther, T'Challa found himself lost in space with Manifold, a mutant who could teleport. Storm, T'Challa's former wife, soon arrived in Wakanda to aid Shuri in the search. They had a bit of disagreement over the best method to find T'Challa—Shuri wanted to use science but Storm wanted to use magic. In the end, they decided to go the mystical route. Storm continues to search for her lost love.
Rocket and Groot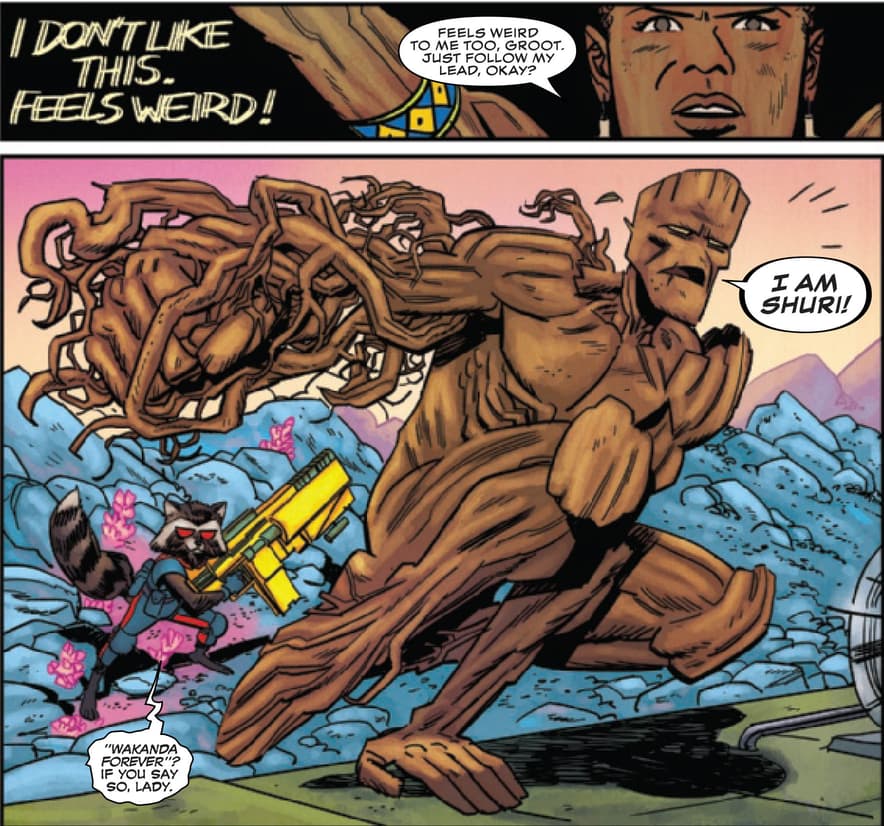 Searching for T'Challa with magic had a minor setback, to say the least. Shuri spotted his ship as she astrally projected into space but somehow ended up in Groot's body. While inside the sentient tree, Shuri fought against a space-lubber, an electric-stealing, alien grasshopper that loves music, and managed to get her and Rocket back into orbit after a space bug caused them to crash-land on a moon. Shuri and Rocket planned to find T'Challa, but Shuri was pulled back to Earth.
Iron Man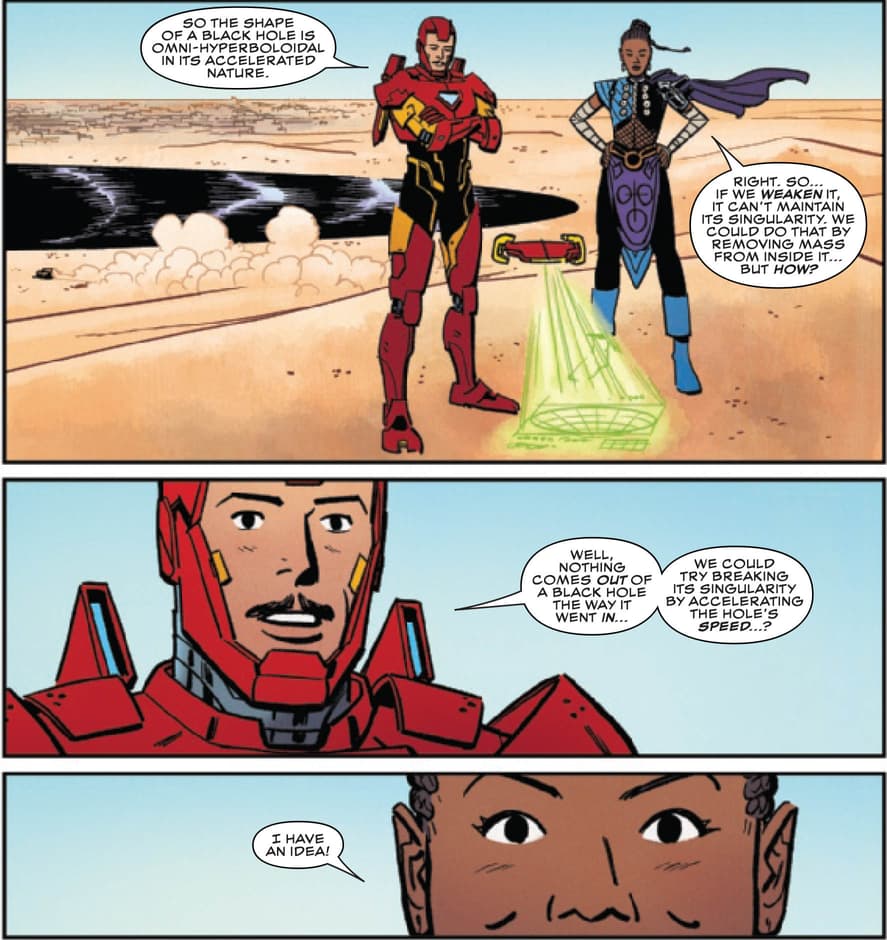 But that wasn't the end of the story! The space-lubber traveled to Earth and created a black hole in Timbuktu. Shuri was reluctant to call Iron Man at first, but two brains were better than one in this situation. If the black hole grew in size, it would distort time and space. Not good. To add to the problem, Moses Magnum, a weapons dealer with seismic powers, started attacking them, which neither of them had the time or patience for. They managed to reverse the black hole and suck Magnum into it.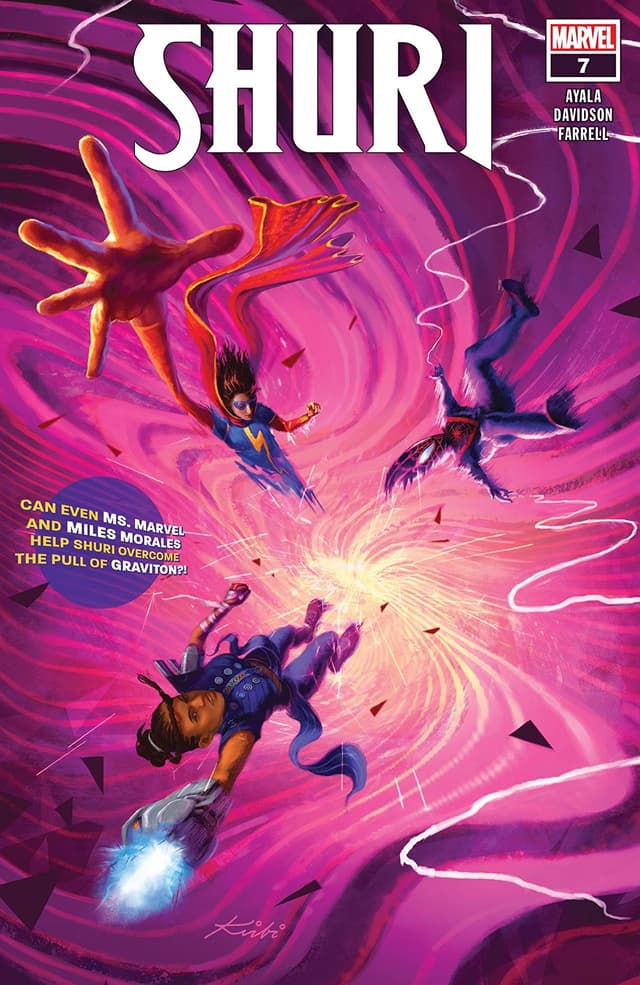 The Hype Box
Can't-miss news and updates from across the Marvel Universe!