Comics
Published June 1, 2020
Spider-Man Noir's Most Hard-Boiled Moments
Flip through the history of Marvel's dark and daring Spider-detective!
She walked into my office with a face that would make a member of the Queen's Guard cry.
"I need you to find some things for me," she said, throwing a scrap of paper with a scrawl I could barely read onto the desk between us. "Quickly as you can."
As a private eye who can barely find his way out of his own duster, I picked up the piece of paper and tried to focus on what it said: "Spider-Man Noir's Most Hard-Boiled Moments." I looked up and, knowing this case would be bad for me, told her I'd get right on it.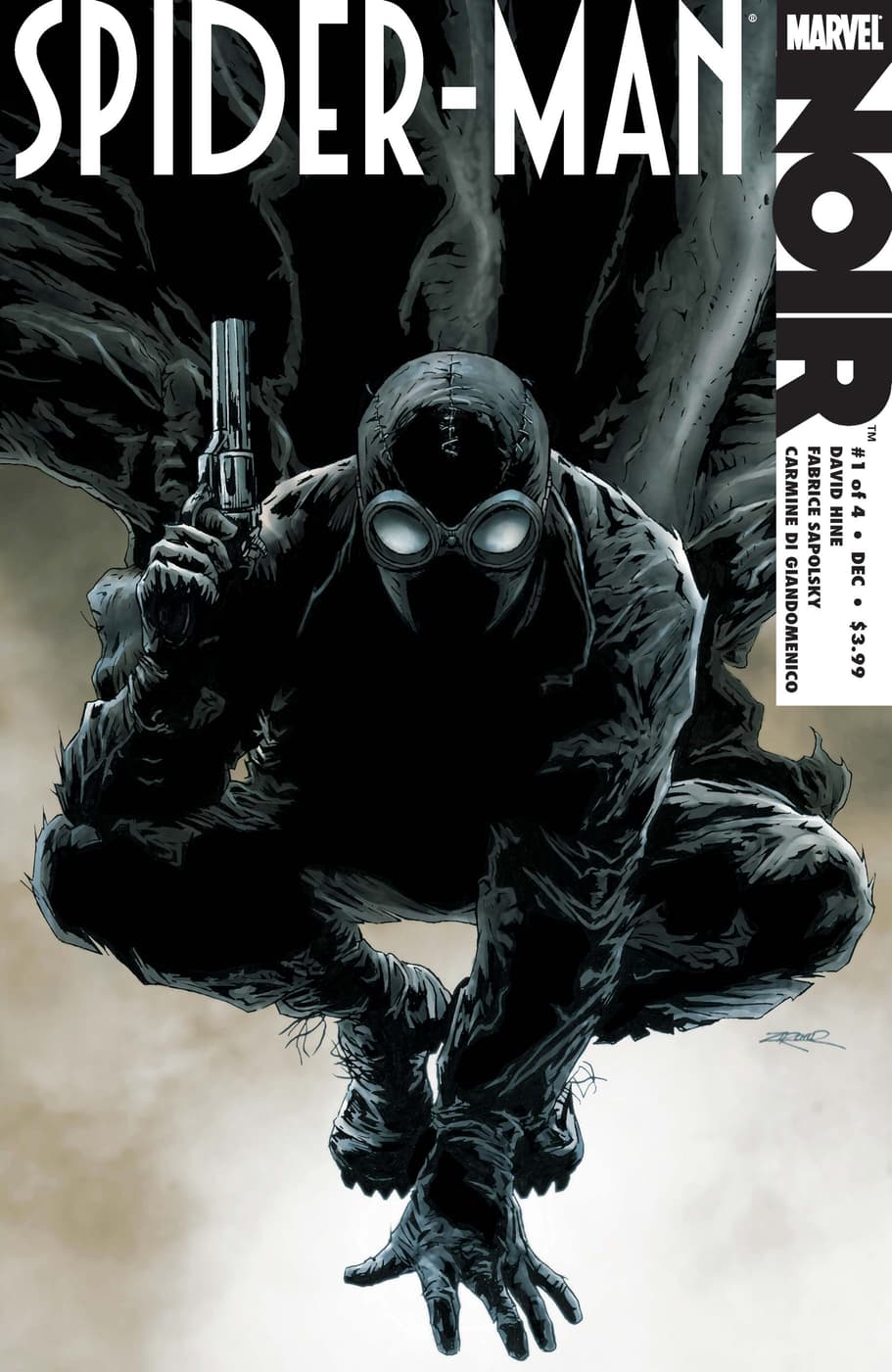 It was then that my investigation began. 
A dead body and a possible frame-up job. The opening pages of the very first Spider-Man Noir solo comic in existence know exactly how to kick off a detective noir story.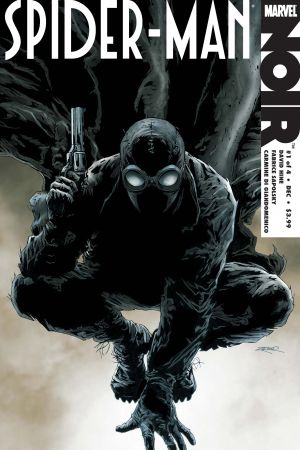 We begin in media res as Peter Parker (in full Spidey costume, of course) is discovered over the body of J. Jonah Jameson. The police believe Spider-Man to be the culprit and begin their pursuit, but Peter escapes out the window, speculating on whether someone tried to set him up. Now, Spider-Man's name is associated with murder and it's up to our hero not only to find the real culprit, but to clear his reputation as well. 
The stakes of solving the labyrinthine mystery are amped up to 11.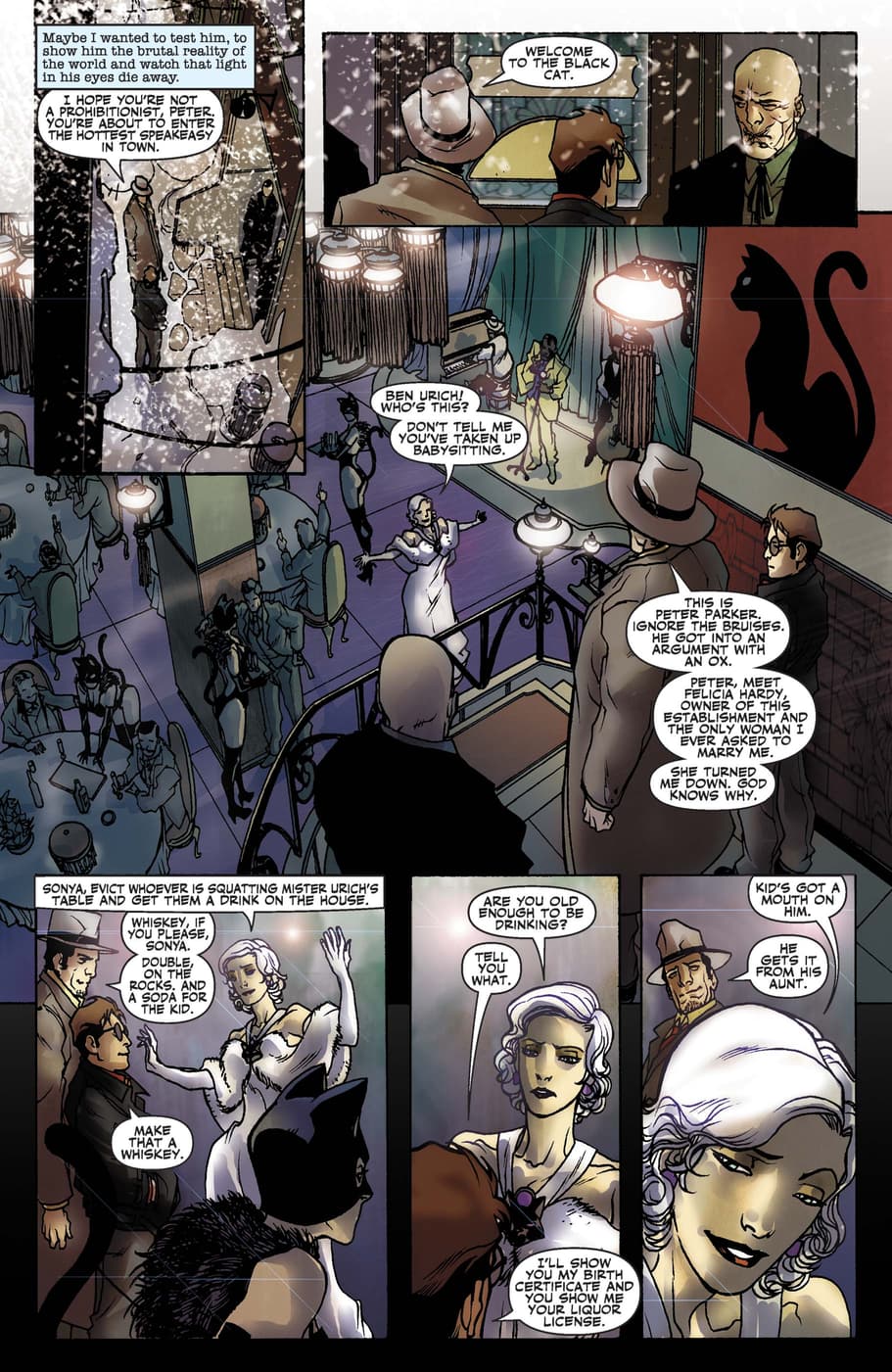 Peter's first visit to the Black Cat Club with Ben Urich is like something out of The Maltese Falcon. After Peter orders a drink as Felicia Hardy and he immediately begin a rat-a-tat back-and-forth that would make even Sam Spade look like a bashful babe.
Like any good noir protagonist, the Peter Parker of Depression-era New York has a hardened, cynical outlook on the world. Emotionally scarred by the loss of his Uncle Ben, his teetering faith in humanity comes crashing down when he learns that Ben Urich is in the Goblin's pocket.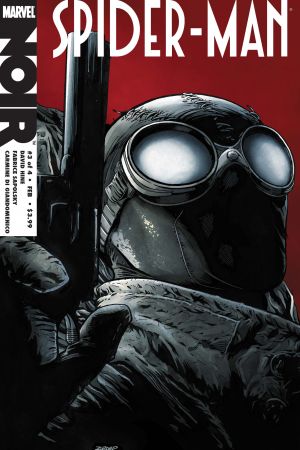 Spider-Man Noir (2008) #3
published

added to marvel unlimited

other

writer

colorist

inker

penciller

letterer
What is Marvel Unlimited?
It's a moment in which Spider-Man truly earns his "Noir" title.
Speaking of cynicism, let's talk about Spidey's introduction in the EYES WITHOUT A FACE storyline. Investigating the identity of a new kingpin (not you, Wilson Fisk) calling himself "Crime Master," Peter takes down a few brutes down at the dock, never minding to be polite. He even slams his fist into a wall, crushing the brick like it was plywood.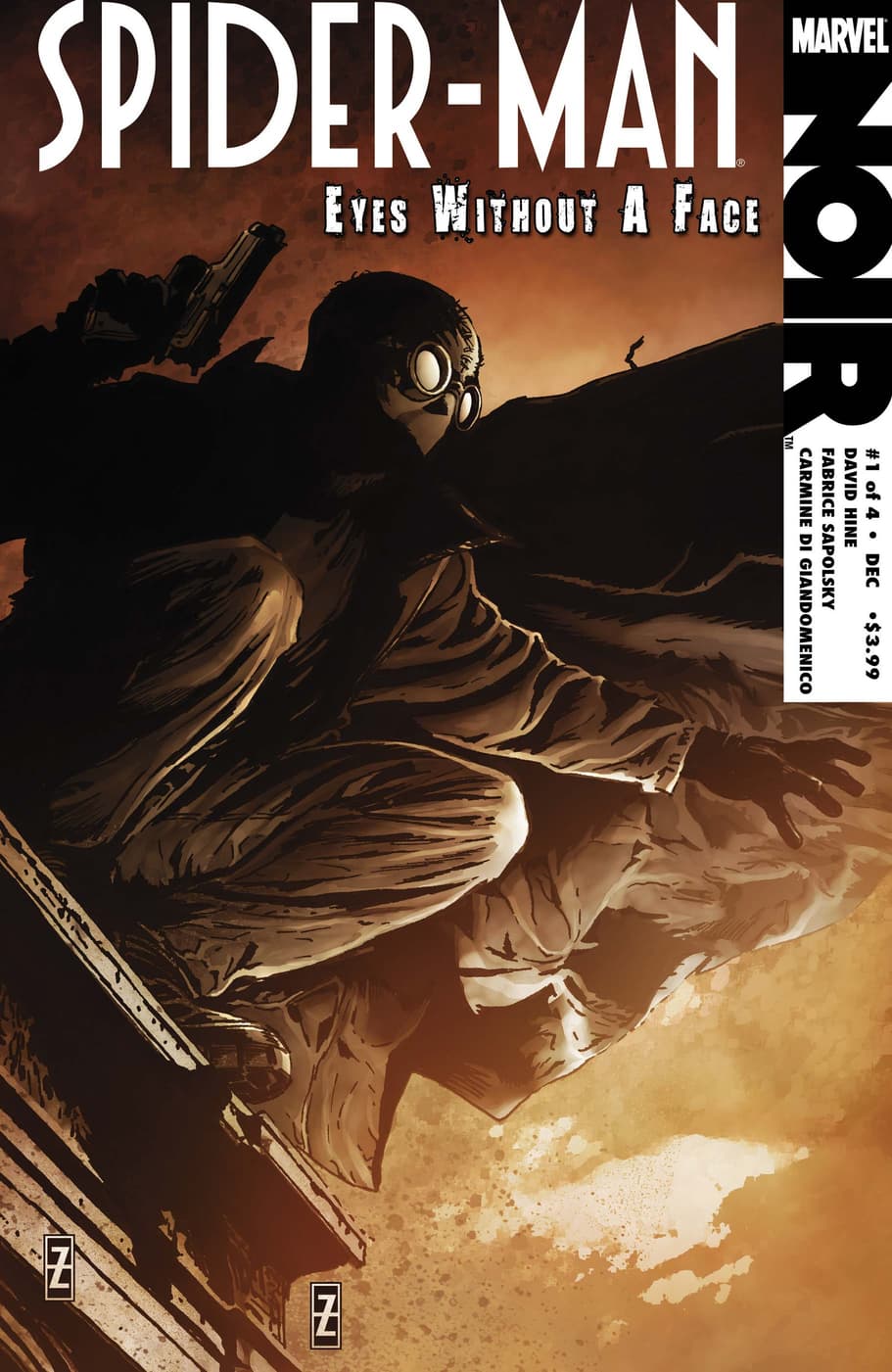 "Do you know what he does to stool pigeons?" one of the goons asks, intimating that the Crime Master will take him out if he sings like a canary to Spider-Man.
"I've seen what he does," our hero says. "Thing is…he isn't here. I am."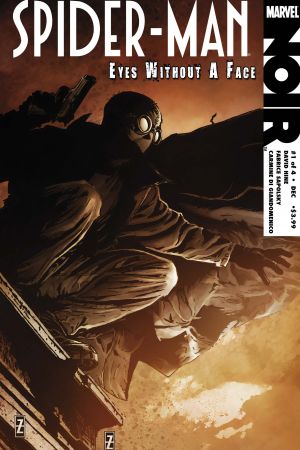 Spider-Man Noir: Eyes Without a Face (2009) #1
published

added to marvel unlimited

other

writer

colorist

inker

penciller
What is Marvel Unlimited?
Another benchmark of a quality gumshoe is his disgust with the hedonistic state of the world. In issue #2 of EYES WITHOUT A FACE, Spidey busts down the door of the Seventh Heaven Club and berates all of its patrons for spending their time and money at such a despicable establishment. 
Well...suppose that's one way to enforce Prohibition. 
And finally, you can't do a hardboiled noir story without some kind of high-level conspiracy at play. The one we see in EYES WITHOUT A FACE is as perfect and chilling as they come. Operating out of Ellis Island, Doctor Otto Octavius is performing horrid experiments on unwilling human participants with the backing of Hitler's Germany. The Crime Master is also in on it, a puppet for "The Friends of New Germany"...
Speaking with FBI agent Jean De Wolfe, Peter is told that Octavius is "off limits," a statement that brings the case into sharper clarity for Spidey. De Wolfe adds that the Bureau can't "step on too many toes," which prompts Peter to fire off another great line, "Stepping on toes is what I do best, Agent."
Uncover the ever-lovin' Iceberg Theory on Marvel Unlimited right now, gang!
The Hype Box
Can't-miss news and updates from across the Marvel Universe!