Comics
Published September 4, 2023
The Worlds of Two Spider-Men Collide in New Ongoing Infinity Comic Series 'Spider-Man Unlimited'
We spoke to writer Christos Gage about the first-ever meeting between Earth-616 Spider-Man and the Peter Parker from PlayStation's 'Marvel's Spider-Man'!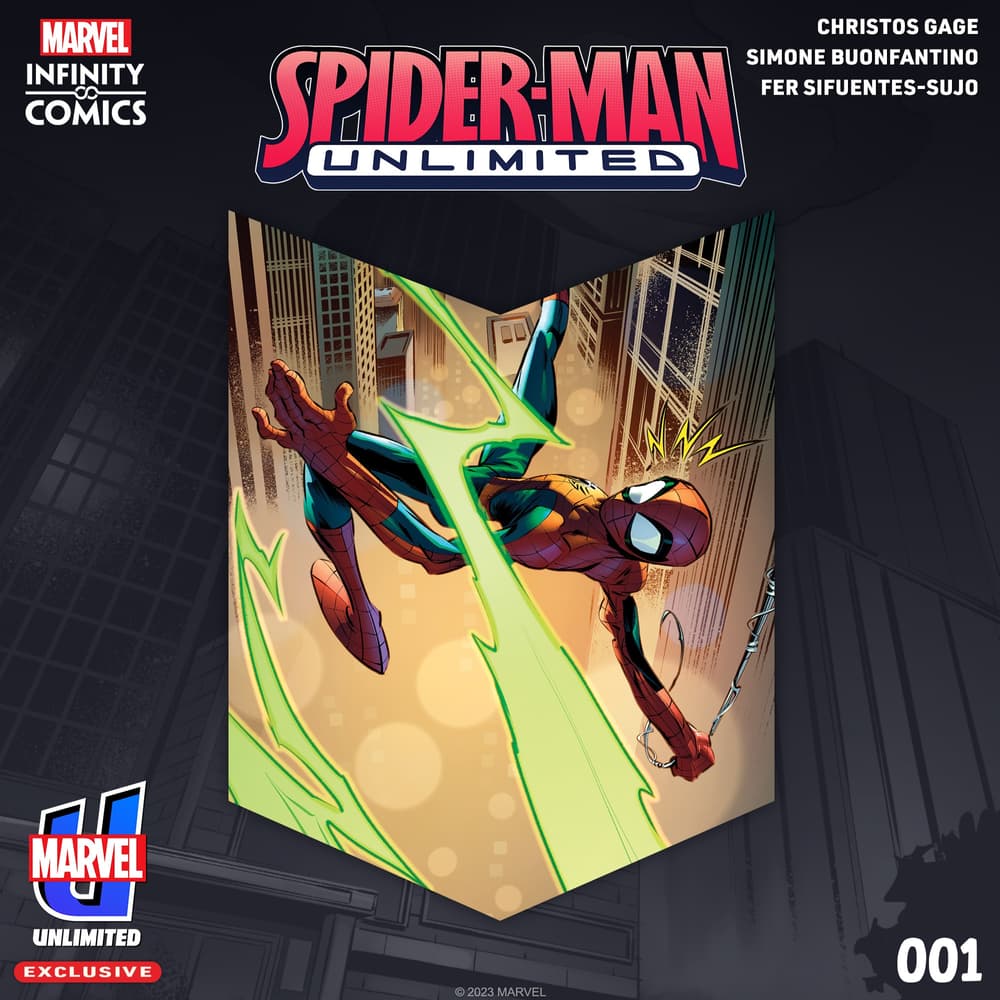 Before reading SPIDER-MAN UNLIMITED INFINITY COMIC #1, new on the app today, learn more about this crossover arc from writer Christos Gage, including details about the wildly powerful villain threatening to unravel two universes in his wake…
As one of the co-writers on Marvel's Spider-Man, what was it like scripting that very first face-to-face between the Peter Parkers of the comics and games universes? 
CHRISTOS GAGE: Well, our very first crossover was in SPIDER-GEDDON (2018) #0 (which I also wrote), but 616 Spidey and Games Spidey only crossed paths very briefly in the SPIDER-GEDDON event.  So, this is the for-real first meeting between them. The INCREDIBLE HULK #181 of meetings, if you will. And it was awesome getting to do it because I've often thought about the similarities and differences between the two Peters. Obviously, they have a lot in common, but what are the little differences? They're both science buffs, but is one more into one field than the other? One's lost their Aunt May (spoiler) but is still in a relationship with Mary Jane Watson, while the other is in kind of the opposite situation. How do these dynamics come into play? And do these two heroes really have to fight before they team up? (Spoiler: Yes. I'm old school like that.) I also have to say it's a great honor that the folks at both Marvel Comics and Insomniac Games, including my game co-writers Jon Paquette and Ben Arfmann, our Creative Director Bryan Intihar, Marvel Games VP of Creative Bill Rosemann, and Marvel editors Ellie Pyle, Nick Lowe and the rest of the team, all trust me to do right by this character who is so close to all our hearts. It's really important to me that I don't let them down.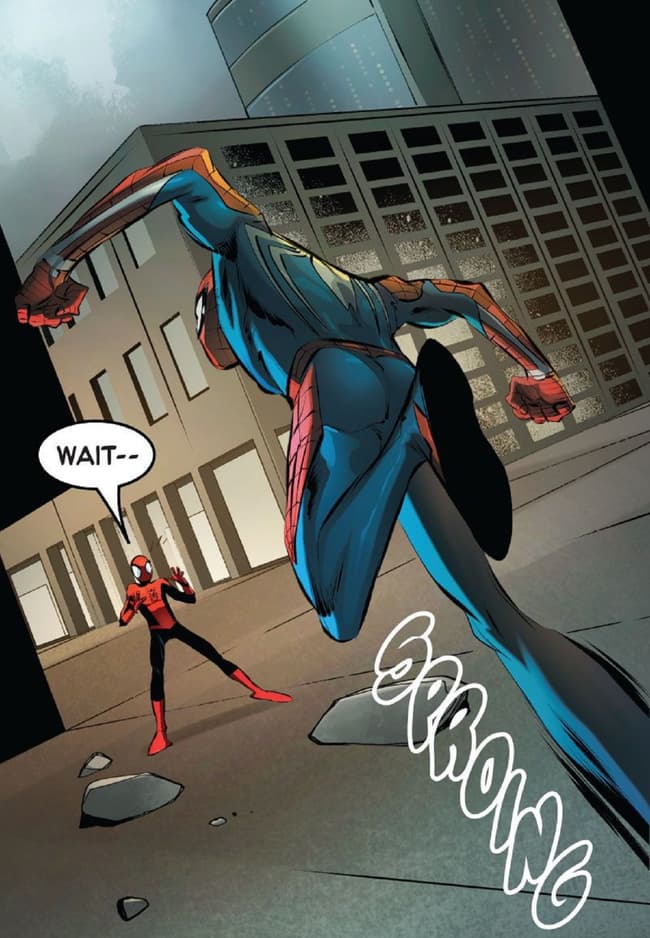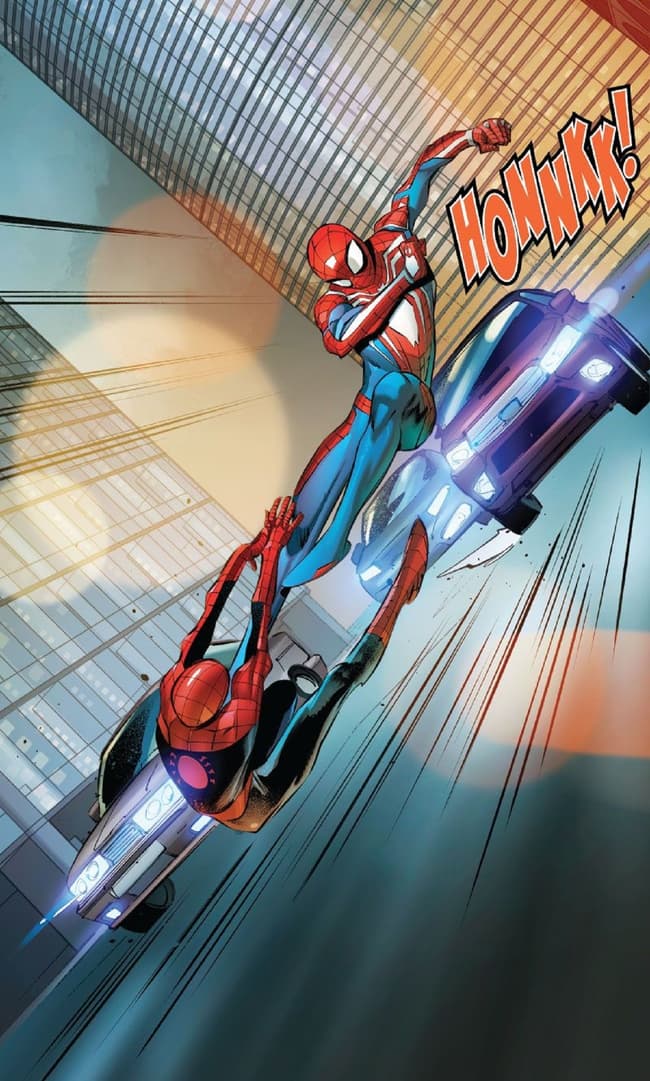 Having written Spider-Man: Peter Parker in two different mediums, what are those characteristics that remain consistent across the board?
CHRISTOS GAGE: There are several things. One, Spidey is an everyman. He has the kinds of problems we all do…whether it's with school, work, family, romance (or lack thereof), or just functioning in society while juggling all of the above. OK, he can stick to walls and spin a web any size, but when you get right down to it, we relate to him because he doesn't automatically have all the answers; he struggles to get things right, just like all of us. Another important point—and we discussed this a lot when making Marvel's Spider-Man—is that when Spider-Man wins, Peter Parker often loses, and vice versa. Shouldering the great responsibility that comes with his great power is a real burden, and every decision has weighty consequences.
In the opening issues of SPIDER-MAN UNLIMITED, we have never seen the Spot like this. What kind of fun did you have pushing the outer limits of his regenerative powers?
CHRISTOS GAGE: The Spot is a villain I've never had a chance to write in almost 20 years of writing Spider-Man stories, so it was a blast to do so now. I remember when he debuted in 1985 (yes, I'm that old). I thought he was cool and fun, but also kind of scary, and I tried to capture that feeling. I really tried to think about using his powers—and personality—in ways we haven't seen before. I hope I succeeded. I know Simone Buonfantino has taken full advantage of our Infinity Comics format to push the envelope with Spot especially, so I can't wait for people to see it!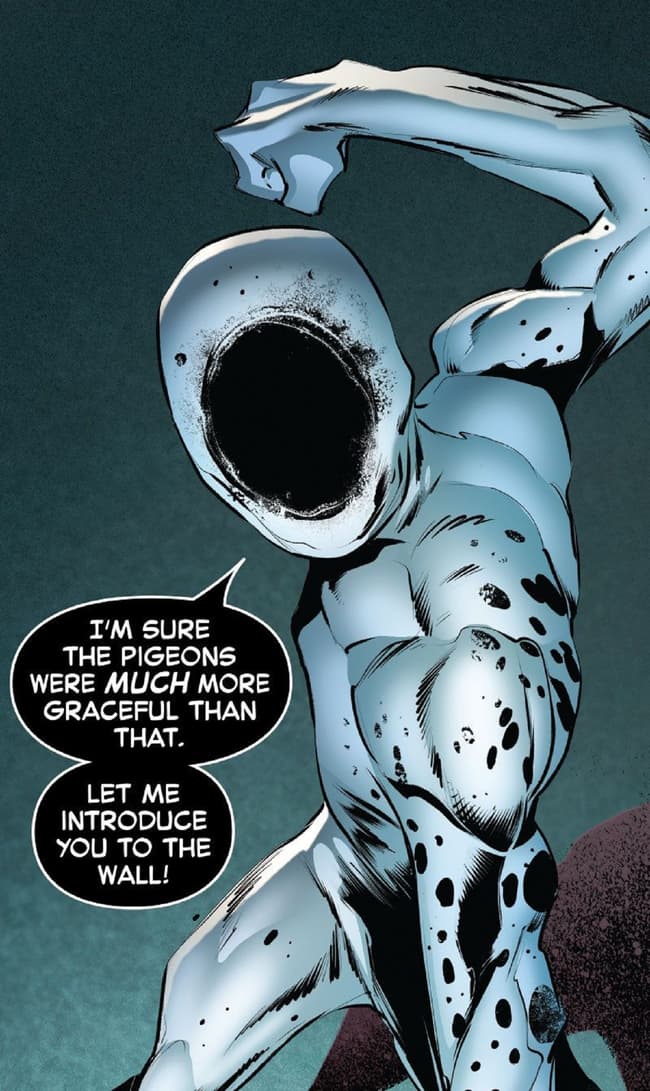 Read the first chapter of this amazing crossover arc in SPIDER-MAN UNLIMITED INFINITY COMIC #1, then continue the story weekly each Tuesday only on the Marvel Unlimited app.
Download the Marvel Unlimited app for iOS or Android devices now for more vertical comics starring favorite Marvel characters. You'll also gain instant access to 30,000+ digital issues spanning 80 years of Marvel Comics.
The Hype Box
Can't-miss news and updates from across the Marvel Universe!