Comics
Published May 26, 2023
'Storm' Writer Ann Nocenti Unleashes Ororo's Rebellious Side
'Storm' writer Ann Nocenti discusses the challenges Ororo faces as the X-Men's leader, the way her role impacts her relationship with the team, and more.
The iconic X-Man Storm has gone through plenty of changes over the years, but perhaps none more radical than her near total transformation in the early '80s during UNCANNY X-MEN (1963). 
Shortly after defeating Callisto and becoming leader of the Morlocks, Storm gave herself a complete punk makeover (marking the debut of her fan-favorite mohawk) and became leader of the X-Men as well—and not everyone on the team took it well. It's during this tumultuous moment in Ororo's life that STORM (2023) by Ann Nocenti, Sid Kotian, Andrew Dalhouse, and VC's Ariana Maher takes place. 
Set around the time of UNCANNY X-MEN (1963) #176, STORM reveals that the titular Wind-Rider was going through some major changes with her mutant powers as well, as she finds her Omega-level abilities on the fritz at the worst possible time. 
We spoke with groundbreaking creator Ann Nocenti—who many know as the creator of Longshot and writer of a game-changing run on DAREDEVIL—about her return to the X-Men and once again "time traveling" to an era of storytelling she knows so well.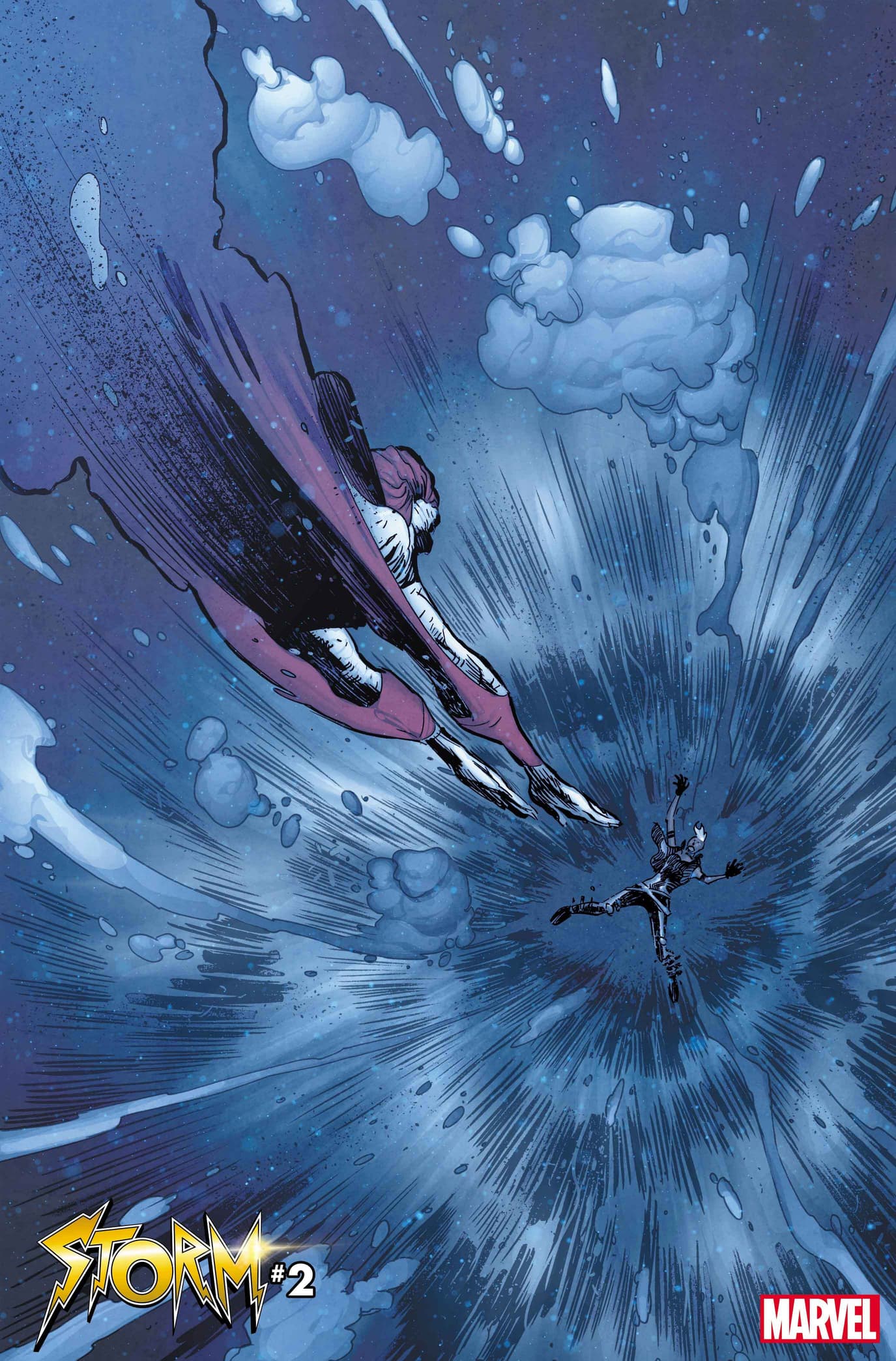 MARVEL.COM: You have a storied career in Marvel Comics. What's it like being back in the saddle for STORM?
ANN NOCENTI: Wonderful. It's like getting to hang out with some old friends I haven't seen in years. Working with Louise Simonson and Chris Claremont on the X-MEN long ago, Chris was always so enthusiastic about the characters; he really inspired me to fall in love with the X-Men. The great thing about what editor Mark Basso and Drew Baumgartner are doing with the LEGENDS books and these "retro" limited series is giving us "old timers" a chance to re-visit the 1980s era when we were the youngsters making comics.
Working with Sid Kotian and Geraldo Borges has been a blast. Both bring great energy to the stories, and a cool 1980s comics vibe to fit the times.
MARVEL.COM: What about this X-Men era inspired your Storm story?
ANN NOCENTI: Mark and Drew sent me a couple issues of X-MEN, the issues when Storm first showed up in the "punk biker" outfit, and in rereading those tales after so many years, the inspiration flowed easily. I loved two things especially: how Chris allowed "enemy" Rogue into the mix, and Kitty's strong reaction to Storm's "punk" look. 
Now, this happened in the 1980s, when any night of the week you could go to a club and see a punk band. Everyone was wild and lean and electric and the dance floor chaotic. So I wanted to layer the Storm we knew from before—the master of the elements, Wind-Rider goddess, and child thief—with something a touch more rebellious. 
Chris laid all the groundwork for that opening—Storm having fun with Yukio, Storm trouncing the Morlocks—so the door was open to do a story where Storm is rocking the mohawk look, but also feeling it inside.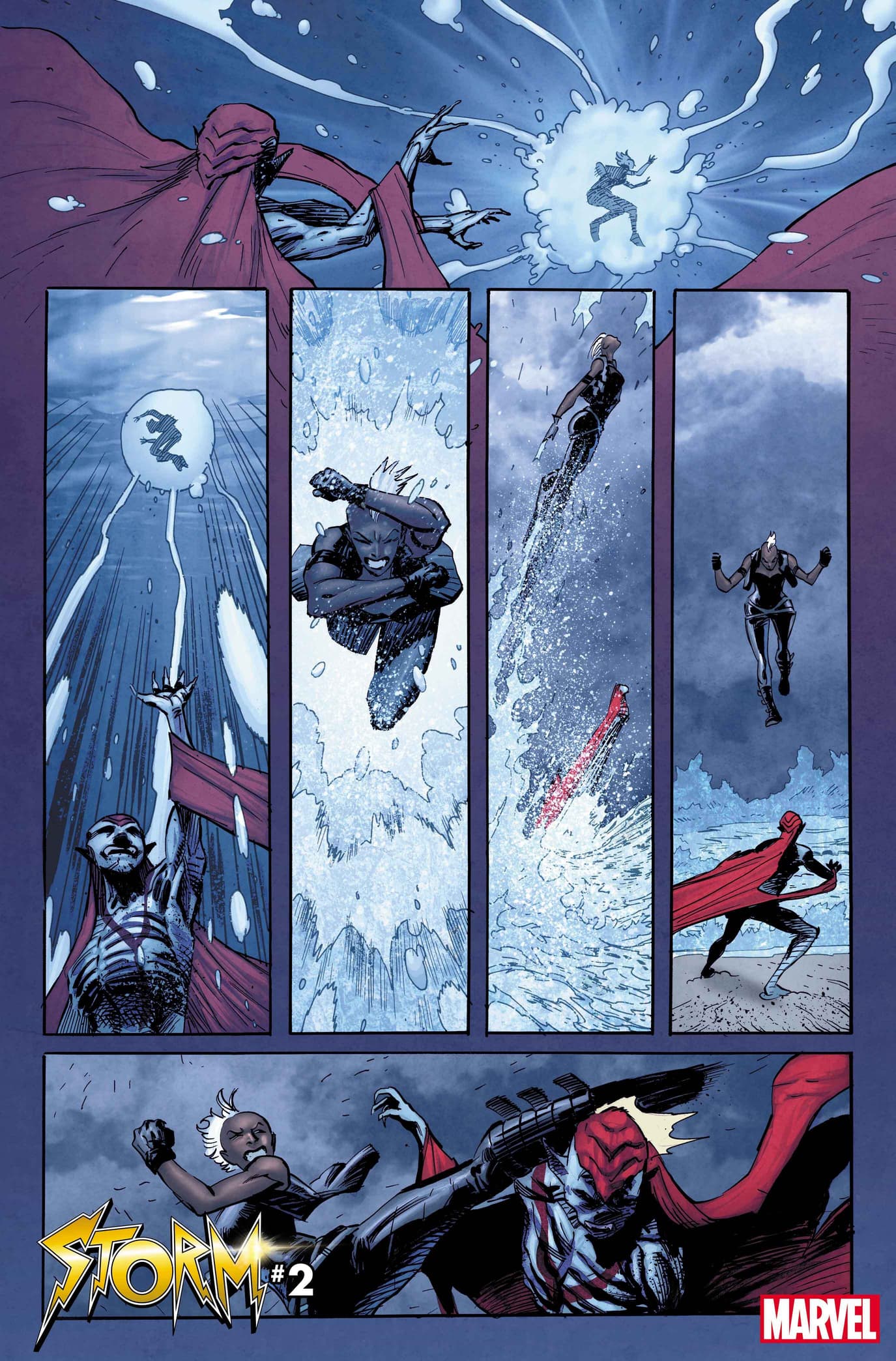 MARVEL.COM: Change and the X-Men's feelings towards it seem to be a major theme of the issue. In your eyes, what made Storm the right mutant to lead a story like this?
ANN NOCENTI: Storm is suddenly the big boss. Think of any friend circle you have, any group you're part of, and if you are suddenly the boss of your friends and colleagues? It changes you. You have to step up, create some distance in order to make tough decisions, and get respect. Doing that can veer into arrogance. 
So in that first scene, which is a classic throwback to earlier comics, when you open your story with an active establishment of powers, I was able to have Storm show the X-Men her leadership style. She's a strategist, and she chooses to match power to power in a battle with the Brotherhood, and stay back as if she's not quite in the mix, to see how the X-Men do. 
So, she's trying to be tough but inspirational. And then she swoops in and does her battle post-mortem, and she's really tough on Rogue and Colossus, and brutal to Kitty.
 
MARVEL.COM: Storm has had so many different looks over the years, but the mohawk keeps coming back! Why do you think her punk makeover has stuck with fans for so long?
ANN NOCENTI: She rocks the look, and it gives her a break from playing the queen; she gets to be the rebel again. And I love how in some of her current books, she's been given more mass in her hair, with a kind of wilder, wider mohawk. Her curlier hair fits who she is, and I've been impressed by how artists sometimes draw it to look like she has a literal Storm cloud above her head, with her lightning bolt earrings dangling out of that cloud. It is really a spectacular look for her.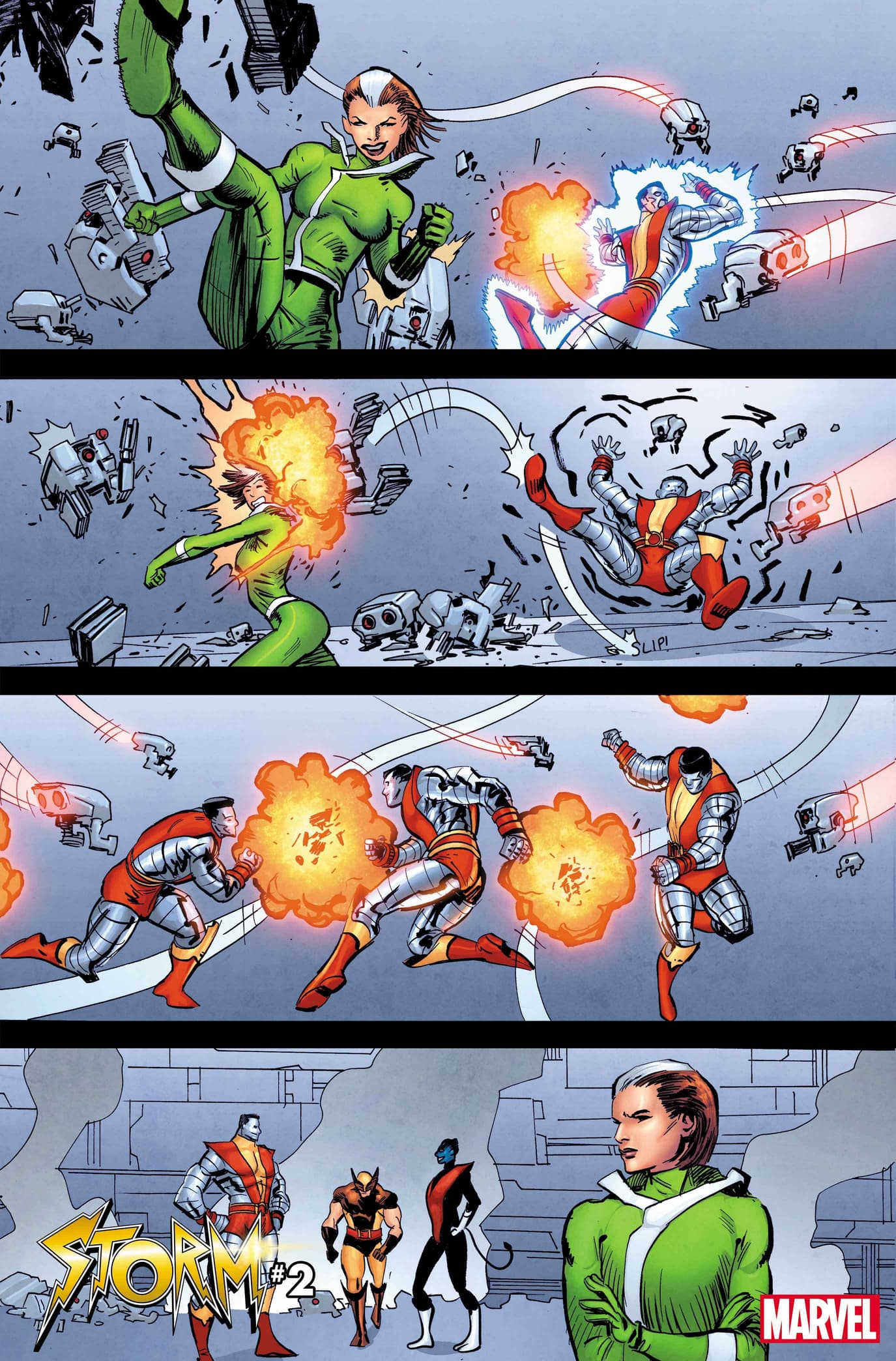 MARVEL.COM: The seeming mismatch between Storm's punk appearance and her actual personality is brought up throughout issue #1. How did that dichotomy guide your writing?
ANN NOCENTI: I wanted to embrace the rebellious nature of the music that inspired the punk mohawk look, give Storm a touch of that, despite it being a contradiction to her ethereal, serene vibe she's famous for... as if, as her powers mutate to a place she can't control, so does her personality.
Embrace your rebellious side with STORM #1, on sale now, and check out a first look at the cover for STORM #5 below!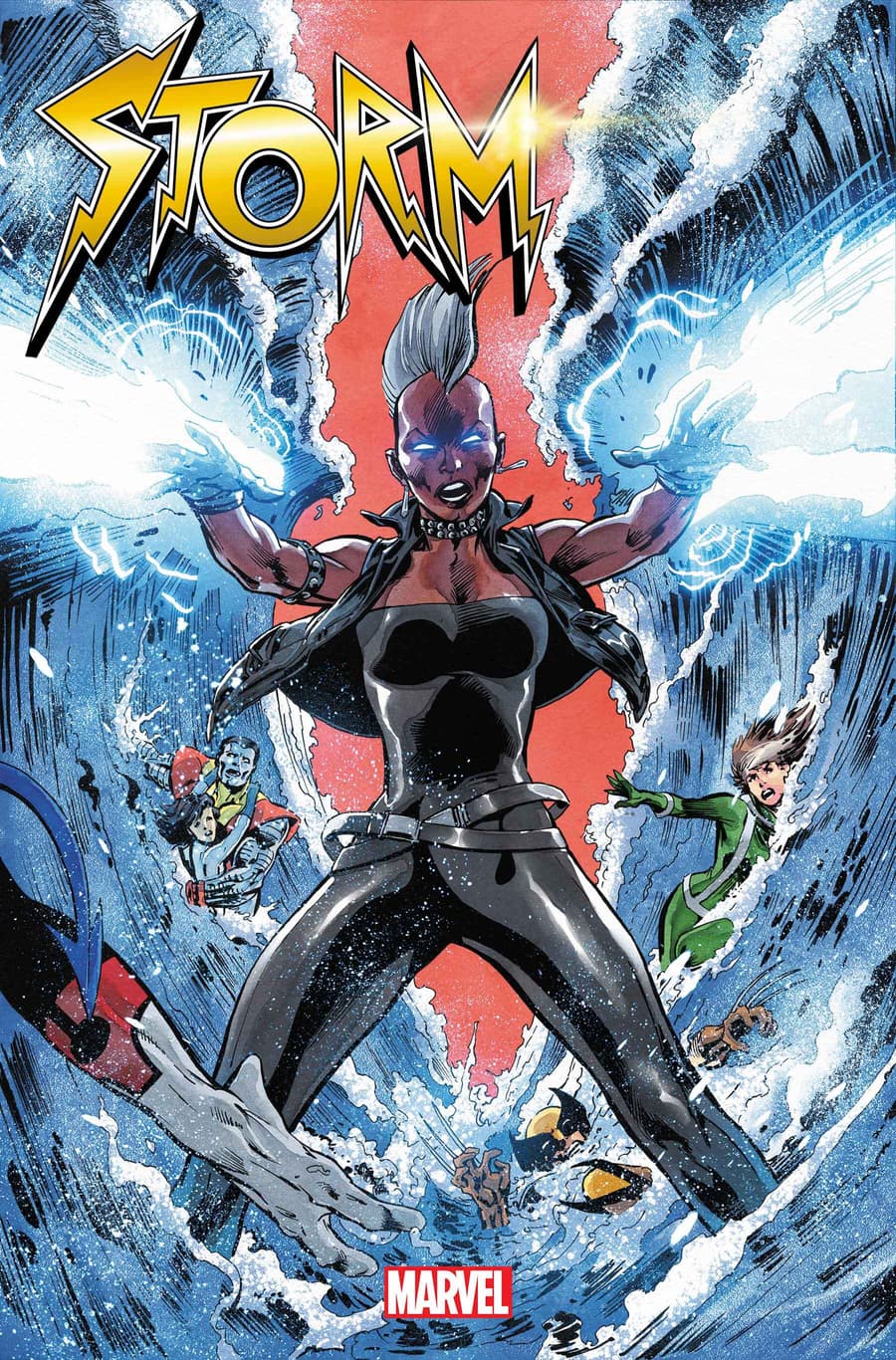 STORM #5 (OF 5)
Written by ANN NOCENTI
Art by GERALDO BORGES
Cover by ALAN DAVIS
Variant Cover by GERALDO BORGES
The All-Powerful Storm! Storm is mad as hell, and she's not going to take it anymore! Blowback's mindblowing secret is revealed, as the former X-Man reaches her ultimate breaking point! What are the consequences of Storm's full power unleashed? You won't want to miss the climax to the ultimate Ororo Munroe masterpiece.
Grab these comics and more at your local comic book shop! Or redeem then read your digital copy on the Marvel Unlimited app by using the code found in your print comic. Find and support your local comic book shop at ComicShopLocator.com.
To read your Marvel comics digitally, download the Marvel Unlimited app for iOS and Android devices. Gain an expansive catalog of 30,000+ comics spanning Marvel Comics history, plus access your entire digital library including comics redeemed from print.
The Hype Box
Can't-miss news and updates from across the Marvel Universe!