Comics
Published February 1, 2019
Storm and Black Panther's Wild Kingdom
Storm and T'Challa must work together before all of Africa is overrun with mutated monstrosities!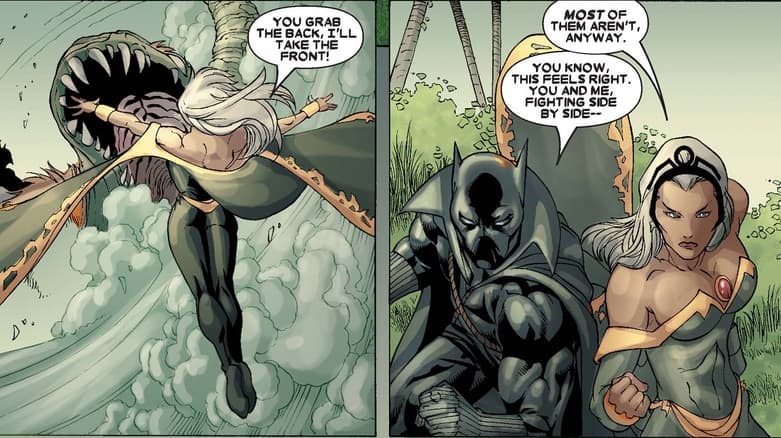 After kicking off his run on BLACK PANTHER with the classic origin re-telling, writer Reginald Hudlin interacted with the House of M crossover and then teamed-up with Peter Milligan for a crossover called "Wild Kingdom" that ran in X-MEN #175-176 and BLACK PANTHER #8-9.
With artwork by Salvador Larroca and David Yardin, "Wild Kingdom" brought the Children of the Atom to Africa in an effort to figure out who caused a variety of mutant creatures to suddenly start popping up. The team—Havok, Polaris, Iceman, Rogue, Wolverine, Gambit, Storm, and Emma Frost in communication via Cerebra—investigated, but soon found themselves beaten to the computers by none other than the Black Panther.
The X-Men responded rather poorly to T'Challa's command not to enter the room they found him in leading to a battle between the heroes. They soon discovered their true targets: the power stealing Dr. Paine as well as the Red Ghost and his powered talking apes.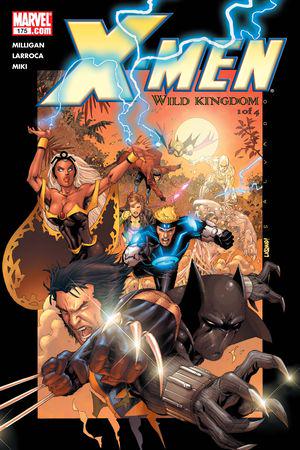 X-Men (2004) #175
published

added to marvel unlimited

rating

writer

letterer

penciller

penciller (cover)

inker

colorist
What is Marvel Unlimited?
The Panther routinely noted how the X-Men's presence botched the mission to uncover what had been going on in Niganda, but the two factions finally came together to not only tame a Dragon Man, but also put a stop to the machinations of the assembled villains.
Though the action and adventure found in this story offer plenty of fun and conflict to dig through, it stands out as a key moment in the burgeoning relationship between T'Challa and Ororo Munroe, aka Storm. She admitted to staying away from the whole of Africa just to avoid the king of Wakanda, stoking plenty of interest in this romance that had only been briefly examined. Storm also said to T'Challa, "I told you before...you are not going to break my heart a second time." He responded by noting that he "has no intention" of doing such a thing.
At the end of the story, Storm revealed to her teammates that she intended to stick around Africa, though definitely not Wakanda. Before flying off she locked lips with T'Challa and said, "Our paths will cross again."
Secrets of Wakanda 
BLACK PANTHER #7, by Reginald Hudlin and Trevor Hairsine, sent T'Challa tumbling into the Scarlet Witch-created world known as House of M. In the 2005 crossover, the mystically inclined Avenger created a reality in which mutants lorded power over most humans. In this realm Ororo mounted the throne as queen of Kenya, taking desolate deserts and turning them into fertile lands of plenty. Her humane treatment of the continent's human population riled Magneto who pledged to do something about it by sending Sabretooth to kill Storm's fellow African ruler, The Black Panther. T'Challa made short work of the assassin, but sending the mutant's head back to Magneto in a box lead to even more conflict with Panther, Storm, Namor, and Sunfire taking on the combined might of Apocalypse, Iceman, Angel, and Nightcrawler.
The Hype Box
Can't-miss news and updates from across the Marvel Universe!