Comics
Published December 5, 2017
T'Challa 101: A Rise of the Black Panther Sketchbook
Paul Renaud sharpens his pencils for the brand new series!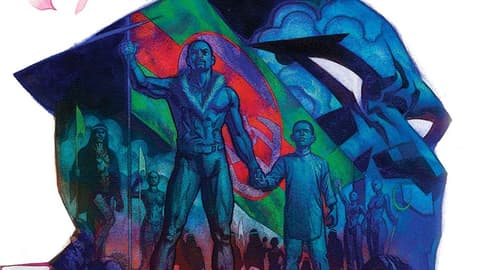 For a nation that prides itself on isolation, Wakanda sure seems to be drawing a lot of attention lately. Between the Ta-Nehisi Coates-penned BLACK PANTHER series and spinoffs like BLACK PANTHER AND THE CREW and BLACK PANTHER: WORLD OF WAKANDA, this advanced African nation continues to shine.
And on January 3, the spotlight gets brighter as writers Evan Narcisse and Coates join artist Paul Renaud to kick off a six issue limited series with RISE OF THE BLACK PANTHER #1! Witness T'Challa's early days, before he assumed the throne, as the man that will be king earns his stripes.
We spoke with Renaud about balancing the old and the new, journeying into Wakandan history, and working with Narcisse and Coates.
Marvel.com: To prep for drawing T'Challa's earlier days, did you look to any previous runs on the character? Or did you prefer to completely develop your own take?
Paul Renaud: Well I worked hard to create a sense of continuity between what we've seen before in the previous runs of Black Panther, but also his appearances in FANTASTIC FOUR and AVENGERS, leading to Ta-Nehisi's more recent run.
Marvel.com: How has it been developing these unseen elements of the character's past?
Paul Renaud: It's very exciting for me to be the bridge between the traditional aspect of how this character had been portrayed in the '70s and re-injecting this into the character's past, as his grandfather's and father's lives. That's what I love the most about the Marvel Universe. There's an obvious search for modernity—staying current—while at the same time trying to honor the past and building new opportunities and visions from it.
Marvel.com: Along similar lines, the early portion of the story will feature T'Chaka alongside T'Challa's mother. How did you figure out their family dynamic?
Paul Renaud: It's all about starting from the man we know, T'Challa, and going backward into the past to find out who his parents were and what they looked like. We wanted to show that T'Challa was born from the love of a king for the most unusual queen—a strong, independent, modern woman; a scientist that makes a strong impact over Wakanda and her husband. T'Challa has always been a bit torn between tradition and modernity. This book presents the chance to give a face to that inner conflict of his.
Marvel.com: Wakanda has a similar blend of tradition and cutting-edge modernity—what's it like balancing those two elements on a nation-wide scale?
Paul Renaud: The first issue deals especially with change and how King T'Chaka will be a modern king thanks to his wife's influence. We tried to base our approach on the traditional way of showing Wakanda in the earliest Black Panther stories, working our way up to buildings and a more modern architecture. I think it's important to keep a strong identity to Wakanda. This imaginary country acts almost as a character on its own. Wakanda is a more sophisticated, wiser nation than the rest of the world. They've managed to reconcile modernity and nature like nothing we've seen anywhere else.
Marvel.com: How has it been working with Evan, Ta-Nehisi, and the rest of the RISE OF THE BLACK PANTHER crew so far?
Paul Renaud: Evan, Ta-Nehisi, and I met in New York during Comic Con to talk about the book, and we all really clicked. We discussed the project and the Marvel Universe in depth. We had a wonderful time. Stephane Paitreau, our colorist, came aboard later in the process. I also met him at NYCC where he showed me his work. I thought his warm, generous colors would just be perfect for a book like BLACK PANTHER. And they are indeed. It's all about good timing!
RISE OF THE BLACK PLANTER #1, by Ta-Nehisi Coates, Evan Narcisse, and Paul Renaud, illuminates history on January 3!
The Hype Box
Can't-miss news and updates from across the Marvel Universe!