Comics
Published May 1, 2020
Talking 'Wolverine,' 'Daredevil,' and 'Civil War' with Writer Stuart Moore
Flip through some iconic moments in House of Ideas history with the former Marvel editor!
Take a guided tour of Marvel's mightiest creators with Marvel Tales! Ben Morse, currently a visiting lecturer at UNLV, previously spent a decade working within the House of Ideas. In each installment of this series, he utilizes that insider knowledge—plus his lifelong fandom—to connect with comics professionals as they spin stories about the Marvel Universe and its inhabitants!
You may have heard the name "Stuart Moore" from his acclaimed WOLVERINE work or standout adaptation of CIVIL WAR into prose novel form, but it's likely you don't realize the incredible impact this seasoned pro has had on comics over the past several decades. After a historic tour across the industry, Moore finally made the jump to Marvel in the early 2000s to succeed newly-promoted Joe Quesada at the helm of the groundbreaking Marvel Knights line.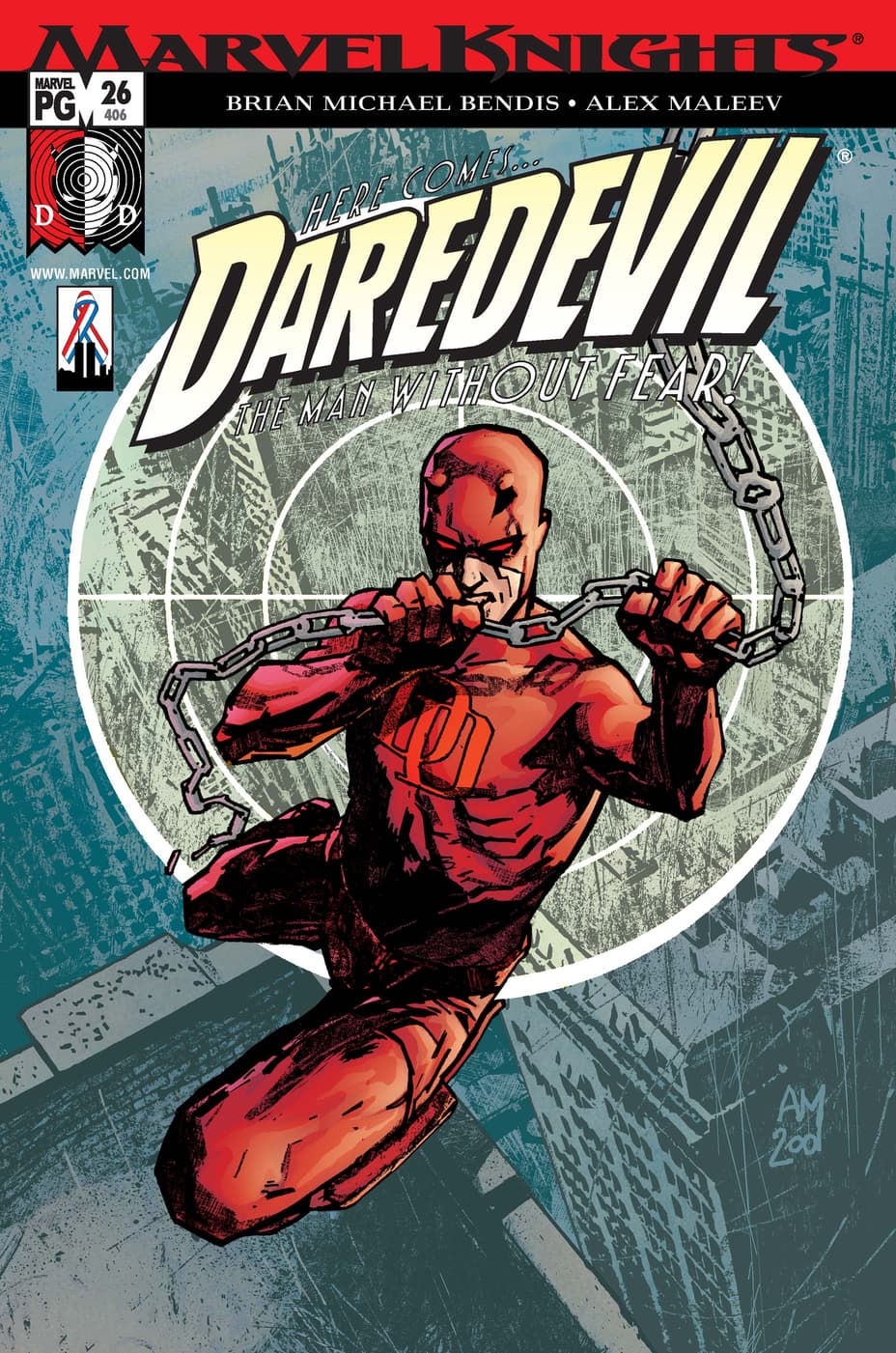 "Bill Jemas and Joe Quesada took over Marvel and they needed somebody to take Joe's place [with] Marvel Knights," Moore explains. "I think [letterer] Richard Starkings recommended me. It was a very exciting time to be there. We felt like we were rebuilding everything from scratch."
Moore's comic book fandom stretches back to a suburban childhood split between Boston and New Jersey where only Spider-Man snuck through a barricade of heroes from the Distinguished Competition. Then, as a teenager, Stuart would make the jump and enter the House of Ideas. "When I was 16, a friend sat me down and gave me stacks of all the great Marvel 1970s comics," he recalls. "DOCTOR STRANGE, DEFENDERS, KILLRAVEN, MAN-THING—it opened up circuits in my brain; I had no idea comics could be the smart and experimental. From there it was a short step to hard stuff like HOWARD THE DUCK and Frank Miller's DAREDEVIL."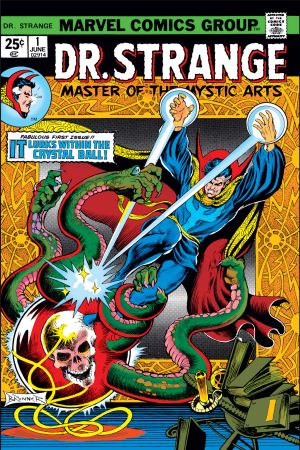 While the future writer and editor held Steve Gerber's HOWARD in high regard—making his way later work on SPIDER-MAN: BACK IN QUACK and DEADPOOL THE DUCK finely-feathered wish fulfillment—he credits the cosmic creativity of Jim Starlin on WARLOCK as well as Walter Simonson's unparalleled tenure as writer and artist of THOR as "crazy-smart books that paved the way for a lot of the great '80s and '90s titles."
The first step into publishing for Moore came in the form of a gig editing books in large part focused on comics for St. Martin's Press. During this run of his professional career, he had the good fortune to work with "underground comics genius Bobby London" on his Popeye strip among other names. This prepared him for comics, which, in turn, launched him to become a crucial cog at Marvel during a creatively fertile period.
However, in addition to shepherding titles like Brian Michael Bendis and Alex Maleev's DAREDEVIL as an editor, Moore itched to get in on the action as a writer, so when Axel Alonso sought a scripter for a single issue WOLVERINE tale in between arcs of the ongoing series, Stuart stepped up. "I pitched a few ideas, and the one [Alonso] seized on was 'Logan Wolf and Cub'—Wolverine must smuggle a baby out of a war-torn African nation," he explains. "I did a lot of research on child soldiers and the politics of the region, and Axel suggested a few scenes. It wound up being a really solid 34-page story—people still bring it up to me to sign."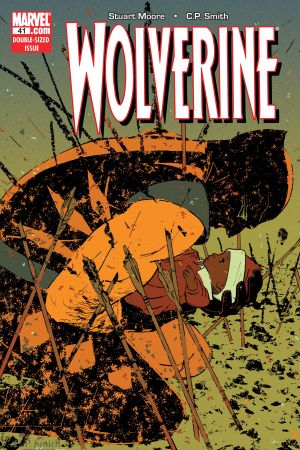 2006's WOLVERINE #41 saw the publication of Moore's story, "The Package," and also hooked him up for the first time with a frequent future collaborator in artist CP Smith. The duo would also work together on the PUNISHER: X-MAS SPECIAL later that year as well as the WOLVERINE NOIR limited series in 2009. "His work is moody and dark and very human too," Stuart says of Smith. "He's recently gotten back into comics—we actually caught up by phone a few months ago, for the first time in a while."
Several years later, 2012 brought Moore the opportunity to put his creative stamp on another signature project with the novelization of Mark Millar and Steve McNiven's CIVIL WAR. This provided a unique situation where the writer's experience in both comics and publishing came to the fore. "I like both and I like shifting from one to the other," explains Stuart of comics versus prose. "I feel comfortable with comics, partly because I think I have a good command of how the medium works. Also, in comics, there's an artist backing you up. I've been very lucky with my collaborators.
"But prose is exciting because it's all you. Every word you write is exactly what the reader takes in. That makes it terrifying, and generally—though not always—a lot more work."
Moore found the adaptation of the Marvel mega-event to be "daunting," but also notes he tends "to just leap into stuff like that." He also expresses great admiration for Millar and McNiven's original story, including an "ideological conflict [that] was incredibly timely" and "surprises that made logical sense."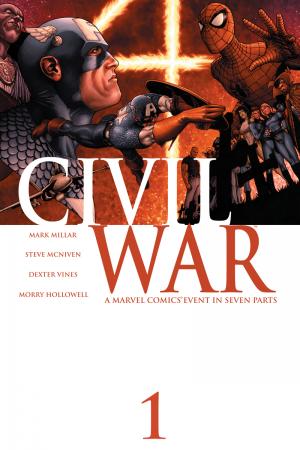 "Revisiting the story a few years later gave it a whole different context," he reflects. "Aside from that, I was asked to use post "Brand New Day" [Spider-Man] continuity, which worked out nicely... I had the advantage of writing a self-contained story, as opposed to a sprawling event that had to leave room for crossovers.
"Tom Brevoort, who edited the original [CIVIL WAR] series, gave me a great note when I started: He said to be careful not to let the argument tip too much over to Cap's side of things. I'm probably naturally on Cap's side, but weirdly, as I wrote the book, I felt more sympathy with Tony Stark. Tony agonizes over every decision he makes in [the story], whereas Cap just kind of decides 'No, I'm right,' and charges forward. So even though Tony talks himself into some very morally dubious places, I wound up respecting him more. Not what I expected."
With several decades creating some of comics' most memorable moments, Stuart Moore remains very tied to the industry in a number of roles. However, we couldn't let him exit this interview without one more crucial question: Why is Deadpool in his birthday suit in so many of his stories!? 
"I don't know! It's just funny, I guess. At least in DEADPOOL THE DUCK, he had feathers."
In addition to the comics spotlighted here, enjoy more of Stuart Moore's greatest hits, like NAMOR: THE FIRST MUTANT, on Marvel Unlimited!
The Hype Box
Can't-miss news and updates from across the Marvel Universe!