Comics
Published March 7, 2022
The Biggest and Best Moments from 'Daredevil: Born Again'
Read this classic event in Daredevil history and gain 1,000 Marvel Insider points!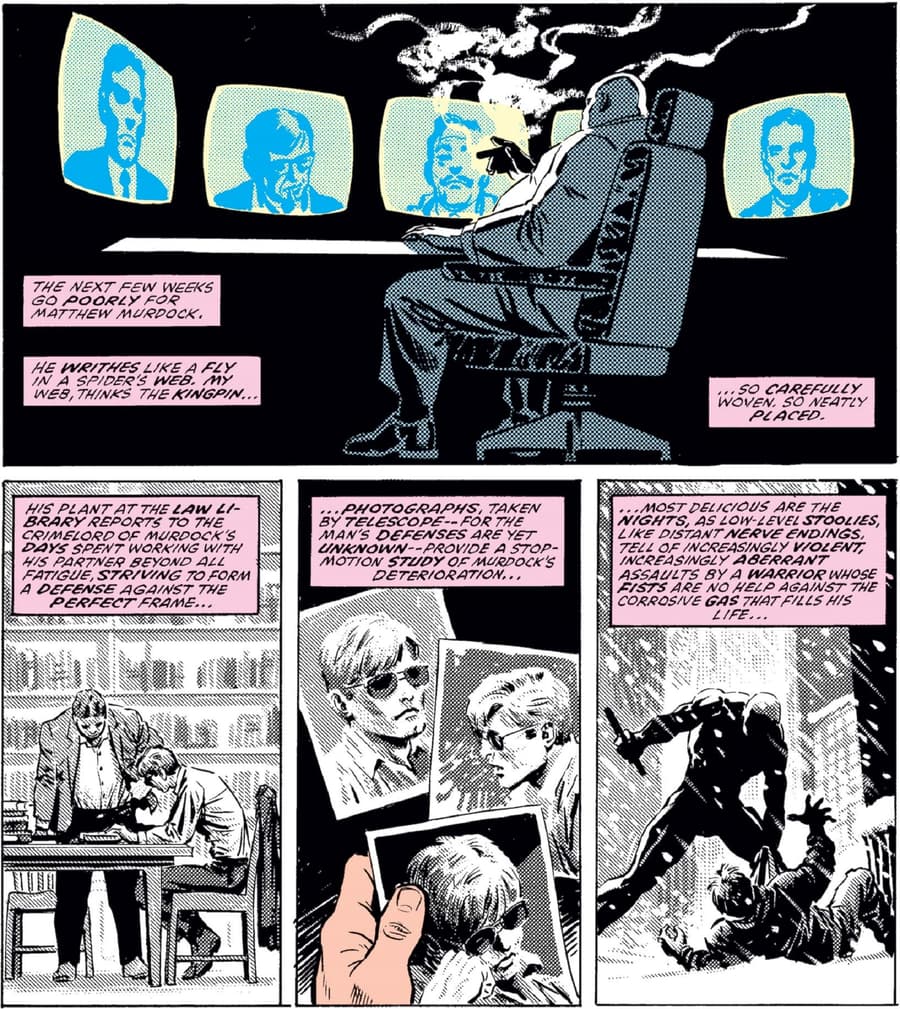 Miller had established the enmity between DD and Wilson Fisk in his initial run on DAREDEVIL. But "Born Again" took things to another level as Kingpin did everything he could to destroy Matt Murdock and anyone who ever cared about him. It's a huge turning point in Matt's life, and also one of the greatest Daredevil stories ever told.
DEVIL'S REIGN will hit Marvel Unlimited on March 14, but in the interim, Marvel Insider is offering fans 1,000 Marvel Insider points to revisit the classic "Born Again" storyline and witness the foundation of the current conflict between Murdock and Fisk. For a limited time through March 20, Marvel Unlimited subscribers will get extra Marvel Insider points if they read the entire "Born Again" storyline, DAREDEVIL (1964) #226-233, from start to finish.
To get you ready for your "Born Again" re-read, Marvel.com takes a look back at the most impactful moments from the story.
DAREDEVIL DIVIDED
Because "Born Again" was such an overpowering experience, it's easy to forget that Matt Murdock's life was already in shambles in the issue before this iconic story. Matt's law firm with Foggy Nelson was shutting down, and he was on the outs with his love interest Glorianna O'Breen. Even Matt's former client, Melvin Potter, AKA Gladiator, seemingly fell back into his life of crime. In a moment of frustration, Daredevil threw his own desk plate out of his office building. Miller co-wrote this issue with the legendary Denny O'Neil, kicking off the start of Matt's (very) bad days.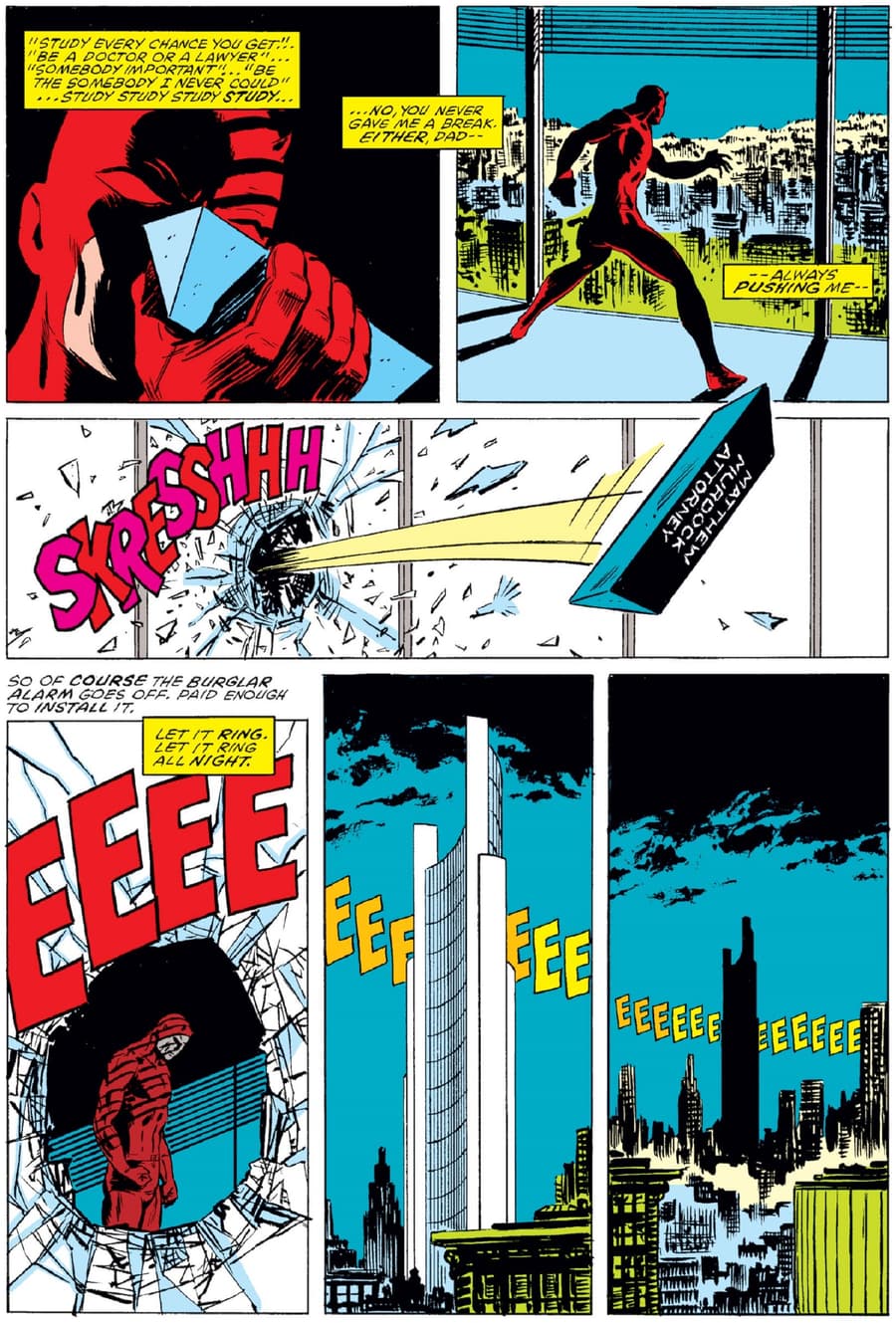 DAREDEVIL DISCOVERED
Matt Murdock didn't know it, but life as he knew it ended when his ex-flame, Karen Page, sold out his identity. That piece of key information eventually made it to Fisk, who used it to make Matt's life a living hell. Fisk got a cop to accuse Murdock of illegal activity, which got him disbarred. To add insult to injury, Kingpin had Matt's bank accounts frozen and his home blown up. But he left Daredevil's costume intact for Matt to find so that he could finally realize who was targeting him... and why.
"THERE IS NO CORPSE."
Kingpin finally had the chance to beat Daredevil senseless, and physically broke him in a brutal fist-to-fist duel. But one last "sunken cab" frame job doesn't take, and Fisk is soon haunted by the fact that Matt Murdock's body is never found—Daredevil lives another day.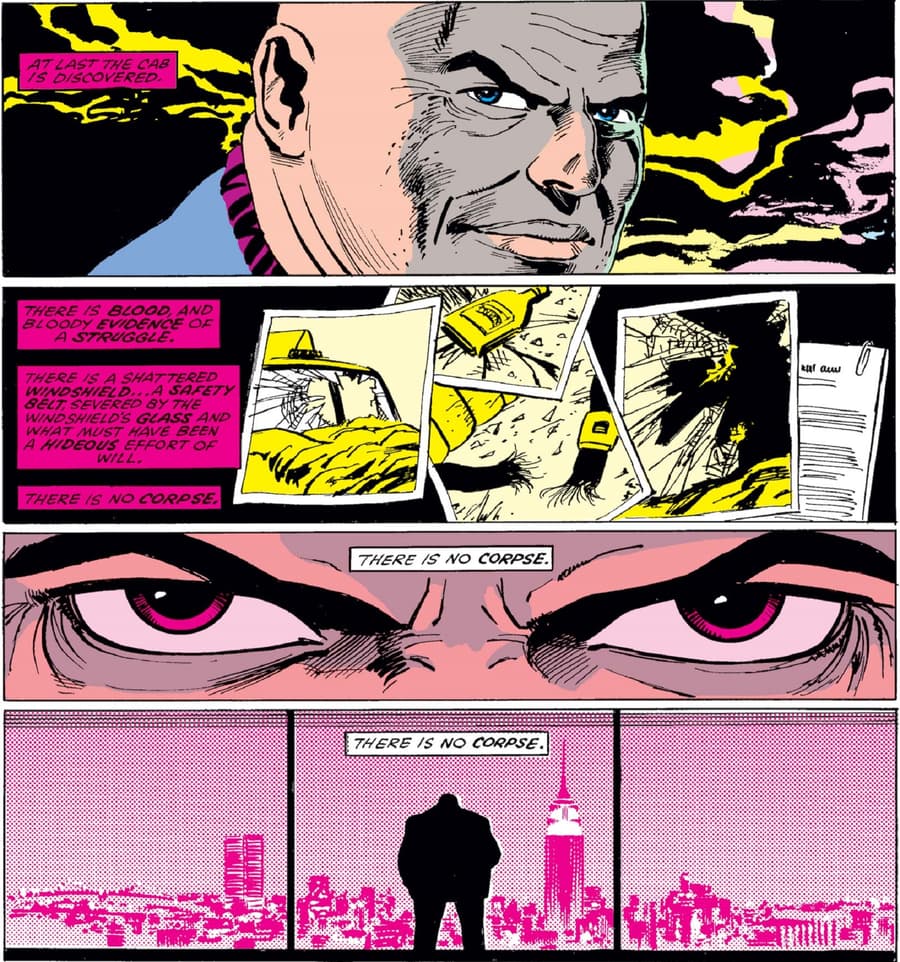 FALLEN DEVIL
At the very end of his rope, physically and mentally, Matt is found by Sister Maggie, a woman who is far more important to him than he initially realizes. Maggie's embrace of Matt intentionally invokes a classic sculpture, while Fisk soon realizes "that a man without hope is a man without fear."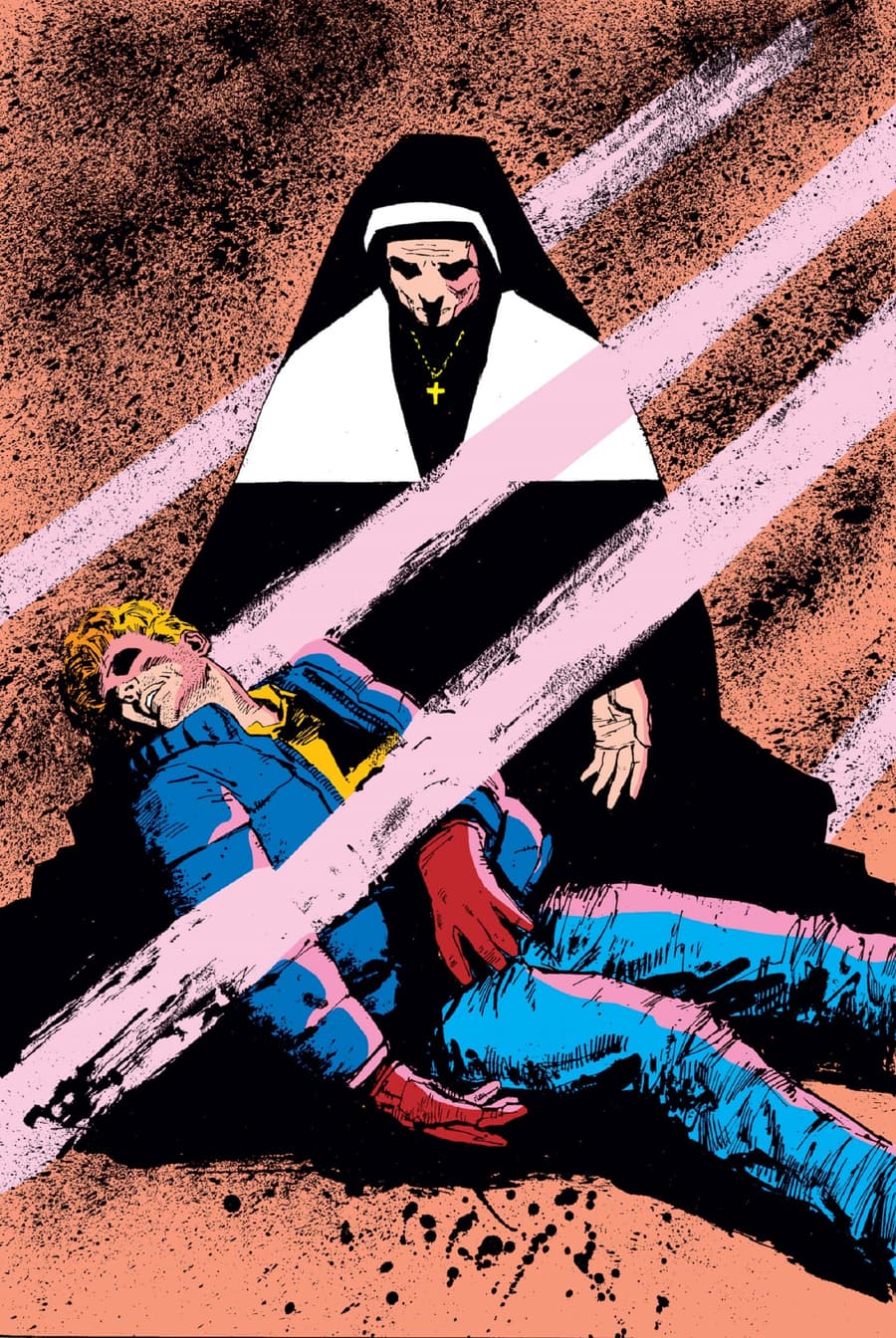 "THANK YOU FOR LISTENING, MR. URICH."
In one of the most harrowing sequences in the storyline, Daily Bugle reporter Ben Urich is forced to listen to one of Kingpin's operatives as she strangles to death the one man who could clear Matt Murdock's name (a cop named Manolis). The terror on Ben's face is so vivid that it is almost as disturbing as the murder, especially when she "thanks" him for listening.
MATT MURDOCK VS. DAREDEVIL
Throughout the storyline, Matt has very much been his own worst enemy (alongside the Kingpin). And Fisk's attempt to soil Daredevil's good name the same way he did to Matt led the real Daredevil to come face-to-face with a dangerous imposter in issue #231.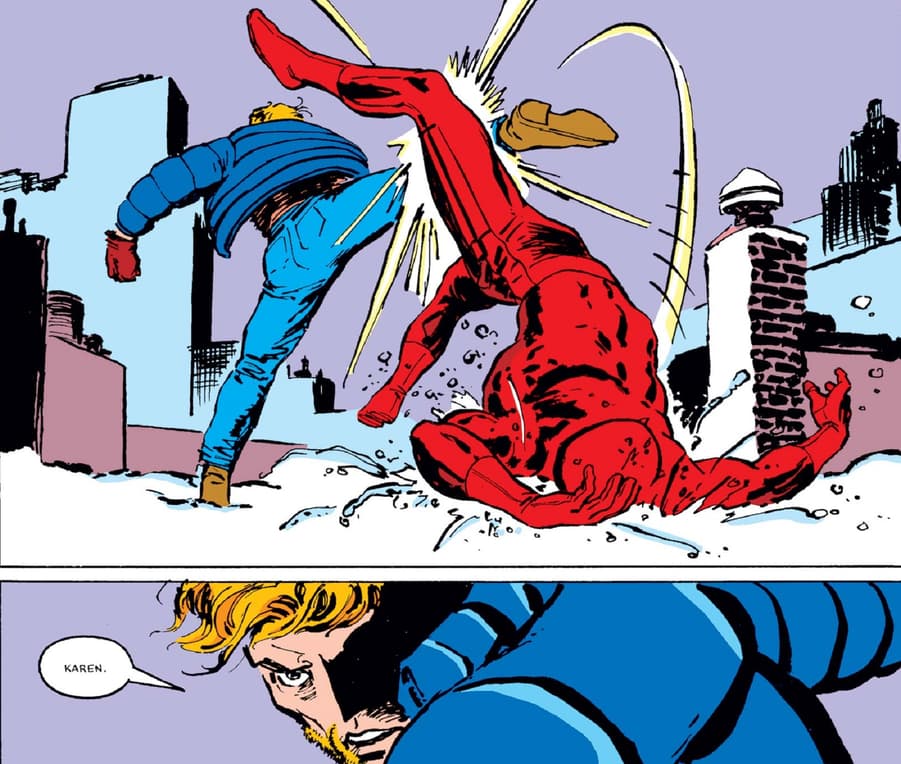 "GIVE ME A RED."
To put Daredevil down once and for all, Kingpin arranges for the deranged Super-Soldier Nuke to be dropped into Hell's Kitchen. Nuke's arrival leads to one of the most visually arresting final splash pages in the history of Daredevil as the Man Without Fear comes ready for a fight.
AVENGERS ASSEMBLE
The battle between Daredevil and Nuke is so destructive that the Avengers arrive to put an end to it. Earth's Mightiest Heroes have never seemed more god-like than when they appeared here. By comparison, Daredevil is a streetfighter among gods.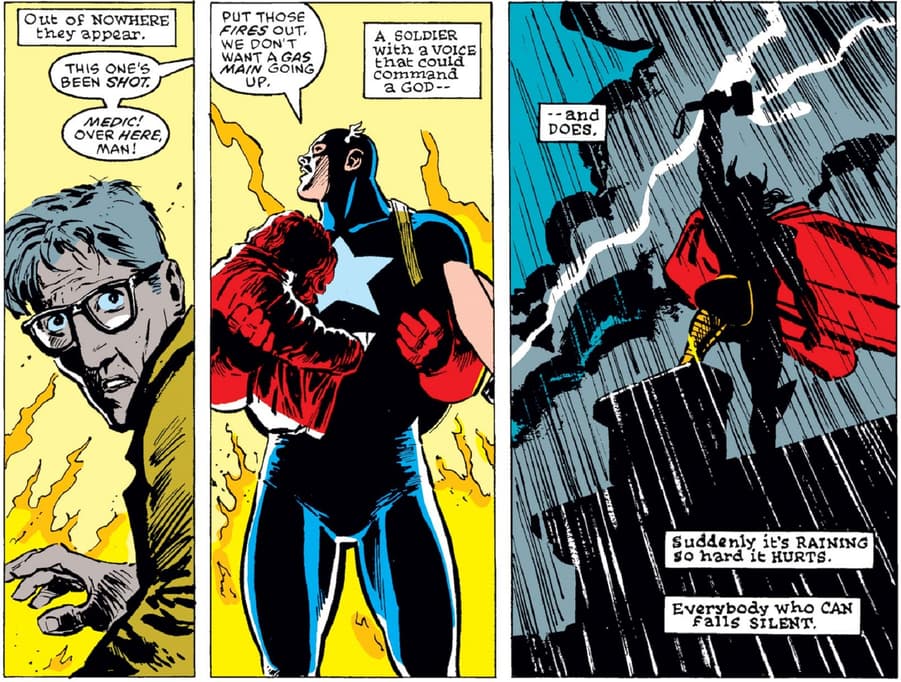 SPECIAL DELIVERY FOR THE EVENING EDITION
One last round with Nuke and Captain America leaves DD in the odd position of trying to save the man who was out to kill him. Despite his insanity, Nuke wasn't to blame for his actions. When Daredevil realized that he couldn't get Nuke to a hospital in time, he took Nuke's body to the Daily Bugle office as proof of Kingpin's wrongdoing. And this time, there was no denying the evidence at hand.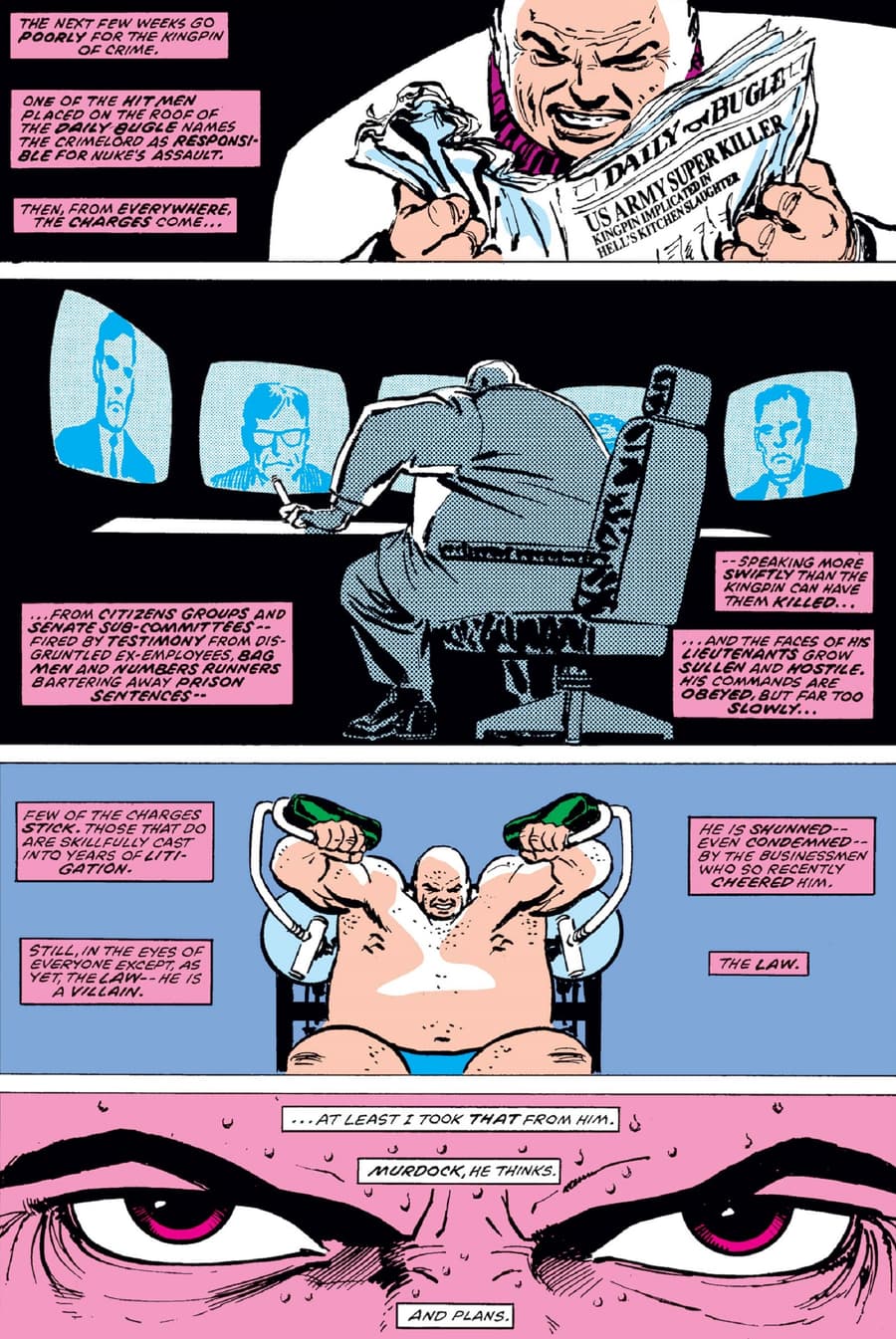 The Hype Box
Can't-miss news and updates from across the Marvel Universe!