Comics
Published February 6, 2019
The Controller's Greatest Schemes Against Iron Man
Iron Man's nemesis just wants total control over everyone, and we're looking back at his most memorable plans!
Within the pages of TONY STARK: IRON MAN, Basil Sandhurst, a.k.a. the Controller is making a strong case for his status as one of the armored Avenger's deadliest foes. But Sandhurst hasn't always been on the A-list of villainy, despite his status as one of Iron Man's earliest bad guys. While the Controller can seize and command the minds of his victims, even he isn't above being controlled. At various times, the Controller has been under the thumb of the Red Skrull, Thanos, the Master of the World, the Hood, and other bad guys who were more ambitious than he was. However, the Controller may have finally turned the corner and become a legitimate threat to the rest of the Marvel Universe.
Before Dan Slott and artist Valerio Schiti continue their story in TONY STARK: IRON MAN #8 – on sale now – Marvel.com is looking back at some of the Controller's greatest schemes, as well his complex plan that is currently unfolding.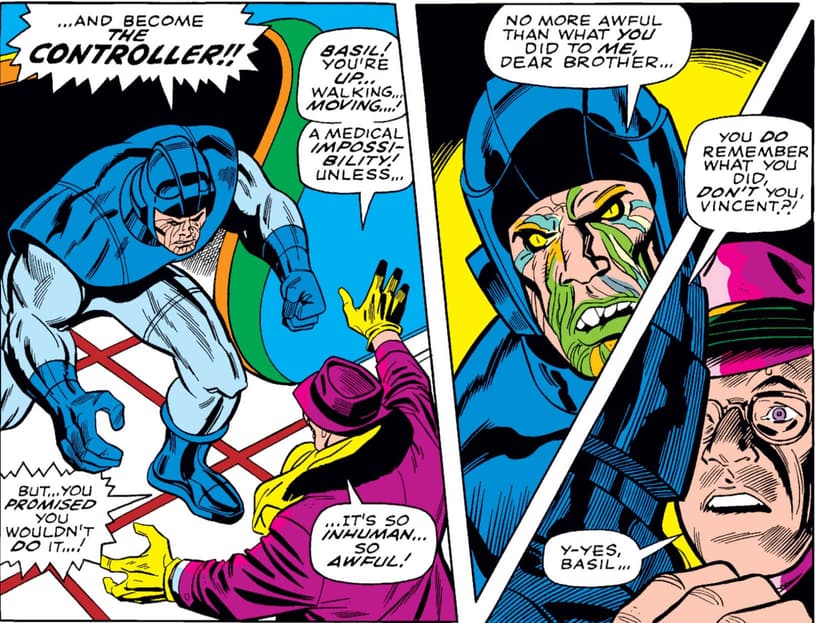 The Controller made his debut in IRON MAN #12 in 1968, and his origin established Sandhurst as an unscrupulous scientist who was jealous of Tony Stark's success. Sandhurst's brother Vincent unintentionally crippled the future villain in an accident. It was also Vincent who gave his broken brother the means to eventually become the Controller. In his first time out as a bad guy, the Controller mastered his new exoskeleton and his slave discs, which allowed him to take over his entire town.
This was also early in Stark's career as a hero, and he was briefly outmatched by the Controller's abilities. However, Stark was able to lure the Controller out of range of his slave technology, which proved to be his undoing. That set the stage for an undying enmity between the two men and a number of clashes over the years.
Admittedly, the Controller wasn't always able to execute his plans. He also tended to be overwhelmed and dominated by a few villains who clearly outclassed him. But in IRON MAN #225, the Controller hit upon a scheme that few bad guys had even considered. In true 1980s fashion, he moved to California and established himself as a New Age guru to lure in potential slaves. And it could have worked too, if Stark hadn't been on the warpath while looking for villains who misused his technology. By the time Iron Man was done with the Controller, Sandhurst's tech was destroyed and he was crippled once again.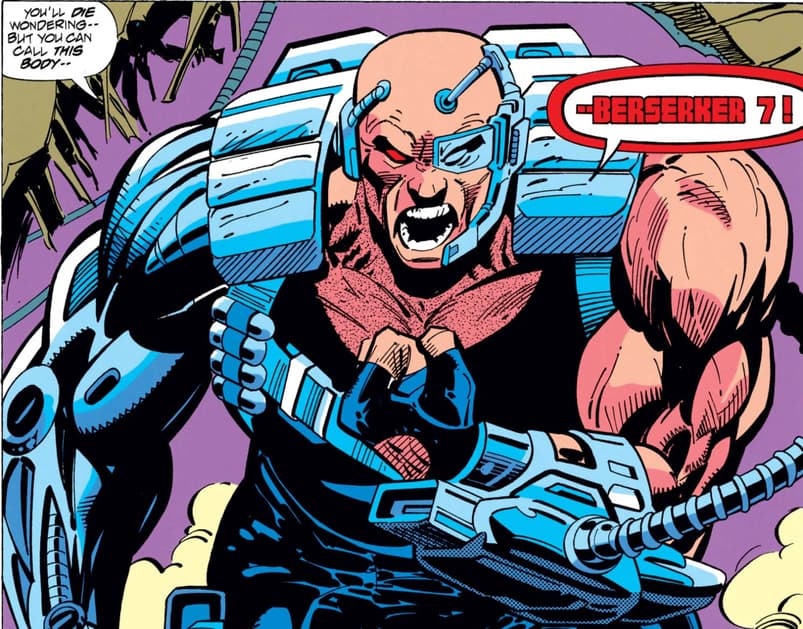 Years later, in IRON MAN #292 and #293, the Controller had an opportunity to strike back at Stark when the hero was at a low point in his life. Stark's body was seemingly irreparably damaged and he could only remotely control the Iron Man armor. The Controller had already seized control of a clinic for the rich and powerful, and he tried to add Stark to his collection of puppets. Only Stark's artificial A.I. managed to hold off the Controller long enough to prevent him from taking over Stark's mind. Shortly thereafter, the Controller tasted defeat once again.
While the Controller has largely been dependent upon his tech for his villainous plans, IRON MAN ANNUAL #15 gave him a way to seize his victims' minds without his slave discs. The Controller captured and enslaved Sarah Jessup, a previously undiscovered psychic. Through Sarah's powers, the Controller could impose his will on his victims without ever touching them. Her mind also gave the Controller access to all of Stark's secrets, including his identity as Iron Man years before the public knew about his double life.
This time, the Controller's undoing came from his own success. Sarah's mind was overpowering Stark, but the remnants of her persona integrated as a new entity called Mindstorm. The Controller was no match for Mindstorm's powers, even with his technology. He was once again broken and embittered at Iron Man's hands.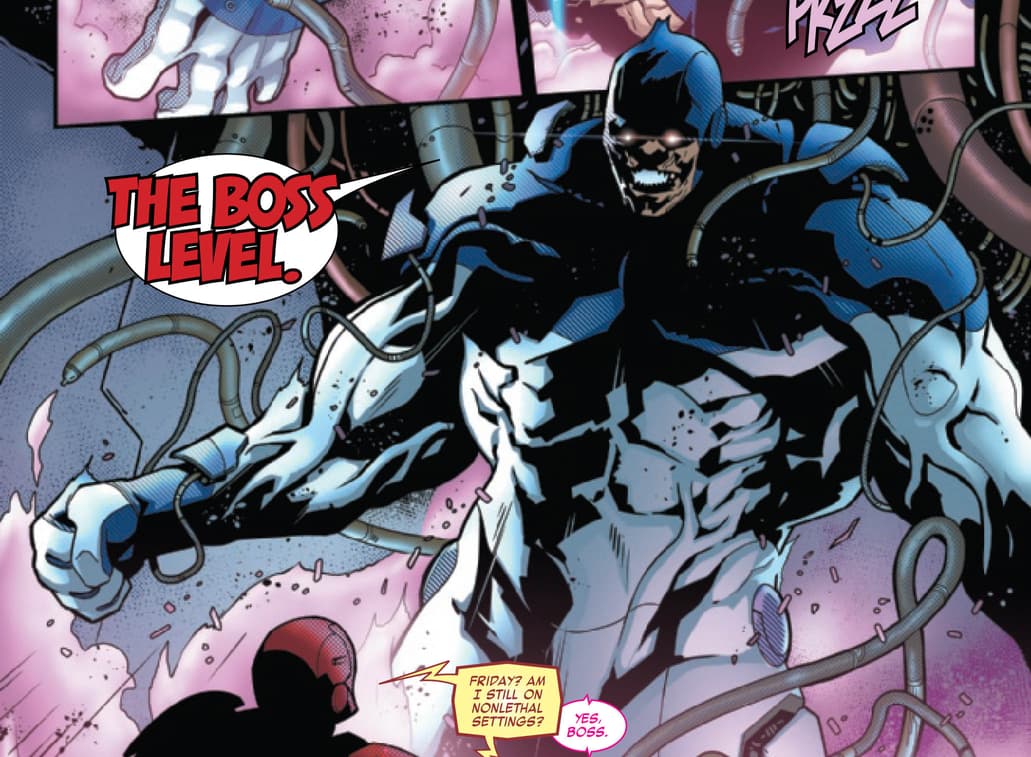 That's what makes the Controller's transition in the early issues of TONY STARK: IRON MAN so compelling. The Controller has finally learned from most of his mistakes and taken his time to strike at Stark. He even enslaved Stark's head of security, Bethany Cabe, without her knowing about it. Through Cabe, the Controller has undermined Stark's plans and even manipulated Machine Man into sabotaging a test run of Stark's new VR program, The eScape.
Unfortunately for the Controller, he's far from infallible. His signature slave disc was found on Fing Fang Foom months ago, which gave Stark enough time to come up with a few counter measures designed to specifically thwart the Controller's plans. But just because Stark was prepared doesn't mean he'll come out on top. The Controller's access to The eScape may have transformed Stark's newest innovation into a deadly trap for all of its users, including Stark.
TONY STARK: IRON MAN #8, written by Dan Slott with art by Valerio Schiti, is on sale now online and at your local comic shop!
The Hype Box
Can't-miss news and updates from across the Marvel Universe!