Comics
Published November 12, 2021
The Dynamic Dialogue of Smilin' Stan Lee
Celebrate the life of the legend with a look at some of his most memorable comics conversations.
Three years ago today, Marvel, the comic book industry, and the very concept of creativity itself lost a luminary in Stan Lee. It's been said—and may it be said millions of times more—that Stan was one of the architects of the Marvel Universe, that it simply wouldn't exist without him.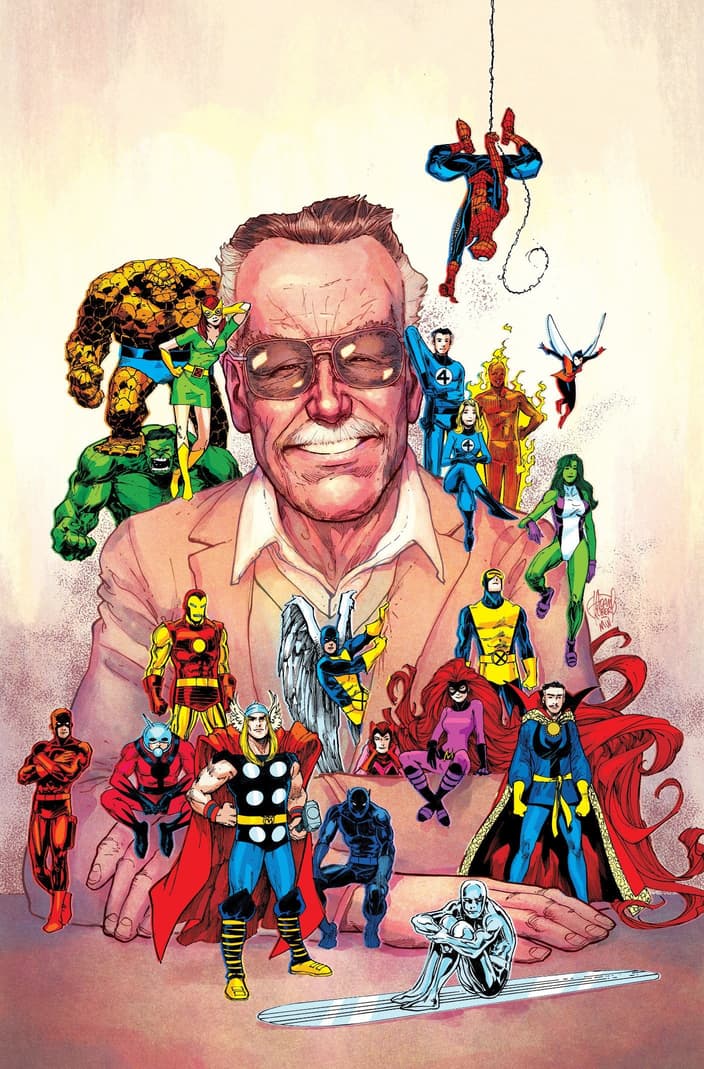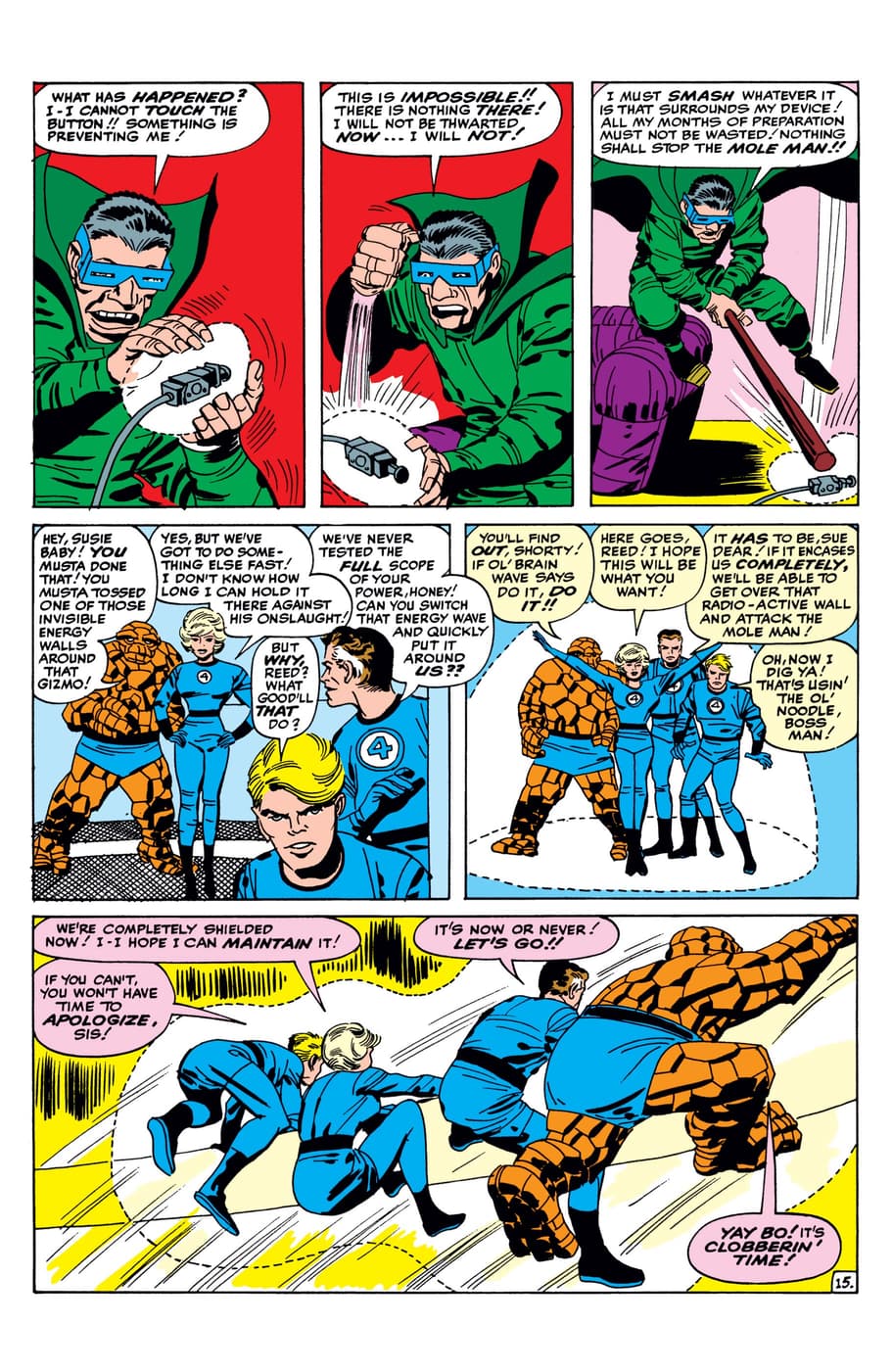 How can anyone not hear the Thing's voice when that line is uttered? Ben Grimm's catchphrase was born in this classic Lee and Kirby story as the FF had a rematch with the Mole Man. Since then, it's often become "Clobberin' time" when the world is on the line. And we wouldn't have it any other way.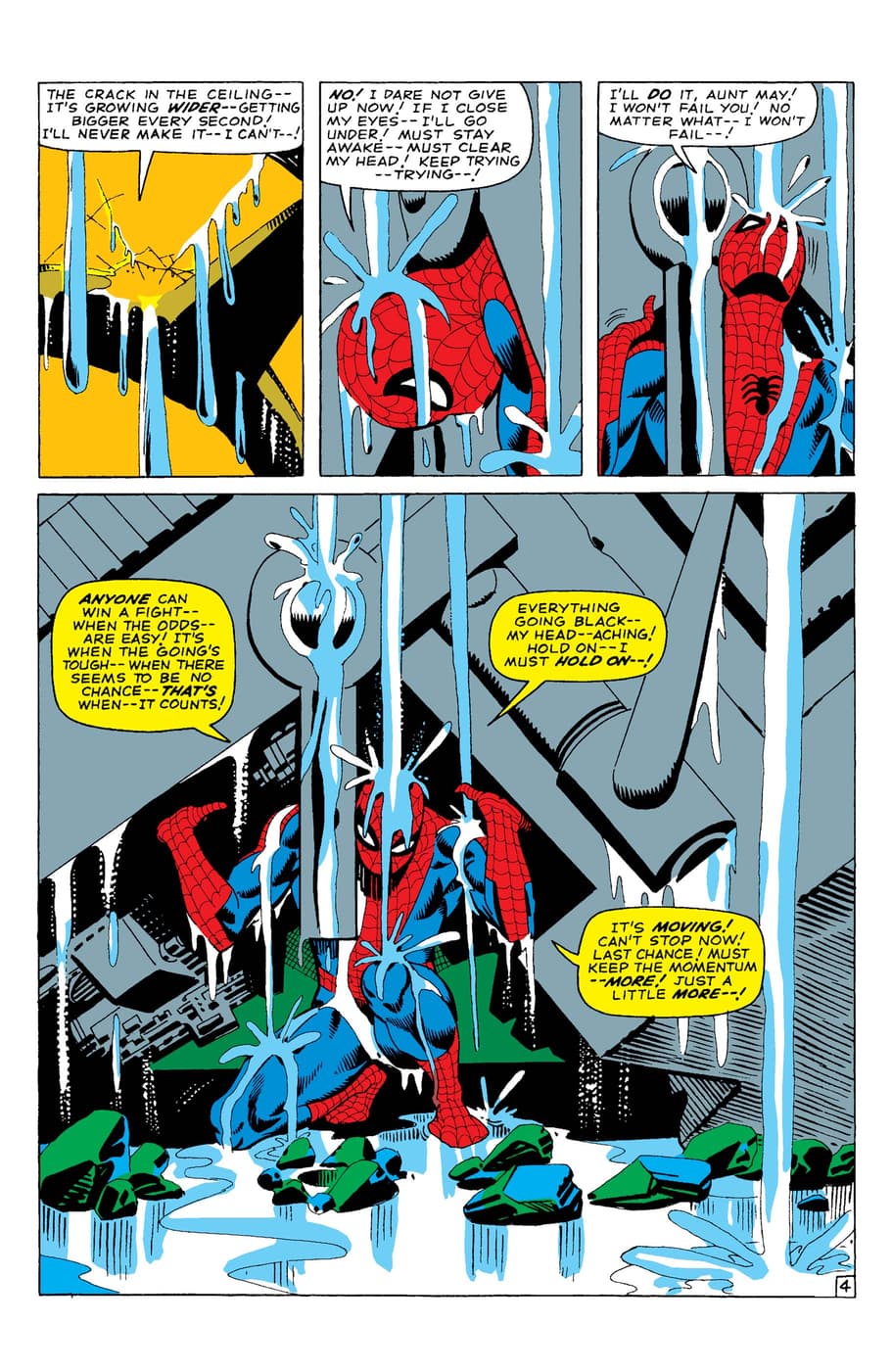 This scene from AMAZING SPIDER-MAN #33 is one of the most famous sequences from Lee and Ditko's run. Over the course of several pages, Spidey talks himself through an impressive feat of strength and will power by freeing himself from a potentially lethal situation. It's an incredible marriage of words and art that builds to the moment where Spidey finally pulls it off.
"Where soars the Silver Surfer...there must he soar alone!" – SILVER SURFER (1968) #1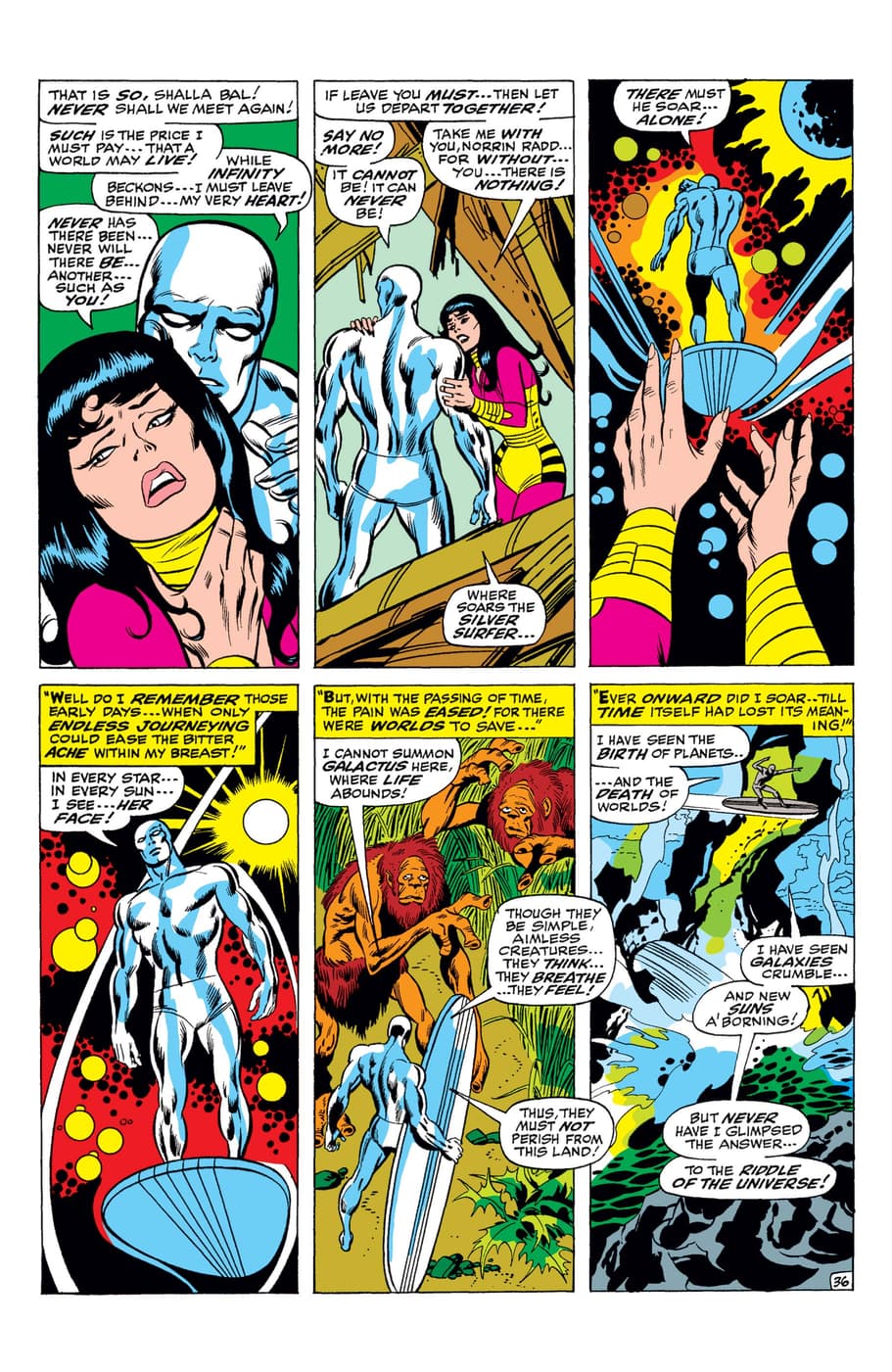 Lee and Buscema really went for the heartstrings in this scene, after Norrin Radd sacrifices his humanity to save his homeworld, Zenn-La. But to do so, the newly christened Silver Surfer also had to leave behind the love of his life, Shalla Bal. Their paths would cross again, but their romance was never the same.
"We'll never be beaten! For we are... the Avengers!" – AVENGERS (1963) #1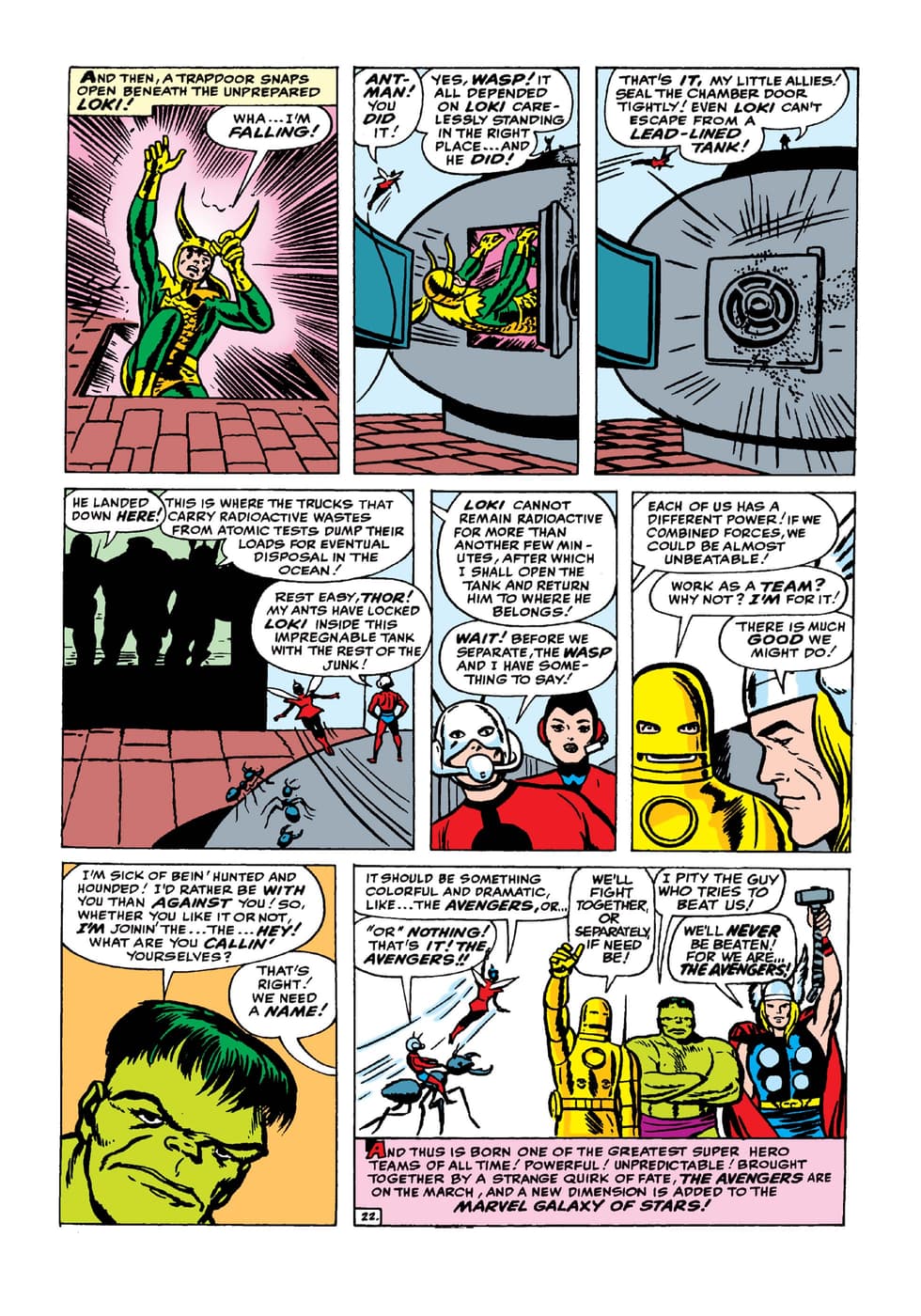 The Fantastic Four may have been Marvel's first Silver Age team, but the Avengers were THE super team of the '60s. Ant-Man, the Wasp, Iron Man, Hulk, and Thor joined forces in this terrific panel by their creators, Lee and Kirby. And surprisingly, it's Thor who gets the last word, even though the Wasp coined the team's name.
"But none has been more courageous than he..." – DAREDEVIL (1964) #7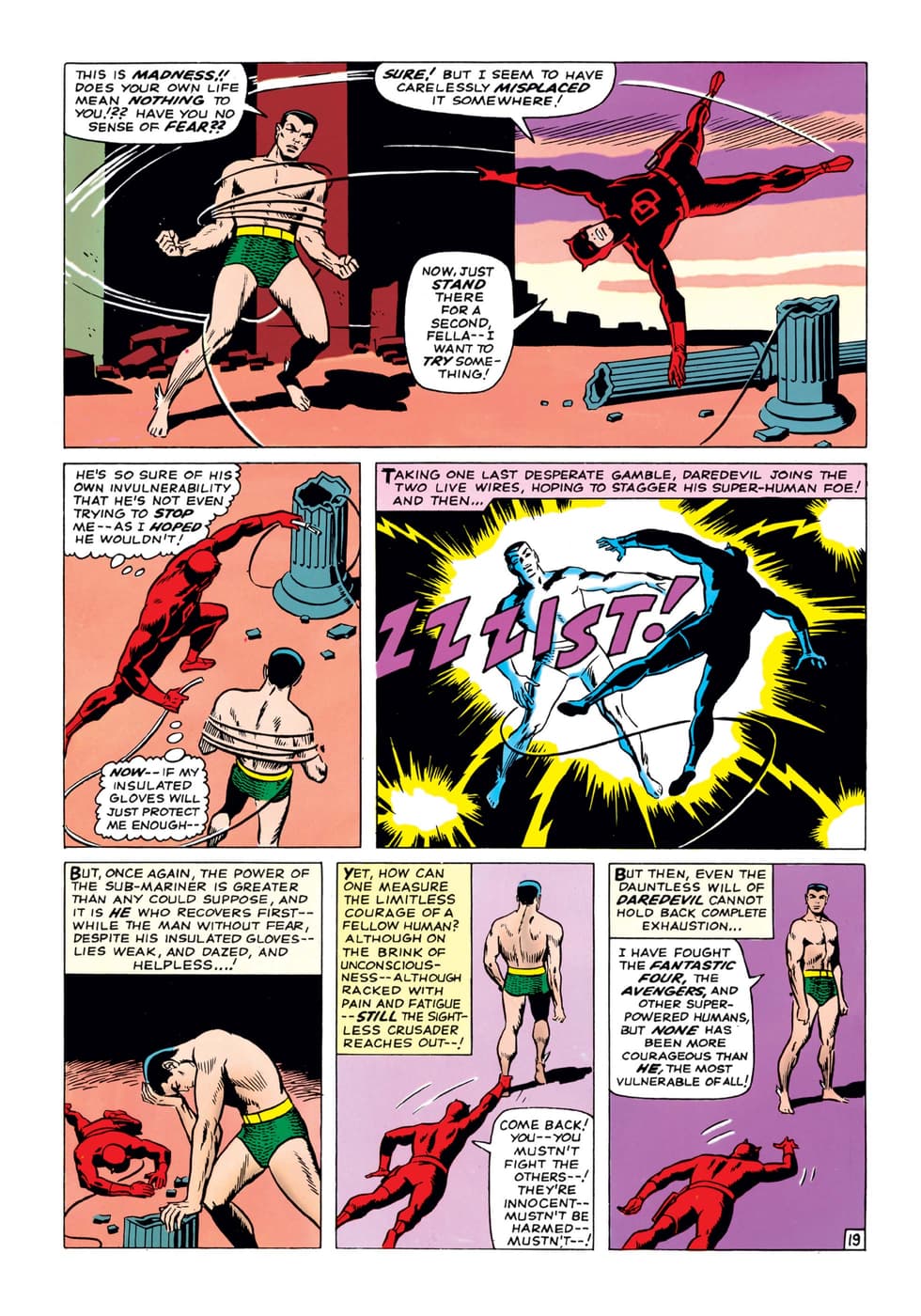 The Man Without Fear faced a major test early in his career, courtesy of Lee and artist Wally Wood. Namor wanted to get his day in court, but he had to burst out of prison when a coup unfolded in Atlantis. Daredevil was justifiably worried that Namor would hurt someone during his rampage in the city, so he took it upon himself to keep the Sub-Mariner occupied. Of course, Namor was several times more powerful than Matt Murdock's alter-ego. Regardless, Daredevil's courage won Namor's respect.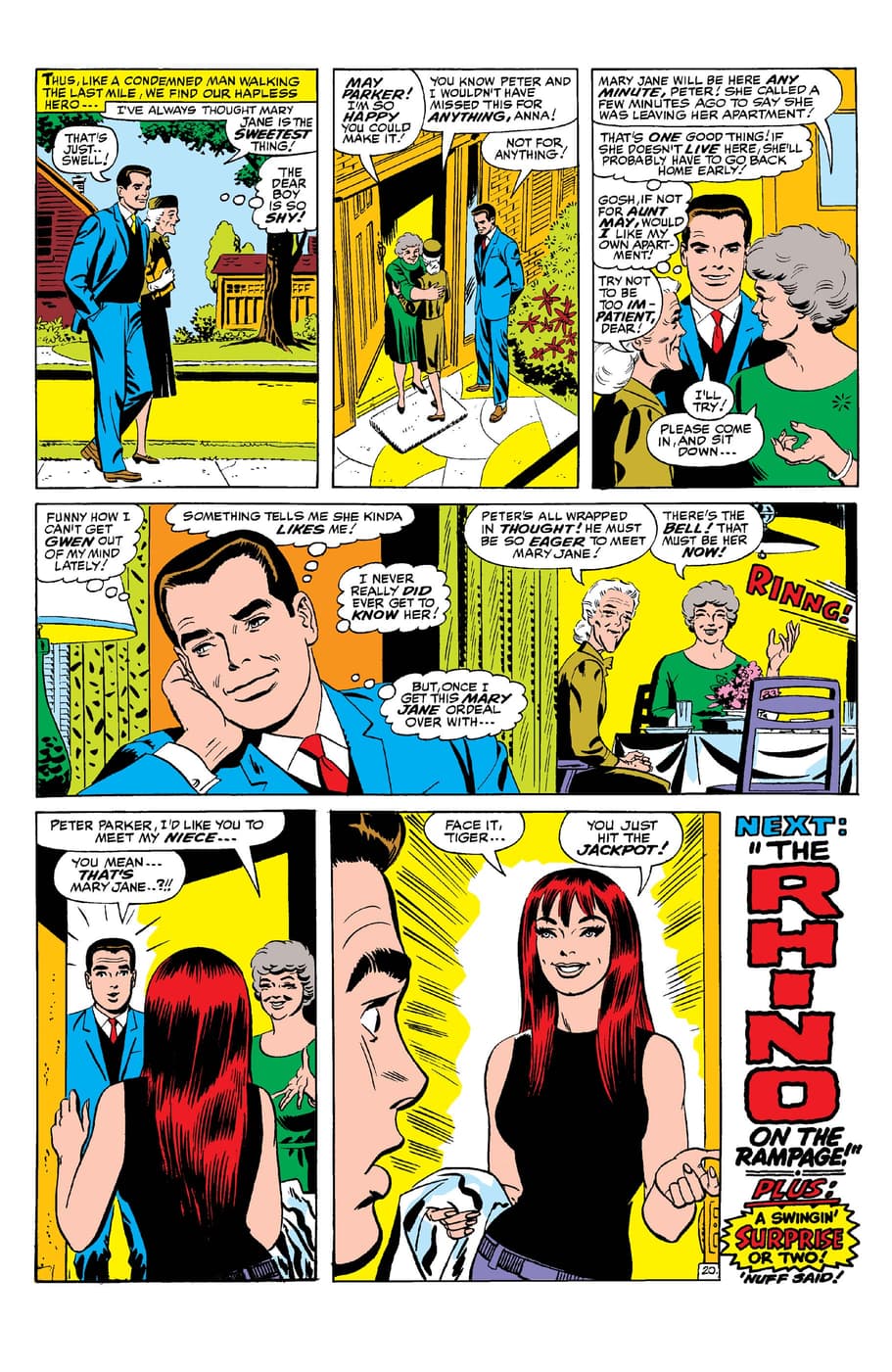 This list would be incomplete without Mary Jane Watson's first full on-panel appearance, as Lee and Romita teamed up for an introduction like no other. In the present, MJ has become an icon in her own right. And it all started when she finally came face-to-face with Peter Parker.
"For I finally learned -- what it means to have -- a friend!" – FANTASTIC FOUR (1961) #51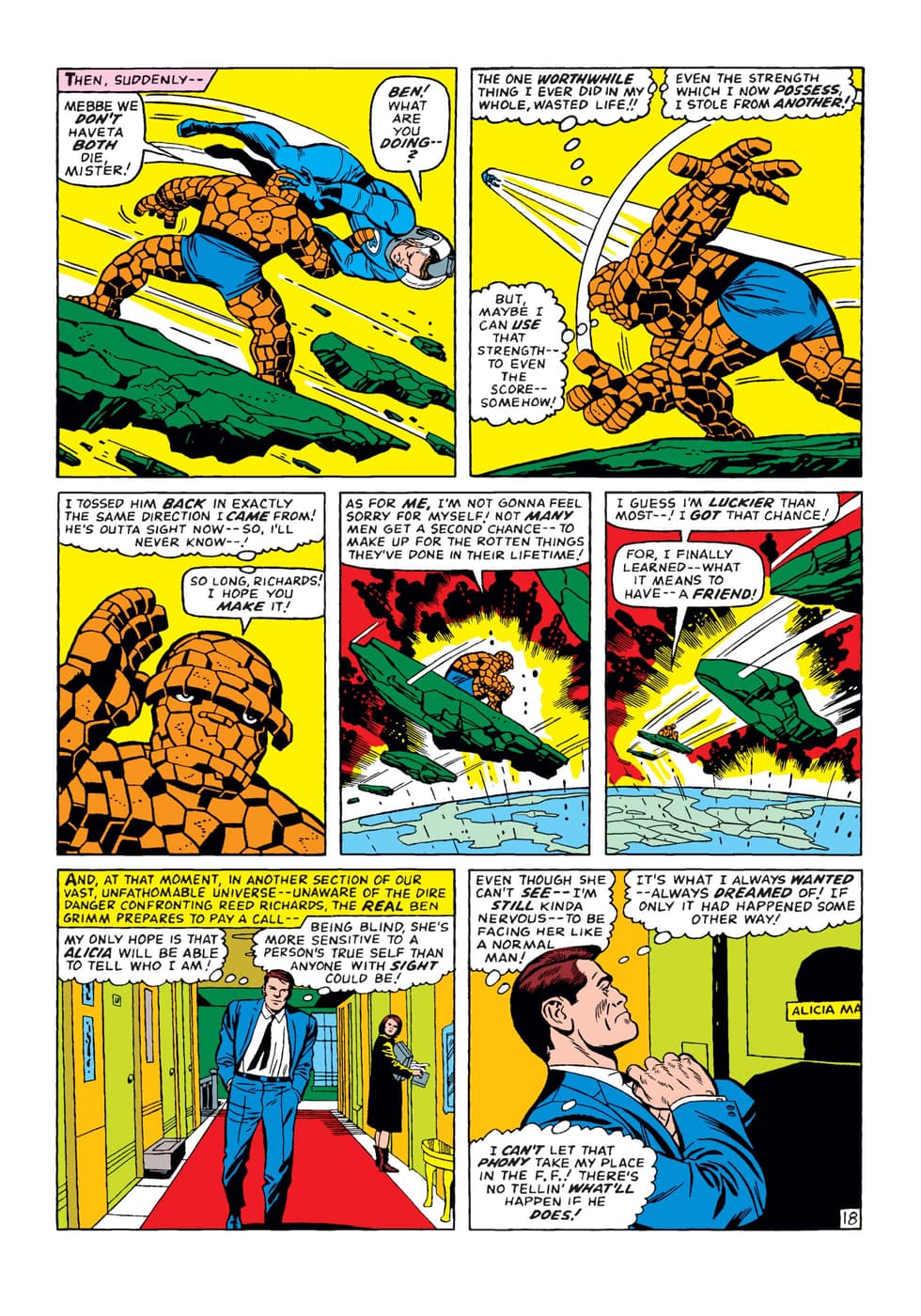 That's not the Thing going bravely to his death in this sequence from FANTASTIC FOUR #51. Instead, it's an unnamed scientist (revealed as Ricardo Jones in a later story) who held a grudge against Reed Richards. In this unexpectedly touching tale, Lee and Kirby walk fans through the scientist's plan to impersonate the Thing through stolen powers before murdering Reed. Yet when Reed's life was imperilled, the scientist was emotionally moved by Reed's concern for "Ben." So much so that he sacrificed himself to save Reed's life. In his final moments, the scientist took comfort that his chance for redemption wasn't wasted.
"With great power there must also come -- great responsibility!" – AMAZING FANTASY (1962) #15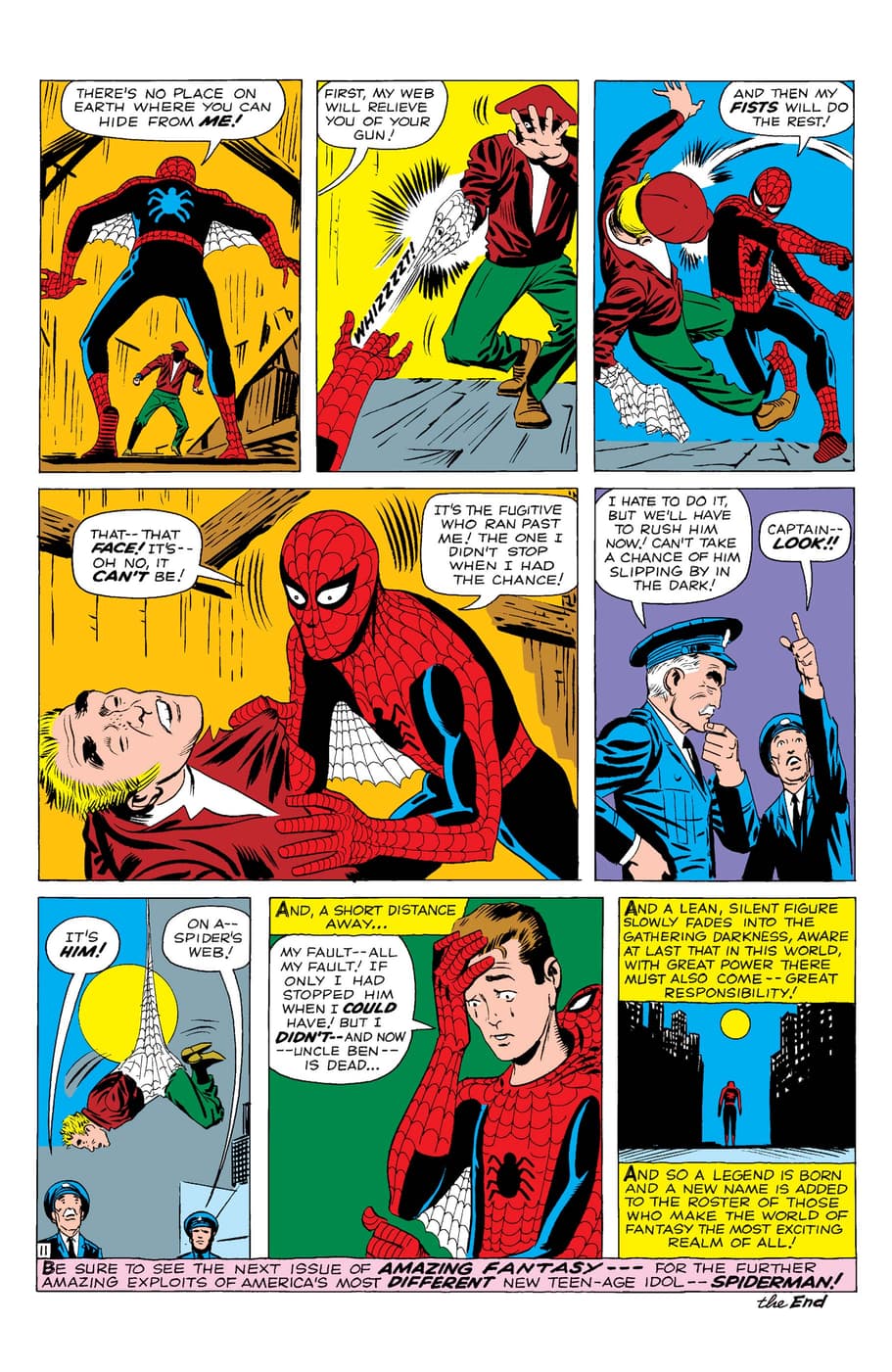 There could be no better way to close out this walk down memory lane without the most compelling line from Lee and Ditko's first-ever Spider-Man story. Poor Peter has just come to the realization that the burglar he refused to stop went on to murder his beloved uncle, Ben Parker. "With great power there must also come -- great responsibility!" is such an integral part of Peter's character that he has never forgotten the lesson he learned that night. And that's why Spider-Man remains one of the greatest heroes in history.
Celebrate the Chairman Emeritus' everlasting legacy by reading through a few more loving looks at his historic work right here:
The Hype Box
Can't-miss news and updates from across the Marvel Universe!