Comics
Published November 18, 2020
The Forever Gate Reunites Friends, Families, and Enemies in 'Fantastic Four' #26
There's heartbreak and heartwarming reunions ahead!
Warning! This article contains spoilers for FANTASTIC FOUR #26, so read on at your own risk, Marvelites!
The Fantastic Four are moving back to the Baxter Building, but it's not nostalgia that's bringing Marvel's First Family home. Instead, it's the Forever Gate, a newly created portal to anywhere in space and time. The downside is that it can't be shut down. The Fantastic Four have a duty to guard it because they played a large role in its creation. And there was no telling who or what may emerge from the gate... until now!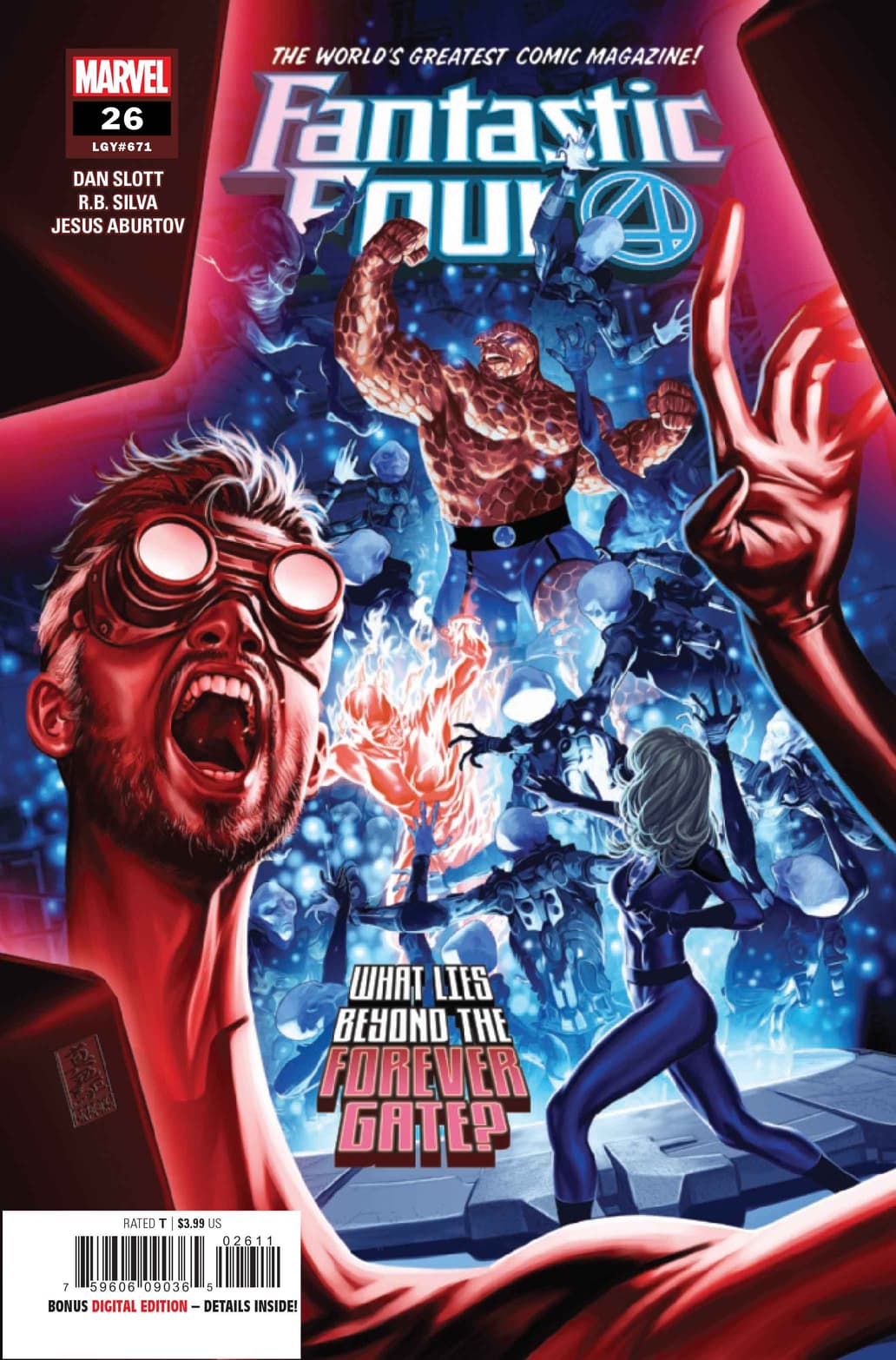 Dan Slott and artist R.B. Silva's FANTASTIC FOUR #26 – on sale now! – unraveled some of the ramifications of the Forever Gate. But first, the gate's primary creator, Valeria Richards, successfully figured out how to make it send her back to Prince Arboro's world for the first time since FANTASTIC FOUR #3. Arboro was Valeria's first crush, and her mother, Susan Richards AKA Invisible Woman, couldn't help but notice that the young prince bore a certain resemblance to Namor. That's probably why Valeria's father, Reed Richards AKA Mister Fantastic, doesn't like him.
Unfortunately for Valeria, her long-hoped-for reunion with Arboro was heartbreaking. Let's just say that the prince isn't a big believer in monogamy. Upon her return to Earth, Valeria shed tears over her romantic heartache while Franklin Richards realized that her device could send him back to Krakoa for the first time since his mutant powers were depleted.
This is where the fireworks began, as Franklin was prevented from returning to Krakoa by Professor Xavier himself. Via a telepathic connection, the Professor revealed that Franklin has never been a mutant at all. Instead, he contends that Franklin subconsciously willed himself to appear to have the X gene when he was a young child. But Franklin's cosmic powers were not mutant powers. To add further insult to injury, the Professor told Franklin that he was no longer welcome on Krakoa.
Until he lost his powers, Franklin had a great deal of his identity tied into being a mutant. He embraced the culture as his own, and it gave him a sense of belonging outside of his immediate family. Getting rejected by Professor X was almost as painful as losing his god-like abilities. He couldn't even smite Arboro for hurting his sister's feelings despite being the creator of Arboro's universe.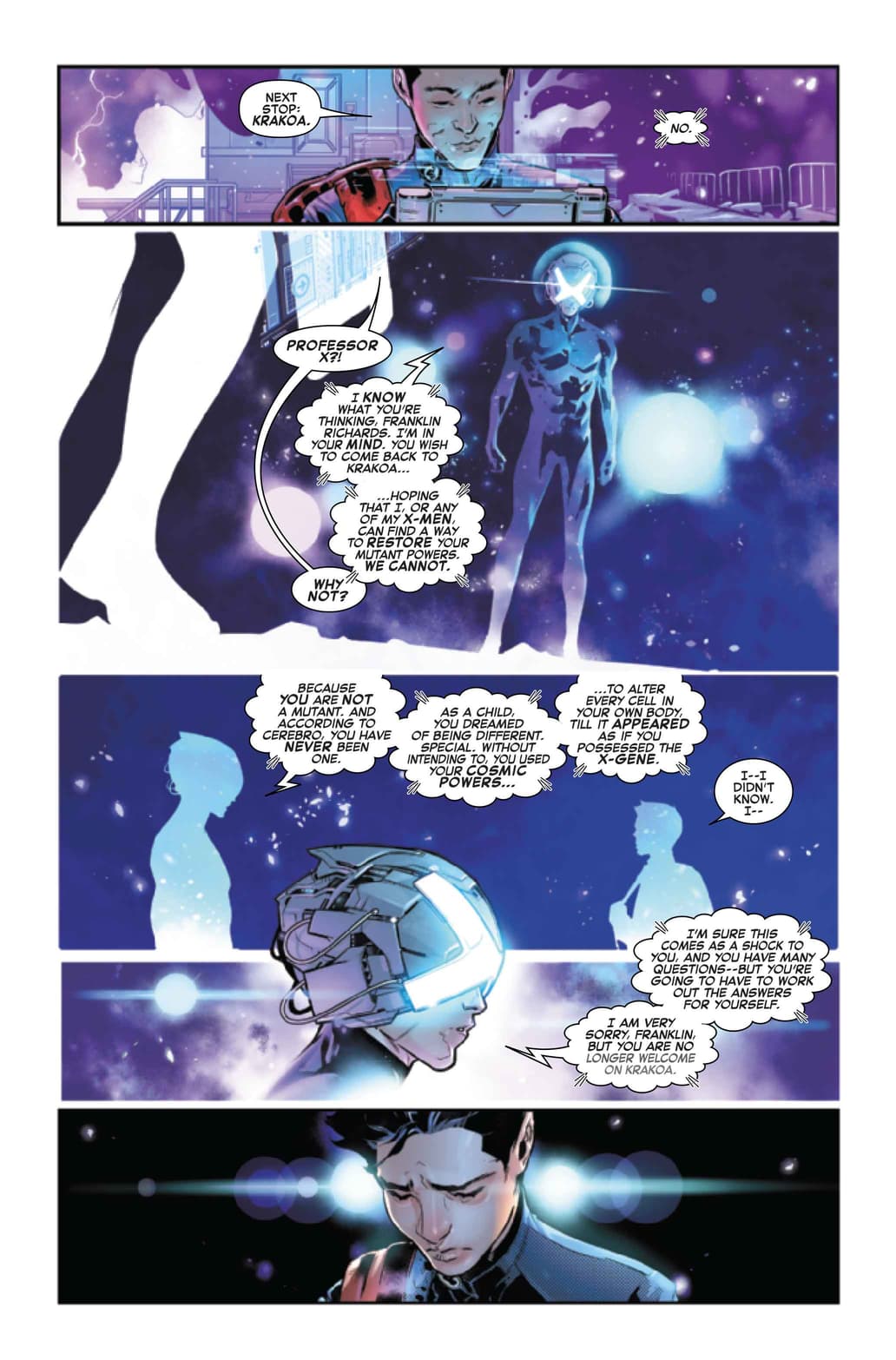 While the Forever Gate dashed the hopes of Franklin and Valeria, it gave the extended family an unexpected reunion. At the request of James and Maggie Power, as well as Onome's father, Reed and Valeria agreed to use the Forever Gate to bring the entire Future Foundation home. For the first time in years, Alex Power, Julie Power, Dragon Man, Onome, and the rest are back on Earth – and they didn't come alone. As depicted in FUTURE FOUNDATION, the team had two new members: Rikki Barnes and Lyja the Laserfist, both of whom returned as well.
Rikki hails from Counter-Earth, the alternate world that Franklin created when he saved his parents and most of Earth's heroes during ONSLAUGHT and HEROES REBORN. Rikki also treated Franklin like a living god, which only made things more awkward for him. But that was a picnic compared to the reunion between Johnny Storm AKA Human Torch and his ex-wife, Lyja. They hadn't seen each other since SECRET INVASION: FANTASTIC FOUR. Several years before that, Lyja was undercover as Alicia Masters and she married Johnny in the landmark FANTASTIC FOUR (1961) #300. Even after Lyja was exposed as a Skrull, she and Johnny still had feelings for each other.
That did not go over well with Johnny's current paramour, Sky. Since meeting each other on the planet Spyre in FANTASTIC FOUR #15-19, Sky and Johnny have been bound together as soulmates. The idea that Johnny was previously married to Lyja was offensive to Sky, and even more so after she learned that Lyja once impersonated Alicia. Suitably chastised, Johnny finally came clean about his entire romantic history. But Johnny alienated Sky again when she realized that he had hidden his soul band that marked him as her beloved.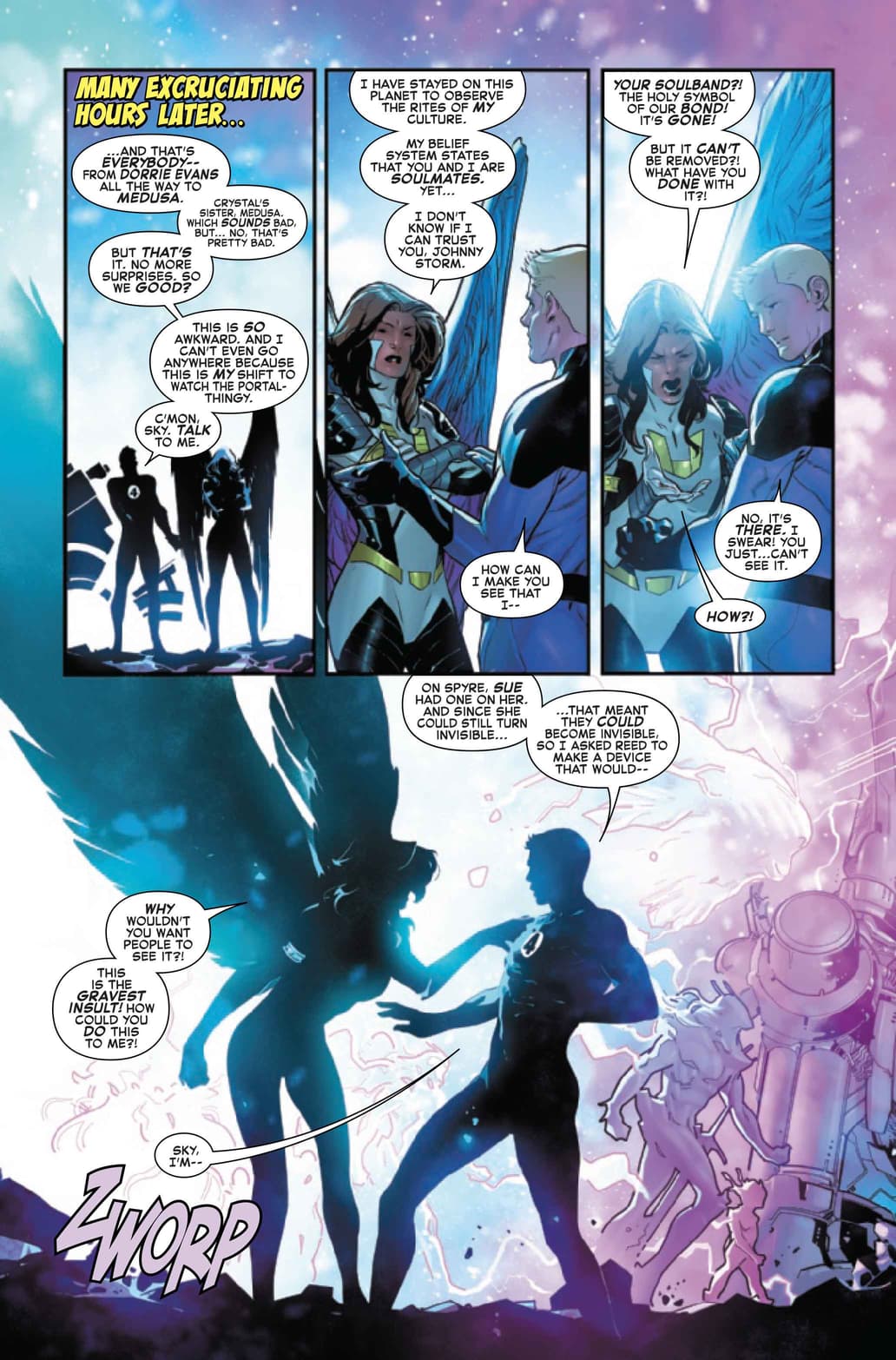 While many of the Future Foundation kids went home to their families, Dragon Man and Bentley-23 opted to stay with the Fantastic Four for now. Lyja also decided to remain behind, as she was intrigued by the recent Alliance between her people, the Skrulls, and their former enemies, the Kree.
But the good times didn't last long, as the Forever Gate remained open for a seemingly unending march of refugees. It took a few minutes for the FF to realize that these aliens were not invaders. Instead, they were all the creations of Franklin, and they pleaded for help from their god because the Griever at the End of All Things is back – and she's coming to Earth.
The Fantastic Four and their extended allies were barely able to repel the Griever in issues #2-3 of the current series. She is, after all, the living embodiment of entropy. Without Franklin's cosmic abilities, the Fantastic Four are severely underpowered against a threat that may be even greater than Galactus himself.
But that's what they do. After all, we don't call it "the world's greatest comic magazine" for nothing! And their latest adventure will continue in FANTASTIC FOUR #27 next month!
FANTASTIC FOUR #26, written by Dan Slott with art by R.B. Silva, is on sale now online and at your local comic shop!
You can grab these comics and more digitally or at your favorite local comic book shop. Be sure to ask your local shop about their current business policies to observe social distancing or other services they may offer, including holding or creating pull lists, curbside pick-ups, special deliveries, and other options to accommodate. Find and support your local comic book shop at ComicShopLocator.com or by visiting Marvel.com/LoveComicShops.
For digital comics, all purchases in the Marvel Comics app can be read on iPhone®, iPad® and select Android™ devices! Our smart-paneling feature provides an intuitive reader experience, ideal for all types of mobile device and tablet users! Download the app on iOS and Android now!
The Hype Box
Can't-miss news and updates from across the Marvel Universe!