Comics
Published March 26, 2019
The Friendship of Spider-Man and Human Torch
A look back at the enduring bond between Peter Parker and Johnny Storm.
In FRIENDLY NEIGHBORHOOD SPIDER-MAN #4, available now, Peter Parker needed an assist from his good buddy, Johnny Storm. Within the Super Hero community, there's no contest. Spider-Man and the Human Torch are best friends, and their bond has endured for several decades of stories. But it wasn't always smooth sailing for these BFFs. In fact, when Spider-Man and the Human Torch first met, they didn't even like each other!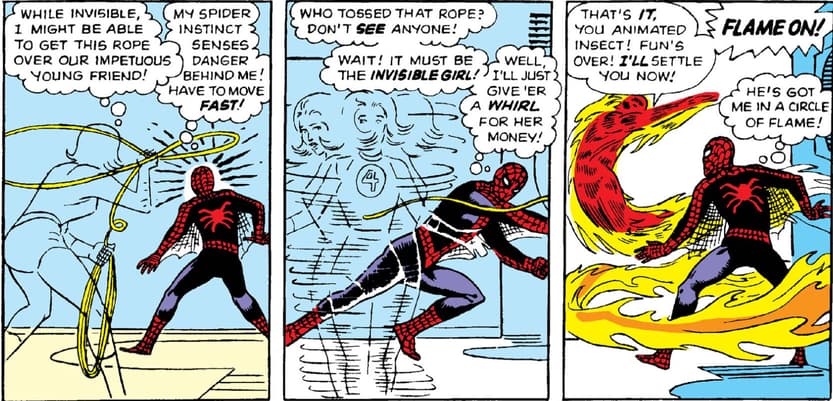 It all started in AMAZING SPIDER-MAN #1 (1963), when Peter realized that the best way to monetize his powers and repair Spider-Man's reputation was by joining the Fantastic Four. However, his idea of an audition was to break into the Baxter Building and antagonize his would-be teammates. Johnny was not impressed, and he wasn't shy about it. Spidey was rejected, and he left in a huff. Those bad feelings could have lingered for a long time, but Johnny inadvertently helped Peter through a bad situation shortly thereafter.
Peter had his first out-of-costume encounter with the Human Torch in AMAZING SPIDER-MAN #3 (1963). Spidey was so easily defeated by Doctor Octopus in his first outing that Peter considered calling it quits right then and there. But fate intervened when Johnny was a guest speaker at Peter's high school. Johnny's speech about the way the FF never gave up really spoke to Peter, and he took it to heart. At the time, Johnny shrugged off the thanks from an unknown teenager. Yet this was the start of the thaw between them.
Their relationship took another hit in STRANGE TALES ANNUAL #2 (1963). Spider-Man felt comfortable enough with Human Torch that he wanted to get some help from him. At the time, Johnny was feeling particularly jealous about Spidey's press exposure, and he lashed out at the web head. The Human Torch was a literal hot head, and he was all too eager to believe that Spidey had gone bad when he was framed by the Fox. Fortunately, cooler heads prevailed, and Johnny helped Spider-Man take down the Fox and prove his innocence. This issue also marked the first time that the two heroes hung out near the Statue of Liberty.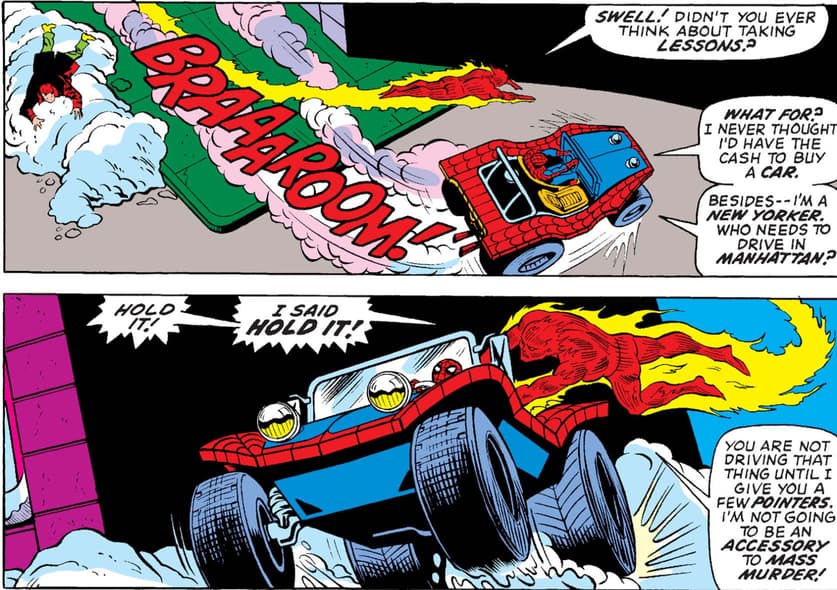 During the '70s, Spider-Man and Human Torch were spending so much time together that it became an accepted part of their lives. Johnny even helped Spidey build the infamous Spider-Mobile in AMAZING SPIDER-MAN #130 (1974). The hilarious thing is that Spider-Man had no idea how to drive, and Johnny had to teach him on the spot.
Their chemistry was so good that it's no coincidence that Spider-Man and Human Torch were the co-headliners of MARVEL TEAM-UP #1 (1977). Together, Spidey and Johnny went after the Sandman on Christmas Eve, only to discover that they both sympathized with Flint Marko's desire to spend a moment with his mother. Naturally, the Sandman slipped away after the heroes let him share a few minutes with his mom. But they were in such a festive holiday spirit that they simply shrugged it off and enjoyed the occasion.
Over the years, Spidey and Johnny's relationship evolved to the point where they could mercilessly tease each other. However, Peter was still very protective about his secret identity. This was crystal clear when Mr. Fantastic saved him from permanently bonding with the symbiote destined to become Venom, it left Spidey without a costume. Peter hid his face in the shadows so that neither Reed nor Johnny could see it. In AMAZING SPIDER-MAN #258 (1984) Johnny's solution was to send Peter home with a spare FF costume and a bag over his head. Spidey accepted the costume, but he was humiliated when he was captured on film by the press. We're sure Johnny had a good laugh about that.

One of the most definitive stories about this pairing took place in the SPIDER-MAN/HUMAN TORCH (2005) miniseries that revisited their long history together. This was also the first story in which Peter finally shared his secret identity with Johnny. Much to Peter's disbelief, Johnny revealed that he had envied Peter's life for years. In turn, Peter admitted that he felt Johnny had it all. This gave them a greater understanding of each other and further cemented their bond.
Thanks to CIVIL WAR and ONE MORE DAY, Spidey felt the need to make his identity a secret again. Consequently, even friends and allies were made to forget who he really was. Johnny was one of the few people to realize that his knowledge of Spidey's secret had been erased. He felt hurt, angry, and even a bit betrayed by that. But in AMAZING SPIDER-MAN #591 (2009), Peter showed the entire Fantastic Four how much he trusted them by once again revealing his secret.
When Johnny was killed in FANTASTIC FOUR #587, Peter made sure he was there for the Richards family in FANTASTIC FOUR #588. That issue was a very touching farewell to Johnny, as Peter bonded with Franklin Richards over their shared lost. By this time, Peter was truly family to the Fantastic Four. To honor Johnny, Peter accepted a place on the Future Foundation team in FF #1 (2011). He even adopted an FF-style costume for his adventures with the team.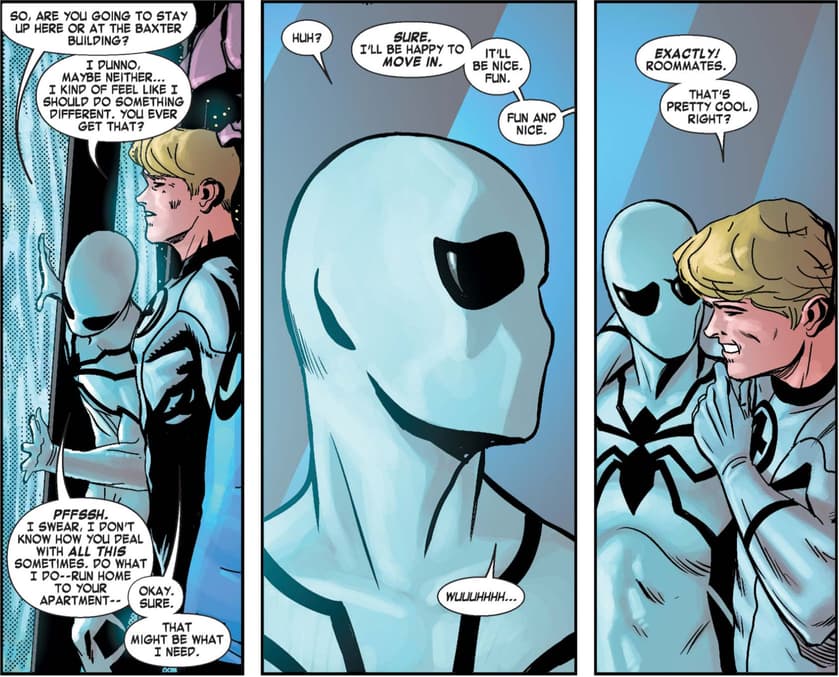 Naturally, Johnny didn't stay dead forever. But he needed a place to stay when he came back to life. In FF #17 (2012), Peter and Johnny actually became roommates. Unfortunately for Peter, it proved to be an untenable situation. The reality is that Johnny is a horrible roommate, and he was simply inconsiderate about Peter's needs. Because their friendship is so strong, Peter tried to make it work before ultimately telling Johnny to leave. By that time, even Johnny knew that he went too far.
Finally, AMAZING SPIDER-MAN # 3 (2015) showed fans another side of the Peter and Johnny dynamic. Johnny was angry because Peter had purchased the Baxter Building after SECRET WARS when Reed and Sue Richards, as well as their children, were lost and presumed to be dead. Johnny actually attacked Peter for the perceived slight against their memory, before Peter revealed that he outbid several shady competitors to hold on to the Baxter Building until the Richards could reclaim it. Johnny accepted this and expressed his relief that the building was in the hands of "family." Unfortunately, the Parker luck held true and Peter eventually lost everything he had, including the building. That's why the Fantastix currently call the Baxter Building their home.
Regardless, the Human Torch will always be there when Spidey needs him. The reverse is also true. They're a team-up for the ages.
FRIENDLY NEIGHBORHOOD SPIDER-MAN #4, written by Tom Taylor with art by Juann Cabal, is available now online and at your local comic shop!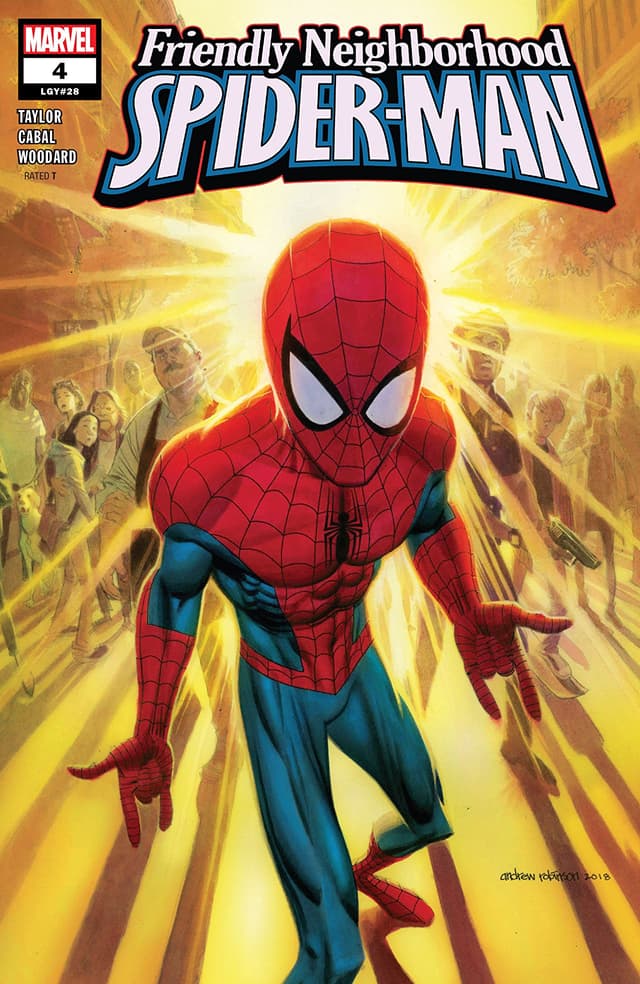 The Hype Box
Can't-miss news and updates from across the Marvel Universe!