Comics
Published April 12, 2018
The History of Spider-Man: 2008
It was a Brand New Day for Spidey, as he faced new foes like Mister Negative.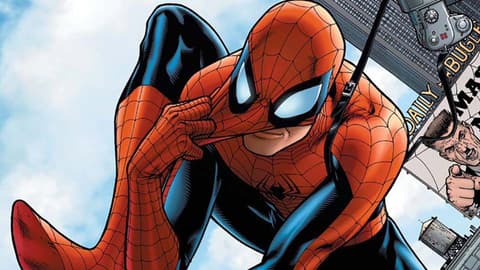 For over 50 years, Spider-Man has been a sensational standout in the Marvel Universe and the web-slinger will swing onto the silver screen once again in Marvel Studios' "Avengers: Infinity War" this May! In celebration of his memorable history, we present Spidey's spectacular step-by-step story…
Peter and Mary Jane Parker weighed the demon Mephisto's offer to save Aunt May's life but wipe away their marriage in AMAZING SPIDER-MAN #545, finally deciding to accept it, and when Peter awoke the next morning he found himself single and poor again, and his aunt very much alive and well.
A crook in a Spider-Man mask mugged Peter in AMAZING SPIDER-MAN #546, and he later literally gave J. Jonah Jameson a heart attack when he told his boss off. A new villain called Mister Negative appeared in AMAZING SPIDER-MAN #547 while Jameson's wife Marla accepted an offer to buy The Daily Bugle. Later, Negative killed off a rival crime family in AMAZING SPIDER-MAN #548, and Dexter Bennett took possession of Jameson's precious newspaper business and building without his knowledge.
A new, officially registered heroine called Jackpot hit the scene in AMAZING SPIDER-MAN #549 and battled a new menace who looked a lot like the Green Goblin. Spidey and Jackpot teamed up in AMAZING SPIDER-MAN #550 to clash with Menace, while across town a serial killer began leaving the webslinger's spider-tracers on his victims. Back at the super hero battle, Jackpot accidentally caused a civilian's death in AMAZING SPIDER-MAN #551, and later the Daily Bugle accused Spidey of being the Spider-Tracer Killer.
A lowlife criminal named Freak transformed into a real freak from a stolen, experimental drug in AMAZING SPIDER-MAN #552 and invaded a mayoral election event in AMAZING SPIDER-MAN #553 to cause trouble for the wallcrawler. Spidey managed to swing candidate Randall Crowne to safety, though, in AMAZING SPIDER-MAN #554 and gifted Jameson with another heart attack by telling him about Marla's sale of the Bugle.
A snowstorm hit New York in AMAZING SPIDER-MAN #555, making it difficult for Spidey and Wolverine to fight the Mayan warriors who haunted the streets. The webslinger moved fast to save a doctor and his coworkers from a strange, godlike creature in AMAZING SPIDER-MAN #556, but when it tried to bond with the doctor and make a sacrifice out of Peter's new friend Carlie Cooper in AMAZING SPIDER-MAN #557, he moved even faster.
Menace reappeared in AMAZING SPIDER-MAN #558 to attack a press conference, and Spidey got help from Dr. Curt Connors to hold off Freak. An internet-addicted crook named Screwball took Spidey for a wild ride in AMAZING SPIDER-MAN #559, and Peter accepted a well-paying gig from his new boss to take paparazzi pics of actor Bobby Carr. What he received instead in AMAZING SPIDER-MAN #560 answered to the name Paperdoll, an obsessed fan of Carr's with weird powers who got even weirder in AMAZING SPIDER-MAN #561 when she tried to kill the actor's latest girlfriend, Mary Jane Watson.
Peter wound up on Dexter Bennett's "list" as unreliable in AMAZING SPIDER-MAN #562, swung off to Coney Island in AMAZING SPIDER-MAN #563, and threw down again with Overdrive, a crook on Mister Negative's payroll in AMAZING SPIDER-MAN #564. Daredevil lent a hand to Spidey in AMAZING SPIDER-MAN #565 versus Fracture, while back at Peter's apartment Ana Kravinoff kidnapped his roommate Vin believing him to be Spider-Man.
The wallcrawler borrowed a Daredevil costume from the Man Without Fear in AMAZING SPIDER-MAN #566 to track down Ana and Vin, and wound up fighting Vermin instead. Incredibly, Vermin then attacked Ana and defeated her in AMAZING SPIDER-MAN #567 to send her running back to her mother with her tail tucked between her legs. Menace kept right on menacing candidate Crowne, so in AMAZING SPIDER-MAN #568 he asked Norman Osborn and the Thunderbolts to address the situation. Meanwhile, Aunt May's mysterious food kitchen partner Li laid his "healing" hands on former Venom host Eddie Brock.
The Thunderbolts roughed Peter up in AMAZING SPIDER-MAN #569, Eddie became Anti-Venom, and Spidey confronted Osborn. Venom, using Mac Gargan as a host, tussled with Eddie in AMAZING SPIDER-MAN #570, and Spidey and the Thunderbolts entered the fray soon after. At the same time, Osborn discovered Peter's camera and figured out a way to use it to track the webslinger in AMAZING SPIDER-MAN #571. Later, using a captured Venom, Osborn recreated the Scorpion using Gargan and donned the costume of the Green Goblin himself in AMAZING SPIDER-MAN #572 to kickoff a sprawling brouhaha with Spidey, the Thunderbolts, and Anti-Venom in AMAZING SPIDER-MAN #573.
Flash Thompson prepared to receive the Congressional Medal of Honor in AMAZING SPIDER-MAN #574, and Hammerhead became one of Mister Negative's new enforcers in AMAZING SPIDER-MAN #575.
Spidey jetted off to the Savage Land with the Avengers to investigate a downed Skrull spaceship in SECRET INVASION #1, battled Super Hero Skrull look-alikes in SECRET INVASION #2, met up with Ka-Zar and Shanna in NEW AVENGERS #41, returned to his teammates in SECRET INVASION #5, returned with them to New York in SECRET INVASION #6, and entered into one of the biggest alien wars the city had ever seen in SECRET INVASION #7.
The Hype Box
Can't-miss news and updates from across the Marvel Universe!