Comics
Published May 11, 2018
The History of Spider-Man: 2012
Worlds collide in Spider-Men and Avengers vs. X-Men!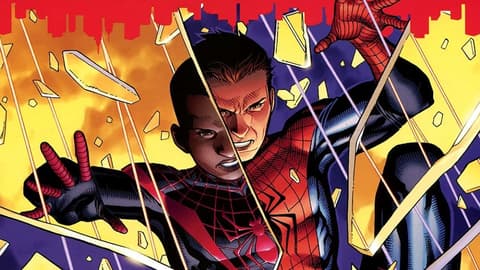 For over 50 years, Spider-Man has been a sensational standout in the Marvel Universe and the web-slinger is now back on the silver screen once again in Marvel Studios' "Avengers: Infinity War"! In celebration of his memorable history, we present Spidey's spectacular step-by-step story…
Carlie Cooper deduced Spider-Man's secret identity in AMAZING SPIDER-MAN #673, and the web-slinger found himself honored by the city for saving it from the spider-plague. Later, he battled the Vulture and his crew in AMAZING SPIDER-MAN #674 and AMAZING SPIDER-MAN #675, and witnessed the return of both the android Vision and Norman Osborn in AVENGERS #19.
During the Kree invasion of Earth in FANTASTIC FOUR #600, Spidey welcomed his good friend Johnny Storm back to the land of the living and joined him and the Annihilation Wave in FANTASTIC FOUR #601 to confront the Mad Celestials in FANTASTIC FOUR #602. Galactus fell in battle against the powerful beings in FANTASTIC FOUR #603, but future versions of Franklin and Valeria Richards arrived to turn the tide and allow the wallcrawler to return home in FANTASTIC FOUR #604.
Spidey and his fellow heroes dealt with the revelation of Norman Osborn's newest "Avengers" in NEW AVENGERS #19 and clashed directly with them in NEW AVENGERS #20. Following their retreat from the fight, Osborn's Thor clone followed and confronted the team in NEW AVENGERS #21, prompting another hasty flight and Spidey's interrogation of Victoria Hand, Osborn's former associate, in NEW AVENGERS #22. In NEW AVENGERS #23, the heroes finally gained the upper hand with their foes.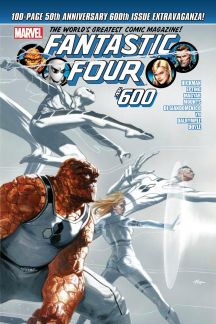 An ailing Doctor Octopus outlines his latest scheme to his new Sinister Six in AMAZING SPIDER-MAN #676, and Spidey and Daredevil began investigating a case concerning the Black Cat in AMAZING SPIDER-MAN #677. At Horizon Labs, the webslinger stepped into a fellow scientist's new time doorway in AMAZING SPIDER-MAN #678 and into a devastated New York one day in the future, prompting a race against entropy itself in AMAZING SPIDER-MAN #679. Afterward, Morbius the Living Vampire turned up at the company, as well as the Lizard, in AMAZING SPIDER-MAN #679.1.
The wallcrawler confronted a monstrous Norman Osborn with his teammates in AVENGERS #24, then blasted into space with the Human Torch in AMAZING SPIDER-MAN #680 to tangle with Doc Ock's octobots and zombie astronauts on an orbiting station. As its orbit decayed, the heroes moved to rescue the crew and themselves from the compromised station in AMAZING SPIDER-MAN #681. Back on terra firma, the webslinger learned of the incredible Phoenix Force's approach to Earth in NEW AVENGERS #24, and stood beside the Avengers as they scrambled to head off Hope Summers, a young mutant targeted by the Phoenix, in AVENGERS VS. X-MEN #1 and AVENGERS #25.
Spidey and Wolverine tracked Hope down in AVENGERS VS. X-MEN #2, but the girl escaped after besting them both. Captured X-Men escaped the heroes through trickery in AVENGERS VS. X-MEN #3, and Spidey flew off to Latveria in AVENGERS VS. X-MEN #4 to attempt to stop the Juggernaut and his posse. Later, our hero avoided the Phoenix-possessed X-Men in AVENGERS VS. X-MEN #7, but clashed with a possessed Namor in Wakanda in AVENGERS VS. X-MEN #8. Hiding out with other Avengers in the mystical K'un-Lun, Spidey imparted a lesson in responsibility to Hope in NEW AVENGERS #27, and later while in Limbo battling Magik fell to a savage beating by the X-Men in AVENGERS VS. X-MEN #9. The Avengers assembled once more when Cyclops gained the full Phoenix Force in AVENGERS VS. X-MEN #11, but he lost it to Hope in AVENGERS VS. X-MEN #12.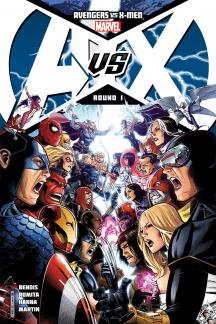 Mayor Jameson announced he'd close Horizon Labs in AMAZING SPIDER-MAN #682, and Spidey gathered the Avengers together when Doc Ock announced his intention to "save the world" before dying. The Sinister Six crushed the team in AMAZING SPIDER-MAN #683, and world governments decided to give into Ock's demands while the webslinger fought the Sandman in AMAZING SPIDER-MAN #684. Wanted by the authorities, Spidey and his friends tried to stop further satellite construction by Ock in AMAZING SPIDER-MAN #685, but the villain took control of the heroes using Peter Parker's own inventions in AMAZING SPIDER-MAN #686. In the end, some of the Sinister Six turned against Ock in AMAZING SPIDER-MAN #687, while Spidey fought the man himself, but felt he failed overall when the Rhino and Silver Sable died in the final skirmishes of the war.
Mysterio opened up a portal to an alternate Earth in SPIDER-MEN #1, through which Spider-Man fell and met Miles Morales, the webslinger of that world. Captured by S.H.I.E.L.D. in SPIDER-MEN #2, Peter joined forces with Miles to push Mysterio back to his corner until the Ultimates arrived in SPIDER-MEN #3. Our hero made the sour acquaintance of the world's May Parker and Gwen Stacy in SPIDER-MEN #4, and made it back to his own universe after defeating Mysterio in SPIDER-MEN #5.
After helping the Fantastic Four fight the Maestro in FANTSTIC FOUR #609 and A.I.M. in FANTASTIC FOUR #610, Spider-Man investigated a strange connection between Morbius and the Lizard in AMAZING SPIDER-MAN #688. Curt Connors retained the Lizard's evil mind after transforming in AMAZING SPIDER-MAN #689, and attempted to change back to his scaly form in AMAZING SPIDER-MAN #690. Spidey managed to cure him and all his lizard-lackeys in AMAZING SPIDER-MAN #691, thankfully.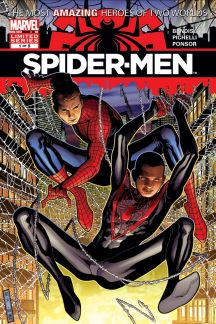 The past assailed Peter Parker in the form of an old warehouse in PETER PARKER:SPIDER-MAN #156.1, the new Vulture in SENSATIONAL SPIDER-MAN #33.1 and SENSATIONAL SPIDER-MAN #33.2, and the so-called "Brooklyn Avengers" in WEB OF SPIDER-MAN #129.1 and WEB OF SPIDER-MAN #129.2. A young man named Andy gained super powers from "Parker Particles" at Horizon Labs and became a hero called Alpha in AMAZING SPIDER-MAN #692, got kidnapped by the Jackal in AMAZING SPIDER-MAN #693, found it hard to handle fame in AMAZING SPIDER-MAN #694 and lost some of his powers to a draining invention of Peter's.
Spidey reflected upon Luke Cage and Jessica Jones' departure from Avengers Mansion in NEW AVENGERS #31, but when the hero's spider-sense malfunctioned due to Tiberius Stone's device in AMAZING SPIDER-MAN #695, he juggled two battling Hobgoblins and the Kingpin in AMAZING SPIDER-MAN #696. Afterward, the Avengers received a distress call from the Microverse in AVENGERS #31, and the web-slinger stayed behind in Central Park as the team's founders shrunk down into the subatomic realm to answer it in AVENGERS #32.
The Hype Box
Can't-miss news and updates from across the Marvel Universe!