Comics
Published May 22, 2018
The History of Spider-Man: 2013
Peter joins a new Avengers team, only to be replaced by Doctor Octopus' Superior plan.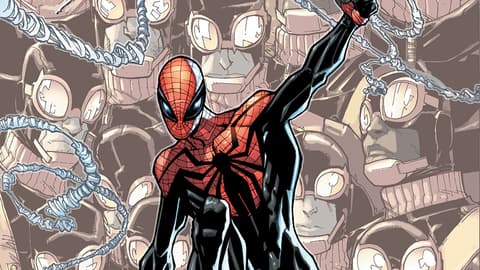 For over 50 years, Spider-Man has been a sensational standout in the Marvel Universe and the web-slinger is now back on the silver screen once again in Marvel Studios' "Avengers: Infinity War"! In celebration of his memorable history, we present Spidey's spectacular step-by-step story…
Stuck in the middle of an eldritch battle between Doctor Strange and Daniel Drumm in NEW AVENGERS #32, Spider-Man made the best of it while Drumm possessed his fellow heroes in NEW AVENGERS #33 and witnessed Strange's reinstatement as Sorcerer Supreme in NEW AVENGERS #34. Over with his other team, he waited out the original Avengers' trip to the Microverse in AVENGERS #33, and welcomed Janet Van Dyne back to full member status in AVENGERS #34.
After the violent clash between two Hobgoblins in AMAZING SPIDER-MAN #697, our hero accepted membership on a new team in AVENGERS #1 and joined Captain America and others on a terraformed Mars to confront alien invaders in AVENGERS #2.
Later, the webslinger swung out to the prison holding the dying Doctor Octopus in AMAZING SPIDER-MAN #698 — or did he? Seems that Ock already switched bodies with Spidey, leaving Peter Parker adrift in Otto Octavius' rapidly failing form. In AMAZING SPIDER-MAN #699, Peter managed an escape from prison with the help of some super villains, but when he confronted Ock in his body in AMAZING SPIDER-MAN #700, the doctor's body finally failed for good…with Peter's mind in it.
Otto Octavius swore to become a better Spider-Man than Peter Parker, so in SUPERIOR SPIDER-MAN #1 he took on a new Sinister Six with brutal will, not realizing Peter's spirit still resided within him. He also created an deployed an army of "spiderbots" to help him in SUPERIOR SPIDER-MAN #2, while Carlie Cooper became suspicious of him. Back with the Avengers, he taunted Sunspot and Cannonball in AVENGERS #6 and witnessed the "White Event" that signaled the arrival of the Starbrand on Earth in AVENGERS #7.
When the Vulture started using children to commit crimes in SUPERIOR SPIDER-MAN #3, Otto viciously attacked him and angered Carlie further. Massacre escaped incarceration in SUPERIOR SPIDER-MAN #4, and after Otto applied at Empire State University to complete Peter's doctorate studies, he tracked Massacre down and shot him dead in SUPERIOR SPIDER-MAN #5. Afterward, the Avengers concerns over his behavior increased while Peter's spirit grew stronger within Otto in SUPERIOR SPIDER-MAN #6.
As Spidey, Otto joined with his teammates to search for the Starbrand in AVENGERS #9, then clashed with Captain America in SUPERIOR SPIDER-MAN #7. Cap subdued him in SUPERIOR SPIDER-MAN #8, but when a scan showed no obvious anomalies, the hero placed Spider-Man on probation. Later, Otto used the scan data to discover Peter's consciousness still residing in his brain and moved to purge him once and for all in SUPERIOR SPIDER-MAN #9.
Otto traveled to the Savage Land in AVENGERS #12 to investigate a new sentient species there, but when the High Evolutionary also took an interest in the young race, Spider-Man and his teammates raised an argument against it in AVENGERS #13. The Goblin King gained more strength in SUPERIOR SPIDER-MAN #10, and Alastair Smythe enhanced several villains to kill the wallcrawler in SUPERIOR SPIDER-MAN #11. Otto took them all on after receiving permission from Mayor Jameson in SUPERIOR SPIDER-MAN #12 to execute Smythe, and later blackmailed Jameson to give him the Raft prison as a headquarters in SUPERIOR SPIDER-MAN #13.
After joining the Avengers in Australia to block an alien infestation and a robot assault in AVENGERS #14, AVENGERS #15, and AVENGERS #16, Otto helped his team convince the Mars terraformers to stand with them to battle an even greater threat heading to Earth in AVENGERS #17. Debuting a new Spidey costume and a giant robot-mech in SUPERIOR SPIDER-MAN #14, he saved all his fellow heroes from a virus in SUPERIOR SPIDER-MAN TEAM-UP #1 and fought alongside Peter's clone Kaine against the Jackal in SUPERIOR SPIDER-MAN TEAM-UP #2.
Carlie Cooper followed up on her suspicions of "Peter" in SUPERIOR SPIDER-MAN #15, while Otto publicly outed Phil Urich as the Hobgoblin. Urich lost his subsequent battle against Spider-Man in SUPERIOR SPIDER-MAN #16, but won a spot as a Goblin Knight with the underground Goblin King. Otto joined with Luke Cage and others to clash with Proxima Midnight in MIGHTY AVENGERS #1 and MIGHTY AVENGERS #2, then met a new powered individual called Fulmina who wanted to bring about a new Middle Ages in SUPERIOR SPIDER-MAN TEAM-UP #3 and SUPERIOR SPIDER-MAN TEAM-UP #4.
Peter's boss Max Modell found himself arrested by authorities in SUPERIOR SPIDER-MAN #17, and Miguel O'Hara, the Spider-Man of 2099, appeared in the present to try and stop an event that led to his own timeline and its dark future in SUPERIOR SPIDER-MAN #18. Carlie discovered Otto's hidden bank accounts in SUPERIOR SPIDER-MAN #19, and Peter Parker's memories resurfaced once more. The Black Cat suffered an ignoble attack from the webslinger in SUPERIOR SPIDER-MAN #20, and Otto later used the Sinister Six to battle the Wrecking Crew in SUPERIOR SPIDER-MAN TEAM-UP #5.
The Hype Box
Can't-miss news and updates from across the Marvel Universe!