Comics
Published May 25, 2018
The History of Spider-Man: 2014
Peter returns to end Otto Octavius' 'Superior' reign and face Original Sin.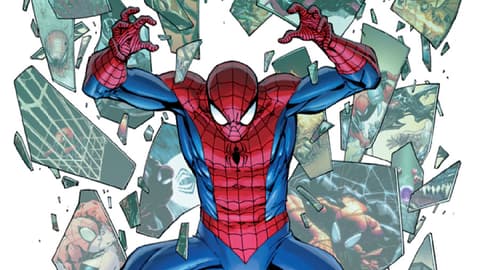 For over 50 years, Spider-Man has been a sensational standout in the Marvel Universe and the web-slinger is now back on the silver screen once again in Marvel Studios' "Avengers: Infinity War"! In celebration of his memorable history, we present Spidey's spectacular step-by-step story…
After Blackout kidnapped Aunt May in SUPERIOR SPIDER-MAN ANNUAL #1 and Otto Octavius—in Peter Parker's body—tortured him for it, Spider-Man swung his attention to the Goblin War heating up between Hobgoblin and the Goblin King in SUPERIOR SPIDER-MAN #26. Meanwhile, Peter's spirit grew stronger again in Otto's head, while Otto recalled past team-ups with the Green Goblin and Parker himself in SUPERIOR SPIDER-MAN TEAM-UP #11 and SUPERIOR SPIDER-MAN TEAM-UP #12.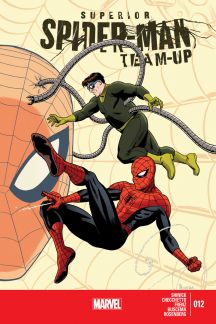 The Goblin King made it clear to Spider-Man in SUPERIOR SPIDER-MAN #27 that he knew Octavius held the reins and not Peter. To hammer home his intentions, the villain shelled Otto's island headquarters in SUPERIOR SPIDER-MAN #28, while he targeted members of Peter's friends and family, including Otto's girlfriend, Anna. Mayor Jameson converted his Spider-Slayers into Goblin Slayers in SUPERIOR SPIDER-MAN #29 and the Spider-Man of 2099 stepped in to save Otto from a particularly nasty Goblin King assault.
Peter's spirit began to actively help Otto during the crisis in SUPERIOR SPIDER-MAN #30, and when Octavius realized he couldn't save the day and Anna's life he allowed Peter to take control of his body once again and suit up as the one and only Spider-Man. The wallcrawler rushed into the fray in SUPERIOR SPIDER-MAN #31 and took on the Goblin Knight, Menace, and finally the King himself, who he discovered to be Norman Osborn with plastic surgery.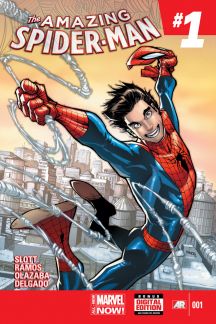 Back in the saddle in AMAZING SPIDER-MAN #1, Peter dealt with the fallout from Otto's takeover, the state of Parker Industries, and the fact that Anna knew his secret identity. Still unsure of his actions, the Avengers confronted him in AMAZING SPIDER-MAN #2, Electro made a shocking return, and Peter promised to build a new super-villain prison for the city. Later, Parker Industries began to design Electro-tracking tech in AMAZING SPIDER-MAN #3, Mayor Jameson resigned, and a spurned Black cat took Electro as her new partner in seeking revenge on Spidey.
The webslinger answered an Avengers emergency call in ORIGINAL SIN #1 to find Mindless Ones roaming the city streets and fighting the Thing. Spidey helped the heroes battle Exterminatrix and a low-grade villain called the Orb in ORIGINAL SIN #2, but when the eyeball enemy pulled out the Watcher's eye and exploded it like a bomb in ORIGINAL SIN #3, he knew it would change his life forever. In fact, due to the bomb, the wallcrawler discovered another person bitten by the same spider that bit him as a teenager and rushed to find her in AMAZING SPIDER-MAN #4.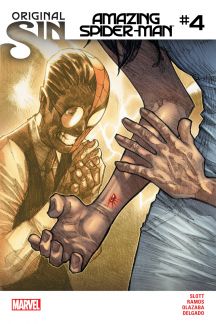 Calling herself Silk and sporting even greater spider powers than Spidey, she helped the hero fight off the Black Cat and Electro in AMAZING SPIDER-MAN #5, then found herself in a rematch with the dangerous duo in AMAZING SPIDER-MAN #6. Spider-Man rejoined the Avengers in ORIGINAL SIN #6 to invade Nick Fury's secret orbiting satellite and ended up knocked out and floating in space in ORIGINAL SIN #7.
Back on Earth, he teamed with the new Ms. Marvel to clash with Dr. Minerva in AMAZING SPIDER-MAN #7 and AMAZING SPIDER-MAN #8, and later helped Wyatt Wingfoot and She-Hulk in FANTASTIC FOUR #11 and his old buddy Johnny Storm in FANTASTIC FOUR #12.
The Hype Box
Can't-miss news and updates from across the Marvel Universe!