Comics
Published February 9, 2018
The History of the Black Panther: 1977-1978
T'Challa aids the Avengers against Ultron before striking out on his own via Jack Kirby!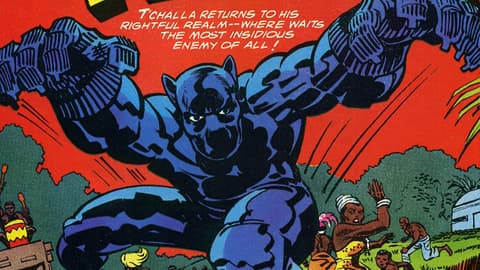 For more than 50 years, the Black Panther has stood at the forefront on the Marvel Universe. With T'Challa appearing on the big screen again this year in both Marvel Studios' "Black Panther" and "Avengers: Infinity War," take a look back at over five decades worth of comic book adventures for the King of Wakanda!
The Black Panther rushed in to aid Earth's Mightiest Heroes in their time of need against Graviton in AVENGERS #159, the Grim Reaper in AVENGERS #160, a mystery involving Ant-Man and Ultron in AVENGERS #161–162, and finally for a sprawling war with Count Nefaria and the Lethal Legion in AVENGERS #164–165.
When a diminutive man called Little enlisted T'Challa's aid in recovering the strange artifact known as the Brass Frog in BLACK PANTHER #1 (written and drawn by Jack Kirby), the King of Wakanda fell into a mystifying battle like nothing he'd ever encountered. The Frog turned out to be a time machine, which brought Hatch-22 to Earth in BLACK PANTHER #2, and the Panther into direct conflict with Princess Zanda.
When T'Challa, Little, and Zanda discovered a second Brass Frog in BLACK PANTHER #3, they sent Hatch-22 back home with it, and moved on to Zanda's kingdom. The Panther then struck out to find the lost Samurai City in BLACK PANTHER #4, which led to a baffling quest for the Sacred Water-Skin and eternal youth in BLACK PANTHER #5.
Later, after a fight with a real, live Yeti, the Black Panther found Samurai City in BLACK PANTHER #6, unaware of the coup being staged in his native Wakanda by his half-brother, General Jakarra.
The King of Wakanda traveled with Abner Little in BLACK PANTHER #7 to rendezvous with his Collector associates, but when T'Challa revealed he'd taken a vial of healing water from Samurai City, the strange collective nearly tore each other apart to get at it.
Back in his home country, the Panther's top general Jakarra exposed himself to raw vibranium in BLACK PANTHER #8, causing incredible mutation. The Wakandan royal family engaged the transformed military man in BLACK PANTHER #9, but it took a returned Black Panther in BLACK PANTHER #10 to put Jakarra and his coup down for good.
T'Challa gained psychic abilities after the battle in BLACK PANTHER #11, all the better to aid him in his fight against the energy-eating Kiber and his powerful agents in BLACK PANTHER #12. Later, he joined with Earth's Mightiest Heroes in AVENGERS #169 on a quest for explosive devices that took him to the Arctic and into the embrace of a giant polar bear.
The Fantastic Four's Ben Grimm found T'Challa in his guise as a high school teacher in MARVEL TWO-IN-ONE #40 and an investigation into kidnappings that led to a vampire at Carnegie Hall. When the Black Panther lost his soul to the creature, it fell to the Thing and Brother Voodoo in MARVEL TWO-IN-ONE #41 to return it to the hero so he might free himself from capture.
The Panther then answered Iron Man's call in AVENGERS #172 to help investigate a rash of disappearing heroes, but when the trail ended at the Collector's lair in AVENGERS #173 and the villain's destruction by an unknown force in AVENGERS #174, T'Challa knew he and his teammates faced a larger variety of menace.
The team began the investigation into the Collector's death in AVENGERS #175, and finally tracked down their mysterious new opponent in AVENGERS #176. Deep in the quiet suburbs, the cosmic entity known as Korvac awaited the Black Panther and his friends and in a fit of pique killed them all in AVENGERS #177. Amazingly, when Korvac then did away with himself, the resulting release of power resurrected T'Challa and the other Avengers.
Still in their ranks despite the arduous ordeal, the Black Panther fought alongside his brethren against Doctor Spectrum in AVENGERS ANNUAL #8, and sought out an amnesic Hyperion to lend a hand against his old comrade from the Squadron Sinister.
The Hype Box
Can't-miss news and updates from across the Marvel Universe!