Comics
Published February 27, 2018
The History of the Black Panther: 1989-1990
T'Challa embarks upon a dangerous quest to locate his lost mother!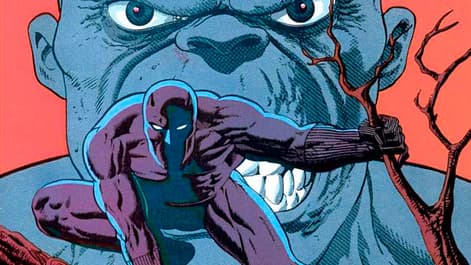 For more than 50 years, the Black Panther has stood at the forefront on the Marvel Universe. With T'Challa appearing on the big screen again this year in both Marvel Studios' "Black Panther" and "Avengers: Infinity War," take a look back at over five decades worth of comic book adventures for the King of Wakanda!
The big "Panther's Quest" storyline kicked off as T'Challa began a search for his lost mother in MARVEL COMICS PRESENTS #13, which led him to the South African nation of Pretoria and a man named Patrick Slade. Mercenaries under the command of Elmer Gore attacked the two men in MARVEL COMICS PRESENTS #14, and while the Panther battled them, Slade escaped on his own.
A bruised and bloodied Black Panther met a miner called Zanti who tried to help the hero back to his solar glider in MARVEL COMICS PRESENTS #16. Corrupt government official Pretorius turned the country against T'Challa in MARVEL COMICS PRESENTS #18, while the Panther and Zanti recovered the glider and returned to town to discover soldiers tear gassing citizens in MARVEL COMICS PRESENTS #19.
T'Challa took a bullet after rescuing a young boy named Theodore in MARVEL COMICS PRESENTS #20 and then escaped back to his craft in MARVEL COMICS PRESENTS #23. With all of Pretoria out for his head, the Black Panther reunited with Zanti to seek out a possible ally called Moshigo, but anti-apartheid group the Comrads attacked in MARVEL COMICS PRESENTS #25, complicating matters.
Young Theodore rushed to T'Challa's aid in MARVEL COMICS PRESENTS #27 when the Comrads tried to set Moshigo's house on fire, but the boy died in the process even after the hero ran him to a hospital for his extensive burns in MARVEL COMICS PRESENTS #28. The Panther discovered his mother's name, Ramonda, in MARVEL COMICS PRESENTS #29, and realized Gore's mercenaries paid Slade to keep the information to himself. Later, Gore killed Slade.
After receiving a letter from Ramonda in MARVEL COMICS PRESENTS #31 urging him to stay away, T'Challa linked Gore and his mercenaries to Pretorius and the government and escaped in his glider in MARVEL COMICS PRESENTS #34 with a wounded Zanti's invaluable help.
At Pretorius' mansion, the Black Panther saw his mother in MARVEL COMICS PRESENTS #36, and then fought Gore to the death. Ramonda told her story of being held prisoner by Pretorius in MARVEL COMICS PRESENTS #37 and the Black Panther spirited her away back to Wakanda.
T'Challa rejoined Earth's Mightiest Heroes in AVENGERS #305 to bolster their ranks against the Lava Men. In AVENGERS #307, ally Gilgamesh fell in battle against the Lava Men priest Jinku and his Avatar, so the Panther and his teammates called upon the Eternals in AVENGERS #308 to come to the ancient hero's rescue. Later, in SOLO AVENGERS #19, the Black Panther joined with an old college friend, Philip Whitehead, to confront a dangerous occult creature.
Mubaru, a Wakandan royal cabinet member, made a failed attempt on his sovereign T'Challa's life in MARVEL SUPER-HEROES #1, as well as to steal vibranium by mining it from below the country's sacred vein of the rare metal.
Returning to Wakanda, the Panther faced off against Solomon Prey's agents in BLACK PANTHER: PANTHER'S PREY #1, and then with the winged, taloned man himself in BLACK PANTHER: PANTHER'S PREY #2.
The Hype Box
Can't-miss news and updates from across the Marvel Universe!