Comics
Published March 2, 2018
The History of the Black Panther: 1991-1992
The Black Panther reunites with the Avengers and teams with Spider-Man, Iron Man, and Excalibur!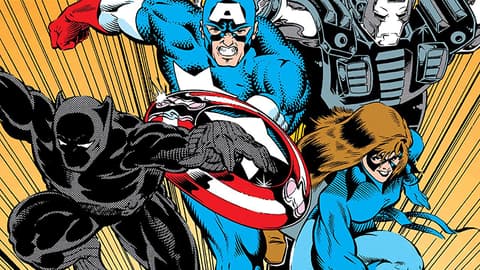 For more than 50 years, the Black Panther has stood at the forefront on the Marvel Universe. With T'Challa appearing on the big screen again this year in both Marvel Studios' "Black Panther" and "Avengers: Infinity War," take a look back at over five decades worth of comic book adventures for the King of Wakanda!
Heading to Washington D.C., T'Challa reunited with Monica Lynne while Prey planed to blow up Wakanda's vibranium mound in BLACK PANTHER: PANTHER'S PREY #3. The newly engaged monarch returned to his nation in BLACK PANTHER: PANTHER'S PREY #4 to put down Prey's insurrection and defuse his explosives.
The Black Panther later attended a party thrown by the Avengers, one crashed by none other than Doctor Doom himself, in AVENGERS #332 and #333.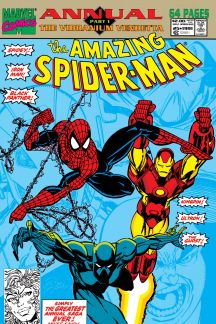 Amazing Spider-Man Annual (1964) #25
Published: January 25, 1991
Added to Marvel Unlimited: September 26, 2016
What is Marvel Unlimited?
T'Challa then teamed with Spider-Man and Iron Man to uncover Roxxon's supposed discovery of a new source of Vibranium — bringing them into conflict with the Kingpin, Ghost, ane Ultron as well – in AMAZING SPIDER-MAN ANNUAL #25, THE SPECTACULAR SPIDER-MAN ANNUAL #11, and WEB OF SPIDER-MAN ANNUAL #7.
Earth's Mightiest Heroes then called the Panther into service to accompany scientists Hank Pym and Beast to the Blue Area of the Moon in AVENGERS #335 to hunt for the origin of their new, powerful foes, the Brethren. T'Challa and the others entered the Collector's starship in AVENGERS #336 to find not only a miniature ecosystem ravaged by the escaped Brethren, but also The Watcher in AVENGERS #337.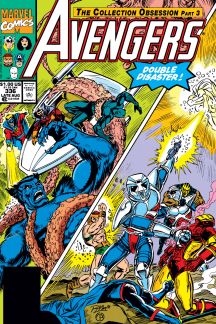 With information culled from an elderly Brethren, Black Panther and his fellows returned to Earth in AVENGERS #338 to relay their findings to the main team. When The Collector tipped his hand and threatened the entire planet's populace, T'Challa and the others took him down in AVENGERS #339.
After an encounter with the UK-based Knights of the Pendragon in KNIGHTS OF THE PENDRAGON #14-18 (published by Marvel UK), the Black Panther clashed with the alien N'Grith in MARVEL FANFARE #60 and then with the Coal Tiger, his exact duplicate from another reality, in AVENGERS #356, part of an ongoing struggle between Earth's Mightiest Heroes and their new foes, the alternate-Earth-hopping Gatherers.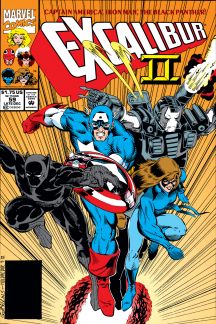 Not long after, T'Challa played host to a small contingent of Avengers and Excalibur members to discuss toxic waste disposal in EXCALIBUR #59.
The Hype Box
Can't-miss news and updates from across the Marvel Universe!