Comics
Published October 23, 2017
The Klaws Sink In: A Black Panther Sketchbook
Peek in as artist Leonard Kirk pits T'Challa against his oldest enemy!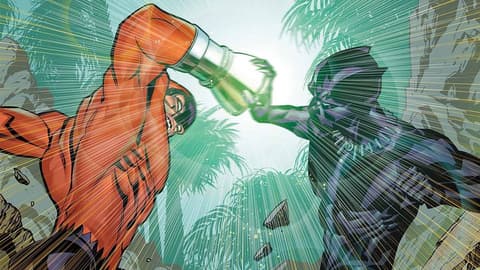 The Black Panther's greatest foe has returned…and he wants war.
On October 25, Klaw makes his move in BLACK PANTHER #166! Marvel Legacy comes to Wakanda as writer Ta-Nehisi Coates and new series artist Leonard Kirk present the action. T'Challa's problems don't end with Ulysses Klaw, however, as the gods of Wakanda have mysteriously disappeared—and the Originators have reemerged in their place.
We chatted with Kirk about putting his own spin on these classic characters, capturing the glory of Wakanda, and giving T'Challa his kingly presence.
Marvel.com: Black Panther has a very regal quality to him—how does that influence how you draw him on the page?
Leonard Kirk: Well, it means I have to draw him very regal.
Actually, I've found a few ways that his bearing influences his look. Aside from action shots, I am less likely to pose Black Panther in a typical "hero manner." I see him more stoic, reserved; very confident. Also, unlike other royal Marvel characters, like Namor or Doctor Doom, he seems less grandiose with his gestures.
Marvel.com: From a costume perspective, what did you aim to achieve as BLACK PANTHER enters the Marvel Legacy era?
Leonard Kirk: Personally, I am sticking with a lot that has been established by Brian Stellfreeze and Chris Sprouse before me. T'Challa has his traditional outfit with a few tweaks—most notably with the mask—to make him look more panther-like. I see no need to do anything else with his look. For the other characters, again, I'm sticking with what has already been established.
I haven't had an opportunity, yet, to come up with any of my own designs—at least not for any major characters. When that does happen, I will focus on both what Ta-Nehisi wants and blend that with various African design elements. I appreciate the work done in this series to avoid stereotypes in appearance and will work my darnedest to do the same.
Marvel.com: The Originators—the former gods of Wakanda—have returned for this story in the absence of the nation's common gods. Describe the process for realizing the Originators on the page.
Leonard Kirk: There will be one god appearing in an upcoming issue who I will rework. I'm not sure I'm allowed to say who it will be yet. In that case, I will be making the changes Ta-Nehisi is looking for. At this time, I really have no idea what I'm going to do. But I know it will be a blast.
Marvel.com: How has working with Ta-Nehisi been so far?
Leonard Kirk: Awesome! I've been a fan of his work both in and out of comics, so I did not hesitate one second when I got the call to draw BLACK PANTHER. He has been really great to work with. His scripts offer more than enough detail without crossing the line of being burdensome. The stories feel very well paced and he gives me the freedom to add my own touches, which always what an artist looks for. It's heck of a lot of fun!
BLACK PANTHER #166, by writer Ta-Nehisi Coates and artist Leonard Kirk, drops on October 25!
The Hype Box
Can't-miss news and updates from across the Marvel Universe!