Comics
Published April 18, 2019
Jane Foster is Revealed as the New Valkyrie in This July's New Ongoing Series
Jason Aaron and Al Ewing herald a new winged warrior in 'Valkyrie'!
Not much has been revealed about the new VALKYRIE series from writers Jason Aaron and Al Ewing since it was first announced at the Chicago Comic and Entertainment Expo -- until now.
But before going any further, be advised that this post contains spoilers from this week's WAR OF THE REALMS #2, so if you have not read the issue yet, be forewarned! Here is the cropped version of the cover by Mahmud Asrar and Matthew Wilson (colors) as a buffer: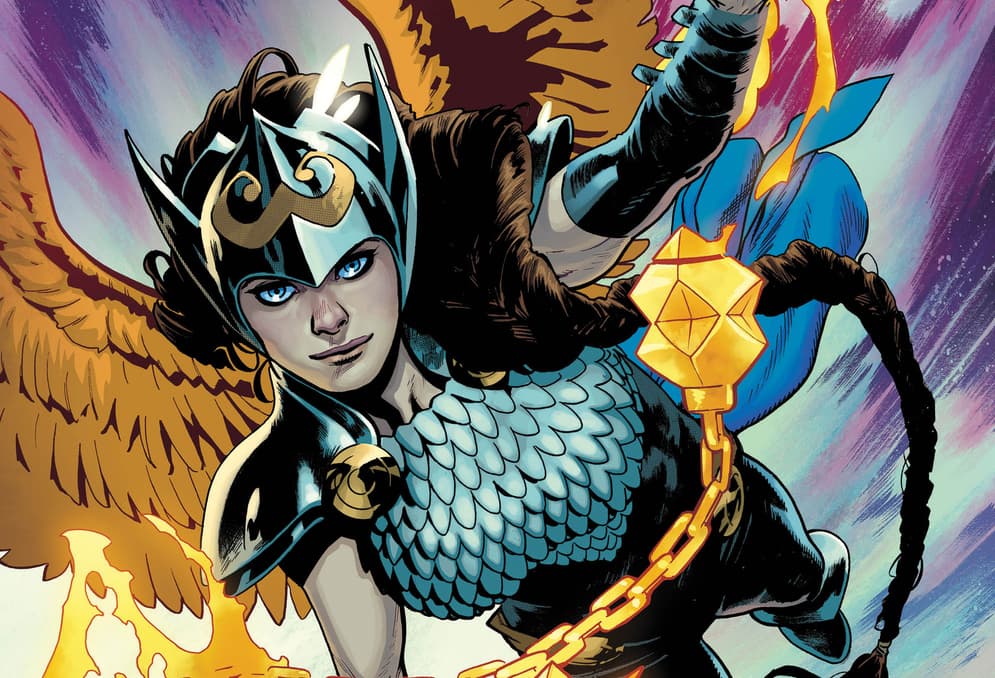 Last chance!
Now, the full cover, which reveals that the new Valkyrie flying into comic shops this July is...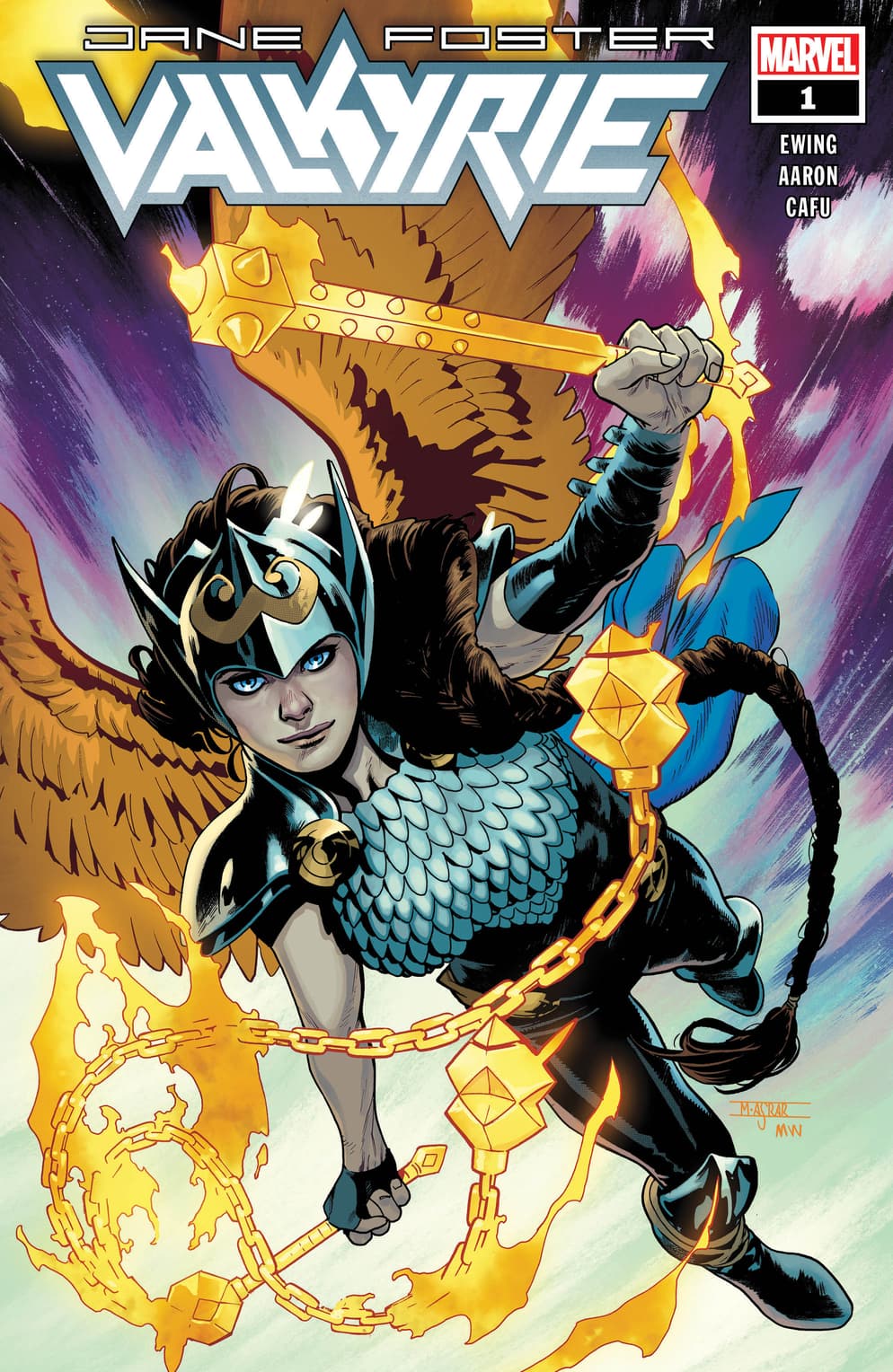 ... Jane Foster! After witnessing the massacre of the Valkyries in WAR OF THE REALMS #2, former Thor Jane Foster will take on a brand new Super Hero identity as Valkyrie. In addition to Asrar's cover, interior art for VALKYRIE will be provided by Cafu. Marvel.com talked to series co-writer Al Ewing about the newest coming of Jane Foster, what really happened to the most recent Valkyrie Brunhilde, and what's in store for this ongoing series this July.
Marvel.com: How does the beginning of VALKYRIE play into the events of WAR OF THE REALMS #2 (the massacre of all the Valkyries) and the end of that event?
Al Ewing: Well, at the end of WAR OF THE REALMS #2... wait! PLEASE, DO NOT READ THIS ARTICLE IF YOU HAVEN'T READ THE COMIC, OR AT LEAST ARE PREPARED TO BE SPOILED! FOR SPOILERS AWAIT!
Still here? On your own head be it. At the end of WAR OF THE REALMS #2, the Valkyries are dead. And Valhalla is gone. Because without at least one warrior taking on the role and the name of Valkyrie, there can be no Valhalla. And, obviously, the fact that we have a new VALKYRIE comic coming out means that someone does take up that mantle... and it's someone a lot of readers have been waiting to see in action again -- Jane Foster!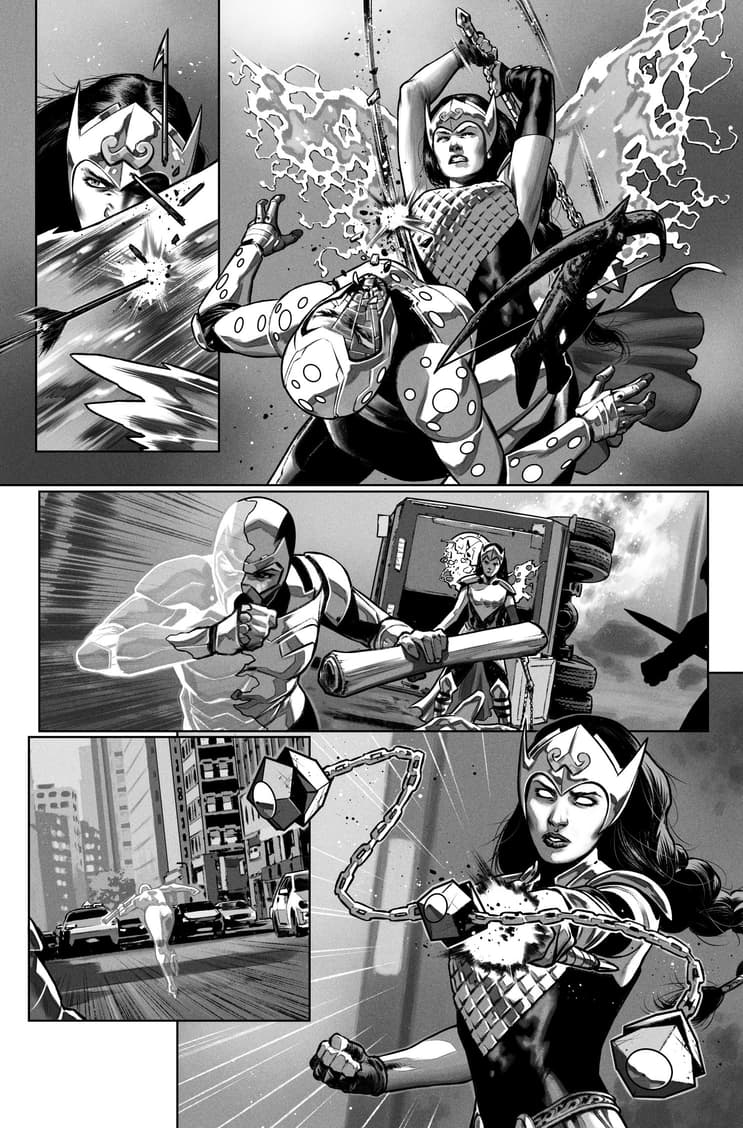 Marvel.com: What is different about Jane Foster's Valkyrie that you can tell us?
Al Ewing: It's not like the old Valkyrie. Brunhilde is available for consultation occasionally, but she no longer belongs to the world of the living -- so Jane's mostly on her own. That said, she does have something not seen before in the world of Asgard -- UNDRJARN THE ALL-WEAPON, forged in the fires of the Realm-War, that can change its shape and be whatever the wielder needs -- including wings! Which doesn't necessarily mean no more flying horse, but I'm getting ahead of myself...
Marvel.com: What is this Valkyrie fighting for?
Al Ewing: There's a line in VALKYRIE #1: "Thor is a god, Valkyrie is a job." Jane knows how to be Thor, but the role of Valkyrie -- the warrior who fights for the living and the dead, and stands between both -- is a very different beast. It's a sacred task, and brings additional abilities -- and responsibilities -- of its own. As the first of a new generation of Valkyries, Jane has to decide for herself what that task involves, and that's a big part of what we'll be exploring in this series. If you're reading this, you know who Valkyrie is, but what she is is one of the big philosophical underpinnings of the book.
You can see more artwork from VALKYRIE by Cafu in the gallery below as well as a Jane Foster/Valkyrie design by WAR OF THE REALMS artist (and Young Gun) Russell Dauterman!
Stay tuned to Marvel.com for more information about VALKYRIE and more upcoming July releases!
The Hype Box
Can't-miss news and updates from across the Marvel Universe!