Comics
Published May 1, 2020
The Times Black Widow Had Us Fooled
Read 'Black Widow: S.H.I.E.L.D.'s Most Wanted,' now free on Marvel Unlimited.
READ THE "S.H.I.E.L.D.'s MOST WANTED" ARC HERE!
Since her creation in TALES OF SUSPENSE (1959) #52, Natasha Romanoff, Black Widow, has done things that would make most people question their morality. Sure, some of those incidents came about because of brainwashing or mixed agenda(s), but many times this super-spy has been willing to embrace the darkness to preserve the light.
To offer some escape through challenging times, Marvel is offering complete events, iconic arcs, and must-read classics for free on Marvel Unlimited, a digital archive of 27,000+ comics. Right now, you can read the entire first volume of BLACK WIDOW (2016) by Chris Samnee and Mark Waid—expect explosives: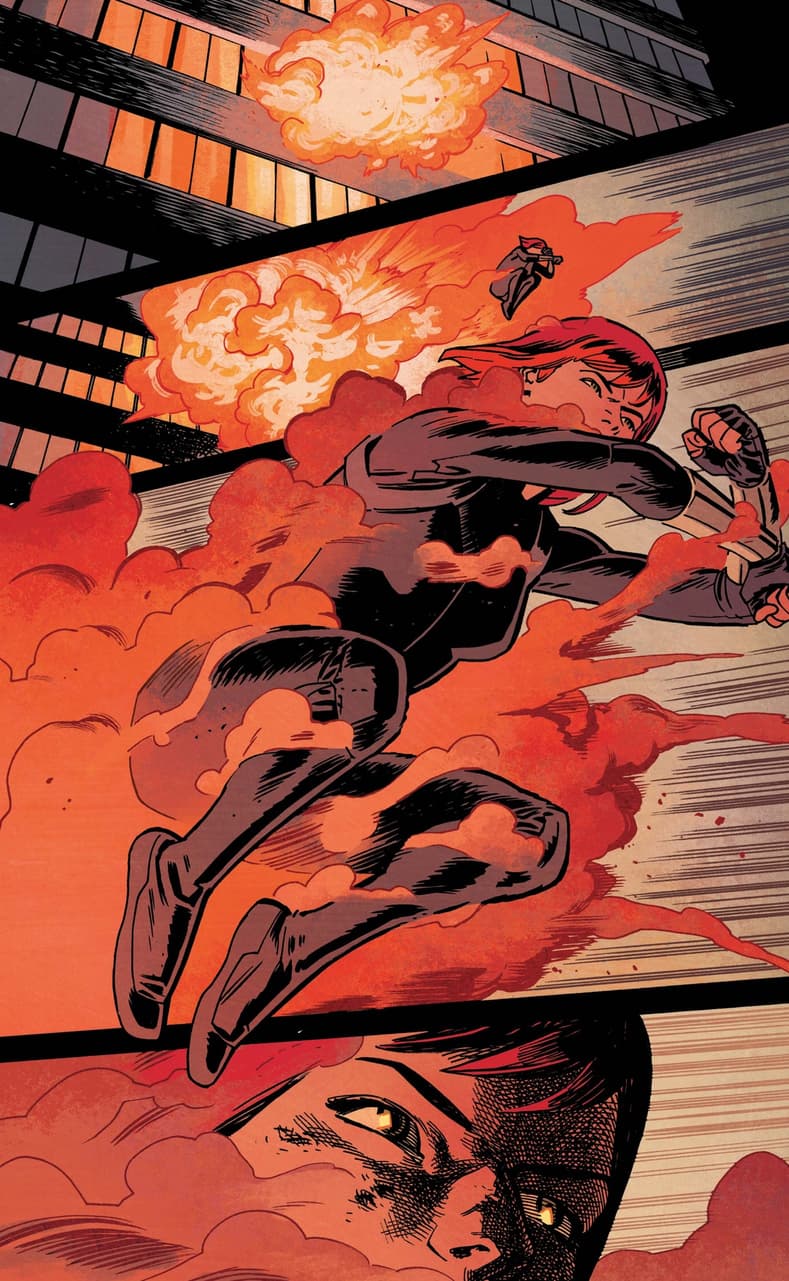 Since that arc features Natasha working against S.H.I.E.L.D., we're spotlighting several times that Black Widow wove her webs in a way that left her teammates, and even us readers, questioning. When predicting Widow's next move, remember: She is two moves ahead of you.
GLEANING THE CUBE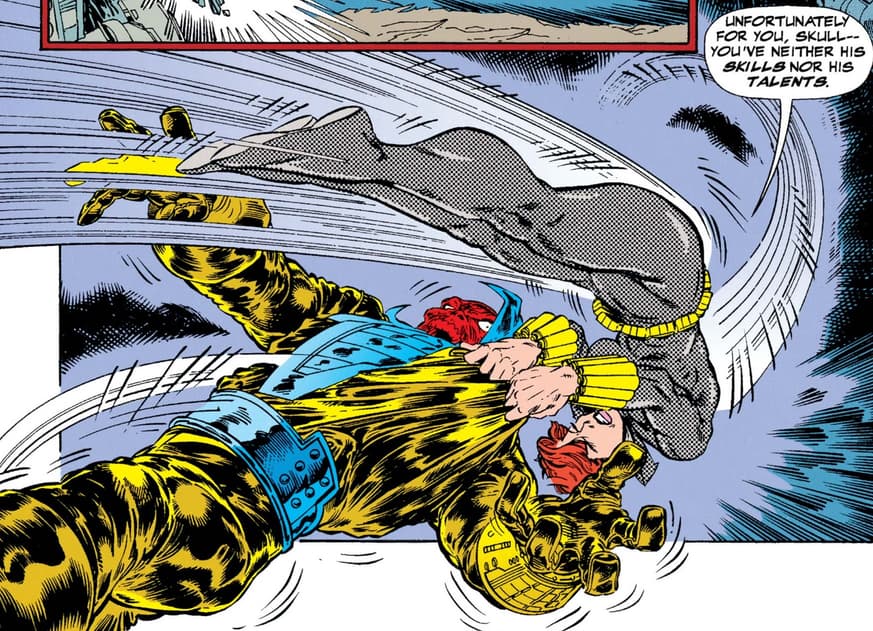 By the mid-1990s, Black Widow had fully given herself over to the Super Hero life. She wasn't just an Avenger, but leader of the team! Still, even this "squeaky clean" version of Natasha dealt in secrets and subterfuge. During a mysterious call in AVENGERS (1963) #384, Widow expressed concern for the person on the other end's safety, and set a meet-up for the next day. In issue #385, Natasha met with a foreign agent to get the location of strange energy readings in Canada. She then immediately assembled her team — Quicksilver, Hercules and Crystal — to investigate… without telling them what in the heck was going on.
Ignoring direct orders to abort from Nick Fury, Natasha went on with her mission, inadvertently leading her squad into a battle with Red Skull! After barely surviving, the Widow finally explained that the Canadian energy signatures came from a Cosmic Cube built by A.I.M. Ultimately, Widow's team succeeded in keeping the weapon out of harmful hands, but those under her command were left questioning their leader's methodology.
WIDOW'S DEADLY KISS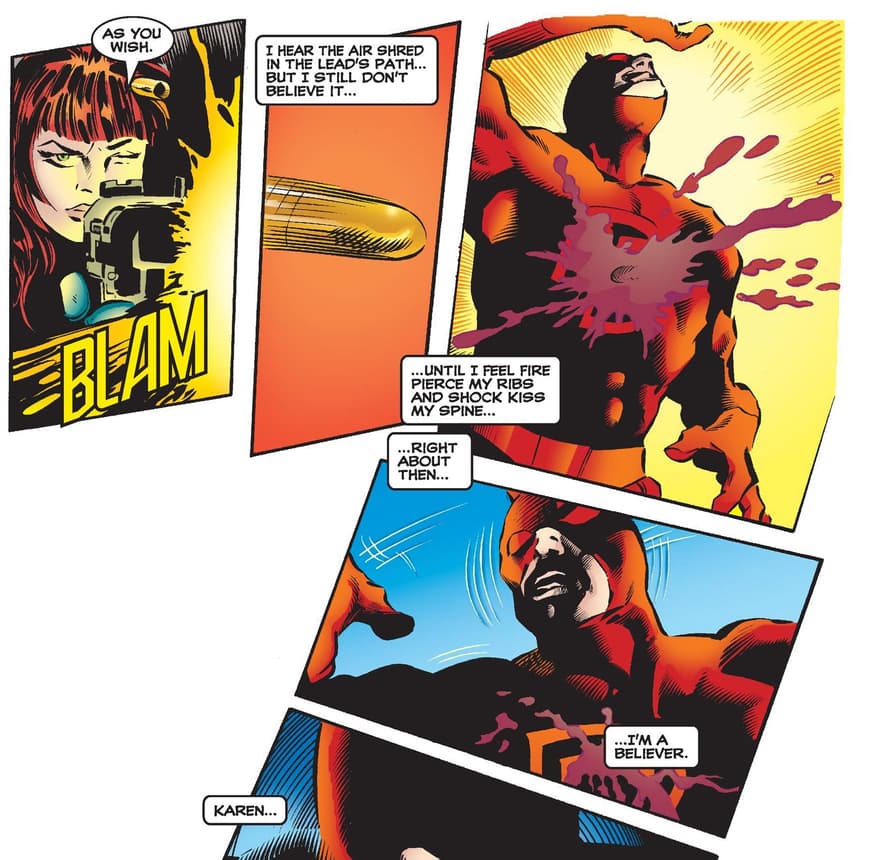 Over the years, Natasha has developed deep romantic relationships with many heroes in the Marvel Universe. But when it comes to the ex-files, Daredevil is that one past flame with history. She even co-starred in his titular series for a significant period in the '70s. Ever since then, her reappearance in Matt Murdock's life has a tendency to lead to trouble. Take DAREDEVIL (1964) #368-370, for instance.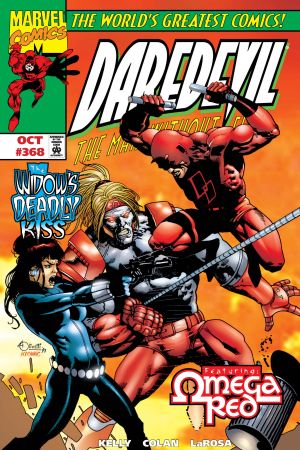 Daredevil (1964) #368
published

added to marvel unlimited

penciller

letterer

penciller (cover)

inker

writer
What is Marvel Unlimited?
In this trip of issues from 1997, Black Widow showed up out of nowhere looking to kill Omega Red with a rocket launcher. When ol' Horn Head stepped in to stop her, she shot him, point blank, in the chest! She helped get Daredevil patched up back home, but then left briskly to go about her business. Eventually, they shared another reunion after Matt got beat up by Ursa Major, a terrifying bear-themed villain. While locked up, Romanoff told Murdock — via finger-tapped Morse code — that she'd been acting erratically only to gain access to a criminal underworld… and that she had shot him in just the right so as not to kill, but make it look like she really wanted to. The twosome managed to finish their mission, leaving Matt with yet another scar to remember Natasha by.
FACE/OFF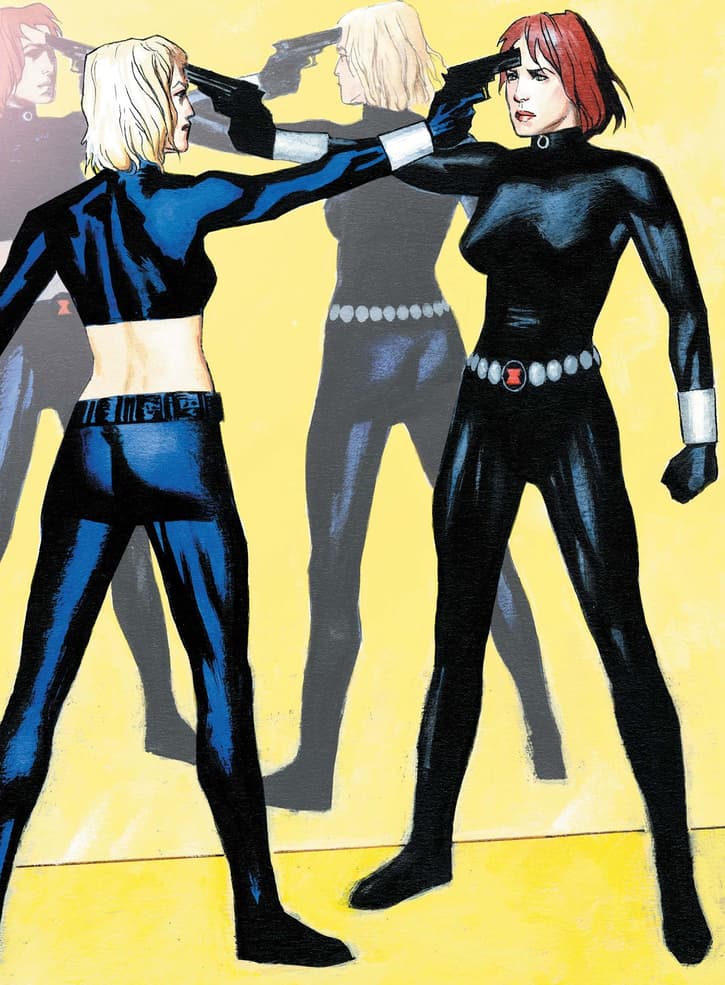 In Marvel Knights series BLACK WIDOW (1999), Natasha, and readers, met a new woman carrying on the poisonous mantle of Black Widow: Yelena Belova. While this younger agent claimed to have achieved higher scores in the Red Room (the program that's responsible for grooming and training Black Widows), she proved unable to best her predecessor. However, Romanoff understood where the young woman was coming from and attempted to set her on a different path.
When that didn't work, Natasha took far more drastic measures in the 2001 BLACK WIDOW limited series wherein she allowed S.H.I.E.L.D. to swap her face for Yelena's! The only catch was that Yelena woke up wearing Natasha's face, still in the same life. And matters got all the more confusing when the young Widow got her next assignment: kill Yelena Belova!
Without giving too much away, the series ends with Daredevil calling Black Widow cruel. Although, Natasha is praised by Nick Fury for her attempt to save an agent too young to know better.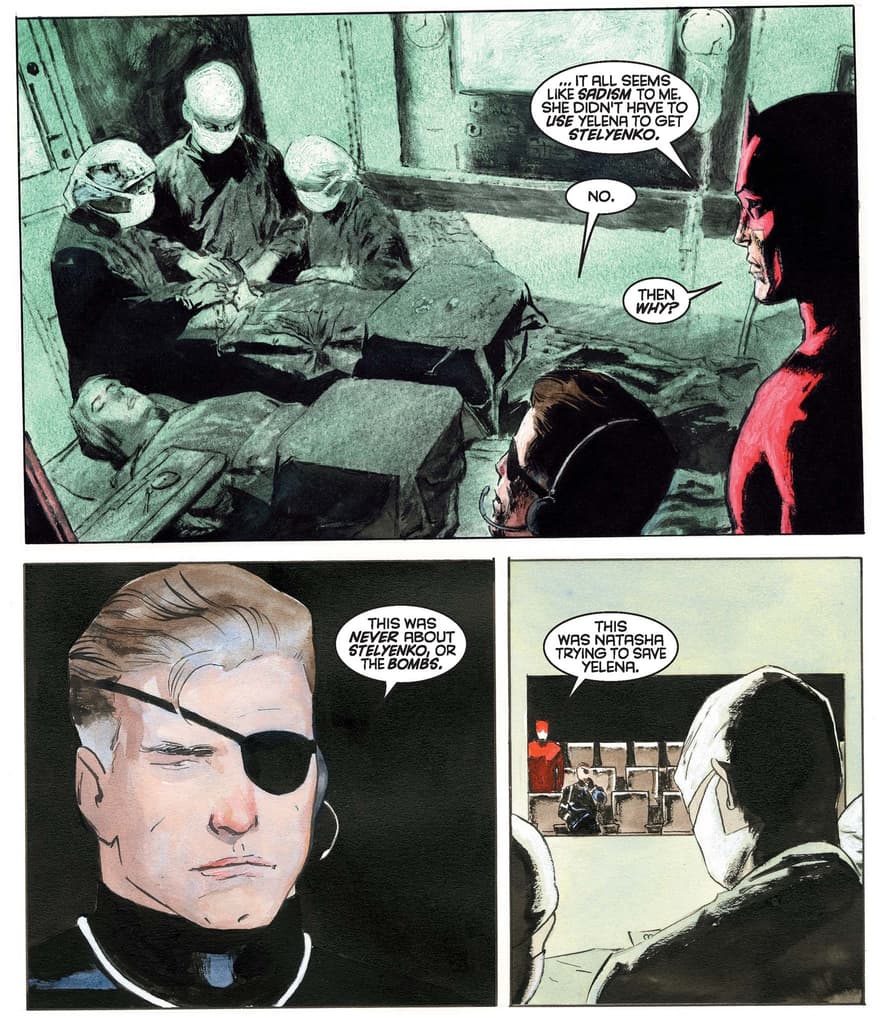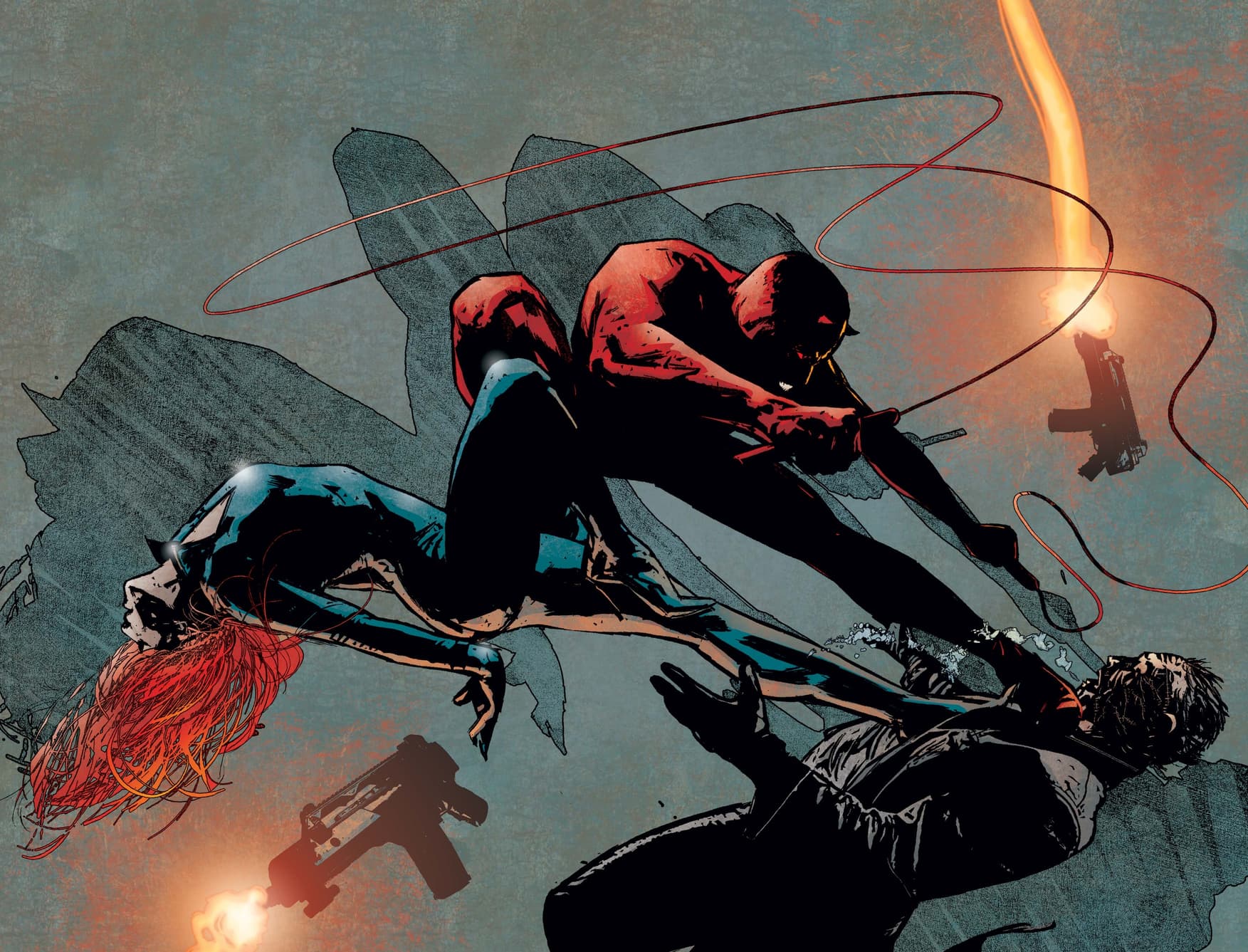 Black Widow came back into Matt Murdock's life in the pages of DAREDEVIL (1998) #61-64. She may not have shot him in the chest this time, but she did use his public fallout to her advantage.
See, at this point, the media had reported that Matt Murdock was the vigilante known as Daredevil. The lawyer fully denied the accusation, but that didn't dissuade people from believing the information, including his entire rogues' gallery.
So, when Natasha got word from Nick Fury to go on the run, she didn't hide in a deep dark hole, but instead returned — very publicly — to Matt's orbit. Eventually, Natasha's real intentions for showing up in Hell's Kitchen were revealed—a foreign national wanted Widow in a political exchange that the U.S. government was seriously considering.
In the end, Matt and Natasha helped each other out with their life-threatening problems, cementing solid ground in their tricky relationship. Widow also managed to take out the man responsible for all of her trouble in the first place, a familiar face from her past.
Daredevil (1998) #61
published

added to marvel unlimited

rating

writer

penciller

penciller (cover)

colorist
What is Marvel Unlimited?
S.H.I.E.L.D.'S MOST WANTED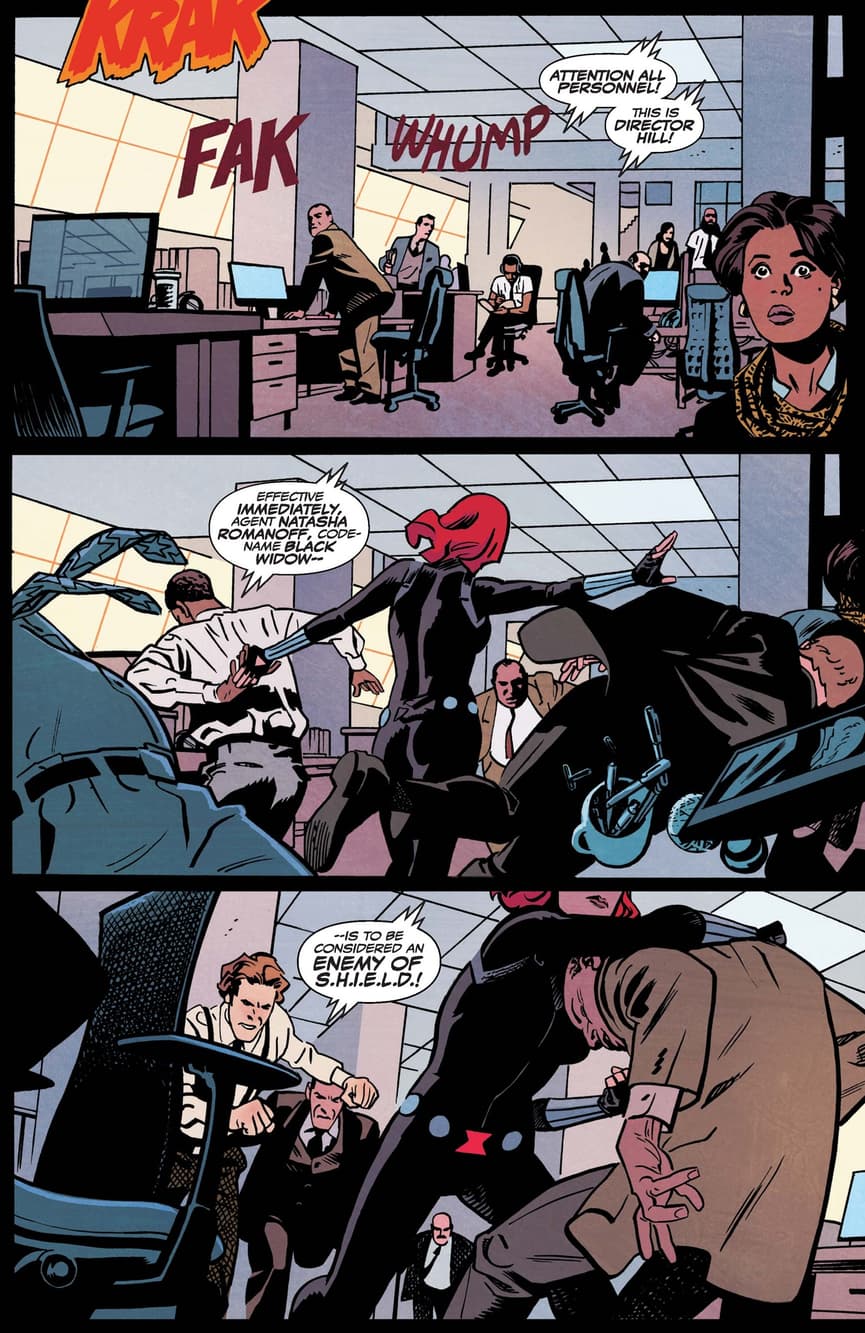 The very first page of Mark Waid and Chris Samnee's BLACK WIDOW (2016) run features Maria Hill telling S.H.I.E.L.D. personnel that Black Widow is now Rogue Agent #1! Romanoff then proved that point by beating up an assortment of S.H.I.E.L.D. agents and leaping through a hole in the Helicarrier with stolen information.
An unknown player called the Weeping Lion used files from Natasha's past to blackmail her into lifting the intel from S.H.I.E.L.D., also convincing her to travel back to Russia to uncover information about a rebooted Red Room. After a series of twists and turns — and even an attack on Iron Man himself — the Black Widow comes face-to-face with the real puppeteer behind this "Dark Room" caper and... deals with him in her own unique way.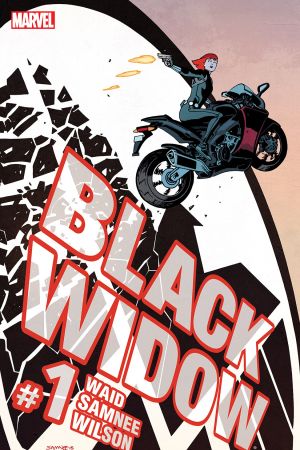 Black Widow (2016) #1
published

added to marvel unlimited

writer

letterer

inker

inker (cover)

penciler

penciler (cover)

colorist

colorist (cover)

editor
What is Marvel Unlimited?
During SECRET EMPIRE, when a Cosmic Cube-altered version of Steve Rogers took over the world, Black Widow knew from the start that an assassination was required. She made a valiant effort at sniping Hydra Supreme Cap, but wound up on the wrong side of his shield in SECRET EMPIRE (2017) #7. However, two of her old boyfriends — Hawkeye and Winter Soldier — became convinced that she was still alive. Their quest towards finding Widow was covered in TALES OF SUSPENSE (2017) #100-104.
As it turned out, they were both right… sort of. Thanks to a complex resurrection procedure created by the Red Room, Natasha was granted seemingly eternal life. But, instead of making contact with her very concerned friends, "clone Natasha" focused on dismantling the project that could endlessly recruit new agents.
When Clint and Bucky did get involved, she treated them as assets, not former companions, to complete her mission. She even apprehended their key weapons—Hawkeye's bow and arrows, and Winter Soldier's arm. Yes, the whole thing worked out in the end, but Natasha took plenty of liberties to get it done.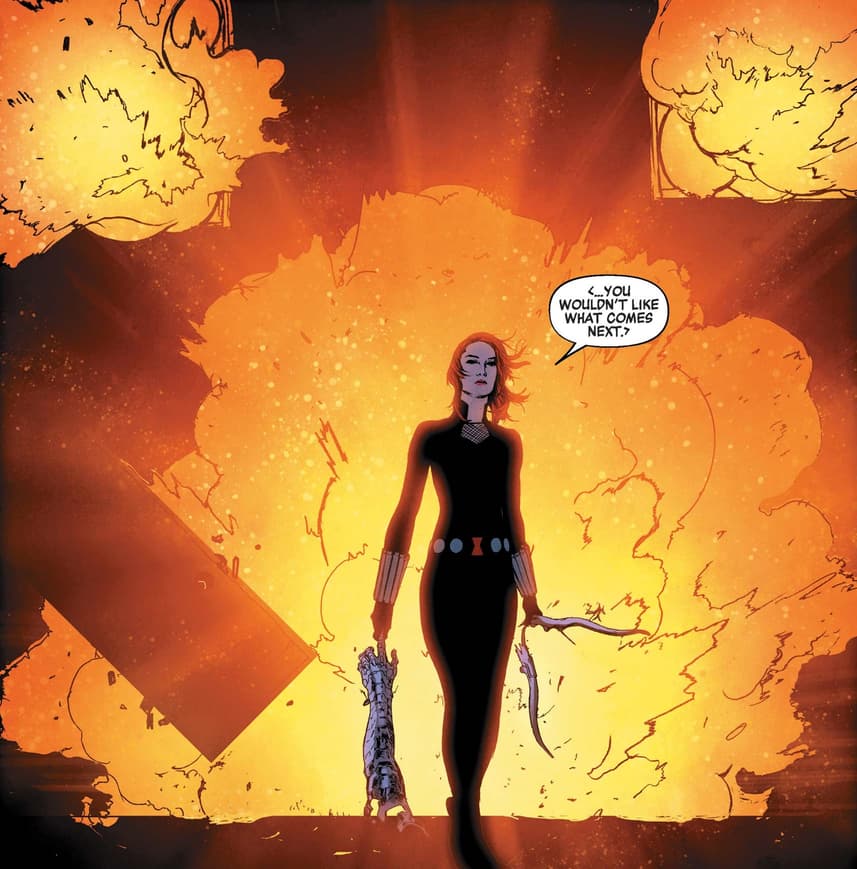 But for an expert of espionage, any connection, past or present, is just another tool in the spy kit.
Looking for more iconic arcs, complete events, and Marvel must-reads you can read for free? Read online here, or download or update the Marvel Unlimited app for iOS or Android at the Apple or Google Play app stores today.
For more of Marvel's greatest comic books in print, please reach out to your local comic book shop to ask about services they may offer, including holding or creating pull lists, curbside pick-ups, special deliveries and other options to accommodate. Find and support your local comic book shop at http://comicshoplocator.com.
The Hype Box
Can't-miss news and updates from across the Marvel Universe!