Comics
Published September 27, 2017
The Unbeatable Squirrel Girl: Where No Squirrel Has Gone Before
Ryan North outlines Squirrel Girl's Marvel Legacy!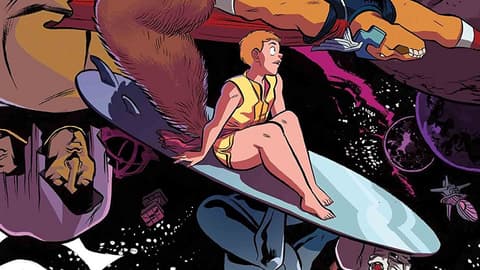 Squirrel! Girl! In! Space!
On December 13, Doreen Green blasts across the universe in an attempt to save Nancy Whitehead and Tippy Toe in UNBEATABLE SQUIRREL GIRL #27! As Marvel Legacy begins, writer Ryan North and artist Erica Henderson explore the cosmos in "The Forbidden Pla-Nut: Part One"!
We snagged a few minutes with Ryan to hear some more about Squirrel Girl's next big journey.
Marvel.com: What can you tease about the Legacy storyline?
Ryan North: This storyline will be about Squirrel Girl's legacy…which of course means we shoot her into space. So unlike most other Marvel Legacy arcs, where the characters go to where they began, we're sending Doreen to someplace she's never been before.
The story centers around Squirrel Girl and Galactus—and the ripple effects their friendship has had. Since they've met, the world's gone through a lot of changes: Galactus is a good guy now and creates planets, for example. But he's still (dare I say it) hated and feared by large parts of the universe. So the relationship between these two—a cosmic being older than the universe itself and a second-year computer science student—will be at the heart of this new story, but in a fun and pretty surprising way. I discovered that we've come up with an angle that hasn't happened before in Marvel—and that's a rare pleasure!
Marvel.com: What were your inspirations heading into this new arc?
Ryan North: I actually pitched three different stories to [Editors] Wil [Moss] and Sarah [Brunstad] and one of them ended up being, "Uh…maybe she goes into space?" And from such small seeds, a story emerged.
We shot back and forth some ideas, because Marvel space has all these cosmic chFaracters that you don't normally get to see. It felt good that our run started with her meeting Galactus—for a Legacy storyline, going back out to space and seeing what effect a regular squirrel woman from Earth defeating Galactus has had on the universe made a lot of sense…and seemed like a lot of fun.
Marvel.com: Legacy explores the history of the Marvel Universe—what does Legacy mean for Doreen, who's the only Squirrel Girl there's ever been?
Ryan North: For me as a writer, it presents a chance to tell the most-Squirrel Girl story we can, you know? But for Doreen as a character, it feels like her dealing with the consequences of what she's already done; she's dealing with her legacy moving forward, as we all do. We don't get to decide how history judges us, and we can sometimes only barely influence how our actions get perceived, but we can decide who we want to be.
This story will be about Squirrel Girl dealing with some…let's say "unexpected consequences." In fact, let's say "unexpected and entertaining and hilarious consequences." Because that's just what they are.
Marvel.com: What does the legacy of Marvel mean to you—as a writer and as a fan?
Ryan North: For a lot of the older characters, Legacy will be about respecting what's come before while still building on it and enhancing it. Erica and I didn't create Doreen Green—she dates back to the '90s, when she made her first and (in most other timelines) only appearance under [writers] Will Murray and Steve Ditko. But we did bring back Will to write a new story for her in our special "Squirrel Girl 25th anniversary" story (issue #16!) at the start of this year. That, for me, served as a real picture of Squirrel Girl's legacy: where she started, where she finds herself now, and where she's going next.
Squirrel Girl stands in kind of a unique place now—Erica and [colorist] Rico Renzi and I have been working on telling her stories for over 30 issues now, plus an OGN (Original Graphic Novel), so for us, her legacy will be whatever comes next. And I can't wait to share that with everyone!
Ryan North and artist Erica Henderson's UNBEATABLE SQUIRREL GIRL #27 drops on December 13!
The Hype Box
Can't-miss news and updates from across the Marvel Universe!